A bohemian or boho wall décor brings your home to life with its diverse textures, vibrant colors, vivid prints, and bold patterns. You probably prefer something warmer than the neutral modern designs. And what better way to create an inviting atmosphere with boho wall decor ideas?
In the following article, we're going to introduce some of the easiest boho wall decors DIYs and ideas, so that you can create your own boho décor.
Macrame Wall Hangings
Macrame wall hanging is the champion of boho wall decor ideas. The combination of wood and rope makes any macrame a perfect addition to your space.
It is said that the art of macrame was the 13th-century tradition of Arab weavers who used to create decorate fringes on camels and horses. Later, it became a hobby of British and American sailors in the 19th century, who made small ones and trade them in port. And now they are a charming trend, a great choice for boho wall decors.
Whether you can make one yourself, or plan to purchase one, thanks to the unimaginable number of macrame wall hangings with different shapes, colors, and patterns, you can certainly make/buy the perfect macrame for boho wall décor in the living room, above the bed, or even a nursery.
Get more information about the painting process by reading macrame wall hanging diy.
Boho Wall Painting
A boho wall painting lets you capture nature and the carefree spirit of bohemian style. Boho wall painting is one of the boho wall décor ideas that create a meaningful space in a matter of seconds, bringing the culture and personality into your home that you were looking for
Among signature boho wall paintings, you can find earthy-toned desert landscapes, plants and flowers, Native American symbols, moon prints, rainbows, abstract art, etc. You can always buy a boho wall painting. You can also make it into a personalized boho wall décor DIY project.
Wall Rugs as Boho Wall Décor
If you're looking for an item that gives your wall a bohemian look, but you prefer a more unique option than macrame wall hanging or boho wall painting, we have just the right idea for you.
Wall rugs lift your space from the ground up. Unlike boho wall painting, they make an eye-catching and textural artwork, inviting everyone in the space to really look at it and appreciate it. Something that hidden rugs underfoot and under furniture can't do. And as a soft and malleable piece of boho wall décor, they're also perfect for hanging on curved walls
In addition to those lovely, handmade, small, and light wall rugs, there a number of rugs that you can easily mount against the wall. And for a true boho décor, we recommend not to frame them.
Boho Wall Décor DIY Tapestries
There are different ways to make a wall tapestry, as well as designs to buy. Tapestries are a charming boho wall décor DIY project. Beautiful fabric prints or embroideries symbolize nature or spirituality, working perfectly in a bohemian theme.
If you visit a few online shops, you'll notice that the traditional ones mostly focus on animals, flowers, and spiritual motifs. You can find a lot of inspiration in these tapestries, or go with eye-catching patterns and shapes with pretty colors.
Wall Galleries
A wall gallery is a lovely, fabulous, and easy boho wall décor idea. Using different artwork and frames in shapes, sizes, colors, you can create a wall that's going to be hard to forget. In addition to frames, you can also use wood carvings, cane baskets, and brass plates for an authentic boho wall décor.
If you prefer a simpler décor, we recommend cane baskets. Using a mix of patterns, colors, and shapes will help you to make your setting more exciting.
Boho Wall Décor Items
Different pieces of wall décor like boho style mirrors, or vintage and wooden elements combined with metal are among other boho wall décor for the living room or above the bed. Although they are extremely beautiful, they could be really expensive. So if you're looking for a cheap boho wall décor, find your favorite boho wall décor DIY among these ideas and start creating.
Looking for more inspiration? We have two more ideas for you below.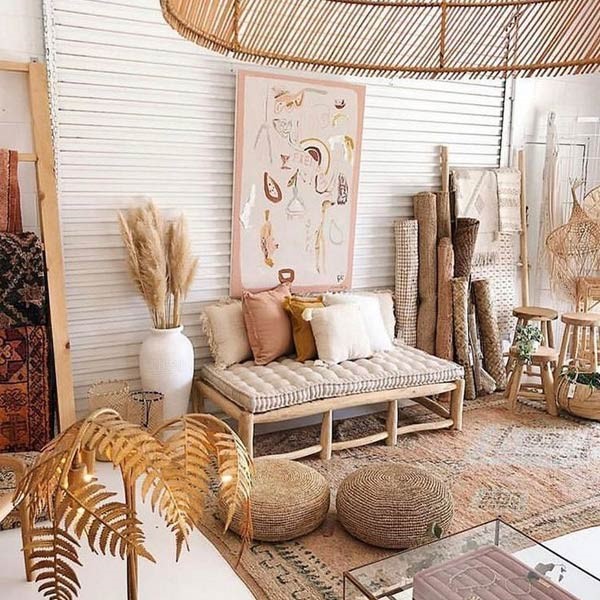 Other Boho Wall Décor Ideas
The following ideas may not be boho wall décors, but they are other elements of a bohemian décor that you may find interesting:
Vibrant Walls
This one may not be a boho wall décor idea; however, painting the walls with specific colors can give the same unconventional and free spirit of boho style as much as other boho wall décor ideas in this list.
Peachy pink, dark green, bright yellow, and purple (shocking purple) are among the colors that designers recommend for a bohemian setting. They also remind us that bright colors aren't too much, and walls don't have to be light to reflect light in the room. You can also go with your favorite color to make the boho décor truly yours.
Brick walls are also great for a boho décor. Why? Because this style isn't about perfection. Simply give it a coat of color, and watch it complement your warm decoration.
Plants
Nature is a great source of inspiration for the bohemian style; where it gets its free-spirited character. With plants, you can create different decors. You can place them on wall shelves, use vines that climb walls and spreads good boho vibes, hang them in macrame holders, or just place them on the ground. In the last case, we recommend using wooden and cane basket walls for a nice living room boho décor.
This was our list of boho wall décor ideas. Hopefully, you have found some inspiration for your boho wall décor, and are ready to start the creativity process.
floral wallpaper, handmade macrame wall hanging, woven basket wall decor, tapestries, metallic mirrors, paintings with earthy browns and forest greens, handmade carved wood accents, bamboo wall decor, feather decor, dream catchers, etc. are among the options that you have, Just remember, boho wall décor doesn't have to be perfect.