Office decor for men & women could be a little bit tricky since it should be practical, comfortable, and beautiful at the same time. Your office decor should boost your creativity and productivity while preventing you to get tired. It should also give you some privacy as well as space to interact with others and collaborate.
Let us look at some office decor ideas for work and home offices that help you achieve all of these things in your working environment.
---
Choose the Right Lighting
Let us start with selecting lights for a workspace. A well-designed office with high-tech hardware, chic desks, and furniture, the best color palette will not truly be complete with the right lighting.
One thing you should always keep in mind is that white light improves productivity while yellow light can make people feel tired. So try to use cooler, more bluish-white light in your modern office decor that increases alertness and decreases melatonin, which reduces fatigue.
But there is an even better option than white light: natural light. To have the best office decor for women and men (regardless of the job itself), make sure to keep all window areas unobstructed to fill your workspace. And if your windows have blinds, keep them open while you are in the office.
Of course, you need to keep the evening and night time in mind when styling your office. Use different lamps (big or small, standing or table) to add a sense of relaxation and comfort to your modern office decor.
Instead of task lighting, we would recommend table and floor lamps. They are a great way to make each person's desk feel warm, do not hurt anyone's eyes, do not cause headaches, and are perfect statement pieces on simple desks.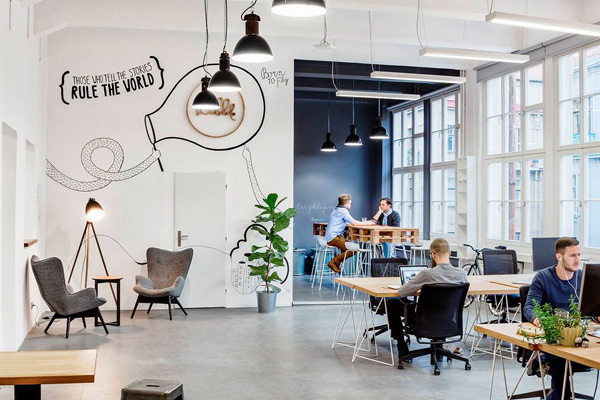 Have a Vibrant Office Decor with Plants
You spend about one-third of your life in your working environment. And during this time, you can always use a green friend's help. Plants are not exactly among office decoration items, but they do more than just adorning your workspace, they help you feel connected to the outside world.
You can also use certain plants to separate spaces in the office decor for men or women in a natural way and improve air quality. Oversized species, vases of flowers, or succulents in cute pots on each desk all can add a nice dose of natural coziness and texture to your space. Faux plants are also an option, but nothing shines and makes you shine like real ones.
Set the Tone with Furniture
Furniture is a super important part of professional, casual, or even cute office decor. They organize the space and depending on their style, they will make your decor look formal, professional, casual, etc. In addition to that, they provide comfort, which is essential considering the long hours of working and other possible challenges including back pain or feelings of discomfort from extended sitting.
To prevent these unpleasant distractions, every office decor for women and men needs ergonomic and comfortable chairs that are durable as well. There may be some people at the office who would appreciate the ability to work while standing (because of the nature of their work or to avoid the negative health effects of sitting for a long time. In that case, consider adding standing desks.
And if you are looking through office decor ideas for walls to have a pop of color in your work environment, your furniture can do that for you too. With so many options in the stores, we can guarantee that you will find some furniture that speaks to your brand.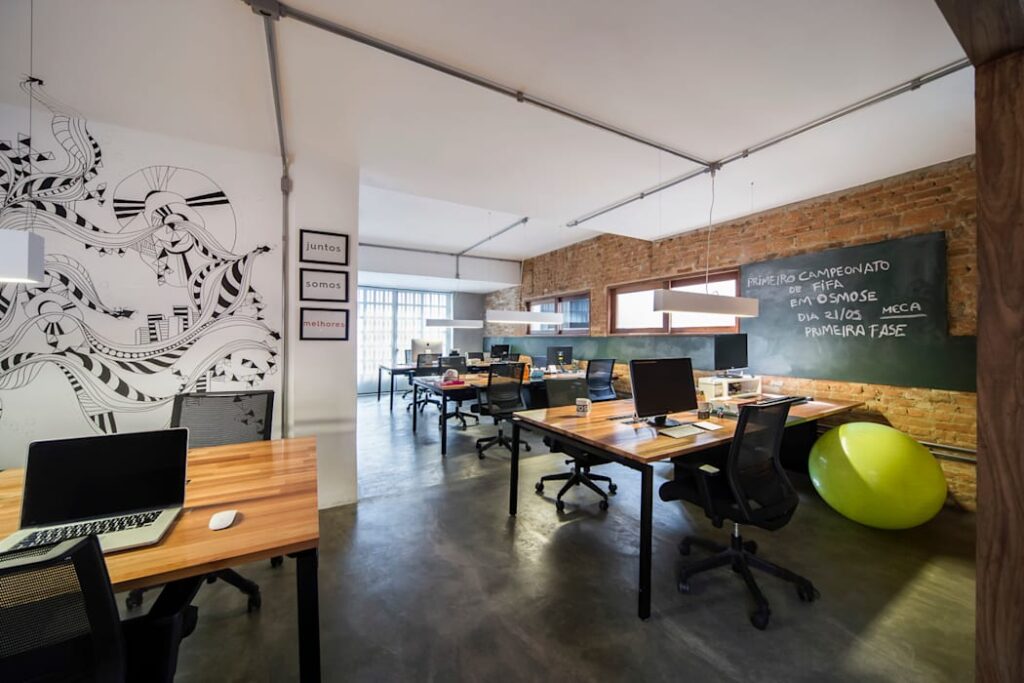 Incorporate Brand Colors for Cute Office Decor
The best way to make sure that your office is not a snooze is by using the right colors in the right way. And what better idea than using the ones from your brand color pallet?
You can choose a color scheme for office decor for women and men incorporating the brand's colors. This will help your space uphold a consistent style that reflects your business for customers and visitors. It also promotes a positive company image and helps employees to feel a stronger connection to the business.
This incorporation can be as simple as a bold pop of color in a space neutral, or thoughtfully using it here and there, with office decoration accessories of the same color(s), coloring the office supplies, etc.
Tip: To boost productivity, consider the color psychology: blue colors affect the mind, red the body, yellow the emotions, green the balance, and purple the creativity. Be smart when using these colors. For example, blue may be the most productive color (according to Google), but it is a good idea to spice it up with a bit of another color like orange
Elevate Office Decoration by Having Desks in Mind
Both positioning and styling the desks are crucial to have the best office decor. If you have a private office, point the desk so you are facing sideways to other team members. This way, you balance privacy with openness without sacrificing productivity.
Mounting the desks on the wall or using vintage and repurposed ones is also an excellent option in cute office decor ideas for home. And for decorating your desk, you have multiple options. For example:
Picture frames of friends and family (to make you smile during the most stressful days).
Install a vibrant desktop to have that pop of color in your decor that we talked about.
Desk accessories like a tray, a basket, or a collection of smaller baskets in various shapes, sizes, and textures to keep your desktop tidy.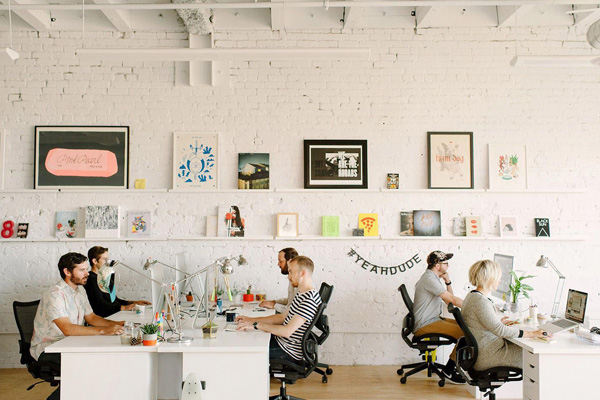 Make the Space Practical with Proper Storage
Some designers suggest starting the office decorating process with this integral part. If you are interested in small office decor ideas, maybe floor-to-ceiling shelving on walls is what you are looking for.
Other popular storage types to have a functional workspace include cabinets, floating shelves, or custom-made storage compartments. All of which can help you organize file containers, storage organizers, sliding bins, or even office decoration accessories.
Have a Place to Chill in Your Modern Office Decor
A cozy space for coworkers to hang out and eat something (snacks or main meals) is vital for any work environment. When people need some brain fuel, such an idea can help more than you think.
 The options here are also endless; you can set up a coffee station (everyone's going to love that) or a display of healthy snacks. You can also place a fruit bowl or basket, bottled water, etc. in a suitable spot.
Add Stylish Trash Cans
Thanks to technology, less trash is produced in offices. However, your modern office decor can benefit from stylish trash cans here and there. For this item, you can choose something completely unique, or go for simple ones that share the same color pallet as your brand color.
If each person does not get to have an individual trash can, make sure to place them strategically in different spots in the office decor for women and men.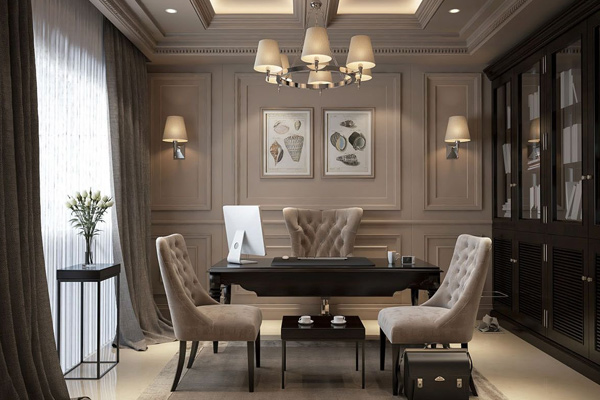 Divide the Room Smartly
Working in an open office? We are sure that you enjoy the modern look of your office decor for men and women, easy communication, and collaboration, as well as the overall welcoming feel.
However, you still need to divide the space. Dividers are a good option, but rugs are even better. This is because they outline various spaces with no physical barriers, perfect for both larger and smaller spaces.
Tip: In small spaces, simply put the rug underneath furniture for a nice accent.
Unleash the Creative Storm
Sometimes all a truly cute office decor for women and men needs is to let everyone play a part in creating it. Let each team member style her/his space. Customized desks with various teams offer an incredible visual while maintaining the most connection, comfort, and functionality for each individual.
Complete Your Office Decor with Nice Aromas
Whether you are going to design a professional modern office decor for women and men, or you are leaning more towards casual work environments, finish the job by adding air fresheners and candles.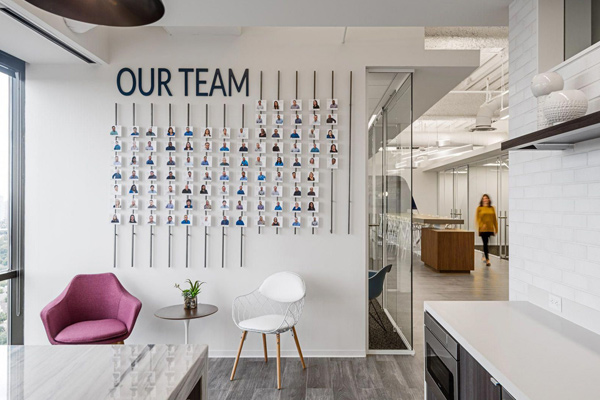 Final Thoughts on Office Decor for Men & Women
In its essence, decorating simply beautifies a place. But when it comes to the working environment, you also need to differentiate, convince customers, retain current talents, and attract future ones.
A smart office decoration plays an important part in increasing productivity, enhances company culture as well as the name brand, and builds client confidence. One does not simply miss such valuable investment in their company's future success!