The aesthetic room has its own definition in modern design. As a more fancy term for trend, it is mostly used by young people (teens and young adults to be more specific) to describe any decoration style that creates a certain emotion or atmosphere.
While greenery, muted colors, and various LED lights are among the most popular aesthetic room ideas, this style has much more to offer. Take a look at these plus 30 inspiring room aesthetic ideas, pick your favorites, mix them and match them, and create an aesthetic bed and bedroom with your personal touch.
How to Make Your Room Aesthetic
Cute, modern, cool, 90s, cozy, etc. no matter which one you prefer or what materials you have available; scroll down to find at least a few aesthetic room decor ideas that you can play around with!
Aesthetic Room Ideas with Lights
Incorporating lighting ideas in all forms and shapes is perfect to create a room that is nice to look at. For example, you can go for:
The World of String Lights
Hang LED string lights over your bed for an aesthetic bed as well as fashioning a stunning display. The sprinkle of strip lights (fairy, bulbs, stars, and even butterflies) are especially good options for those who favor cozy aesthetic room ideas.
Warm Atmosphere with Yellow Lamps
Another way to create a cozy room is by paying attention to the lighting of your room. Here, you do not necessarily require decorative lights. All you need is to consider using lights with warm tones and replacing yellow lights with white lights.
Ambient and Dynamic Lighting
Although you can change their placement, monochrome LED strips are usually fixed. A new way to create a lovely ambiance using lights in aesthetic rooms is ambient and dynamic lighting using galaxy or nebula projectors. Modern room lamps, which feature apps for remote control, also offer an almost similar effect.
Unique Fixtures
If you are more intrigued by something besides string LED lights, striking light fixtures can do the trick. They make a strong statement while giving a room an instant upgrade.
Funky Neon Signs
Neon signs are a must in room aesthetic ideas that aspire in offering a funky, eclectic vibe. Find a sign with your favorite quote, word, shape, and symbol for an instant glow!
Any of these room aesthetic ideas are charming enough to decorate the room alone on one wall or around the whole room, or you can combine them with other elements such as vines or pictures.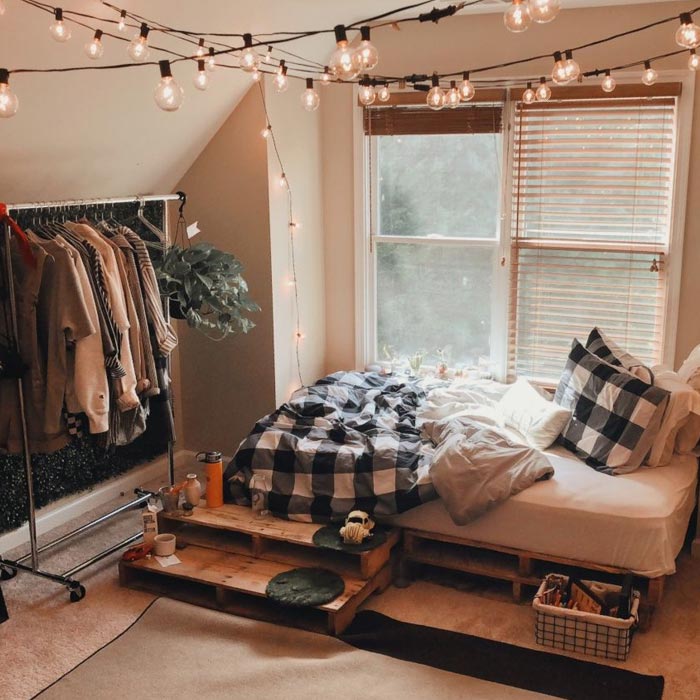 Aesthetic Bedroom Vines
A touch of green thanks to natural or faux vines hanging behind or over the bed, alone or combined with lights, is a common feature in all guides about how to make your room aesthetic.
Decorative vines pair incredibly in neutral rooms and make them dreamy and garden-like. You can also place them around windows, headboards, or mirrors to add unique texture and color.
Room Aesthetic Ideas with Other Plants
In addition to aesthetic bedroom vines, other ornamental plants help in designing a fresh and fairly-like space. You can go for hanging plants (succulents would be perfect) for pure natural vibes or choose something like Eucalyptus for both visual attraction and soothing aromas.
While decorating an aesthetic bedroom using plants, depending on your free space available and condition, there are nearly no limitations on how many or what plants in which containers you can use.
Mixing and matching planters made of different materials including rattan, macrame plant hangers, woven baskets, concrete, clay, etc., plants in different sizes, styles, shapes, and colors add texture and color to your room like no other aesthetic room decor ideas!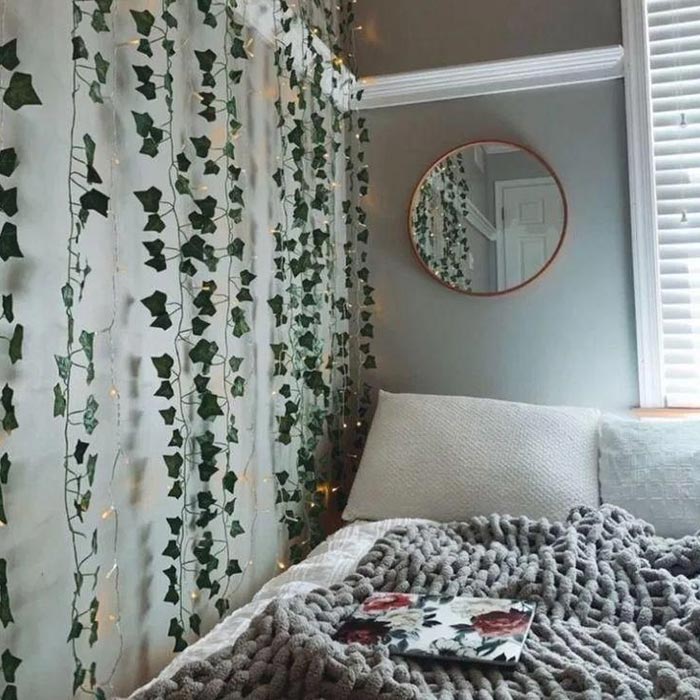 Making an Aesthetic Bed
As the most important piece of furniture, sometimes all you need is an aesthetic bed to have your ideal aesthetic decor. In addition to lights or vines over the bed, here is how you can level up your bed area:
Inviting Bed Canopy
For cottagecore enthusiasts, we recommend placing a canopy over the bed that can be decked out in greenery or string lights.
Tip: To complete such a setting, you may consider adding elements like an old-style magnifying lamp, beige throw pillows, appropriate wall arts, flower prints, and wooden shelves.
Eye-catching Headboard
Upgrading a basic headboard with string lights is among the worn-out aesthetic bedroom ideas now. Instead, try installing sconces and shelving over the bed and display your favorite accents.
Bold Daybed
A monochrome room can benefit from a colorful daybed tremendously. To make a true impact, look for graphic throw pillows with bright colors and eye-catching patterns.
The option of interesting textures like feathered pillows, pom-pom blankets, or knit throws is also available to make even more of an impact.
Simple and Chic Bedding
Looking for more elegant ways to have an aesthetic bed? Try plain bed sheets. Simple bed linen with plain and motifs that are easy to the eyes are both affordable and chic compared to some of the room aesthetic ideas. You may want to know that among these sheets, black and white grid and simple white is a classic.
Whimsical Garlands
This accent piece looks great over the bed. However, you can also install it above your desk or dresser.
No Bed? Make a Pallet One!
Do not let not having a fancy bed stop you from playing with aesthetic room decor ideas. As you can see in many images, aesthetic bedrooms with low platform beds are on trend. Make an easy and cheap bed together using wooden pallets and start styling it!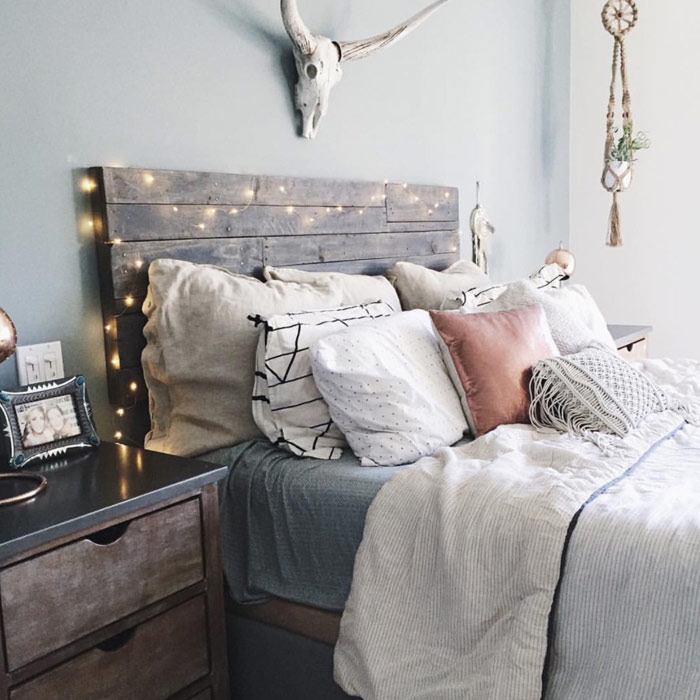 Indie Aesthetic Room Ideas
Indie aesthetic room ideas are a hot trend now, so much that you can find "Indie Aesthetic Room Kits and Collections" in many online stores. If you are interested to design your version of indie, keep some of its main elements in mind:
Bright posters, tapestries, and related wall decor like pop culture posters
Vibrant, oversaturated colors from indie music
Vinyl (vinyl crates are even better)
Unique bedding sets
Bookshelf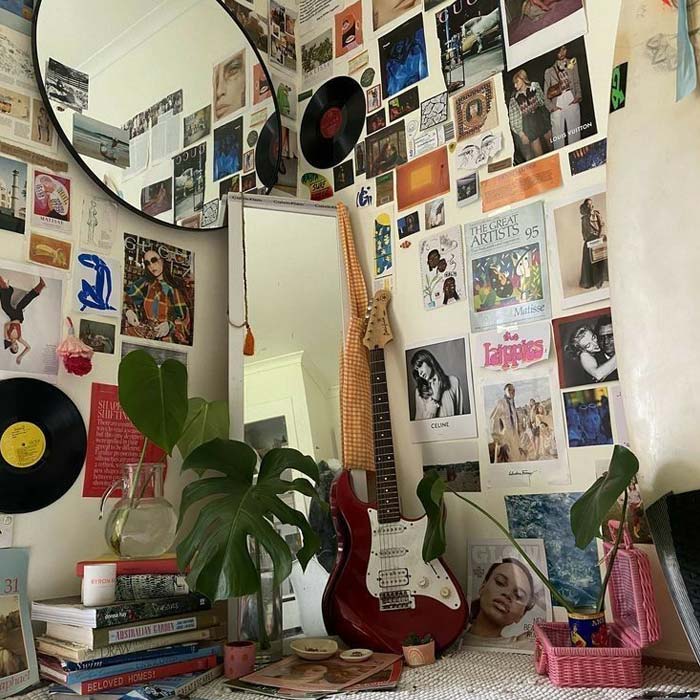 Ideas for Cozy Corners
When searching for how to make your room aesthetic, you may have noticed some stylish ideas that single-handedly create a beautiful focal point for the viewer as well as provide a relaxing spot for you. We are talking about:
Reading Spot
While it is an amazing idea for a young adult's room,  if you are a parent and want to decorate your teen's room, a cozy reading nook can encourage it to read more. To design a more stylish corner using nooks, make sure to use a modern chair and top it with colorful throw pillows that are playful too.
Relaxing Swing Chair
Aesthetic room decor ideas can never be too cozy. Hang a swing chair near the bed to enhance relaxing vibes in the space and have a comfortable spot to chill or read.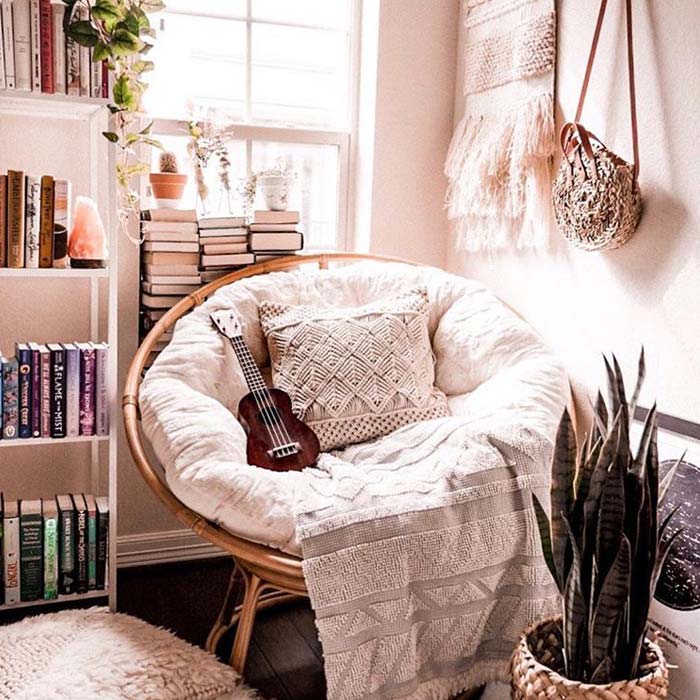 Room Aesthetic Ideas for Accent Walls
There are many ways to upgrade a dull wall in aesthetic room ideas for small rooms as well as large rooms. Here are some of them:
Attractive Wallpapers
A faux brick wallpaper, floral wallpapers, etc. all allow you to have a brilliant pop in your space. Remember that if you choose removable ones, you are basically enabling yourself to venture other ideas in the distant or near future!
Pinboard
Incorporating personal pictures offers that signature effect of an aesthetic room beautifully. And one of the ways to showcase your favorite photos is using a pinboard. Similar to many ideas, here, you can upgrade things with string lights.
Portrait Wall
Is the pinboard too small for all of those Polaroid photos or printed photos that you hold dear? Why not opt for a statement-making portrait wall to make things easy yet charming?
Tapes and Stickers
One of the cheapest and easiest aesthetic room ideas out there includes sticking colorful tapes on a plain wall with different patterns.
If you have a complex pattern in mind, going for wall stickers is a nice, quick, and economical idea too. You can even create fun patterns with colorful sticky notes that may already be in the drawer!
Tapestries
A tapestry with color or pattern that pairs with the theme of the space or what you want can find its place in all aesthetic room decor ideas. Hang it on the wall you want or even over the bed and voila, instant seamless aesthetic appearance.
Mesh Board
A mesh board is great for both decoration and keeping your memos, sticky notes, and even your room tidy. It can also display Polaroid photos, calendars, hold sunglasses, and other accessories.
Wall Collages
To create a wall collage you can opt for pages of a magazine, photos, vinyl records, cards, posters, or a combination of them preferably with the same color theme.
Record Display
Posting your album covers, records, and artwork up is another way to make an accent wall, which is one of the popular indie aesthetic room ideas too. If you do not have enough pieces right now, all you need is a quick trip to the closest thrift store.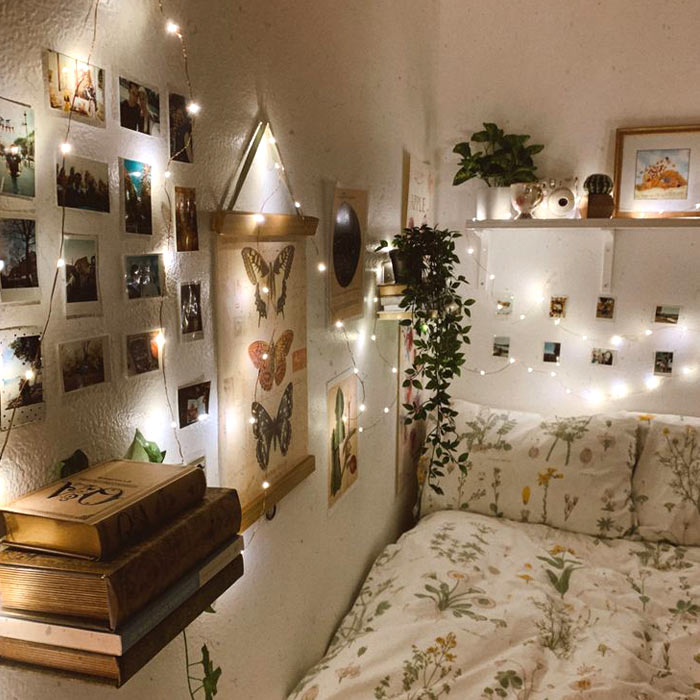 Last-minute Aesthetic Bedroom Ideas
Keep your room minimal and neutral. If you are aiming for calming white or pink aesthetic room ideas, you can go creative with shapes, heights, and textures without introducing different colors into the space.
Use layered rugs. Tie together the room by matching throw pillows and blankets to the colors within the rugs to style like a pro.
Incorporate a full-length, oversized mirror that can be installed on the wall or leaned on a wall.
One of the excellent aesthetic room ideas for small rooms is using an exposed clothes rack.
Using the items and accessories that you already own, create a theme in your room.
Install a high shelf above your bed and store some plants and picture frames on it.
Hang a disco ball mirror.