The warm season is upon us, and that means having the chance to enjoy cold drinks and your favorite meals in a cozy backyard bar. Why settle for a simple set of chairs and a table in the middle while there are a lot of outdoor bar ideas?
From on-the-budget DIY options to luxurious and modern design, a homemade bar will be a personal satisfaction booster for you every day. Scroll through these creative backyard bar ideas, find the inspiration that you are looking for, and make your dreamy home bar a reality!
Backyard Bar Ideas: What to Remember
A place for keeping the drinks cold is the heart of all home bar ideas, so much that they are rarely mentioned. This place could be a refrigerator, a kegerator, or a cooler. If you make a lot of mixed drinks, it would be a good idea to add an ice maker too.
Before diving into ideas, let us review some of the things that you need to have in mind when designing your outdoor bar:
Countertop
When choosing the countertop, it is best to look for durable materials and options. This way, you will not have to worry about the effect of weather elements on it. If you are not interested in having a backyard bar with roof or covering your bar, your counter should be able to withstand sun, rain, wind, and ice.
For example, as popular as outdoor wooden bars are popular, they will not make a good roofless and coverless homemade bar at all! Unless you are willing to spend the necessary time for its upkeep. However, using a gazebo or pergola will not be the end of the world. Resin is also a great choice for countertops.
Furniture
Additionally, since you need a palace for people to sit down, building the bar does not necessarily stop you. After that, you can add comfortable furniture that encourages people to stay in the space longer as well as elevating the overall decor and inviting vibes.
Creating a relaxing lounge-like atmosphere with accent chairs, love seats, sofas, and even a long bench with colorful cushions and throw pillows sounds perfect. And if you have limited space, use bar stools. We recommend having at least three to off-balance and odd look in your backyard bar.
However, a walk-up bar is another option if you do not have enough space. You make the drinks on the countertop, while others place their drinks on the bar top area.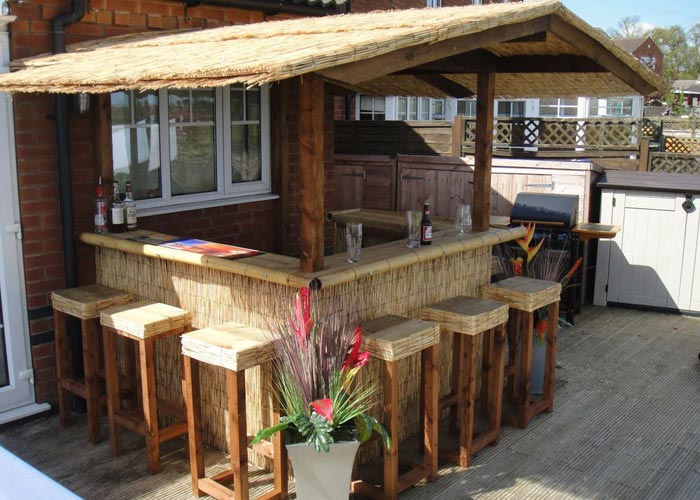 Outdoor Bar Ideas
There are a lot of ideas to create an entertaining outdoor space, from modern to rustic, luxurious to inexpensive, compact to spacious and comfortable. Let us take a look at some of them:
DIY Outdoor Bar
Hiring a contractor to build modern outdoor bar ideas can be expensive. But that does not mean that you cannot have the backyard bar shed that is in your mind. All you need is the right material and some carpentry know-how to make your own DIY backyard bar.
Something like outdoor bar plans with roofs might be intimidating for some of us. But there are easier DIY ideas that only include using a wine barrel or an old door as the main structure of the bar and then building around them.
Shed Bar Ideas
Shed bar ideas allow you to have an outdoor bar without having to leave it outside. These outdoor bar ideas are quite simple. For example, you can convert an old gardening shed. You will need to replace the potting bench with a drinking bench as well as replace its small door with two large double barn-style doors.
There are other ways too. For example, you can install a lift-up style door to open the bar from the side. You will stand inside to prepare the drinks while people would walk up or sit at bar stools on the outside.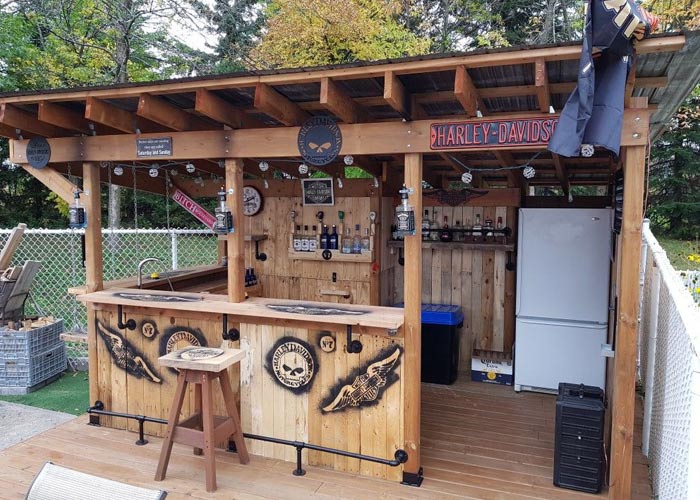 Rustic Outdoor Bar Ideas
The best choice to create an authentic rustic (and vintage) space is reclaimed wood. However, they are not the best material for many outdoor bar ideas. Therefore, we recommend using hardwood that is both durable and impervious to water.
If you do not consider using hardwood as one of the home bar ideas on a budget, the next best option would be treated softwood. They are not as tough hardwood, but they definitely last longer than reclaimed wood. If you decided to go with this material, do not forget to treat it regularly to get the most out of it.
Bar Top Ideas on Deck
Do you have a deck? Congratulations! Because you already have an outdoor living space and adding a homemade bar will be fairly easy.
There are different design ideas to go with, one of which is building the bar top into the railing and then lining bar stools up along it. This is one of the most amazing bar top ideas if you have a nice view from your deck.
Another option is building the bar in a dead corner of the outdoor space that is too awkward to put furniture. So, instead of letting it sit empty or using it for storage, build an outdoor wooden bar around it and turn it into a functional space.
DIY Garden Bar
We are guessing that you love to plant and have a garden (because who does not?!), so why not build a garden bar. Such a charming bar offers an entertaining space that blends in perfectly with its surroundings.
There are a lot of creative designs when it comes to homemade bars. And only a few of them can compete with modern outdoor bar ideas as a vibrant garden bar does.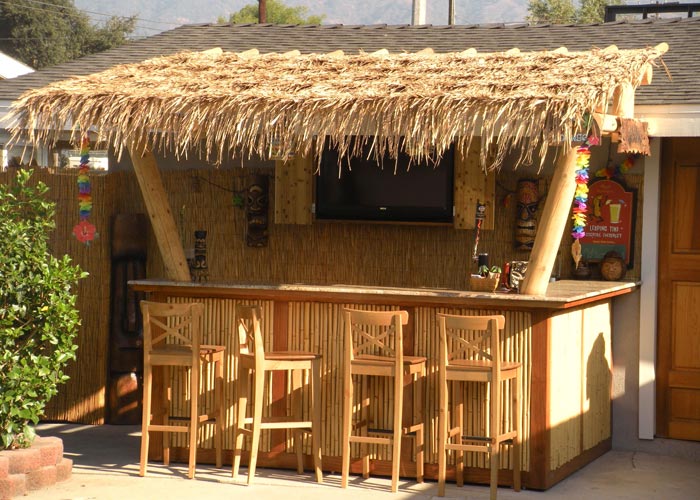 Outdoor Bar Cart
Looking for something that is different from standard outdoor bar ideas and designs? If so, what do you about having an outdoor bar cart?
If you have a fire pit and you like rustic outdoor bar ideas, do not even hesitate about this design. build a rustic bar out of the same materials as the fire pit, and enjoy your attractive, warm homemade bar.
Outdoor Wooden Bar Pallets
Wood pallets are essential for such designs, whether you are a fan of rustic outdoor bar ideas or prefer modern approaches, which mainly incorporate upcycling wood pallets. To make a pallet bar, you have two options:
Leaving the wooden pallets intact and simply attaching them to each other. It will be ready in no time with minimum inconvenience; however, your customization ability will be limited.
Breaking the pallets down into similar pieces of wood to build a backyard bar that fits your space and needs.
To elevate either of these outdoor wooden bar designs, alternate light and dark pieces to create an eye-catching striped effect.
Backyard Bar with Roof
A backyard bar with roof allows you to add other features to your bar like a grill. Next to a mini-fridge and a cooler full of drinks, you will have everything you will need to have a good time on your patio. The roof also offers a pleasant relief from the hot summer sun.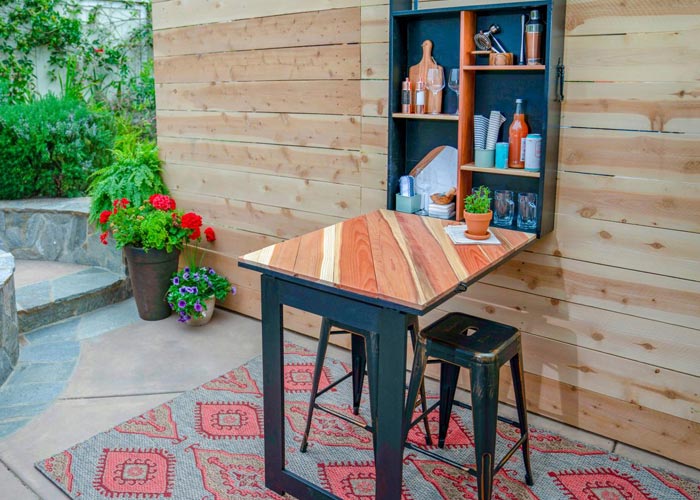 Tikki Homemade Bar
Among outdoor bar ideas, this one offers you an island oasis getaway on your patio. To make a dreamy tiki bar, you will need bamboo and rolled sheets or panels for the front. Then, build an overhead cover with a grass roof. Finish the bar by painting the wood elements with bright tropical colors.
For the final touch, decorate your tiki bar with island decor accents such as decorative surfboards, theme signs, tropical animal wall hangings, or Hawaiian totems.
Attached Home Bar
A DIY outdoor bar does not always have to be a standalone feature. It can also be a part of an outdoor kitchen, attached to your house.
If you live in a place with a warm climate, you will enjoy eating breakfast in an open kitchen-side bar while the cool breeze charges you for a busy day. Use mounted corbels for a sturdy surface, add some stools and you are done!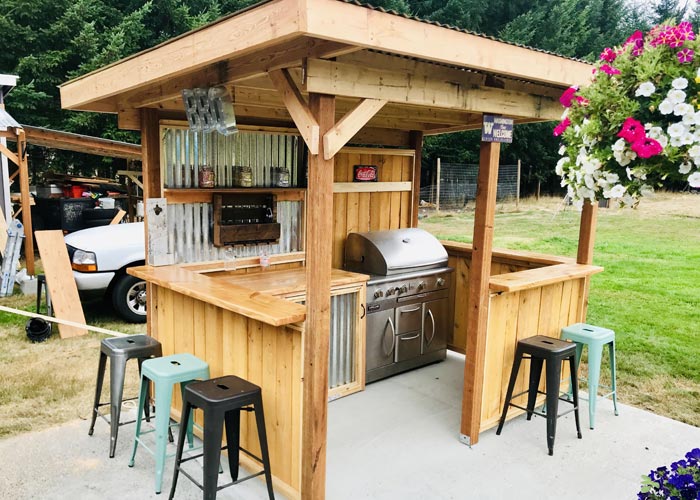 Stone Backyard Bar Ideas
Slab stone designs are not just beautiful. They also pair seamlessly into the natural outdoor spaces. Such designs are excellent if you want to make the bar a permanent addition to your backyard. You can also mix the stone with wood for a relaxed yet sophisticated look.
Tiled DIY Backyard Bar
Patterned tiles add both style and weather resistance in summer and winter to your homemade bar. Colorful and quirky tiles are another option if you feel particularly whimsical.