Backyard design doesn't always have to be expensive and difficult. You may prefer to create the same atmosphere outdoors as your interior design, or aim to have a completely different space yet relevant to your home. In both cases, landscaping ideas are surprisingly diverse, offering limitless options from modern and beautiful to small and simple when it comes to backyard landscaping.
Whether you're going to make this a DIY project or planning to contact a landscape designer or architect, join us to review some backyard ideas for extra inspiration.
Backyard Ideas with Pools & Other Water Features
Most of us look at this space as a spot to recharge, relax, and refresh. And nothing helps in achieving that like a pool or any other water feature does. You may find it hard to believe, but pools can be quite flexible and customized in a variety of backyard landscaping ideas.
You can go for a narrow, small one with a tanning ledge, and a fountain. It can also feature a decking that separates it from the rest of the space while offering easy entry and exit. For decking, we recommend choosing a durable material that requires minimum maintenance such as non-slip porcelain tiles. They are easy to clean as well as practical when water is part of the backyard design.
If you're looking for more on a budget ways to incorporate water in your design, consider a reflection pool. An element as simple as a wide and dark bowl is filled with water to create a seamlessly calm atmosphere in the green setting of all backyard garden ideas (especially modern ones).
With no pump or electricity involved, you'll be mesmerized by the lovely stillness that it brings to the space. A koi pond helps you to create the same effect as well.
Elevate Your Backyard Landscaping with Lighting
The best landscaping ideas always look great, no matter the season and the time of the day. If you don't want your backyard to lose its magic in the evening, don't forget about the lighting. This is an excellent way to fashion a welcoming and intimate environment.
To maximize the effect, combine the lighting with your plants using up lights that are recessed into the ground or are set on moveable spikes (especially if your greenery includes ornamental grasses, bamboo, and palms). Such lights illuminate the plants beautifully and add a unique texture to your backyard design by making sculptural shadows against the backdrop of a wall or fence.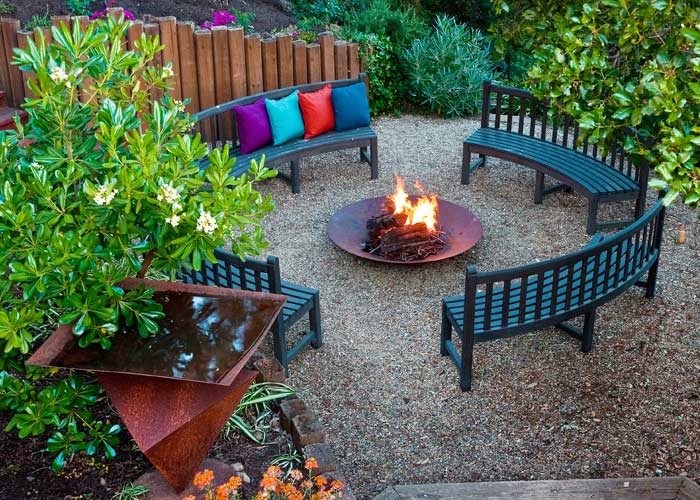 Fireplace Backyard Ideas DIY for Instant Coziness
If the option above looks too fancy and sophisticated for the space that you have in mind and prefer backyard ideas on a budget in a similar category, an outdoor fireplace immediately makes your backyard cozy.
You can never go wrong by setting up a seating area around a fireplace, a log-burning brazier, or a chiminea. As an upgrade, we recommend adding a retractable roof cover or finding the right pergola to add a sense of enclosure, as well as string lighting for the best result.
Go for Small Backyard Ideas like a Pro
As small as your backyard may be, you don't need to give up on backyard landscaping. Think about creating garden areas that aren't visible in the initial view and can only be appreciated when one is immersed in it. This sense of anticipation will make your garden look larger than it is.
Remember that focal points and other distinctive elements encourage progression through to maximize the space. So it is always a good idea to opt for dramatic planting that shifts the eye away from tight corners, adding a stylish mirror, or contrasting textures and materials to make a space feel larger. All convenient landscaping ideas help your backyard to look more open and spacious.
Backyard Landscaping with the Right Colors
While designing your backyard, it's crucial to limit your color palette. By coordinating seating and walling materials in similar tones, you allow the plants to be the hero and receive the attention that they deserve.
Additionally, limiting your backyard design color palette creates a charming calming effect, which is the essence of such spaces.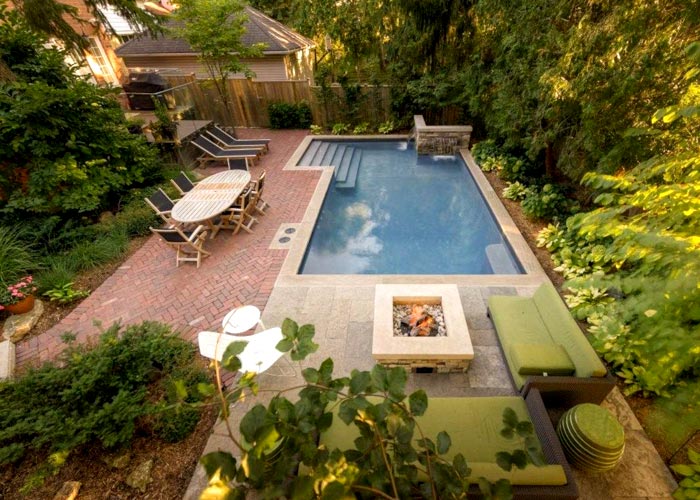 Plant Simple for an Elevated Backyard Design
Different backyard garden ideas are a great way to showcase all of your favorite exotic plants and have a true gardening adventure. So, this idea is more suitable for those who favor low maintenance yet a charming option or are working with small backyard ideas.
For this group, we suggest using a few types of plants to avoid a crowded look. Combine structural greenery including low evergreen hedging, grasses, and perennials. They are stylish and easy to care for while helping you define the space. So position them with extra care during a makeover or redesign.
Consider Outdoor Dining
Whether you're going to have an outdoor kitchen or not, your backyard offers the ultimate place to enjoy your everyday meals in an open space, alone at peace or with family and friends. There is no need to design or plant anything, simply add comfortable, stylish outdoor dining for more functionality.
Complement Landscaping Ideas with Personal Touches
When styling outdoor spaces, finishing touches by choosing simple items carefully (from small pieces like throw pillows and outdoor rugs to bigger items like furniture and garden sculpture) can make a world of difference in all backyard landscaping ideas.
For extra contemporary yet classic quality, add such items in muted and neutral tones like grey, which tie in with your planting scheme amazingly and pair perfectly with landscaping materials such as concrete or stone too.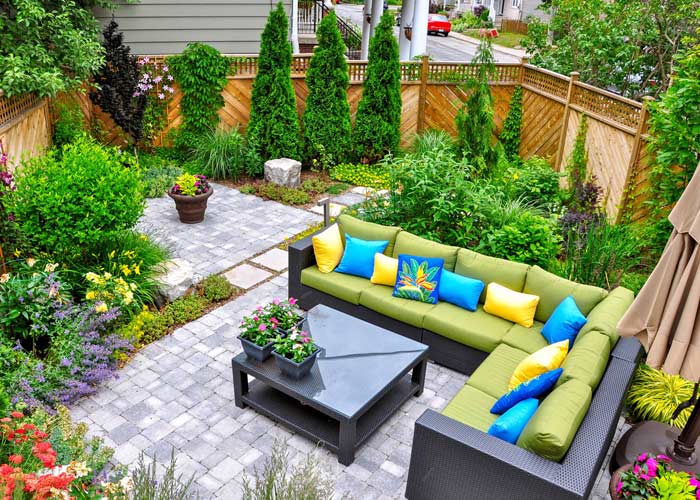 Decorate Using Reclaimed Objects
Looking for backyard ideas on a budget? A display of colored reclaimed pots with vibrant flowers and a few birdhouses or feeders here and there to bring your space to the land of the living. You can also turn old gardening wellies or vintage tins into planters and place them on the steps to the deck or next to the back door.
Another way to create the most beautiful pots for your backyard landscaping would be repurposing chipped or broken decorative dishes into mosaic tile pieces and affixing them to simple terracotta pots. And if your need more space in your backyard, old drawers or ladder-shaped bases can be a nice outdoor perch for your favorite plants.
Privacy Centered Backyard Garden Ideas
For (more) privacy, a classic idea is using the plant in a way that they create closed spaces by dividing the area. However, pergola-style structures are another stylish method. Such eye-catching architectural elements (especially when unplanted) serve as a unique design feature as well as provide the desired privacy. Backyard design ideas with these structures also allow you to use your space in any weather.
Fashion a Backyard Bar
Repurposing a stock tank as a pool, a DIY sandbox, or making a treehouse sounds perfect, for children. But you're probably here to find some fun backyard ideas for adults, right? So, how about a backyard bar?
This will make a great DIY project, offering more than enough room for outdoor treats and summer beverages when you're done. This is just one of the many ways that you can get creative with food and drink displays.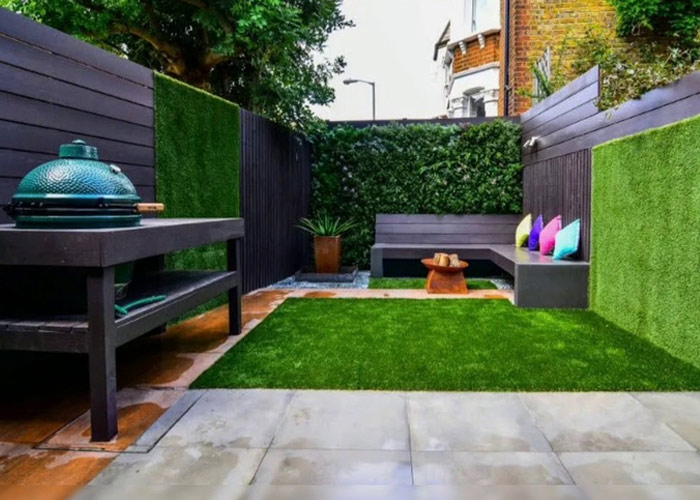 Have an Outdoor Kitchen Backyard
If you don't consider a backyard bar an upgrade, consider incorporating an outdoor kitchen among other landscaping ideas. Cooking and hosting outside simply multiplies the joy of hanging outdoor for everyone; whether it is a simple setting, or a complete outdoor kitchen with a barbecue grill, pizza oven, blender, outdoor sink, and even an outdoor fridge. Just make sure there is access to power outlets.
Shady Backyard Landscaping Ideas
If you have a shady garden, there's no reason to think that your garden isn't going to be gorgeous. This is a great opportunity to grow some wonderful plants. With the help of some other backyard design ideas, you can upgrade the space too.
For example, you can build shady paths made with stepping stones or wood, add water features to create a more inviting ambiance, group colorful plants together, or repeat shade plants for a bold impact.
Fun Backyard Ideas for Children
It's a great idea to incorporate a place that meets their specific needs and keeps them entertained.  Although, repurposing a stock tank as a pool, a DIY sandbox, or making a treehouse (which was mentioned earlier) aren't the only backyard landscaping ideas for families with children. Large activity structures and swing sets are another way to design your backyard while having the little ones in your mind.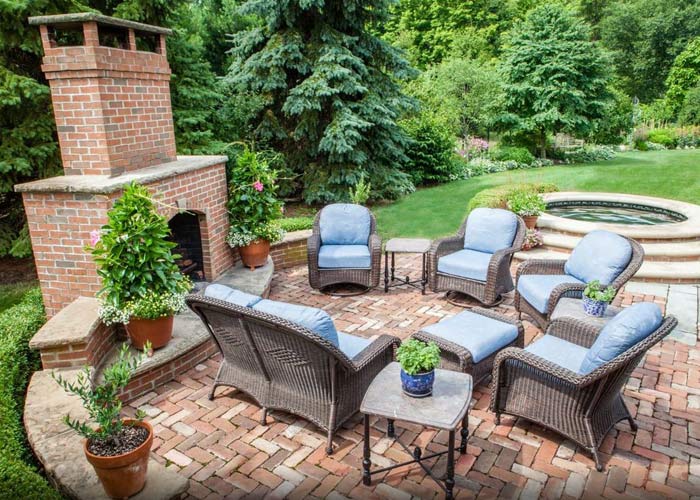 Landscaping with Vertical Gardens
Vertical gardens and trellises are among other practical backyard design ideas for small places. Such decorative additions (simple or ornate) work with any yard (big or small) while adding a charming touch of artistry to your landscape design.
Trellises are available in several designs and materials like iron, bamboo, or wood, which allows you to find the right one for you and your backyard decor.
Chilling Zone Backyard Ideas
One cannot simply make a list of backyard design ideas and ignore chilling zones! If you have trees in your backyard and you aren't a fan of having a swing, we strongly suggest tying up a hammock for refreshing naps in the afternoon.
Set Up a Small Farm
Next to all of the amazing ideas that you have for your backyard, maybe you can use at least a small sunny spot of it to plant crops from herbs to low-growing or climbing vegetables. This way not only you'll have a colorful view in your backyard, but you can also harvest fresh ingredients from your own mini-farm for the most delicious and organic foods.
Which one of these backyard garden ideas was your favorite? What perfect idea did we miss for decorating this space? Let us know in the comment section below.