If you are lucky enough to have a backyard, then a backyard makeover should be an important mission for you. You want to take full advantage, creating an environment to enjoy all year round (like an outdoor living room), as well as including practical and decorative features that can't be implemented in other parts of the house.
To help you pinpoint the perfect idea and its execution, here are more than a dozen of backyard makeover ideas to DIY or hire a company to create your ideal space.
Backyard Makeover Ideas
There are dozens of backyard remodel ideas out there: modern, rustic, chill-out, Zen style, etc. All are workable for small and large places. One thing you need to decide before a backyard makeover is what you expect from this area.
Are you looking for a dining room, a living room, a reading area, a place to take a break and have a coffee, or …? Or do you prefer backyard renovations that help you create a space for hobbies like gardening, making flower arrangements, and grow edible herbs and?
Not sure what to do you yet? Don't worry, let's review some ideas first:
Creating a Large Dining Area
For those who cherish family time, a large backyard with a dining area is a flawless choice. If you find this backyard remodel idea intriguing as well, remember some tips. Opt for fiber furniture, such as wicker, rattan, or wood. These are better furniture as they are resistant to the outdoors and require little care.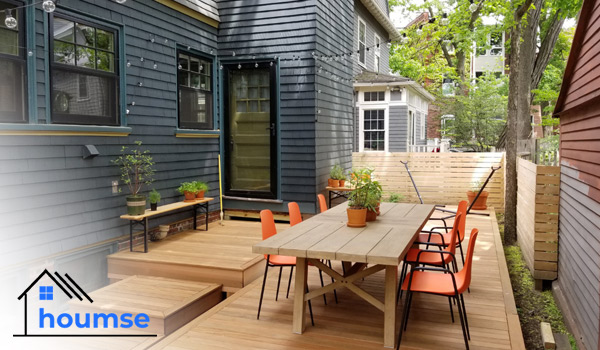 It is also necessary to consider how to protect them from the rain. So, think about the solution to close the roof so that they do not get wet. Fashioning some sort of small room in backyard renovations would help greatly in these situations too. As you will be able to store the furniture and cushions easily.
Offer Spaciousness with Right Materials
For a backyard makeover, you have to work with limited square feet. However, there are some ways and materials to get the most out of the space.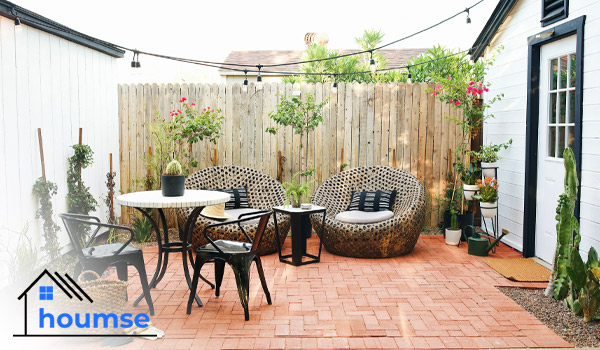 One is using the same or similar materials in flooring and wall coverings. For example, wooden platforms and planters, or polished cement floors and masonry planters with the same finish.
For a more natural and personalized look, while preserving maximum space, you can only use gravel, stone, plants, shrubs, and trees for decorating in the backyard remodel. Natural decorations never go out of style and provide one of the most relaxing moods and vibes.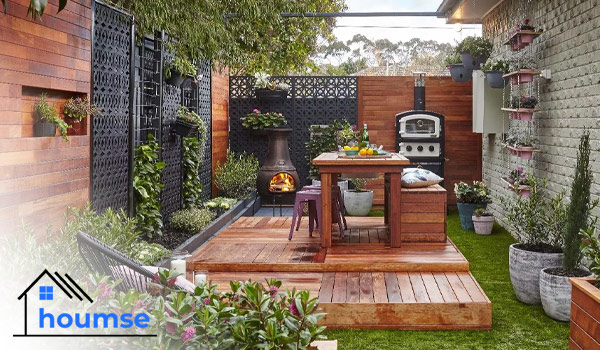 Tip: Mirrors give a feeling of spaciousness to patios, balconies, or small gardens as well by intensifying the light.
Vintage-Style Backyard Makeover
The natural charm of the vintage style makes romantic wrought iron furniture elevate the space seamlessly. What completes the setting with minimum effort, is their upholstery with botanical or plant motifs.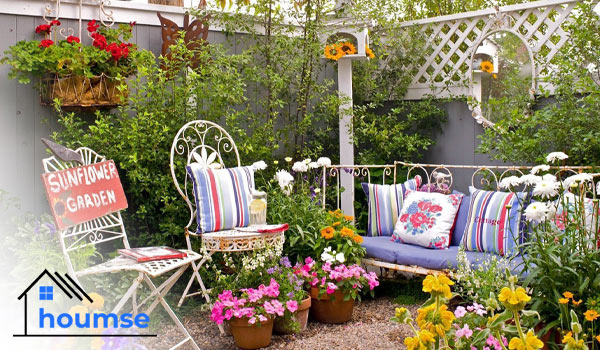 Other decoration ideas in vintage-style backyard remodel include mixing and matching cushions that show your interests and personality, and lighting with lanterns, candles, and candle holders that make the space more welcoming and create a more summery atmosphere.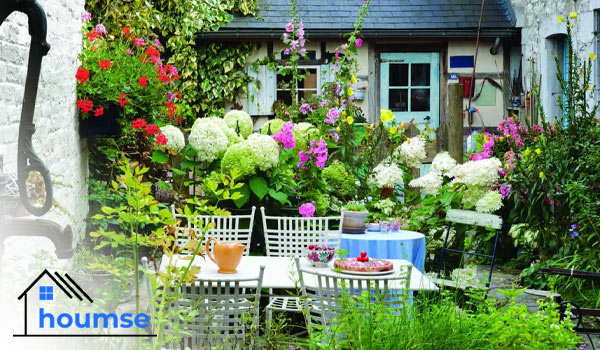 Cracked ceramic adds texture and charm to the setting as well. Details on the walls such as letters, posters, and vegetable fiber mirrors. A vinyl or jute rug for the sofa space is among other quick solutions to complete the design.
Glass Enclosure to Connect Interior and Exterior
As mentioned in the last part, making the space appear larger or preventing it from looking small is always important in backyard renovations.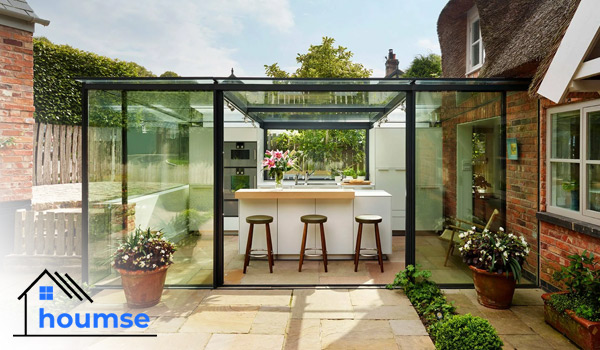 To achieve this, another approach is installing a glass enclosure between the interior and the backyard. This will fill the space with natural light and connects the indoors to the outdoors.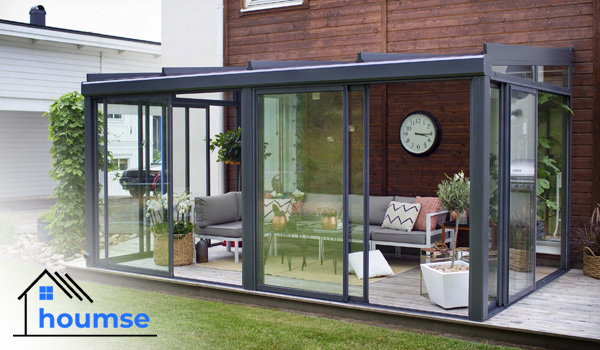 For those who live in cold climates, it is a better idea. Allowing you to use the space anytime you fancy. For this backyard makeover idea, you can also go for models that are easy to remove when the temperature rises to enjoy cool summer breeze.
Take Advantage of Architectural Elements
There are some backyard renovations that don't force you to change everything, making the process easier, quicker, and more on a budget. All when allowing you to benefit from previous elements that are just too perfect for being removed.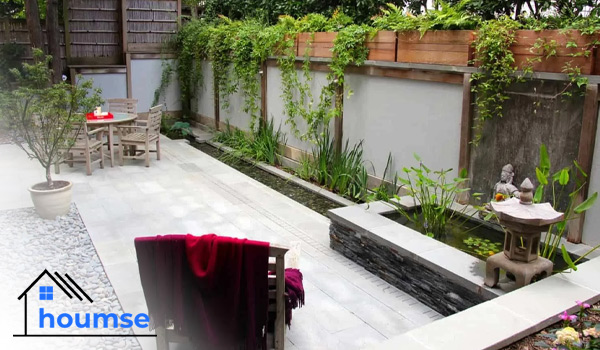 Preserving original architectural elements and their natural textures work magic in backyard remodel. However, you can always update them by washing, mending, or painting them. This way, you will be sure about adding a touch of visual interest as well.
Country Backyard Remodel
Are you interested in country-style designs and landscapes? Well, we have good news. backyard makeover ideas in country style are plenty and all attractive.
Decorate with details and accessories that tell stories about the beach, the countryside, gardens, and vacations. Also, consider vases with floral patterns that evoke the countryside's freshness, bamboo trays on the table, ceramic pots for outdoor plants, etc. All are essential for the atmosphere and beauty they bring to your decoration.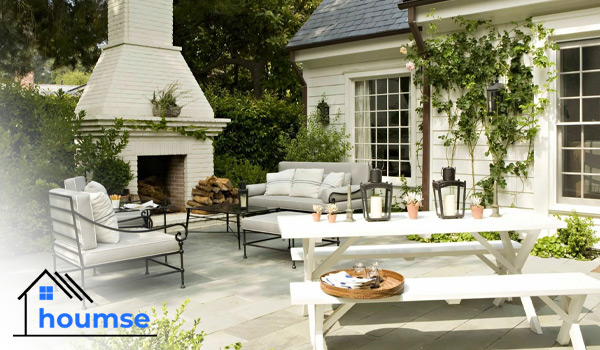 Such a comfortable area gives you the permanent chance of taking advantage of the good weather to experience unique moments with your family or for quality personal time.
Tip: In case of uneven flooring, outdoor natural fiber rugs are useful to provide stability and allow chairs to be moved easily.
Fashioning Roofs for Privacy & Protection
If neighbors can see into your backyard or you simply want a more private area (with protection from sunlight), there are ways to achieve privacy, such as umbrellas, roof reeds, awnings, shade sails, and pergolas.
These solutions do not impede natural light and keep the environment fresh and act as a decorative element while providing the needed privacy.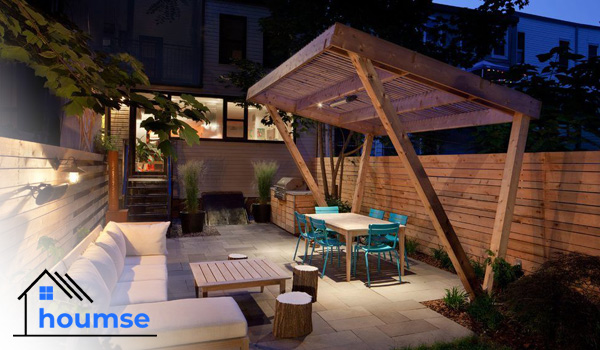 Before starting your backyard makeover project, think twice about your preferred method(s) to create artificial shadow. Awnings, for example, prevent overheating of walls, floors, and windows in hot summers, their decorative function extends all year round.
There are a variety of patterns, materials, and systems in the market for backyards, as well as terraces and balconies. Find the best one according to your taste, climate, and budget.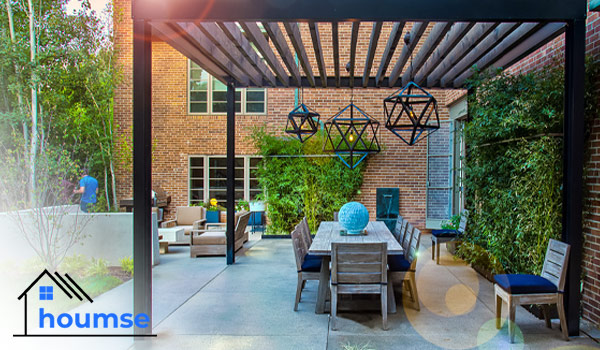 You can even go further with such backyard makeover ideas and install cotton curtains or wooden lattice which you can later decorate by hanging flowerpots and plants to form a green wall. As final touches, consider coloring the upholstery or other options for pops of color.
Small Backyard Makeover on a Budget
A chill-out type look with wooden pallets is a comfortable, simple, and economical way to furnish a small backyard. And if you decide to cover the ground surface with something, don't go all the way and preferably use something with rounded edges.
Another way is using stones to create paths. You only need a little creativity for delightful designs. There are many ways to create garden paths, but small stone paths are one the most popular ones. In addition, the stones are perfect for differentiating areas of the space, especially if you get them in different colors and shapes.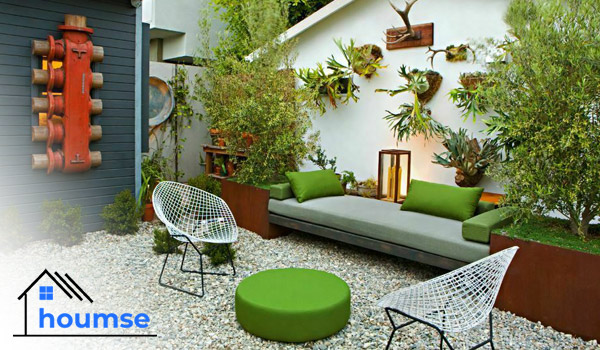 You may have heard about the unwritten rule of decorating small spaces too: light colors. So, make sure to use white color on the walls. In backyard remodel, the white prevents the space from appearing smaller as well as complementing auxiliary furniture made with fibers and wood.
In one corner you can have a relaxation area by simply hanging a net hammock to rest and fall asleep in the shade.
Plants, Flowers, and Sun
Centering your backyard makeover around making a green space may seem too easy or a cliché. But that is far from true.
Apart from being tons of ideas to design such a backyard (no, we are not exaggerating), it will be different every day and every morning, waking up and stepping into the backyard, finding yourself in a heaven of greens, colors, and aromas embraced by natural light. It will be the best place in the world without a doubt.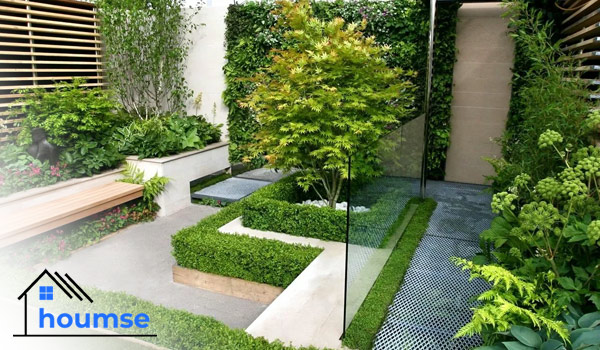 Lavender, roses, daisies, or climbers such as ivy, jasmine, or bougainvillea are all perfect for designing the environment. Use three or four species of plants in beautiful pots to make the space appear larger, with flowering species to add extra charm after backyard remodel to the environment.
Among all, plants that quickly make splendid shade if entangled in a structure are the most amazing options. This way, you'll have a natural roof that is not dense and is full of aroma.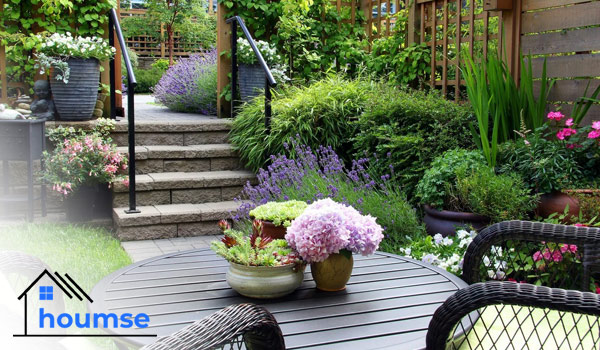 If your backyard has two levels, take advantage of the different heights in decorating, and make two areas. You may want to consider a pool next to other backyard makeover ideas as well. If your budget is limited, don't simply skip it, think about plunge pools.
And to give your green backyard a modern touch (especially if it is not large) consider vertical gardens.
Create Harmony Between Indoor & Outdoor
When reviewing images of backyard remodel before and after, all these new ideas and styles may excite you. However, as most experts recommend, it is better to decorate this space according to the style of indoor decoration.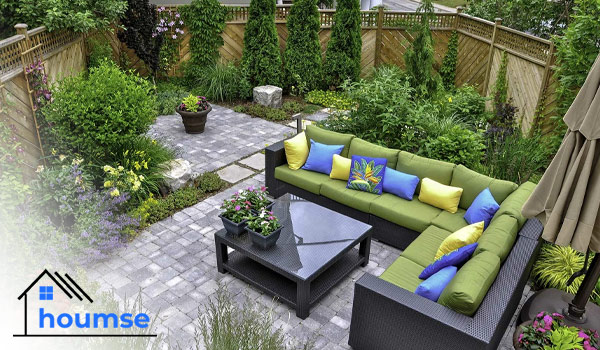 Whether it is rustic, modern, industrial, etc. you want to maintain the basic traits when decorating outdoors as well. cleanliness and order of a minimalist style. This way, there will be no strong aesthetic shocks when moving through different parts of the house when the backyard makeover is done.
Minimal Backyard Remodel Ideas
Decorating a backyard with minimalist trends involves a few elements, a couple of seats, little decoration, and white and bare walls, which actually results in a comfortable, light space.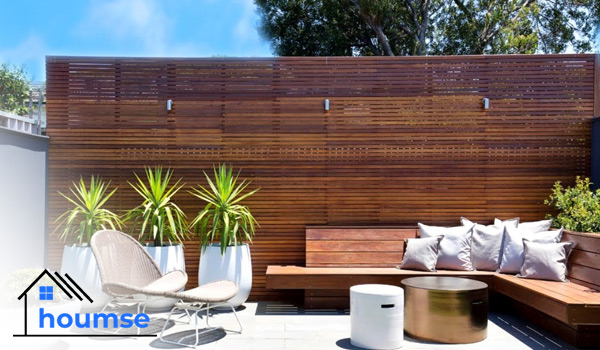 To make the maintenance minimal too, you can use artificial plants that you do not have to worry about them. The imitation is amazing today. So don't worry about them not looking natural.
Think of Your Little Neighbors
If you are a bird lover, you can create a beautiful drinking fountain to give them relief in hot summers and, at the same time, enjoy the spectacle of seeing different types of birds in your space. For a greater visual impact, you can paint them in colors. You can also do the same but instead of water, put food on them.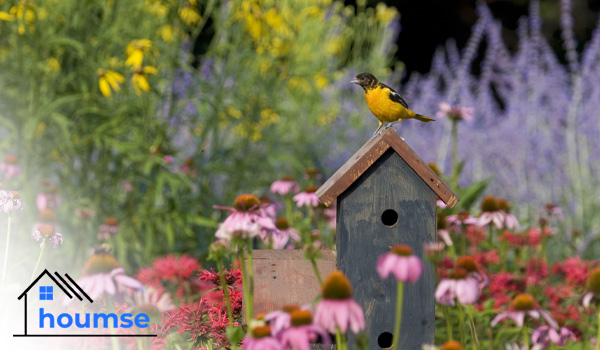 For your backyard makeover, you can also install a few birdhouses in vibrant tones. They are not only an invitation for birds to visit you, but also, depending on how you arrange them in the space, they become decorative objects that attract the eye, hanging from a branch or resting on poles.
What to Avoid in Backyard Renovations
Now you must have a better idea of how to tailor your DIY project, or simply communicate better with the renovation company about what you really want.
The activities carried out in the backyard show what kinds of arrangement and decoration you need in each case: for family meals, having a beautiful space for the whole year, turning the backyard into another living room, an extension of the interior but outdoors, fashioning a cozy area to relax or to have fun, etc. These are all backyard remodel ideas that you can choose from.
However, let's not forget how important the approach to use is going to be, to establish priorities so as not to make the common mistake of wanting to fit all kinds of activities into a small space.
Inside the house, a series of activities are carried out that we later want to replicate in the backyard, such as having meals, meetings, reading, etc. As exciting as it may sound, this is not the best option. Especially when there is not much room. So, decide on the main idea, and plan your backyard makeover around it.
Ready For Your Backyard Remodel?
It is a shame to have a backyard and not use it or simply use it as a storage room. Backyard remodels offer a lot of potential and possibilities, as well as increasing the value of the house.
This space has more privacy than a balcony, making it perfect to create an intimate place while being open and refreshing. It is within the house but acts as an excellent place for relaxing, recharging, or even disconnecting.
Backyard renovations allow a reading corner next to vines, flowers, plants, a place to spend time with friends and family, etc. You couldn't ask for more! Being able to disconnect and read comfortably, full of serenity, silence, and calm is now always at hand.