A basket wall décor is a simple and affordable way to add some texture and dimension to your space. Going for decorative baskets to hang on the wall is also a more creative and unique way to make your walls pop, compared to different frames.
These woven baskets are also easy to find. From Amazon to Etsy to more niche websites, there are tons of non-flat or flat basket wall décor. And we're sure that you can find a few that match your décor and taste. Here are some basket wall décor ideas for your soon-to-be decorated wall with baskets.
Basket Wall Décor Ideas
First, we'll go through some wonderful ideas; and then we'll show you how you can hang your baskets.
Try Minimalist Styles
When you look at basket wall décor ideas on Pinterest or Instagram, you notice that most of them use multiple baskets. While that's an excellent idea, it's not the only option. Hanging only one woven basket wall, or using more than one with the same pattern (and different sizes) creates a charming visual appeal. Minimalist basket wall décor ideas and designs can also help you pair them easier with your space.
Mix & Match Wall Baskets
A short visit to Etsy (which can easily take hours) shows you the insane number of hanging wall basket models. You can pick different models and decorate your wall with a mix-and-match style. If you like boho wall decors, this style can add the vibe that you're looking for to your place.
Basket Wall Decor Set for Bedroom
While flat back hanging wall baskets and other types look great in dining rooms, they also look just perfect in your bedroom. Purchasing decorative baskets to hang on the wall is a lovely alternative for headboards. If you're not really into hanging baskets above your bed, you can arrange them on a small shelf above your bed.
The second option not only adds some visual appeal to your room, but also offers a more organized design with decorative baskets.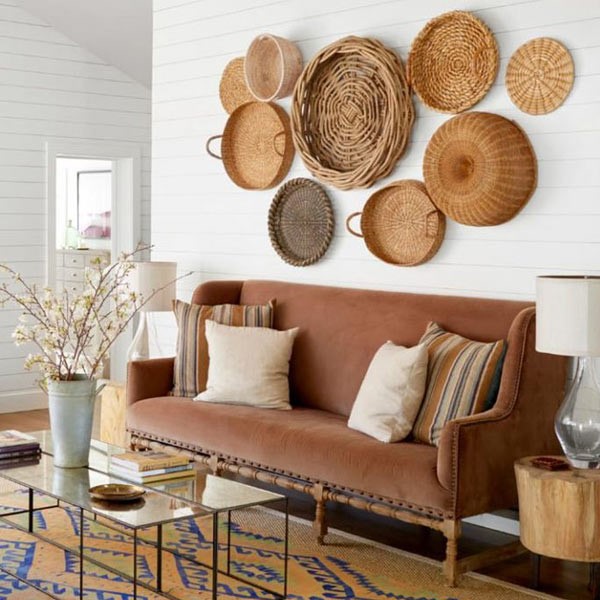 Stations & Decorative Baskets
Do you have a workstation or makeup station in a corner of your room? If these stations have a modern look and streamlined design, a basket wall decor set is a smart way to add a lot of texture to your space. Don't worry about your space feeling too busy. These decorative baskets simply the warmth that your space needs it.
Basket Wall Décor with Plants
Some of these decorative baskets can hold your small succulents or air plants beautifully. A perfect perch like this is a really adorable addition to your gallery wall or even standing alone.
Colorful Basket Wall Décors
When you hear about decorative baskets hanging on the wall, you most probably think about different baskets with neutral colors. However, there are a lot of colorful baskets out there that you can choose from; and by colorful, we don't mean different hues of the color brown.
If you find the idea of focusing on color interesting, go for find African or South American baskets. You may need more time to collect a colorful basket wall decor set, but it definitely worth it.
Farmhouse Basket Wall Décor in the Kitchen
There is no space in your house that can't look warmer by hanging a few baskets; dining room, bedroom, and kitchen. Some people like to cover the blank walls between cabinets with woven baskets. No matter if you have a vintage-inspired kitchen or a more one, basket wall decor sets can make them more inviting and stylish.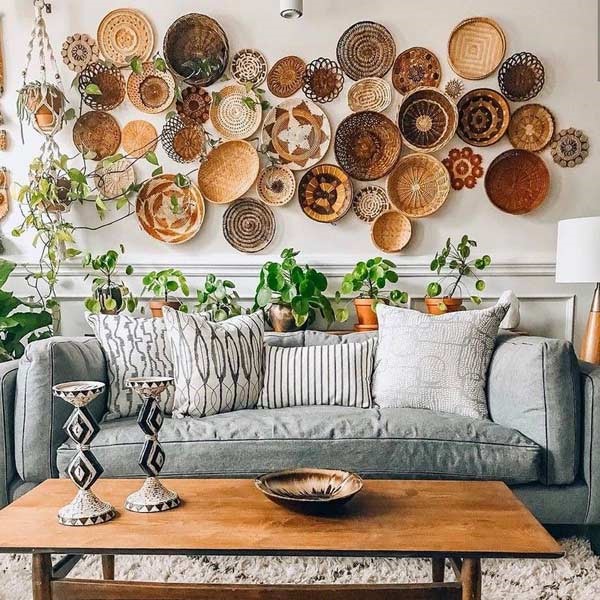 How to Hang Basket Walls
Now that you have some baskets for the plain walls of your space, let's see how you can hang them on the wall. The supplies you'll need include a fishing line, hooks, or nails. Depending on what works best for you and your wall, choose either hooks or nails.
Most people simply nail the basket wall decor set on the wall or use picture hangers. But if you like your wall nail free, and try to avoid damaging your basket and the nail visible nail heads. Combining the nail or hook with the fishing line, you can create a professional and smooth hang for your basket wall décor.
Step 1
Lay the pattern that you have in mind for the baskets on the floor. Play around with your decorative baskets for as long as you need to find the right spacing. When you're absolutely sure about the design, take a photo of the final layout to have something to reference as you start hanging the basket wall décor.
Step 2
Start to hang your farmhouse basket wall décor with the largest one in the set, or the one in the center. Hold the basket up to the light and look for the weave open parts in the basket center. Next, thread the fishing line through so that the loop's open end is on the backside of the basket. While threading, remember to center the loop as best you can. This will ensure that you'll have a flat basket wall décor.
 You can thread the baskets one at a time or all together. We recommend this method, as all the wall baskets will be at the same step and will make the process easier. Finally, tie a double knot on the backside of each basket loop (tip: smaller loops give a tighter hang on the wall).
Step 3
Hang that first basket with a small nail or picture hanger behind its center. After having the woven basket on the wall, you can add the others in no time. We suggest installing the baskets purposefully and make a statement.
For example, it is better that your basket wall decor set are close to one another rather than spreading too far. When the baskets are close, your décor represents a complete installation and not something piece-meal. Hang the remaining baskets and you're done.
Tip: A true basket wall décor installation doesn't stop here. Continue finding new baskets and add them to your collection.