Shelves aren't just a solution for your storage problems, they can also be very pleasant for a simple viewer. So while functionality is the main mission of different shelves, smart shelf decor ideas can create a beautiful yet practical appearance.
In this post, you'll see that you don't need a lot of brand new shelf decor items and you don't need to be an interior designer either.
First, we're going to cover the essential items for your shelves in the bathroom, bedroom, living room, or bookshelf decor. And next, we'll tell you how to decorate your shelves like a professional.
---
Shelf Decor Items You Need
To decorate shelves, most people look for small shelf decor items. But as you'll see in the next parts, you can actually take advantage of size differences in your decor for shelves (as well as texture, angle, etc. differences).
With that in mind, here are the must-have shelf decor accents:
Plants
Real, dried, or faux greenery are all great options; especially for kitchen and bathroom shelf decor. If you have a green thumb, we recommend real plants like an exotic succulent with simple black or white ceramic pot.
If you are looking for more low maintenance, faux or dried options can make a pretty decor for shelves too.
Artworks
An item that is excellent for bathroom shelf decor and other spaces is any sort of artwork. By leaning your favorite artworks, you can create a charming display, share positive and motivational vibes while breaking the guidelines.
Tip: It's a smart idea to place the most eye-catching titles and artworks (pictures, art prints, and photos) at eye level compared to other shelf decor items.
Vessels
If you're not looking for bookshelf decor ideas, a variety of vessels (vases, jars, bowls, pots, cups, etc.) in different shapes, textures, and colors. The good thing with these items is that you have to use them only when you have something to put in them.
A lot of designers recommend monochrome and especially white vessels, as they make your decor for shelves clean and less cluttered, helping other details to shine.
Clocks
Whether you are designing a bookshelf decor or your ordinary shelf in other parts of the house, that room probably needs a clock.
Clocks are one of the practical shelf decor ideas. They also make your shelf feel alive and three-dimensional.
Tip: If there isn't a set of chairs or a sitting area near the shelves, choose bigger clocks.
Metal Accents
If you have modern space, metal items are amazing for your living room shelf decor (or any other room!). A metallic touch like metal or mercury glass vases, black metal trays, etc. add depth and interest to your shelves seamlessly.
If you are leaning towards other styles like vintage or farmhouse, glass or wooden are better choices as shelf decor accents (However, you can go for galvanized items to incorporate metal in your farmhouse shelf decor).
Bonus Items
To add some texture to your display, consider woven baskets, wooden prayers beads, corals, or even small boxes.
Candles and Candle Holders: Candle holders (from traditional to modern ones) are another great addition to your design.
Risers: To add depth to your shelf decor or layering, risers are one of the best items out there.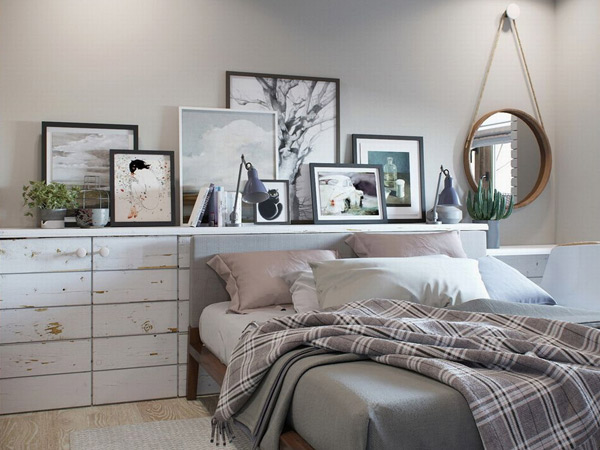 Complete Your Decor for Shelves in 3 Steps
You have all you need for your new bookshelf decor or bathroom shelf decor, but where should you begin and how should you arrange them?
Here are three simple steps to style your shelf and make sure that it looks perfect:
First,
Living room or bathroom shelf decor, bookshelf decor, or nursery rooms, always start at the top shelf and work your way down. Place the decorative accents from one end to the other and cover the majority of the top shelf. Remember that leaving some empty space on each end creates the best look for your shelf.
The key idea is layering large to small shelf decor items in varying heights from one end to another. The tall objects can be a snake plant, a large pictures frame, candlesticks, and other large decorative objects.
Make sure that you add in enough larger scale items to your decor for shelves so that the shelf doesn't look cluttered. Because in the end, your shelf should look curated and thought out, not stuffed with every pretty thing in your house.
Next,
When the top shelf is styled, move on to the shelf below. On this shelf, instead of spreading your bedroom or bathroom shelf decor accents across its length, group them into two sections.
Although it's a popular choice for bookshelf decor or among minimalism aficionados, you don't need to only use one object on each side of the shelf.
You can also layer multiple accents in a beautiful way. What you need to pay attention to, is leaving some blank or white space between these two groups. This is for giving the eyes some rest and looking more appealing.
The goal here is to have a stylized and intentional look, instead of giving the impression that you've just thrown different decorative objects on the shelf.
Repeat the same steps for other shelves. Regardless of how many floating or bookcase shelves you have, simply continue decorating the next shelf across its width, the next shelf in two groupings, and so on until all shelves are styled.
And Finally,
Now that you're done, how can you make sure that your display shelf decor is absolutely perfect? A useful technique is to stand back and take a photo. This will help you see if anything needs to be added or may be removed.
This method or simply looking through a camera really helps with noticing things in your decor for shelves you might not have otherwise. Another way is to walk away from your bathroom shelf decor or bookcase space and come back later.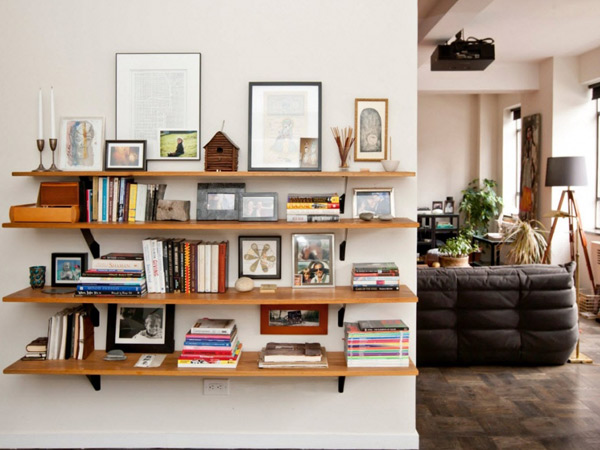 Other Shelf Decor Ideas
There are other creative ways to decorate your shelf and bookcase too, such as:
Painting the Shelves
Painted shelves can be a unique addition to your room's color palette or an unanticipated pop in your neutral space.
Available shelves in stores are mostly in black, white, or wood tones. However, you can always try something a little bolder like painting your shelves in a different color.
You can also go monochromatic and paint the shelves with the same color as the back wall to bring attention to the items so that none of your efforts goes unnoticed.
Use Wallpaper
If you're going to have minimalist decor for shelves, think about lining the back of your shelves with wallpaper to dress it up.
Show Yourself
Your display shelf decor is an amazing opportunity to show your personality, hobbies, interests, etc. Place your family photos, keepsakes, and other mementos or that makes you smile.
In bookshelf decors, do the same too and don't think that bookshelves should be for books. They are for whatever you love and want them to be.
Rule of Three
Many designers encourage you to use an odd number of items, as apparently, they work best typically. For smaller displays like bathroom shelf decor, try doing things in 3's.
Exotic Shelves
If you go for modern shelves, they'll practically decorate themselves. We're talking about asymmetric contemporary shelves, circular or pyramid ones, modern floating shelving, ladder shelves, etc.
Different Stackings
Don't let the variety of shelf decor accents make you forget about the displays that you can create using books and magazines. Filing your library in rainbow-color order or displaying the books in tight groups while anchoring them with bookends are among the easiest things that you can do.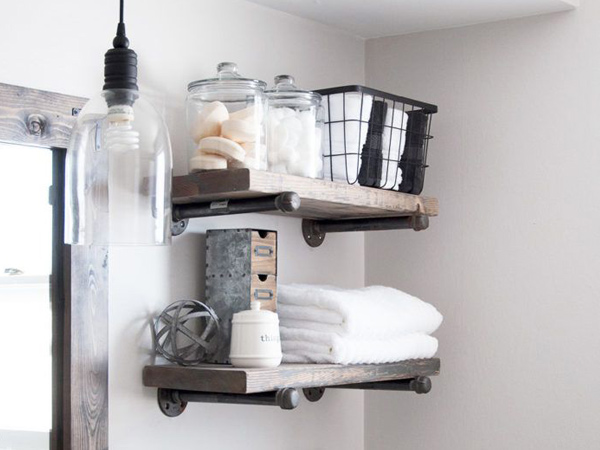 The most important thing to have in mind when decorating a shelf is considering your design preferences as well as your storage needs.
Now, are you ready to decorate your shelf? Let us know in the comments which ideas inspired you the most.