Turning your camper into what really feels like home requires some time, energy, and money. However, the result is indeed priceless. In today's post, we are going to take a look at some camper interior decorating ideas that allow you to turn the default bland look of these vehicles easily, while not burning a hole in your pocket.
Whether you actually live in your camper, or take it on long trips for days or even months, implementing camper trailer decorating ideas helps you to have a comfortable spot everywhere you go, which is also pleasant to look at!
Camper Trailer Decorating Ideas, Good for All?
Technically, there are different types of campers:
There are travel trailers or caravans, which basically are home units towed behind your vehicle. They can be quite basic, or large enough to accommodate all family members.
There are also 5th wheel travel trailers that have the same concept but have a raised forward section attached to vehicles with a fifth-wheel hitch.
Motorhomes are another type of camper equipped like a trailer. They are almost exactly what their name describes, a home with a motor. As they offer all home amenities like kitchens, bedrooms, and bathrooms.
Last but definitely not least, there is the broad term of RV (recreational vehicle) that refers to any travel trailer or motorhome used for camping or part-time living. Some RVs offer basic living, sleeping, and bathroom areas, while some can provide you with bedrooms, a full-size kitchen and bathroom, and even entertainment centers.
Which one do you have? Well, it does not really matter. You will be able to use any of these camper interior decorating ideas that inspire you. New and somewhat modern or old and a little gloomy, surely your camper can use some of these solutions to shine!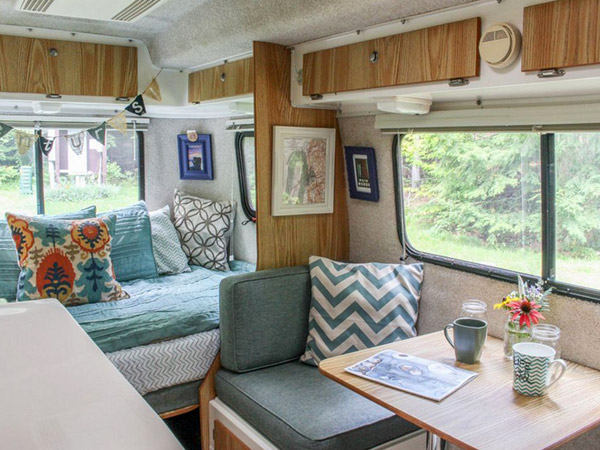 RV Interior Decorating Ideas
In the following, you will see some of our favorite camper decor ideas. This list includes simple touches, unique fixes, and a few challenging solutions for different campers and camper owners. Pick a few options and give your mobile home a new look and feel.
Effortless Colorful
You may be not a fan of makeovers (even small camper makeover ideas) and we get you if you are not. You may be too busy with work, children, or moving around!
However, this does not mean that you cannot bring some character and charm to your space. There are some unique RV decorating ideas that are also quick, easy, and inexpensive to go about this.
A patterned throw blanket over the couch, bright covers for cushions, new pillows, and colorful rugs are only a few ways to add color pops. No matter how dull the space may look, such ideas just cannot go wrong!
RV Wall Decor Ideas
Why would you settle for monotonous plain walls, when you can change the overall mood of your rig with smart wall decors? We are talking about quick and exciting options like using:
Maps
Okay, this is an obvious one, but we just had to include it. Since you have a camper, chances are that you really like traveling. One of the best ways to show this passion is by hanging a map. It can be a map of your own city or country, or where you are headed.
You can treat them as wallpapers, covering a wall completely with maps of places that you have been. Or, put the one that you hold dear in your heart in a lightweight frame and hang it with Scotch command strips.
Decals
As one of the best small camper interior ideas, decals serve perfectly as a finishing touch. They are super convenient to hang, do not require making holes, add zero weight, and have such diversity that you can find what you are exactly looking for.
Bold Wallpapers
A cheery wallpaper is another to bring life back to your walls. Pick a wallpaper that speaks your style, and hang for maximum appeal. In case you do not find the concept of hanging wallpaper the old-fashioned way interesting, go for peel and stick wallpapers.
Photo Display
You have photos of adventures with your rig, right? Well, they can be a cool way to add some fun to your space. They are also one of the simplest yet authentic RV wall decor ideas on the World Wide Web.
You can find many DIY photo displays to choose from. Most of them are lightweight and use Scotch command hooks for hanging.
Simply Paint!
As simple and obvious as painting the walls maybe, this is actually one of the camper interior decorating ideas that give your space a new look with minimum equipment. Requiring zero space, painting the walls lightens up the interior, adds color, and shows your style.
The thing that you need to remember is sanding the walls without painting. Whatever primer or paint you are going to use, we recommend that you do not skip this step as motorhomes and travel trailers are super slick. After sanding everything well, use a coat or two of primer as well, and then apply two or three coats of paint. Considering the odd nooks and crannies found in RVs, make sure you have enough time for this RV wall decor idea.
Souvenir Display
One of the most fun parts of traveling is collecting souvenirs. To avoid having clutter in your camper or setting the souvenirs aside completely (and forget that they exist), get some stickers or magnets and turn your treasures into a lovely camper interior decorating idea! They bring a playful personality to your trailer as well as remind you of the good times.
Tip: We suggest using magnets instead of stickers since you can easily take them with you to a new RV in the future. Hang a magnetic board on an empty wall and display the most memorable souvenirs.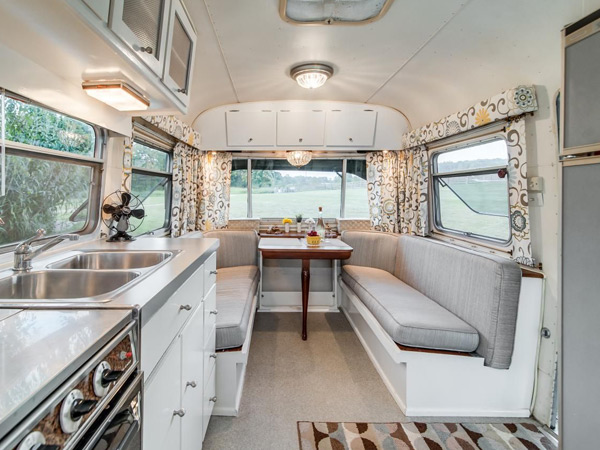 Curtains and Curtains
Curtains actually play a surprisingly important role when it comes to camper trailer decorating ideas. The original window treatments are not really eye-catching, so you can always change them with something more vibrant and special.
In addition to their traditional duty, you can also use them as a room divider (perfect for the RVs that do not have a separate bedroom) and alternative to doors. Sprucing the bathroom up with an interesting shower curtain is another option to consider when exploring RV interior decorating ideas.
Camper Trailer Decorating Ideas for Kitchen
The kitchen decor may be the trickiest part of RV interior decorating ideas. But do not worry, with small changes, you can create a more beautiful kitchen as well. You can add"
Peel & Stick Backsplash
Also a great upgrade for bathrooms, peel and stick tile transform your kitchen in a snap. They are affordable, convenient to install and make a big impact. And if you choose the right color, they can make small spaces light, bright, and tidy.
Wire Baskets
One of the great small camper interior ideas is hanging wire baskets. They offer extra storage and offer a lovely farmhouse vibe to your space. In the kitchen, they help store fruit and veggie. But you can actually use them for everything such as electronics, toys, etc.
Magnetic Knife Holder
The best camper interior decorating ideas are the ones that take minimum space and do not compromise safety when moving around.
Repurpose a wall for a magnetic knife holder and you will do both at the same time. It is a more hygienic way to store knives than the knife blocks as well and can store tools while in use as well.
Chalkboard Paint
Using chalkboard paint on a part of the wall (or on the fridge or a cabinet) is like adding a piece of customized decor that you can change anytime AND shows off the loveliest rustic vibes.
Shelving
There is no such thing as too much storage when it comes to small camper makeover ideas. So if you do not want your kitchen table and countertops to become an uncontrollable mess, use shelves. For instance, you can use one over to store soaps and small planters. Another simple way that adds to the decor while preventing clutter!
Interesting Knobs
Many of the RV interior decorating ideas work well for kitchens as well as bathrooms, including this one. Installing cabinet knobs is an easy way to upgrade your bath and kitchen cabinets. Find some fun cabinet knobs and handles you like in local hardware stores, swap them with the old ones, and enjoy the new look. It is a small touch, but be sure about its unbelievable impact.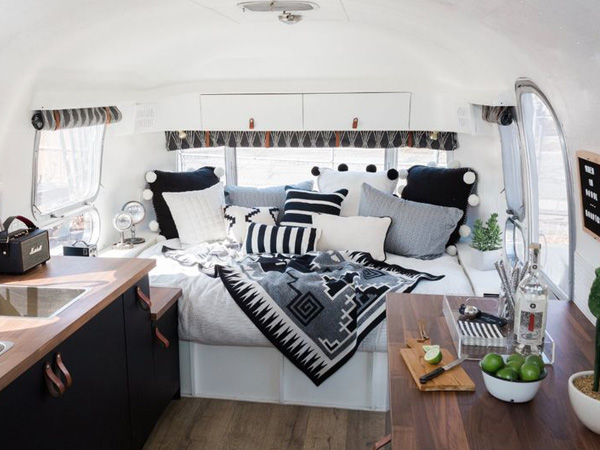 Rug Statements
A pretty rug can go a long way when mixing and matching camper decor ideas. They simply make any space (kitchen, bedroom, etc.) by adding color, texture, and pattern.
There are tons of small rugs that you can add to your camper without sacrificing any space. Visit online shops and you will find yourself in a world of suitable rugs!
Magical Lights
The right light works wonders in decorating and camper trailer decorating ideas are no exception. Your RV is already equipped with lights, but does it make your space into a magical space? Probably not. But, there is a solution for this gloomy problem and that is decorative lights like:
Fairy String Lights
A mesmerizing twinkle complements any hare or small camper interior ideas beautifully. Hang the delicate firefly or fairy lights over the head of the bed or across the slide top and watch them make your nights a relaxing dream after busy days.
Rope Lights
Rope lights stand out among travel trailer decorating ideas and make your space shine. However, you can use them in a more practical way as well. For example, you can use them to add light to the insides of cabinets to see the back corners of your storage space.
Flameless Candles
Incorporating candles in camper decor ideas is a challenge. But thanks to battery candles and their soft lighting, you can bring the warm feeling in your RV and set the mood, without the hazards of real candles. They also add great ambiance outside while camping.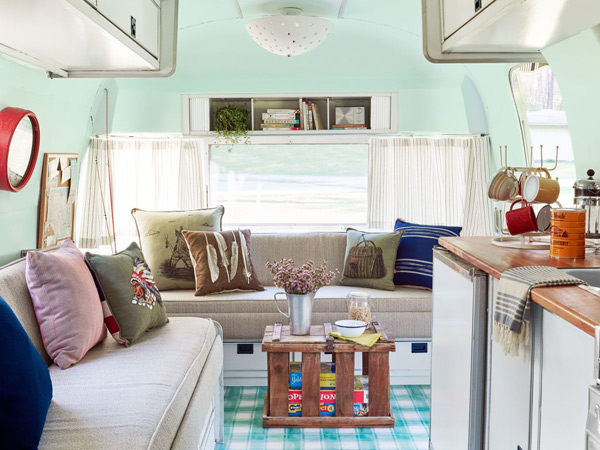 Green Friends
Honestly, we cannot remember providing a list of decorating ideas (for anywhere) that does not have plants and flowers on them. And the same goes for camper interior decorating ideas as well.
However, if you have a cat (that has problems with some houseplants) or simply do not have enough time to care for them, go for small artificial ones. They look perfect on the wall, on shelving, countertop, table, or desktop.
Mirrors & Other Last-minute Ideas
Saving space for mirrors in large or small camper interior ideas adds a touch of fancy unlike any other. They also reflect light and make the space look brighter and bigger. You can also add:
Coffee station
Decorative towels
Patterned tablecloths
Framed pictures and arts
A light chandelier (a yarn one for example)
Unique blankets and charming throw pillows for on the couch
Travel Trailer Decorating Ideas on the Outside
Unique RV decorating ideas have a maximum effect along with some touches outside your motorhome. Welcome mats, hanging plants, and wreaths are among the first things that come to mind.
You can also name your camper (if it already does not have a name) and flaunt it with stickers or more creative solutions, or even paint the exterior. And during holidays, do not miss the chance to adorn it for Christmas, Halloween, and other holidays with Christmas lights, string lights, and other ornaments.
Tip #1: Welcome mats are not simply a decorative option, apart from adding personal style to your camper, they help keep dirt, sand, and mud out of your camper.
Tip #2: It is better to avoid lamps since they are not very light and only provide light in a single area.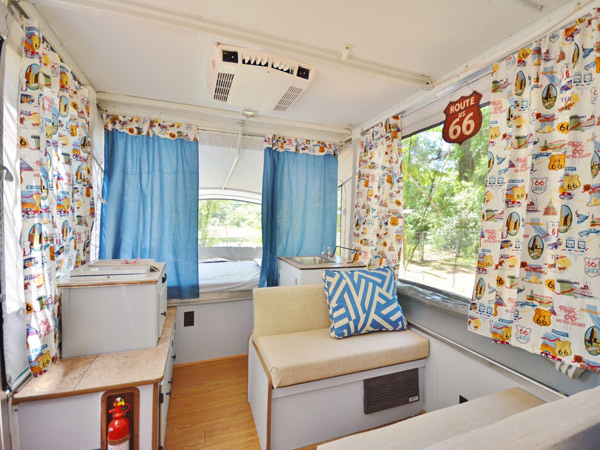 Final Thoughts
Before going for your favorite camper interior decorating ideas, keep one thing in mind. No matter the ideas that you choose, it is important that you pick a theme (like beach, camping, or general travel) and stick with it. As huge as they may be, it is always an excellent idea to carry a specific theme throughout the space.
Additionally, if you feel lost among all of these travel trailer decorating ideas and you are not sure where to start, choosing a theme will offer you that sweet starting place.
Which one of these camper interior decorating ideas was your favorite? What perfect idea did we miss? Let us know in the comments!