Judging by the people looking for coffee decor ideas, it seems that we just can't get enough coffee in our lives! The good news is that coffee is a great theme for decorating as much as it is a lovely beverage. Most coffee decor ideas are super practical (like coffee bars) or simply charming and space-saving (like plaques and signs), and pair well with all decorating styles (vintage, farmhouse, rustic, you name it).
Additionally, you don't have to be an expert in decorating to incorporate your favorite ideas for coffee decoration at home. Scroll down and see for yourself!
Coffee Kitchen Decor
The kitchen is probably the best place to make different ideas with coffee a reality. When it comes to coffee decor for kitchen, you have multiple options. But let's start with the most obvious ones:
Coffee Bars and Stations
Although a great idea for coffee kitchen decor, coffee bars aren't exclusive to kitchens. In fact, they're the perfect addition to living rooms and work environments. To warm up your creativity, take a look at these coffee decorations for kitchen:
Rustic and Wooden
For those who are interested in rustic/vintage vibes and love caffeine at the same time, a rustic wooden coffee bar would be simply perfect.
Imagine a corner with a dark brown wooden cabinet (brand-new or reclaimed) with wooden hanging shelves as extra storage for your other coffee-related items that complement the tones of the wooden theme. Add a coffee wall decor on the top, fill the tabletop and the shelves to turn this coffee bar into your favorite spot in the house.
Shelf Coffee Station
Sometimes all you need to do in order to have a cute coffee kitchen decor is to DIY a couple of shelves. Both top shelf and bottom shelf are perfect for displaying small plants, frames, and coffee ingredients. While the bottom one can also have hooks so you can hang your coffee mugs.
Although simple and compact, this kitchen coffee decor is really sleek, elegant, and perfect for any corner of your kitchen (or house). It is also re-creatable with any tabletop.
Light and Bright
Without even noticing, most of us prefer and choose wooden tones and hues as our final coffee decoration for kitchen. However, there are infinite possibilities with all of these amazing colors. We encourage you to even go beyond classic combinations like blue and brown coffee decor and really think outside of the box.
For example, you can go for a white cabinet (with or without a floating shelf above it), pick a vibrant color (say, orange), and fill it with colorful mugs, containers, and tiny decorative pieces that follow the theme. Not only it is an adorable and funky coffee kitchen decor, but it is also incredibly convenient to customize according to the seasons and themes.
Tip: Going all monochrome is another idea worth considering.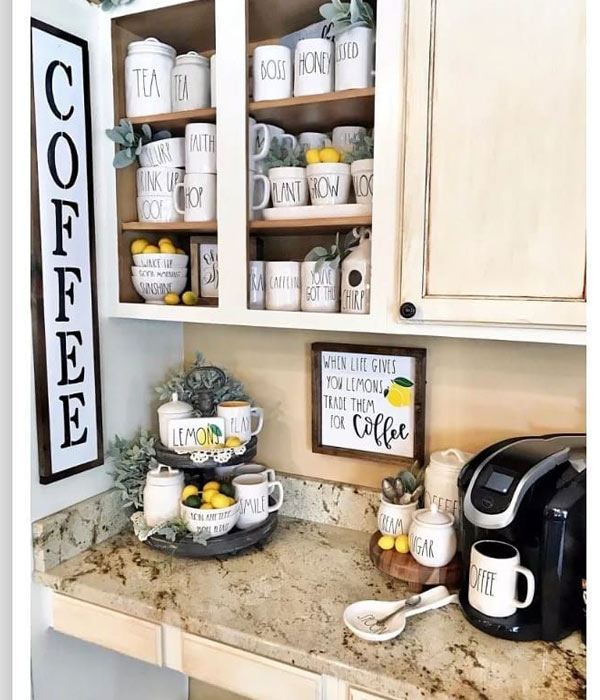 Craving Heaven
Want to have a coffee decor that everyone loves? Try a coffee station that satisfies all coffee cravings from butterscotch to white chocolate. Pick a tabletop in your kitchen, line it with your different syrups and aromatic ingredients.
Depending on your favorite coffee variants, you can customize this coffee kitchen decor to suit any large or small space. Hang a metal bar with hooks above your station and you're all set.
Small Café
Looking for more practical coffee decor ideas? How does a make and have coffee bar corner sound? If there is a spacious wall in your kitchen, attach a sturdy shelf to it. Place two stools in front of the shelf, place coffee machines and mugs on the table, hang some coffee wall decor frames, and voila!
Just remember to leave some empty space on the shelf to enjoy your coffee without experiencing any clutter.
Green Bar
Your coffee decoration for kitchen is always with some plants. Pick any design for your coffee bar/station, and over its shelves and surroundings with leafy plants in all shapes and sizes. You can also go for artificial greenery depending on your convenience. But if you'd like to benefit from an extra dose of freshness, opt for natural plants.
Other Coffee Decor Ideas for Kitchen
Looking for more inspiration? Check out the following ideas:
Accent your floor with coffee theme kitchen rugs.
Paint your kitchen wall in coffee-related such as rich shades of brown, mocha, beige, and cream.
Fill clear glass jars or bottles with coffee beans and display them on shelves or tabletop as decorative accents.
Highlight your kitchen windows with coffee-themed curtains; or, cover the table with coffee design tablecloths.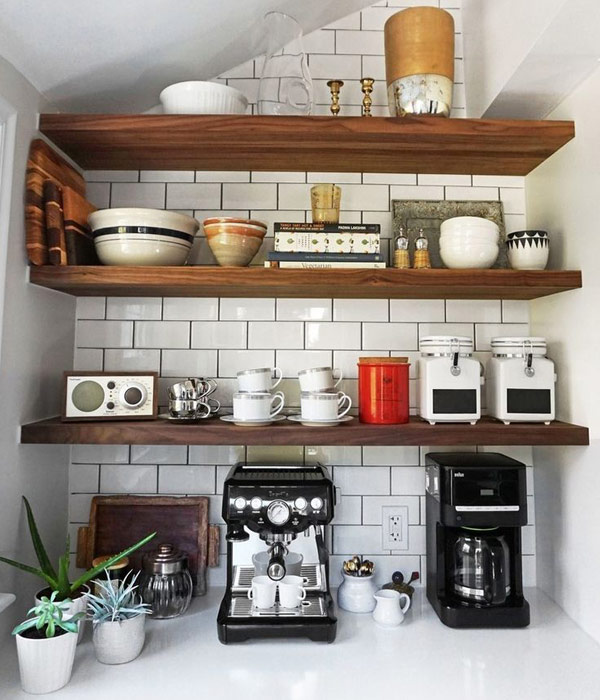 Coffee Wall Decor Ideas
If you're not keen on having a coffee station/bar or simply want to elevate it, these are some of the options that you've got to know:
Signs, Plaques, and Frames
The world of coffee wall decor signs has no limits. Vintage coffee house barrel head signs, rustic coffee shop signs, wire or metal coffee wall decors, wooden modern signs, etc. are all amazing choices for your setting.
Different pictures, framed arts, and posters (like the ones that display different types of coffee) are charming coffee wall decor ideas as well.
Chalk Boards
A coffee bar chalkboard lets you customize your coffee wall decor the way you want. You can write common coffee-related phrases. Or you can write your menu, recipes, quotes, notes, anything! You can also cover the space above your tabletop with a chalkboard completely, and install shelves on it.
Garlands
To decorate the walls, you don't always need fancy coffee decor signs and plaques. Sometimes a simple garland is all you need to create an inviting and relaxing spot.
Mug Holders
A bar with hooks or a vertical coffee mug holder makes for a unique, practical. And space-saving coffee wall decors too. If you already don't have a mug tree, you may want to go for these options.
Final Thoughts on Coffee Decor
Almost all coffee bars and stations can have a theme depending on the holidays or your preferences. Halloween, Valentine's Day, floral, Easter, Christmas, love, lemon-fresh, and even Cartoons or characters can be the theme for your coffee decor. Combined with other coffee decor ideas that we talked about, you can find the right setting for your taste and space.