console table decor may have some principles; however, you can decorate it to suit specific needs. While playing its role in the dining room, living room, or the entry, there are console table decor ideas to help you use it simply as a drop zone keys, mail, handbag, wallet, etc. There are also other ideas for decorative purposes only, helping you to elevate the overall design and make use of dead spaces in your home.
Without further a due, here are some console table decor ideas to help you turn your console table into an aesthetically pleasing as well as functional spot.
---
Console Table Decor, the How to
In other to decorate these tables like a pro, let us review the main steps recommended by many designers.
Step 1
The first step is, of course, providing a surface aka the console table. The style and size of the surface depend on you and your overall theme completely. a modern metallic model, an elegant glass table, a rustic weathered-wood design, etc. all are perfectly fine to incorporate creative console table decor ideas.
Your console table can also have a shelf, or not. Remember that having a lower shelf offers more styling options. If you prefer to display multiple console table accessories, you may want to consider a model with shelves.
Step 2
To turn your console table zone into a truly eye-catching spot, take advantage of the wall behind it. You can hang an oversized, bold abstraction wall art (one-piece or diptych), a picture frame, a large mirror, etc.
Whatever you choose, just remember that the frame should be a few inches narrower than the table's width on each side. This will help you achieve a professional console table decor as well as a foundation for the rest of your arrangement.
Step 3
Now that you have a nice cohesive focal point, all you need to do is layering your console table. In this step, most designers recommend adding two items among other console table accessories: a light item and a tall item.
Most console table decor ideas incorporate at least one item like a candlestick that is taller than the lower edge of the mirror or the artwork's frame. Such items allow you to the wall decoration and the vignette below it. Other recommended objects include oversize vases, colorful ginger jars, or metal sculptures for a modern look.
Your console needs a light source as well. It can be a gorgeous table lamp, a swing-arm task lamp, or other models to highlight your charming vignette. After adding these two console table decor items, you can start filling the shelves out.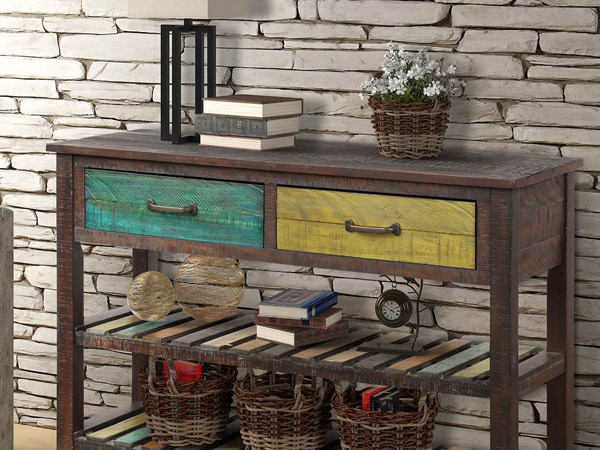 Console Table Decor Ideas
Now that you know the basics, let us see what your options are for styling this table and how you should arrange the accessories you choose:
Monochrome Look
In modern themes, you may want to consider a theme for the objects. This cohesive look can consist of all your items of choice but in a specific tone. This idea becomes even more attractive if you opt for natural tones or go for classic black or white.
However, to spruce it up, sometimes you can add one piece in a contrasting color that catches everyone's eyes. This item can simply be a small potted plant or something that means a lot to you and you want to share it with the world!
Minimal Console Table
Console table designs for living room that are minimal are quite smart. Such rooms usually have a lot of traffic, and a console table filled with numerous objects helps nobody. A table with no shelf, a few items on top, and some artworks above could be the best for the living room.
Without shelves, you will not have to worry about the pieces down there (picking them, sorting them, or falling and breaking in case someone bumps into them). With a few items on the surface, you will have extra space to use, and the overall simple look of your console table decor will not exhaust the eyes as well.
Colored Table
Using a console table with a bright color, you can make the statement you want while adding a pop of color to your room. Such tables look fantastic against white walls and can be topped with various console table accessories including books, vases, and other curated objects.
If you are feeling particularly creative, you can also give your old table a complete makeover with different paints and patterns.
All Pattern
A cheerful console table is not your only option to turn it into a 'pop' in your room. You can also install a patterned wallpaper to help your vintage or modern console table pop in your design. In such console table decor, go for mirrors instead of wall arts, and keep things simple on the surface.
Another interesting wallpaper idea is framing the table display to inject color and texture with minimum hassle. An oversized mirror complements this idea beautifully as well when it is hung correctly: close enough to the console to become part of the display.
Paired Objects
For those who are interested in classic looks, selecting a pair of table lamps, candlesticks, vases or other decorative objects would be a good choice. Pairing such items is a traditional approach to creating symmetry which works perfectly for any room.
The nice thing about console table decor ideas that have paired objects is that you need little else to create a beautiful display. Keep things streamlined and clean, stack some books, arrange flowers, and you are done.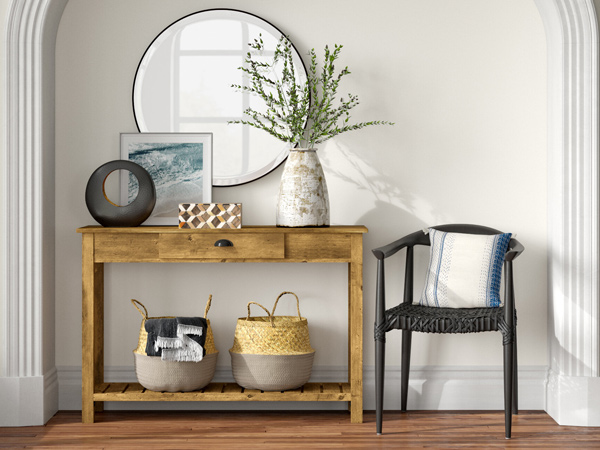 Antique Console & Accessories
Like other antique furniture, such console tables are more than enough to make an attractive focal point. But if you know how to style them, you can have an even more fascinating setting.
In order to create a layered comfortable look, add a pair of lamps with antique shades (the ones with patterned bodies work as well), vintage painting, tapestries, small trinket boxes, or stunning ceramics to
Opportunities Underneath
While mixing and matching items on the surface, do not forget about console table decor ideas with placing different elements underneath the tables!
The obvious choice would be stools. Tucking some extra seating (in all shapes, forms, and colors) under is an excellent idea in your entertaining space. You can also go for an upholstered bench or use this spot for extra storage by adding woven baskets or different boxes.
Tip: Draping the table with fabric is another option.
Greenery on the Side
While placing an arrangement of flowers or potted plants is popular in many console table decor ideas, there are other ways to incorporate greenery in such decorations as well.
Placing large and tall potted plants next to your table is another option to add natural touches. Tall glass vases with pampas grass, dried, or faux flowers have almost the same effect as well.
Art Display
Styling your console table decor in a way that only showcases various artworks is another exciting idea; especially if you are an artist yourself or have the habit of buying such pieces of your favorite artists. Simply arrange your antique or abstract piece on the table or on an easel for extra color and pattern to your tabletop.
New Table Lines
One of the simplest modern console table decor ideas is to discard traditional tables with straight lines. A console table with curvaceous lines with console table accessories and items that mostly follow the same rule, promises a new landscape for the eyes.
Fun Pallets
While decorating the table and items, you can always create a more pleasing vignette with a cute palette (like pastel). While working with bright colors and pretty pieces, do not forget to add white to keep things fresh.
Also, when adding artwork, go for similar pallets and hang them close to the table so it would be a part of the console table decor as a whole.
What is Your Favorite Console Table Decor?
What do you prefer to do when it comes to decorating console tables? Are you all about stacking books, flower vases, and small bowls? Or do you prefer more creative and modern options? Let us know in the comments.