Decorating with plants is one of the healthiest, most refreshing, and affordable ways for interior design. Additionally, these green lovelies can work in any place, the living room, bedroom, kitchen, hallway, backyard, you name it. With the following ideas, you'll be a master in interior decorating with plants, designing your home in a way that benefits everyone, including the planet earth!
But before we start, we should remind something in home decor with plants. Each plant is unique and needs a certain amount of light. This requirement can influence how to arrange plants in the living room and their location.
Hopefully, your favorite plants can sit exactly where you want. And soon, using these decorating with plant ideas, you'll find yourself in a dreamy haven.
Decorating with Plants, Where & How?
First of all, let's talk about the best spaces and spots for home decor with plants. After that, we'll talk about the different types of plants that you can decorate with.
How to Arrange Plants in Living Room
To add a touch of liveliness to your living room, you should know how to arrange the plants.
Arranging Large Plants
The living room is a great place for home decor with large plants like Ficus lyrata or Philodendrons. These gorgeous plants take up too much space and attention in small spaces like bathrooms or bedrooms.
If you only have one large plant like ficus, yucca, or palm for the living room, make it the center of attention. Pair this stand-alone accent plant with a charming pot and place them in a prominent place. And for small rooms, consider small potted plants.
Arranging Colorful Plants
For colorful plants, it is very important how you arrange plants in the living room. The trick is making sure that their colors supplement the theme of your interior design. To make your home vibrant and bold, use contrasting colors.
Arranging Plants with Foliage
Decorating the living room with the plant that have foliage, attractive forms, variegating colors, or some interesting textures is another fantastic idea. If you have these types of houseplants, group them together for a dramatic effect. We don't recommend this idea for plants that look similar, as they can lose their magical looks when grouped together.
Pro Tip: Unusual forms in interior decorating with plants can take your arrangement to another level. The best unusual forms you can find are bonsai plants and exotic succulents. Place them intelligently in your space, and their eccentric formation will do the rest.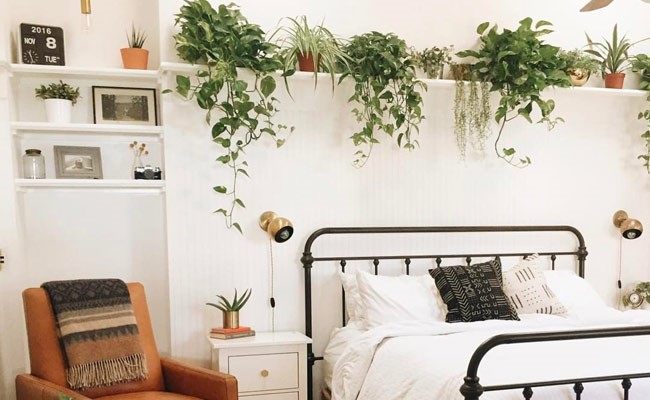 Decorating with Plants in Bedroom
Bedrooms are supposed to be relaxing. Adding some green art wall or pressed leaf artwork can do that, but they're not as powerful as actual plants. There are different ways to benefit from the naturally soothing quality of decorating with plants in the bedroom.
Bedroom Walls
If there's some empty floor space along a wall, consider lining up long rectangular or small pots. This will help you enhance the look of the bedroom with natural greenery.
In case when searching for "decorating with plants in the bedroom", you were looking for creative ways to add more natural texture to the walls, we recommend floating shelves. After mounting them, put some plants as a solo moment or pair them with a few decorative items.
Growing your own plant wall is another unique option. If you have the wall space, get a planter with a trellis inside that supports vining plants. Then, all you need to do is placing it next to a blank wall for an instant green update.
Bedroom Corners
You can do the same with unused corners too. A cluster of plants with different sizes and colors is one of the perfect ideas for decorating with plants inside the house. For a more dynamic arrangement, use step-stools to create levels. Try putting longer leaves on a higher step-stool so they cascade to the floor, or arrange plants by leaf hues and shades to find the design that suits your space the best.
Windowsills & End Tables
Decorating with plants in bedrooms that have a wide windowsill is one of the simplest yet loveliest things in the world. Find a sunlight-loving plant for this bright spot and enjoy the softened look. If the sill isn't wide enough, maybe you could mount a larger shelf to give your plants more space. Use decorative planters for an instantly updated look.
Putting plants on end tables is as easy as putting them on a windowsill for decorating with plants in bedrooms. If the headboard is wide enough, adding a series of smaller with other decorative items is another idea.
Hanging Planters
Interior decorating with plants can be done while keeping the floor space clear as well. More affordable options include using key and coat hooks to hang small pots and tiny little succulents. To hang multiple and large plants to the ceiling, you'll need strong hooks to hang. When you were done, use decorative cords for extra interest and texture.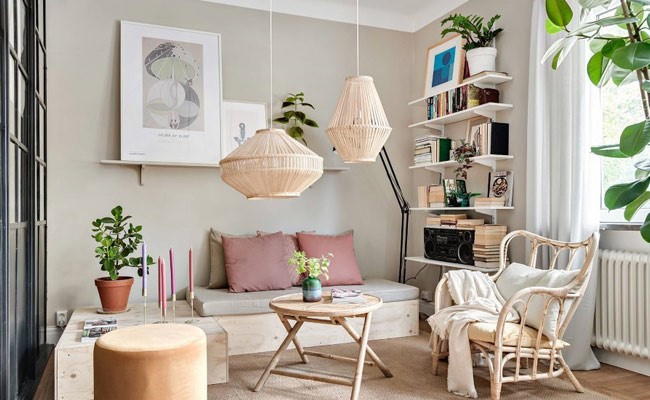 Decorating with Plants inside the House, Bathroom
If you love the idea of home decor with plants but have had bad luck keeping them alive, put them in your bathroom. Generally speaking, plants grow best when they receive the moisture that they need. Your shower can help with that.
Even if your bathroom is located on the dark side, there are certain plants for decorating your bathroom, like those that thrive in the lower levels of rainforests. Here are our suggestion for decorating with plantsin bathroom:
Trellis & Wall Gardens
A vibrant wall-hugging garden trellis is a nice idea for those who don't have enough surfaces for planters. If enough space is available, a vertical wall garden is another luxurious addition for greening your bathroom naturally. Wall gardens give your bathroom a fresh and dewy avatar while providing you with more oxygen.
Vines
Vines can drape casually over different partitions and shelves, adorning the edges. In bathrooms with white decoration, vines are a true eye-popping design statement. With their gentle and natural touch, they turn the simplest settings into lively spots.
Floral & Vases
When decorating with plantsin the bathroom, you can always use one or two minimalistic planters with fresh blossoms. Colorful colors will look amazing in a monochrome bathroom, adding some charm and character to your space.
Shelves
Like decorating with plants in the bedroom, you can shelve some greens to update your space. Petite pots or jars with plants on glass shelves look great in any décor.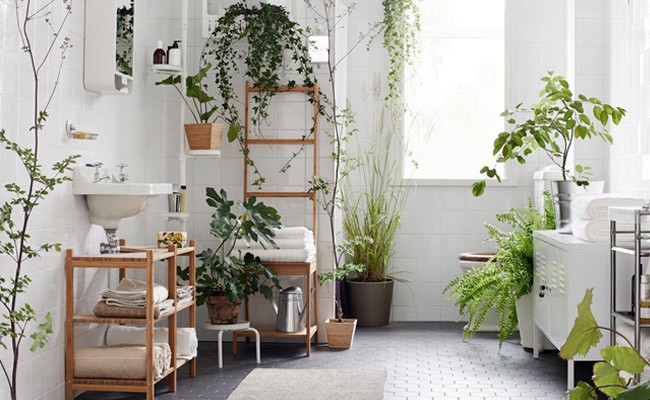 How to Decorate a Wall with Plants
We pretty much covered the ways of interior decorating with plants on the walls. However, there are other fun ways to add that green touch to different walls in the house.
For brick walls, all you need is a few small planters and wood screws for the most gorgeous effect. Compared to a series of shelves, individual planters allow you to create a minimal yet striking pattern, a true wall art.
And if you don't have the necessary patience or luck with houseplants but don't want to miss on having nature at your home, there are other things you can do. Floral paintings, different wall arts with plant motifs, pillow covers with favorite flowers, different artwork with botanical imagery. Scented candles or oils can offer the same scents.
Decorating with Plants Outdoor
Decorating inside the house is not the only place that plants can shine. There are many creative ways to integrate greeneries in your patio or backyard. You can use modern containers, traditional pots, hanging herb planter boxes, etc.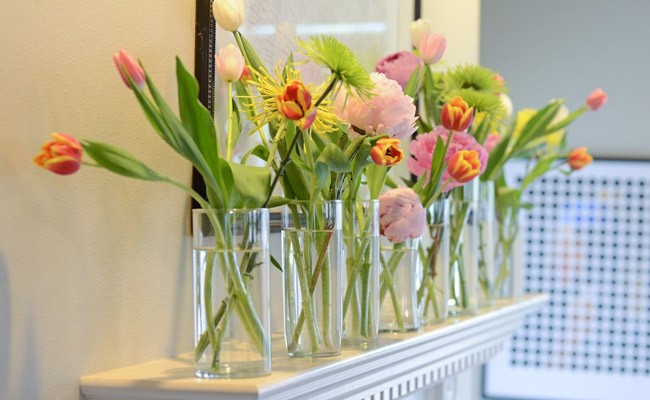 Interior Decorating with Plants, Which Plants?
It's hard to count all the plants that can help you with interior decorating. Here are the most popular categories:
Houseplants
These plants offer great versatility in terms of scale. They can be small enough for tiny desks or small shelving, or they can be large enough to become the center of attention in any floor space.
When decorating with plants inside the house, remember that plants are living things. So when deciding their place on the floor, make sure about the proper lighting. Also, the size and scale of the plant should make sense in the space.
Potted & Cut flowers
Potted blooming plants are as lovely as houseplants for home décor, with some extra pop of color. They have always been a great go-to for interior design. No matter what flower you choose and where you put them, they'll brighten up the room and refresh your soul.
There are less maintenance and less time-consuming choice too: cut blooms. However, compared to potted they can cost a lot more if you replace them as soon as they start to die.
Succulents & Cacti
For those of us without a green of thumb, a cactus or succulents can help us in interior decorating with plants. These desert plants add the same green touch and freshness while being well-suited for less hospitable environments.
They need only a little water and sunlight. In addition to toughness and easy care, their interesting look makes them complements all design approaches and tastes.