Decorating your dining room wall can be a tricky, and yet lovely project. Your dining room wall décor can affect the overall mood of your home. This is where you eat and spend time with your loved ones. And just because it is not being used all the time, that does not mean that we should skip decorating our dining room wall. These pale walls are ready to add a lot of color, passion, and energy to your house.
Here are some creative dining room wall decor ideas for you to find the inspiration you need to start decorating!
Dining Room Wall Decor with Different Frames
You cannot have a list of dining room wall decor ideas and not mention wall galleries. Despite what some might think, art gallery walls are not limited to working places and staircase walls. By adding your favorite pictures, drawings, quotes, posters, etc. you can give a personal touch to your dining zone.
Fortunately, art gallery walls work well with every solid dining room wall painting. However, black, golden, silver, or patina frames can take your dining room wall decor to another level. They create a nice contrast with the color of the wall, as well as being the trend right now.
Mixing and matching various sizes, shapes, and places in your assembly is another way of giving a charming character to your art gallery wall. When decorating your dining room wall with frames, keep the following tips in mind:
You want to make your space more beautiful, but the content is meaningful to you. The elements offer style and value, but they also display your interests and passions.
As we mentioned, when it comes to art gallery walls in dining room wall decor ideas, there are no limits. So, feel free to use different shapes, sizes, colors, or contents. You can create harmony among the elements. For example, your dining room wall décor frames can have the same content or color.
When hanging your gallery pieces, start with the largest piece and hang it slightly off-center (so it does not steal all the attention). After that, arrange the rest of the pieces around it.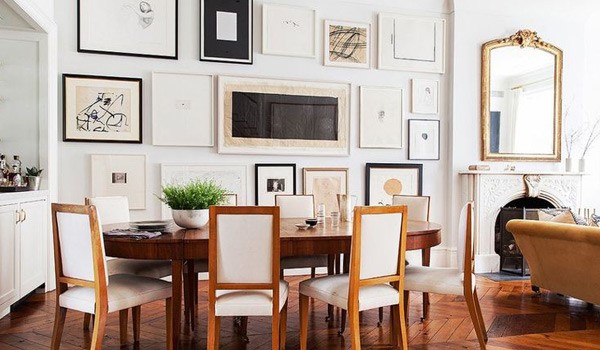 Dining Room Wall Decor Ideas with Mirrors
There are few decorative elements that are as flexible and diverse as mirrors. Characteristics that make it a well-known choice for decorating dining rooms. Mirrors also serve as a functional addition to decorations. They reflect the light and make your dining room appear larger than it actually is and bring glamour to their surroundings.
Counting dining room wall decor ideas using mirrors is truly difficult. Vintage mirrors with wooden craft frames, minimalist and frameless mirrors, mirror-clad walls, and simple accents are only a few options for your room.
A Warm Space with Wooden Panels and Cladding
Implementing wood has always been a great idea for decorating any space, including a dining room and its walls. These organic material additions (or their other environment-friendly alternatives) make your area warm and inviting. In addition to wooden cladding, furniture, appliances, and wall separation construct can complement your dining room wall décor.
You can use this amazing material in the farmhouse and rustic, as well as modern dining room wall decors. Wood is not only attractive and characteristic, but it is also sustainable, has excellent thermal isolation, and ages perfectly.
It leaves no surprise why wooden cladding and decorative elements are experiencing a renaissance, whether it is dining room wall decor ideas or any other space in our homes. You may also want to know that recent dining room wall décor trends using wood, are mostly pale and smooth.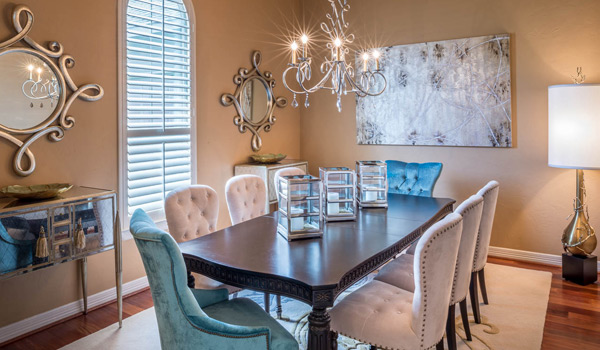 Dining Room Wall Decor Ideas with Clocks
You are probably thinking about hanging a large (really large) clock in the dining room and making it the centerpiece. Perfect idea, but not the only one. In fact, dining room wall decor ideas with clocks are considerably versatile. For example:
Multiple Clocks: If your dining room has a modern theme, you can hang several similar clocks to keep track of multiple time zones. This idea allows decorating a larger surface area and especially is helpful for those who require keeping track of the time in other time zones due to their jobs.
Unadorned Clocks: Hanging sophisticated clocks with unadorned faces is another option that pairs seamlessly in modern as well as classic designs. Marble or granite is excellent for this case, although you can always go with a sleek clock design that showcases your personal style better.
Abstract Clocks: One of the great small dining room wall decor ideas with clocks includes minimalistic abstract clocks. Along with the simplest accents, such decorative pieces create a unique decor.
Clock Gallery: Adding a clock to a wall art gallery for functionality is a solid idea, but it is not as exciting as covering the wall with nothing but clocks at all. For an impactful DIY dining room wall decor, try creating a galley with wall clocks of different sizes and styles. If you have a rustic- or farmhouse-style dining room, you are going to love the result.
When hanging the clock of your choosing, remember the general rule of thumb: hang the clock at eye level. However, if your dining room has a lot of open space or a tall ceiling, hanging it slightly higher also is an option. This helps draw the eyes from all areas of the room.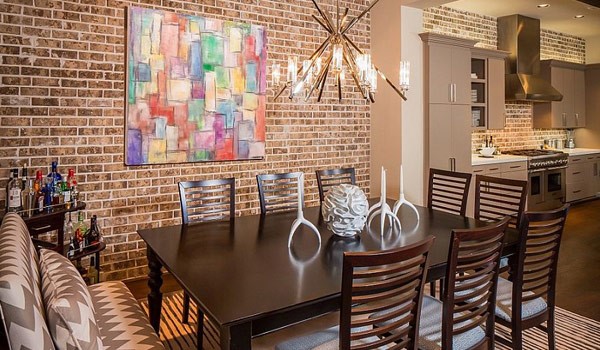 Dining Room Wall Painting
Large or small dining room wall decor ideas, apart from what accessories you choose, look more attractive in the right color palette. If you are at the stage of looking for the best dining room wall painting or prefer having minimal décor and simply hanging a large art piece, we have some suggestions for you:
Gray: A neutral color is a great choice for a light and modern dining room wall décor, making it perfect for almost any setting. This color plays exceptionally with light woods and neutral accents too and creates a pleasant monochrome palette.
Beige: If you prefer light and not vibrant colors for your dining room wall painting, beige is another excellent as well as timeless color. In case you go for a sophisticated and formal dining room wall décor in the future, there is no better option than this color.
Pink: for rose gold decor aficionados, a pink dining room wall painting is the ultimate color. For other people, pale pink painting can make the space whimsical and full of positivity, while playing gracefully with other colors.
Brown: This shade is mainly overlooked in home and dining room wall décor. Truffle brown is one of the most eye-catching shades for painting your dining room walls. Later, you can harmonize other wood tones throughout the room with other furniture and accessories for a seamless look.
Blue: Among dining room wall decor ideas, the ones that make the space airy, modern-like, and tranquil are tremendously popular. A cool and muted blue dining room wall painting can offer you such an atmosphere, and it is a lovely alternative for neutral colors like gray.
Gloss Finish: Thanks to the festive nature of this room, experimenting with alternative finishes is another option that very few consider. Nevertheless, using a high gloss or lacquer finish is another idea that creates an unbelievable atmosphere in the evening with the reflection of candlelight.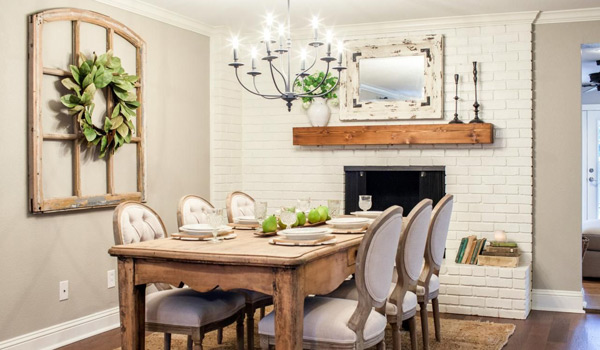 Small Dining Room Wall Decor Ideas
Some of the ideas that we covered so far if used in small dining rooms, can make your space look even smaller or messy. For such spaces, many designers recommend implementing cabinetry and storage that also serve as decor.
This way, you can keep and display dinnerware, decorative items, favorite family photos, etc. If creating a wall on storage is not possible for whatever reason, consider adding floating shelves.
Basket or Plate Dining Room Wall Decor
Baskets and plates are a simple choice to add some texture and dimension to your room. They are also a more affordable and creative way to make the walls pop. Woven baskets and decorative plates are also easy to find. You may also find some old ones at your home for lovely boho wall decor.
You can assemble them in a way that they create an illusion of framing, or let the composition be free. You can also mix and match different baskets/plates, try colorful or monochrome styles, etc. The best thing about decorating your dining room wall with these items is that you do not need a designer or a craftsman to do it. Your sense of style and artistry is all you need.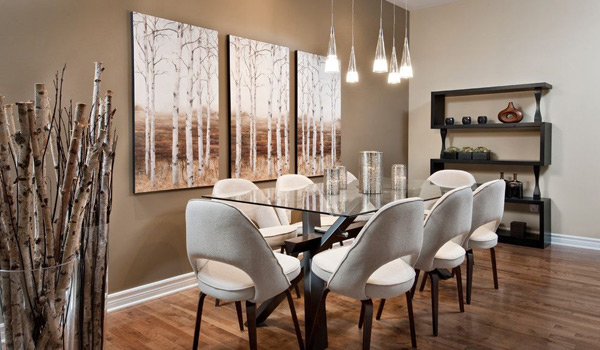 Just remember that similar to modern dining room wall decor ideas with art gallery walls, start hanging them with the largest plate/basket. For more convenience, you can lay your pattern on the ground first. Take all the time you need to find the best layout. And for a more sophisticated setting, we recommend silver or nickel-plated platters and trays.
Dining Room Decorating Ideas with Wallpaper
Wallpapers are a common choice for dining room wall décor that never go out of style. Thanks to their easy installation, being fairly economical, and offering infinite chic patterns, they are a great option for your room.
Depending on the pattern that you select, you can enjoy having a modern, warm, or formal dining room. Wallpapers and murals can also imitate marble or wood. So, they can be a more affordable choice compared to actual marble walls (another dining room wall décor idea) and wooden panels and cladding.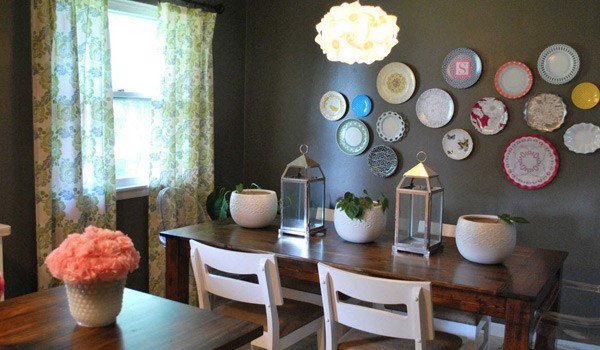 Other Dining Room Wall Decor Ideas
There are still a lot of DIY dining room wall décors out there, including:
Hanging large scale art pieces, neon signs, tapestry
Using room dividers and partitions
Using 3D wall panels
Stone walls (for vacation houses and villas)
Brick walls combined with metal framings, glass vitrines, and industrial lighting
Designing a green wall or using wall planters
Hanging oversized pendant
Floor to ceiling, built-in bookcase
Stacking accent objects and display cases
Happy dining room wall decorating!