A DIY corner desk means having your perfect corner of the room to work, study, draw, write, etc. If you have enough time, instead of going to IKEA, you may rather make your own desk. And since a DIY corner desk take the least space possible, while keeping the room organized, it is a great idea for your DIY desk.
Below, we have prepared a list of DIY corner desk ideas. Some are small, some are big, some are floating, and others have tons of storage. Feel free to choose your favorite DIY corner desk designs and make them.
L-Shaped Corner Desk Ideas
DIY l-shaped desk plans are widely popular, especially in offices. These types of desks can cover the whole length of the room side, providing enough space for multiple people to work. Here are some free DIY l-shaped desk plans to get inspired: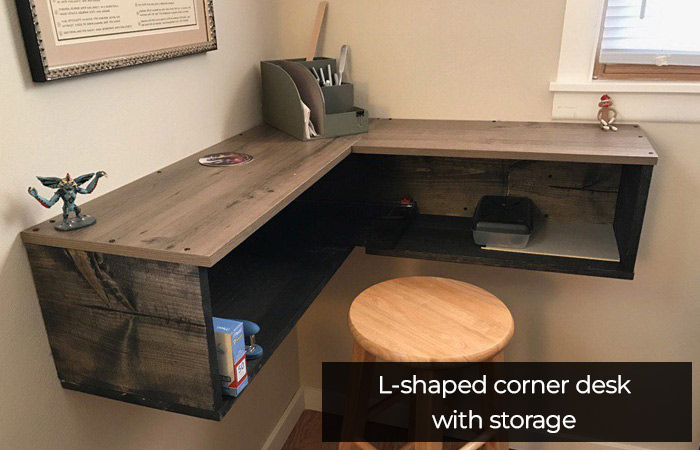 DIY L-Shaped Corner Desk for Office
This is a massive, 8 feet to 10 feet L-shaped wooden and steel desk. Although we cannot include this one in the list of DIY corner desks with drawers or file cabinets, it has enough desktop space to accommodate printers, monitors, and other work stuff.
It also has a lower shelf that you can use to store other items. If you are searching through corner desk ideas lists to find a perfect plan for working environments, this may be what you are looking for. For details and instructions, head over to Phoronix.
DIY L-Shaped Double X Desk
Do you prefer smaller corner desk ideas? This compact desk can complement any room at your home or office. The l-shaped double X desk is fully wooden and gives a rustic hint to your space.
So, consider adding some rustic decor items to the room where you want to keep this DIY corner desk. To see the full instructions and the printable plans, check Handmade Haven.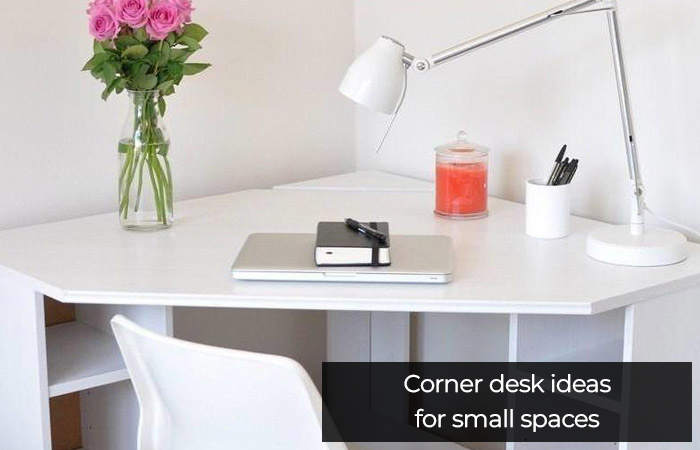 Corner Desk Ideas for Small Spaces
Corner desks help you save space on their own. But with a smart and creative design, you can have a small and practical desk to use. Here are some corner desk ideas for small places to find your ideal option.
These designs and plans are flexible. So, depending on your needs, you can create and use them as a working station for vanity makeup.
Simple DIY Corner Desk
Do not let the word "Simple" in the title mislead you. This DIY small corner desk plan provides you with cabinets, drawers, and shelves. This practical and beautiful desk gives you all the room you require for working or other activities. All you need is hardwood plywood and the necessary tools to make this lovely DIY corner desk idea a reality. See all the needed information at Shanty 2 CHIC.
While you are over there, you may also want to check the DIY Murphy Desk. This one-person DIY desk fits perfectly well in a corner, taking minimum space. This design also has creative shelving, offering a place to organize books or put decor accessories on it.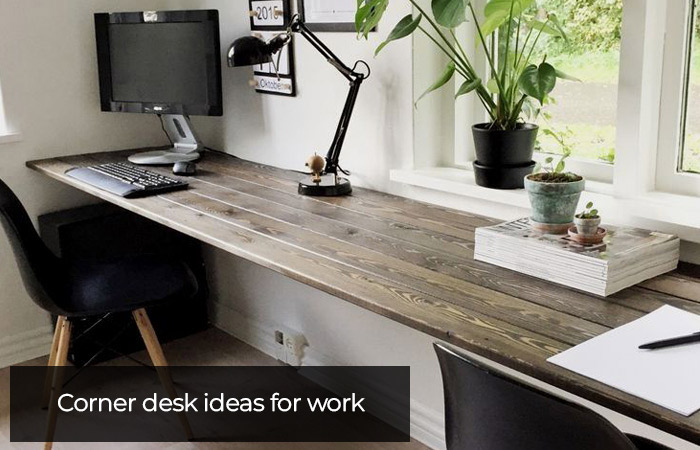 Triangle Corner Desk
Corner desk ideas that combine metal and wood have a unique charm, appealing to all of us regardless of our popular style and decoration theme. And this DIY metal & wood corner desk may be the most charming and small corner desk plan that we have seen.
If you need a working space at home that does not take up much space in your room, this beauty can help you greatly. The main materials for this project are metal and wood as mentioned. Watch the tutorial video on the DIY Huntress channel on YouTube and start making your minimal and chic DIY corner desk.
Modern DIY Desk
Looking for modern and simple plans for corner desk ideas? This desk does not have cabinets or drawers but offers enough space to accommodate one person and his or her work stuff. This desk is also on a budget, making it an excellent choice if you are not interested in fancy DIY corner desk ideas.
Before going to YouTube to watch the video on Robin Lewis Makes channel, you need to know that making this desk requires some woodworking skills. This DIY corner desk may not be a piece of cake, but the result definitely worth it.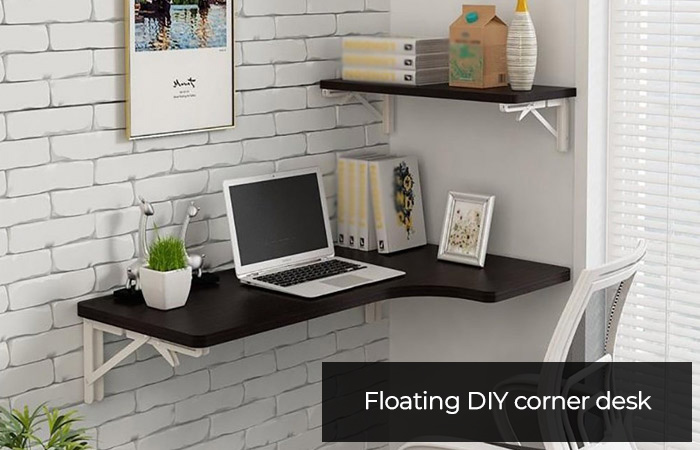 DIY Corner Desk Ideas with Storage
Corner desks with storage help you be more organized as well as keep the room tidy. Making these corner desk ideas needs more material and skill, but the final product offers a more practical desk. Here are some ideas if you prefer a DIY corner desk with drawers.
DIY Single-Person Corner Desk with Drawers
Benefiting from a unique and compact design, you will not face any storage issues with this design. Whether you want to have a home school desk, a work from a home desk, or just an occasional good-looking use desk in the corner of a living room, this plan has it all.
Plywood boards, tools, and the instructions at Woodshop Diaries give you a desk with the looks, the storage, and the functions you need to sit and start working on your task.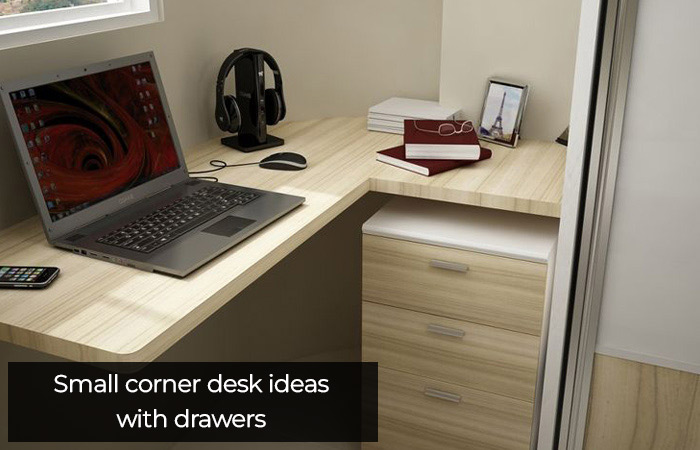 There on tons of other DIY corner desk ideas with drawers, but the basis is similar to this plan that we talked about.
DIY Corner Desks with Cabinets
This plan results in a desk for two with practical wooden cabinets. uses live edge slabs for a custom desk that fits into a bay window. Natural live edge slabs with an organic look and reliable support to heavy desktops are only some of the features of this amazing desk. You can find the instruction to make this appealing desk at Simplified Building.
You can find another charming design with a lot of storage at Ana White. With a clear and detailed guide, you can make an office corner desk for two with over six storage compartments and more than enough desktop space.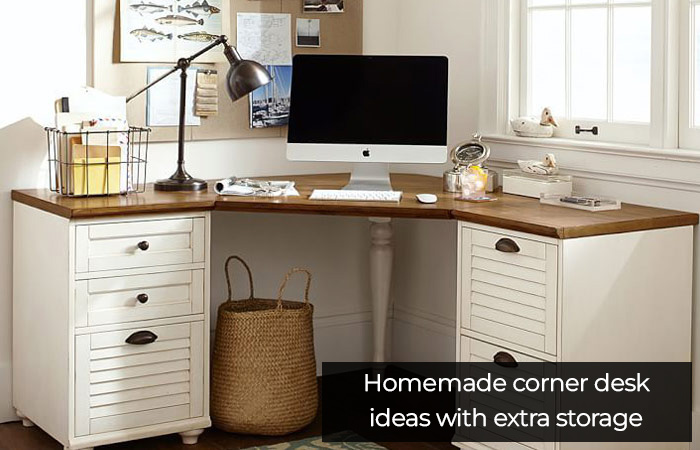 Floating Corner Desk Ideas
If you like DIY small corner desk plans, you might find the desk of your dreams in DIY floating corner desk ideas. These wall-mounted desks take the least space possible while making more room for your feet. By adding one or two wall shelves above them, you will have all the necessary space to place stuff like small plant pots, books, decorative items, etc.
Here are some DIY floating corner desk ideas:
DIY Minimal Corner Desk
The height of this desk is perfect for standing and working, but you can also add simple metal chairs (bar stool height) to sit too. If you do not have heavy stuff like printers or desktop PC, this minimal DIY desk can make the perfect home office for you. The elevated surface of this design makes it a favorite for people who do not want their legs to touch the floor. Head over to A Beautiful Mess for more details.
If you are a fan of minimal designs, check this plan from I Like to Make Stuff. If there is a space like this at your home, one cannot simply find a better DIY small corner desk plan!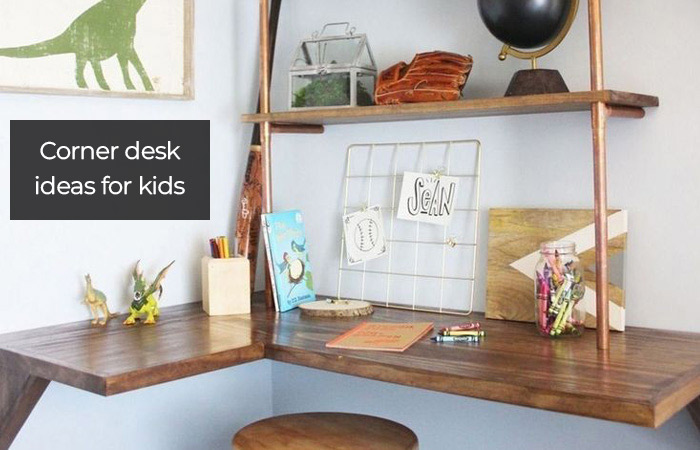 DIY Wall-Mounted Desk
This DIY floating corner desk not only is wall-mounted but is also very affordable. There are a few corner desk ideas and plans on the internet that help you make your own desk with 20 dollars. But this design has done it.
Prepare a few essential tools, watch the video on Daniela Ngounou's YouTube channel, and get started.
DIY Floating Desk for Gamers
This desk with its curved design and fancy look adds beauty to your room, as well as provides a place to put different consoles.
As you can guess, you need to mount the TV on the wall. The good news is that you do not have to be a gamer to build and use this table. Check out the YouTube video from Jon's DIY for full instruction.
DIY Desk for the Room at the Top of the Stairs
Among corner desk ideas, this project is a must for anyone who has a room at the top of the stairs in their house. This professional desk offers a lot of space with a neat look. Check out Chalking Up Success for more details about this ideal design.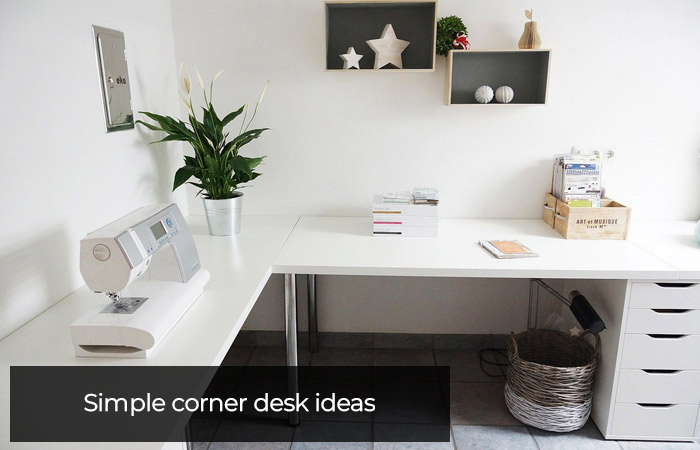 Other DIY Corner Desk Ideas
More inspiring designs? here are a few more designs and plans:
Wooden DIY Corner Desk
Maybe there was not enough option on this list for wooden DIY corner desks that can match the rustic decor in your space. This plan can change your mind.
Visit Little Home Happiness for a 100% amazing wooden desk. With a final paint, you can make it look rustic before putting it in your room. If you want, you can also use reclaimed wood for your project.
On Budget DIY Desk Top
This minimalistic design is sturdy while being almost floating. It is fantastic and budget-friendly; you can build it for only 70 dollars. The YouTube video that you need to watch is on Dylan's DIY Workshop's YouTube channel. The good thing about this desk is that you can place a system on it and not just light laptops.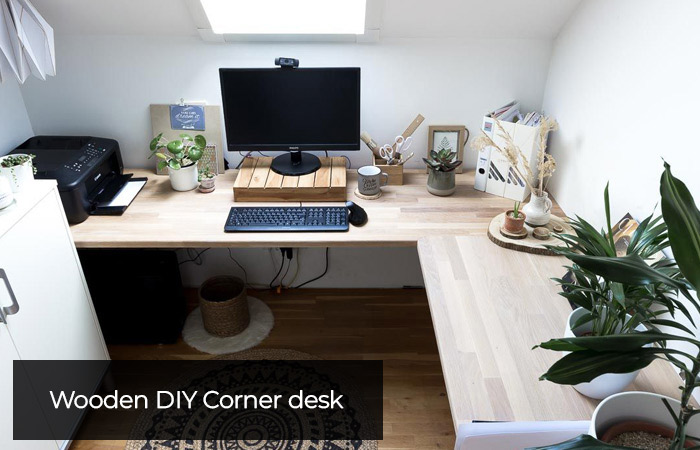 Final Thoughts
Hopefully, this list of creative corner desk ideas from the web can help you find inspiration to make your customized corner desk that suits your time, budget, and needs.
We did not include any DIY corner desk IKEA this time, as we are sure that you agree with us that there is something different about building something with your hands. Have fun!