Looking for a fun project that can entertain your children as well as yourself? How about a DIY dollhouse? Buying a DIY dollhouse kit is probably your first go-to, but we suggest making one from the scratch. There are a lot of DIY dollhouse ideas out there. And to make them, you're going to need certain materials.
In this article, we're going to review some of the necessary materials for DIY dollhouse plans and continue them with some easy DIY dollhouse ideas.
DIY Dollhouse Materials
Depending on the materials you use in your project, you can use different DIY dollhouse accessories. For example, using balsa wood only allows you to add lightweight furniture to your dollhouse. With the help of the materials below, you can take your DIY dollhouse to a whole new level.
Keep in mind that each medium has its own advantages and disadvantages. So read about them first, know their characteristics, and then start using them in your dollhouse.
MDF
MDF (Medium Density Fiberboard) is a common material in DIY dollhouse kits and other miniature scale buildings. If it's not MDF, then it's probably Baltic birch plywood.
However, both of them give off some gasses, so they should be finished before using. With Baltic birch plywood, you can make light structures. You can also build structures with it in a way that it can be dismantled or added on to later. If you decided to use MDF while making DIY dollhouse plans, don't forget to prime it before painting.
Luan Plywood
Luan plywood or simply Luan is a material that is common in less-expensive DIY dollhouse kits. Working with Luan plywood is really simple, but it needs more finishing work than some of the other materials. In a DIY dollhouse kit, plywood is often die-cut, so you can assemble it with tab-and-slot methods rather than using nails or screws.
If you decided to use Luan plywood in your dollhouse, you need to use doors and windows designed to fit in it. There are also some challenges when setting up round wire routes through Luan. Because floors and walls may not be thick enough to score for wiring channels. You can get Luan plywood from building supply stores to use in your dollhouse project.
Craft Strip Wood
This material, along with scale lumber, is perfect for making DIY dollhouse furniture. The best strip wood for making miniature furniture is basswood or lime wood, due to its fine grain and strength. Specialty hardwood strip wood is another type that you can use.
In addition to DIY dollhouse furniture, you can use strip wood for building component parts for buildings including windows and doors too.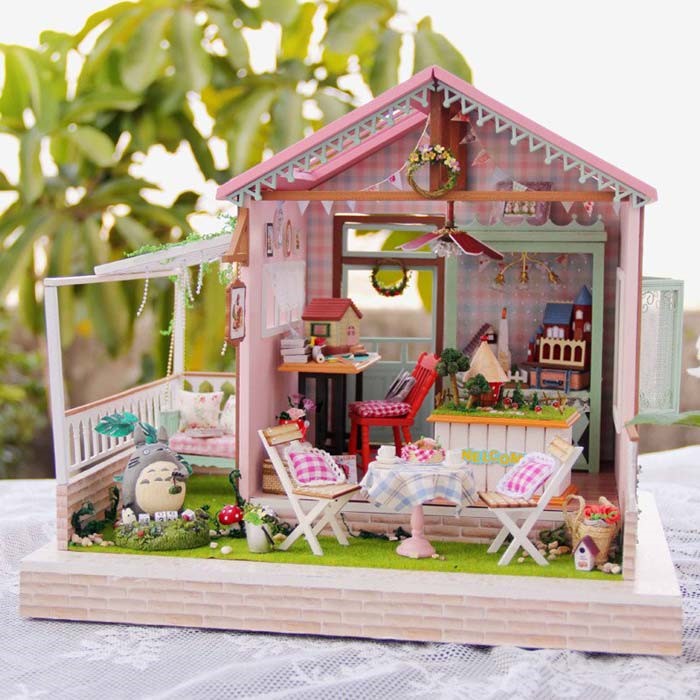 Paperboard
Paperboard, also known as book board or Davey board, is a perfect choice for an inexpensive and easy DIY dollhouse. Davey board is an acid-neutral and dense paper-based board that is mainly used for book covers, strong boxes, and sometimes architectural models. Additionally, it's popular for making room boxes and breakaway boxes for dollhouses.
You can buy this material from a scrapbook, art suppliers, and even book repair specialists.
Sheet Styrene & Taskboard
Creative DIY dollhouse ideas can benefit from materials that can be bent and shaped nicely. Sheet styrene is one of them. You can bend, shape, and glue it to make any buildings and other models. Sheet styrene is especially popular for scratch-building railroad model buildings and rolling stock. However, you can use it for other types of miniature buildings like DIY dollhouses as well.
Taskboard is another option. It's a lightweight board made from non-aligned wood fibers, which is different from cardboard and paperboard. Available in specialist art supply stores, you can shape this material into curves and spirals.
Creative Paper Clay
Creative paper clay doesn't have to be used for small 3D miniatures or sculptures. In a DIY dollhouse, you can use this medium to create miniature plaster, stucco, pargetting, stone tiles, tiled floors and walls, landscaping rock, and stone effects. Creative paper clay's properties are very similar to fine clay, as well as being safe.
Paper clay is an easy way to create strong lightweight miniatures in your DIY dollhouse that only needs a protective coat of sealant.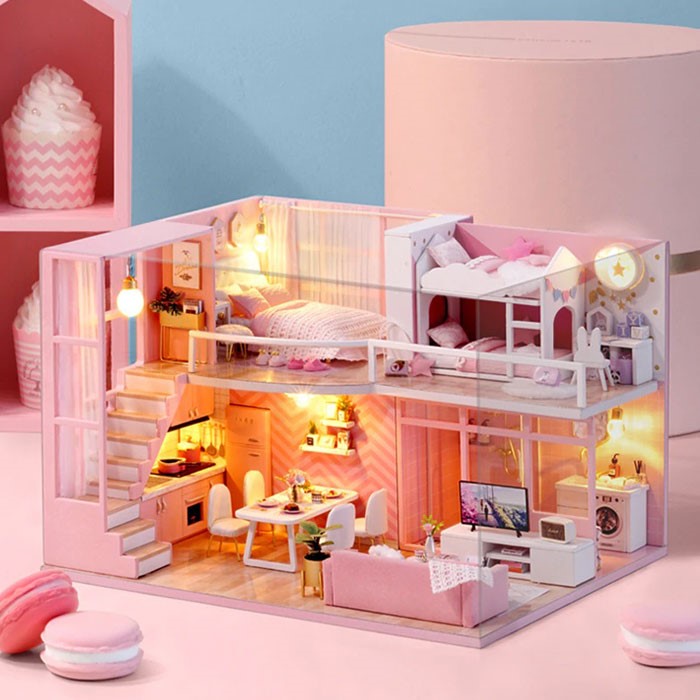 DIY Dollhouse Ideas
Now that you know what you need to make a dollhouse from scratch, here are some DIY dollhouse ideas with their plans.
DIY Dollhouse with Cardboard
Making dollhouses with cardboard is really common. This easy dollhouse plan from Crafts by Courtney is made entirely out of cardboard. The instructions that you'll find there, takes you through the cutting and assembling a simple cardboard box into a dollhouse step-by-step. When you're done, you'll need some scrapbook paper and paint to make your dollhouse spectacular.
DIY Dollhouse Plans for Small Spaces
Dollhouses don't need to be huge to be amazing. For example, this dollhouse from Remodelaholic is a cute and shallow dollhouse shelf that you can fit almost anywhere. In addition to its main purpose (playing with dolls), you can use it as a bookshelf too. The tutorial is very detailed and easy to follow, offering everything you need to build it with confidence.
Fold-away dollhouses sound great for small places too. Fortunately, A Beautiful Mess has prepared a dollhouse tutorial that you can tuck away when the children aren't playing with it. It has three rooms that children can switch around and use in whatever way they like, without getting bored with it.
You can also find a collapsible DIY dollhouse at any stores. This dollhouse plan uses vinyl record sleeves for the walls and floors. By combining this surprising material with duct tape, you'll have a foldable dollhouse that can be put away when it's not needed. Susan also provides you with many ideas to make DIY dollhouse furniture with items you already have at home.
Easy DIY Dollhouse with Shoebox
If you aren't interested in DIY dollhouse plans with a lot of materials, a dollhouse made with shoeboxes may be what you're looking for. All you need to make this dollhouse are some shoeboxes, paper mache, scrapbooking paper, and paint. Have fun!