Saving money, having fun, and making the exact idea that you have in mind are only a few benefits that a DIY end table has to offer. A little time and imagination is all you need to unlock a world of DIY end table plans.
If you are looking for some ideas to find inspiration, take a look at our list below. Small, beginner, and dog crate are only e few of the DIY end table styles that you are going to find.
Easy DIY End Tables with Hairpin Legs
Simple DIYs are the best DIYs. If you do not have enough time, or enough skill, but still want a handmade desk, here are some ideas:
Idea No. 1
This DIY end table results in a non-bulky table that blends well with any environment. All you need is a round wooden board, hairpin legs, and necessary tools. Following a couple of clear and easy steps, you can have your own stylish hairpin table. For the tutorials on this DIY end table, check out Domestic Blonde's post.
Idea No. 2
You can find another simple DIY end table with hairpin legs at BurkaTron. Using plywood sheet, hairpin legs, wood glue, nails, and a screwdriver, you will have a mid-century piece of furniture that complements your decor. This plan gives you more room to store different stuff, and you can use this beginner end table as a nightstand too.
Idea No. 3
If you are looking for a DIY end table with hairpin legs and a hint of boho, we think Rachel Teodoro has what you have in mind. This DIY live edge hairpin leg side table has a wooden top. With a modern bohemian style, this table can bring nature to your room.
Idea No. 4
For the last DIY end table with hairpin legs, we have a more unique suggestion: a DIY crate end table from Made Up Style. This project offers more than a simple wooden top. A crate, copper hairpin legs (which make it really stand out), chalk paint, and drill all the materials and tools that you need for this decorative side table. The DIY crate end table would look great in entryways or living rooms.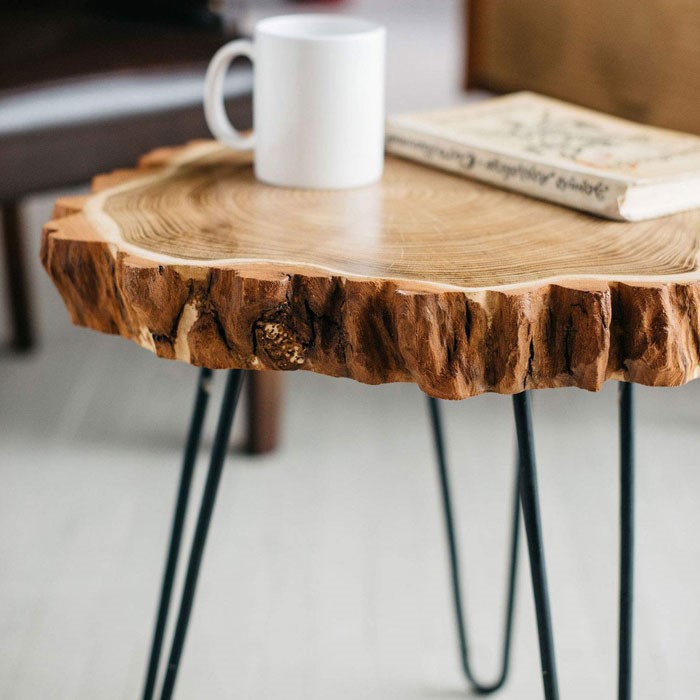 DIY Side Tables with a Drawer
A DIY side table with a drawer offers storage while taking the same space as a simple end table, helping you to organize your stuff better.
Idea No. 1
If you like pottery barn but prefer more budget-friendly options, look no more. This DIY pottery barn inspired nightstand from Anikas DIY Life will cost you a fraction of buying the actual piece. Thanks to the step by step and detailed tutorial, you can make one for your own room. You should know that having some woodworking skills can help you greatly in finishing this project.
Idea No. 2
This idea includes a brilliant make-over of the Tarva nightstand from IKEA. After getting this nightstand, you can cut off the legs and screw wheels as The Lily Pad Cottage has, or simply leave them off along with a 2-inch apron on the front.
The next step in this DIY end table includes applying a coat of wood conditioner for a natural wood showing. After that, the drawers are stained for a nice beachy driftwood color. The final steps include gluing white molding around the edge of each drawer and painting the top and sides with white paint.
Idea No. 3
This is not just a DIY side table with a drawer, it is a beautiful and practical rustic DIY end table with storage. Originally, this project was built by Wood Shop Diaries for a friend who had a newborn and needed a diaper cabinet. If you need such a cabinet, you are in luck. But even if you do not need to hide any diapers, it can function with zero problems as an end table. To see the material you need and the full tutorial, check their website.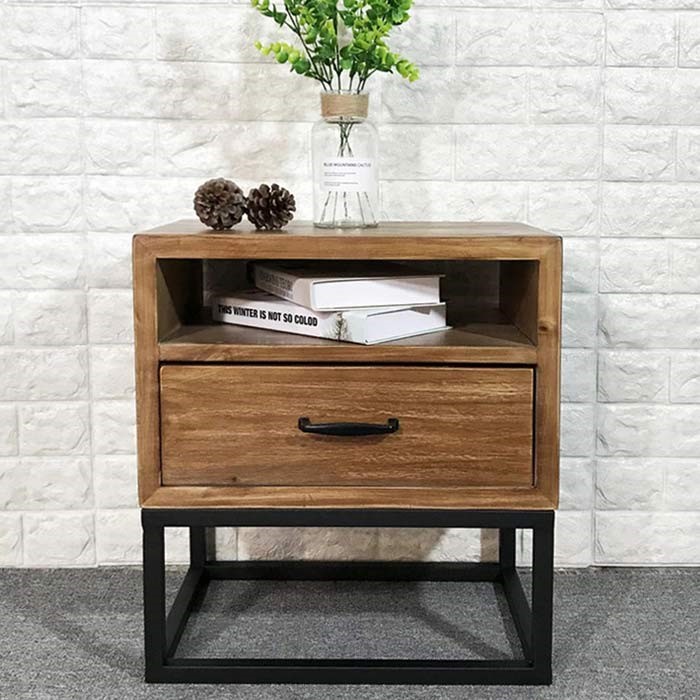 Wooden Simple DIY End Table
It seems that nothing can compare to minimalistic and fully wooden DIY side table plans. Here are some end table plans, ready to be built and to be added to your living room:
Idea No. 1
This geometric DIY end table is simple yet stylish, looking even better with small plant pots and decorations. If you have some woodworking skills, you can make it in no time. If you do not have such skills, do not let the base intimidate you. It is a little complicated, but as Bitterroot DIY promises, it is super simple.
Behind wooden end tables, you can also use a diy plant stand.
Idea No. 2
Buying the perfect side table can cost you a lot, but not this DIY side table plan. The dimensions of this simple and white display table maybe a little taller than you would probably use in your space. However, with just a few modifications, you can turn these DIY side table plans to the side table or even nightstand that you always wanted.
Check the Love Grows Wild's post for all the information you need. And feel free to paint your DIY end table with other colors instead of white to match it with your decoration and style.
Idea No. 3
This DIY side table plan from Abbotts At Home adds some color to your room at a low cost (less than 20 dollars). The free plan of this DIY end table is the result of a woodworking challenge on Instagram. Whether you are a woodworker or a DIY enthusiast, you can make this table for your guest room or any other space. Thanks to its lower shelf, this stylish table is practical too.
Idea No. 4
This pallet wood DIY table is so simple and cute that you can fit it in any category (from easy DIY end tabled to small and modern ones). Using leftover pallets, you can make an excellent end table with the help of We Lived Happily Ever After's instructions.
So check your basement or garage for some leftover pallets, and prepare to build beautiful nightstands for less than 15 dollars; including all additional materials!
Idea No. 5
A DIY narrow side table like this can easily become your favorite end table or nightstand. This idea is one of the really affordable DIY side table plans. It will cost you about 5 dollars to turn an old, second-hand bar stool into a lovely and high-end table.
Next time that you are in a thrift store, buy a bar stool (or more) and give them a makeover with some chalk paint and wood for shelving. Read all about this project at Making Manzanita.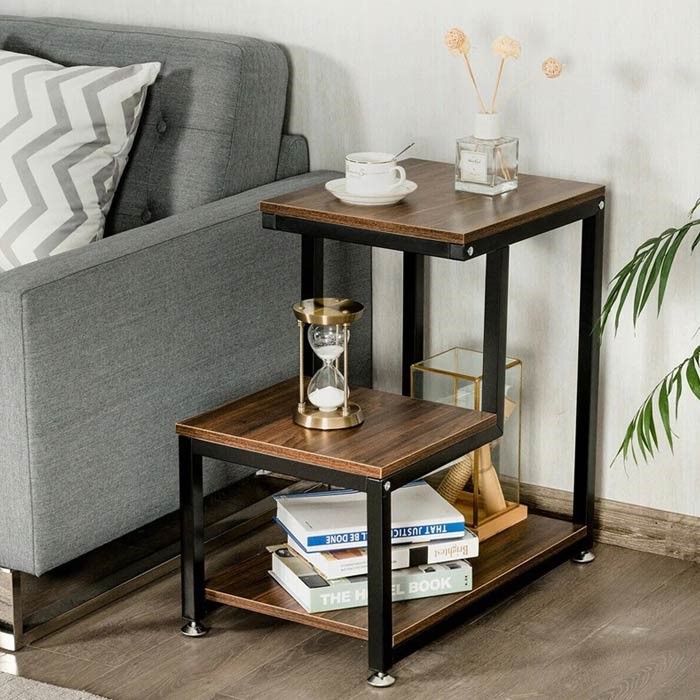 DIY Farmhouse End Table
You may be looking for a DIY farmhouse end table among other end table plans and ideas. Here are some charming designs that we found interesting:
Idea No.1
Interior Frugalista has done a farmhouse side table makeover that you just cannot miss. With this tutorial, you can turn an old side table into an adorable one like this with (almost) a simple repaint. Get an old side table, sand it down, paint it, and place your new side table in the living room or bedroom.
Get more information about the painting process by reading paint and primer in one.
Idea No.2
There are a lot of ways that you can put this white farmhouse accent table to use. It is the ultimate way to utilize small spaces anywhere in your home or office. You can place it in the powder room with baskets to store towels and toiletries, or in the entryway as a place for cell phones, keys, and mail, or even in your office for lovely decor accents.
Head over to Delightfully Noted Blog to prepare the list of the materials that you need for this stylish and easy-to-do DIY end table.
Idea No. 3
For our last DIY farmhouse end table suggestion, we have found an adorable idea for the fans of Ballard design. This Ballard knockoff spool side table is going to be one of your favorite projects. You can find the full instructions at Flamingo Toes. Also, this table has a removable lid for storage.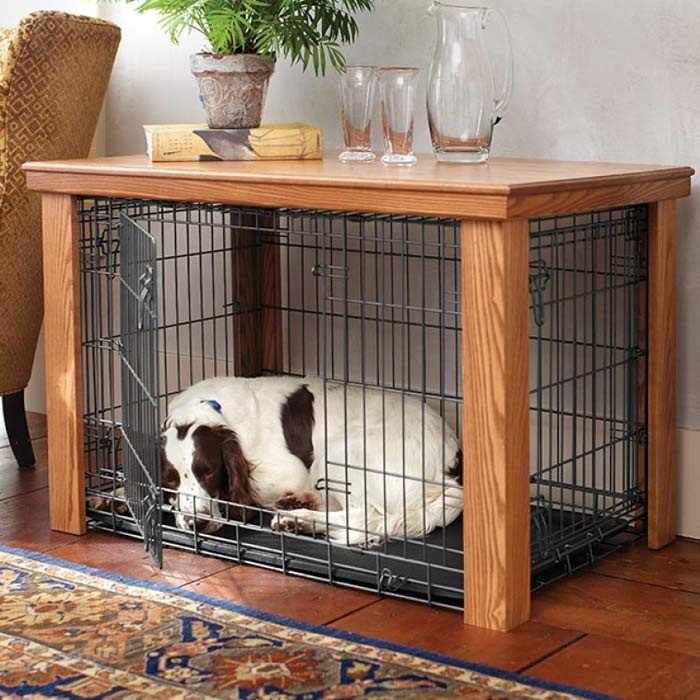 DIY Dog Crate End Tables
A DIY dog crate end table provides you with a practical table, as well as giving your pet a place to relax in the family room. Here are some ideas for DIY dog bed end tables:
Idea No. 1
Looking for a DIY dog crate end table with detail on its door? Then you can find the DIY end table plan you want at Studio 7 Interior Design. With step by step tutorial, you are going to love making this end table with its incredible décor.
Idea No. 2
If you are up for a challenge or looking for simpler DIY side table plans that are also a dog crate, make sure to visit K9 of Mine. You will find seven amazing ideas there, each more creative than the other. The instructions are super clear, and you can know about the difficulty of the DIY end table project before actually starting it.