Fire is one of mankind's most life-changing discoveries. So, it is no wonder that even today, we find solace around its warm glow using outdoor fire pits.
Ten years ago, you would have had a hard time finding a nice fire pit in a store. Today, however, you are spoiled with numerous choices: rectangular fire table, concrete fire pit table, etc. There are even plenty of DIY firepits out there, like sturdy ones made by cutting the top off a household propane tank and welding legs to it.
As having a backyard fire pit is an increasingly popular trend, and you are here, a homemade fire pit is probably your next big project. So, today we are going to review 17 DIY firepit ideas perfect for making s'mores or Vietnamese grills, book clubs, birthday parties, or a quality night alone.
Add a water feature later and you would never want to leave your backyard! Without further ado, let us see how to build a fire pit.
Classic DIY Firepit: Keep It Simple
If you are the kind of person who does not have the time for a demanding project, consider a simple setup based on supplies most found at local garden supply stores.
Sandy soil landscaping, gravel, pavers, fire pit bricks, and some of those popular Adirondack-style chairs that show up every summer are all you need for a weekend-ready outdoor fire pit. Get your supplies on Friday after work, and you might be enjoying a fire in your new firepit on Sunday night.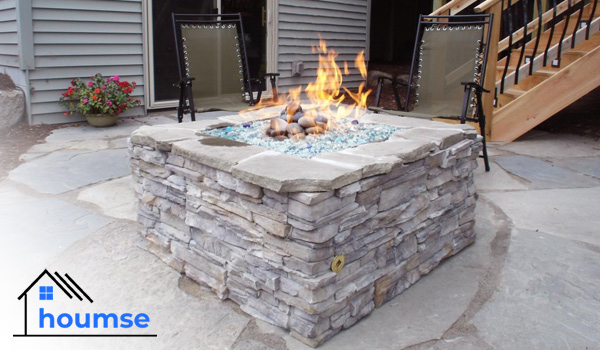 Backyard Fire Pit Set: Not Cheapest Yet Easiest
Not everyone has enough time to devote to building even simple backyard fire pit ideas. And if the budget is not a problem, that is totally fine.
Due to the popularity of outdoor firepits, you can easily buy everything you need to have the perfect gathering place without building a thing. There are setups that can come entirely from big box home improvement stores. The hardest part was arranging the furniture. Even the gas firepits are normally ready to go once a propane tank is connected.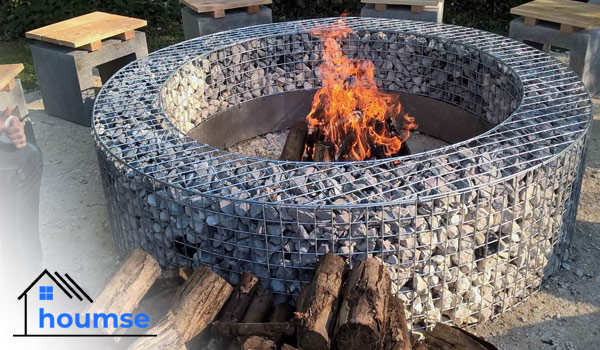 Cheap Fire Pit: Go Natural
If you have access to natural stone, consider a fire pit that rises gently from a stone patio to a sturdy fire ring. This is a great option if you want a space that matches your backyard rather than a modern area meant to contrast. This outdoor fire pit gives a more natural feel while leaving no holes in your pocket.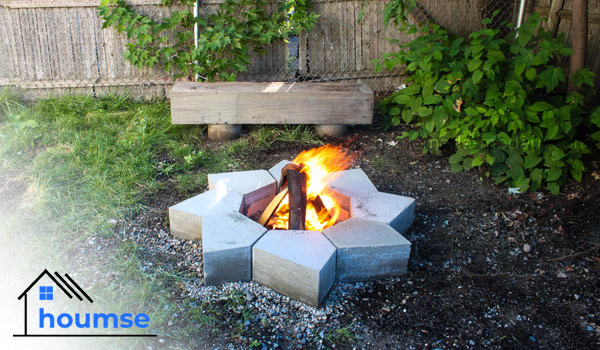 Modern Minimalist: Try Something New
Some may ask how to build a fire pit, but they look for no traditional answers. Some prefer clean lines and open spaces. If you feel the same, why not plan for building a fire pit with bold geometric lines?
A circular patio made with red pavers and large rocks for the fire pit creates the perfect focal point in your backyard. This bold and dramatic look will immediately turn heads, inviting people to come and sit by the fire.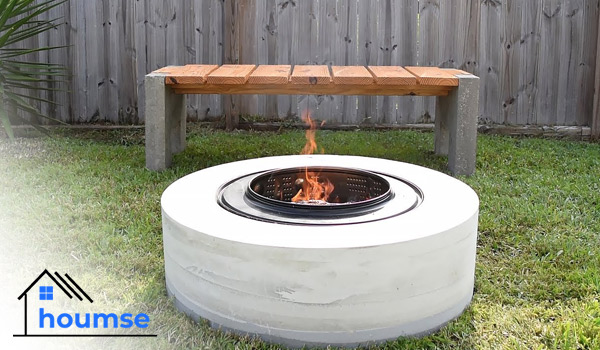 Tabletop Gas Fire Pit: Safe and Minimal
Gas fire pits are one of the popular backyard fire pit ideas that are convenient and safe as well. Having an open flame in the backyard is safer when you can turn the fire pit on and off with a single touch. You also do not have to worry about flying sparks or embers.
Several gas firepits are incorporated into the outdoor furniture, resulting in a product that offers a table for serving food or drinks, as well as a nice gas fireplace.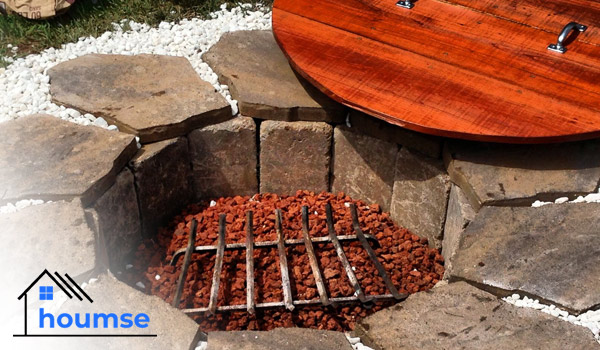 Bold Homemade Fire Pit: Color Burst
Imagine a DIY firepit built with stones surrounded by bright yellow (or your favorite color) Adirondack chairs. Now, who would not love that?
How to make a fire pit with jolly results is a challenge. But the simple design tackles that by choosing a vibrant color palette and placing chairs with bright colors around the fire pit. This is also a great way to update an old backyard without completely redoing the space. Pressure wash your old chairs and give them a fresh coat of cheery paint. You will save money and may enjoy an evening near the fire more often.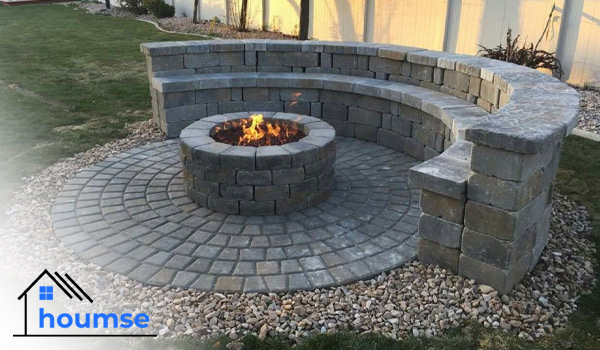 Metal Firepits: Copper and Stainless Steel
You do not have to know how to build a fire pit to have a polished, luxurious one, an endlessly stylish option like a copper fire pit can do all the heavy lifting for you. Copper is such a precious and timeless metal that makes you pit into a stunning focal point in your backyard instantly.
We recommend pairing it with a black wrought iron stand to contrast the soft tones of the copper and choosing a hammered copper fire pit if you want to add more texture. Additionally, copper ages well when burned and is easy to care for and strong enough to withstand a variety of outdoor weather conditions. Its distinctive color with the warm glow that lights up the backyard creates an inviting space too.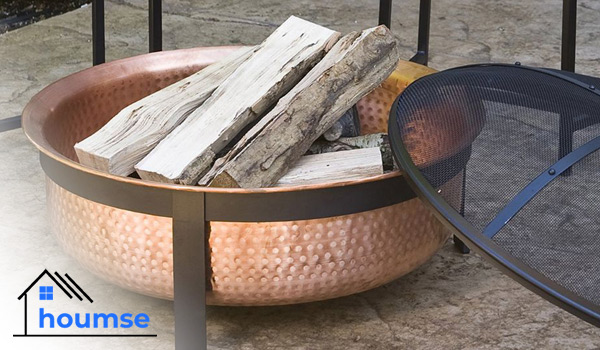 Among backyard fire pit ideas with sparkly, metal options, stainless steel captures the attention too. One of the best things about it is convenient to care for and clean. And since there is no tarnishing, they look great from first use to last.
A deep stainless steel fire pit adds a minimalist touch, making everything look modern while warming you up at the same time. Such outdoor fire pits look great with chic gray outdoor furniture on a moody slate patio, offering a progressive design that will never go out of style.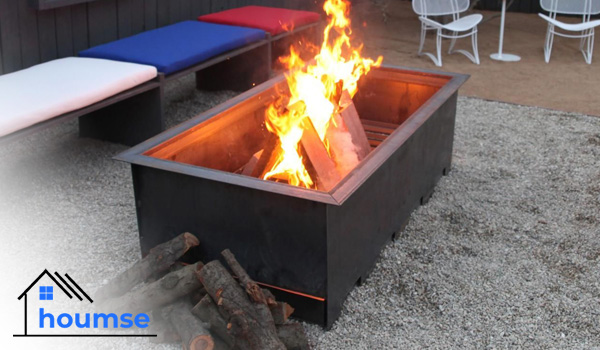 Chiminea: As Charming as It Gets
These beautiful southwestern fireplaces are a great option if you already have a large backyard and are short of a fire. Traditionally, the chimenea is made of clay, but today you can find it in both clay and metal in a wide range of sizes to fit your space needs.
If you are not necessarily asking how to make a fire pit and look for a unique result, this is the perfect alternative compared to the open pits you often see. You can easily store chimenea if not used in colder months.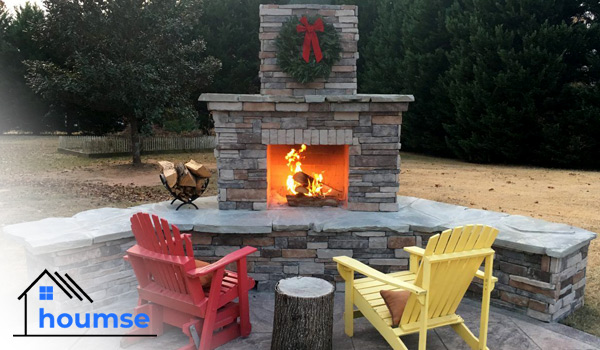 Building a Fire Pit Over the Grill: 2-in-1 It Up!
Looking for backyard fire pit ideas that allow you to grill on top of it? Well, look no more for your ideal Friday night!
Food and fire go hand in hand. So, if you rarely have a fire without cooking or grilling something over it, consider a kettle-style fire pit with a built-in grilling surface. This homemade fire pit makes combining these two favorites so much easier while making your outdoor space becomes more diverse.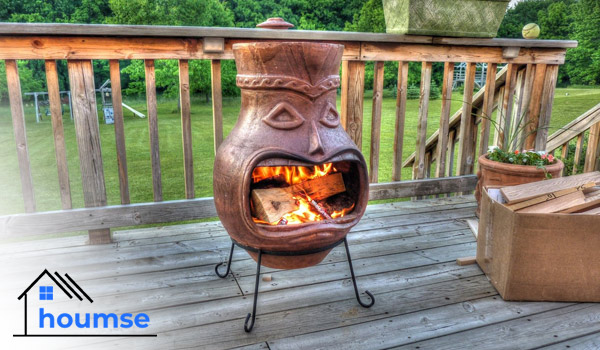 Outdoor Fireplace: Practical and Beautiful
We know that you want to know how to build a fire pit and it takes serious work, but the classic look of a fireplace is always more welcome when built outdoors and the chimney offers a great advantage over many open-air options: the smoke rises to the top of the chimney.
Several nights were ruined playing musical chairs around the fire, trying to get away from the smoke. The fireplace is not only practical but has a timeless look that never goes out of style. And let us be honest, no DIY smokeless fire pit can compete with it.
Stone DIY Firepit: Unique and Natural
You probably already know how to build a fire pit with stone. Elevate it a little and you will have the most charming centerpiece. We are talking about geometric designs from classic rectangular fire tables to hexagons, pentagons, and other shapes. As long as it stays functional.
And this is not for your benefit. Think about when you might want to sell the house!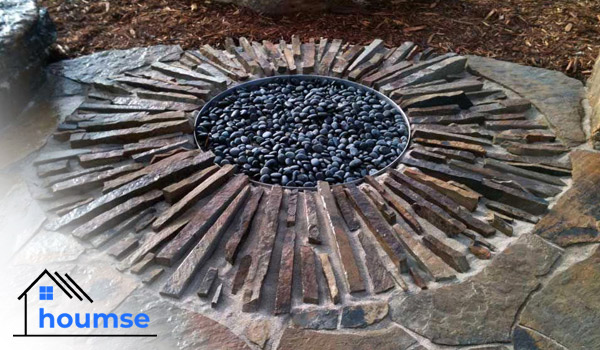 Homemade Fire Pit: Brick by Brick
How to make a fire pit could not have an easier answer. To make this DIY firepit, simply stack bricks. The beauty of this design is that you can easily take it apart to build it somewhere else or store it during the off-season.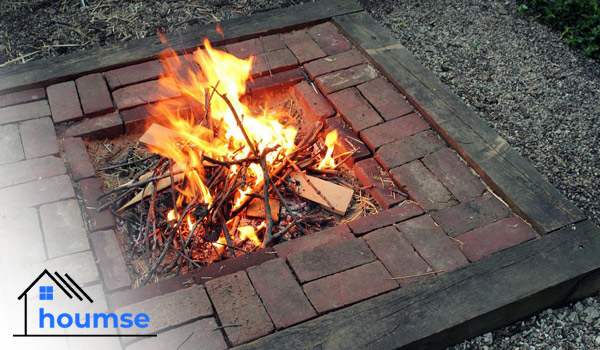 DIY Cinder Block Fire Pit
In addition to bricks, you can also build a cheap fire pit with inexpensive yet sturdy cinder blocks that lend themselves to a variety of Do-It-Yourself projects. You may simply arrange a course of blocks in a circle to create a backyard fire pit. To reinforce the assembly, you can stack another row on top of the first and secure it with construction adhesive.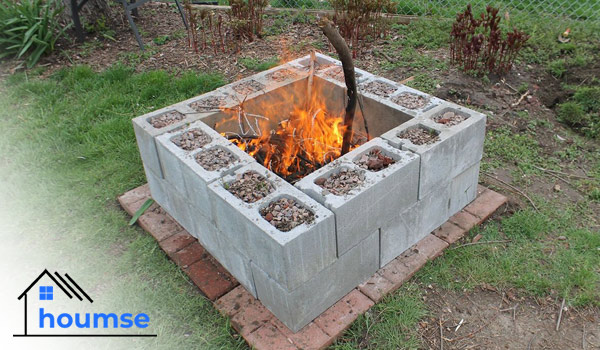 How to Make a Boho Fire Pit: Soulful and Free
Your dreamy boho-inspired backyard fire pit can include a fire pit dug into the ground and several fun seating options. Adirondack chairs, hammocks, and even logs that double as tables, you can provide plenty of seating for everyone.
And if you accompany this setting with gravel, it will also prevent embers and sparks from becoming a fire hazard.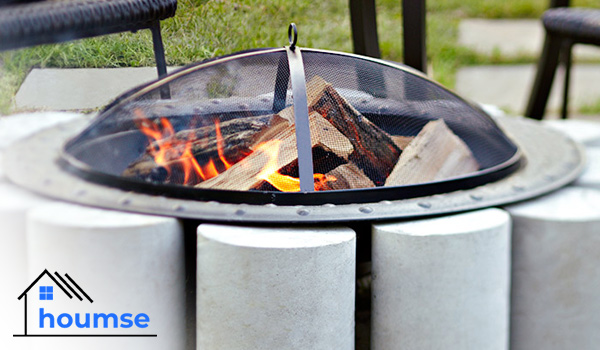 Outdoor Fire Pit Heaven: Vacation at Hand
This is no simple DIY firepit, but the result is so elegant that we simply do not resist mentioning it. We are talking about a patio built around the fire pit surrounded by chairs with a boardwalk leading to the patio.
If you plan and build it right (by yourself or professionals), your fire pit can feel like a vacation. It creates privacy as well as makes a social space. And the boardwalk leading to the patio not only provides a secure footing but also builds a bit of excitement as you stroll from house to patio and outdoor fire pit with a bag of marshmallows.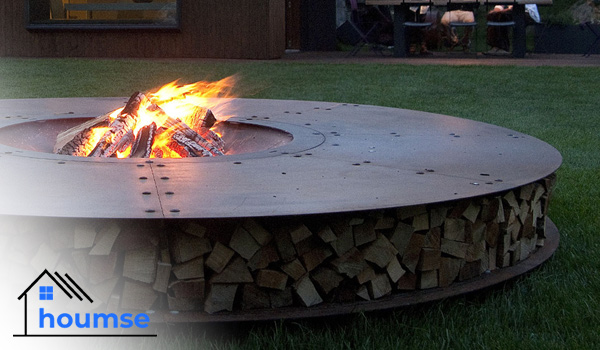 The Ultimate Classic
We have all sat around one of these before. It is hard to beat the classic; at least before looking for backyard fire pit ideas.
There is a reason this classic setup has lasted so long: simplicity. At the end of the day, you cannot beat the traditional rustic setting of tree trunks and a rock fire ring. If you are short on space, time, or money, raw materials can usually be found on a quick trip to the forest. If you burn wood to heat your house, I bet you already have everything you need.
Hopefully, we have given you many backyard fire pit ideas to build the dreamy one for yourself. When done, do not forget to call us, we will bring the marshmallows!