Makeup room décor can be used for more than just makeup routines. In addition to applying makeup, you can manicure or pedicure, chat with friends, or simply relax. If you've seen some gorgeous makeup room décor on Instagram, and are looking for ideas for your own décor, you're going to find what you're looking for here.
First, we'll go over some of the essentials in a makeup room décor. Next, we'll talk about some of the best makeup room ideas that we've found online.
Makeup Room Decor Items & Essentials
Let's see what the essentials furniture and elements in professional makeup room ideas are:
Mirror (with the Right Size)
No makeup room design (cute or professional) is complete without a right-sized mirror. A countertop mirror will help you when you want to apply makeup. In a lot of makeup room design ideas, you can see a full-length tall mirror and an integrated mirror with lighting. The first one helps you to see the full body, and the second is perfect for makeup application.
For the mirror in your makeup room wall décor or with vanity, you have different options. You can go for a square, round or unusual shape DIY vanity mirror, purchase mirror elements and tiles, etc.
Get more information about the painting process by reading diy makeup vanity.
Light and Lighting
You're going to need the perfect lighting for your glam sessions; especially if you create beautiful videos. Illuminated mirrors or installing lights that run around your vanity mirror are the best choice, which can also turn into a fun DIY part of your makeup room design.
For your makeup room décor's lighting, there are many tutorials on YouTube and different blogs on how to make a ring light. If you don't have enough time, you can always purchase already installed lights on online shops like Amazon.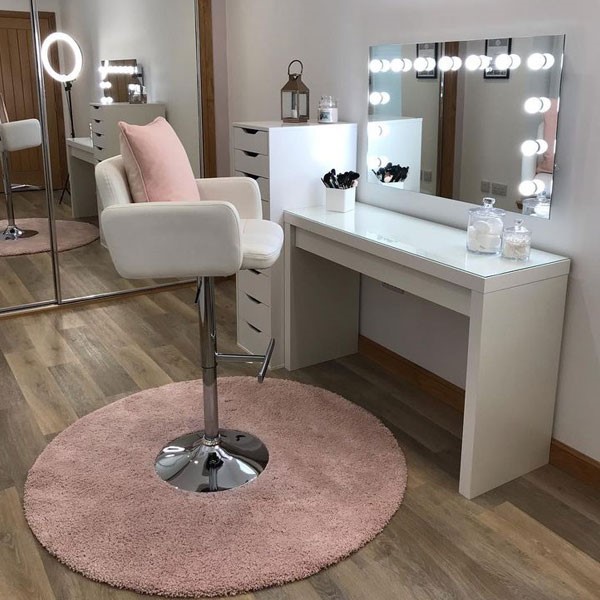 Storage Space
None of the makeup room design ideas (even makeup room ideas for small rooms) forget about adequate storage that keeps your items including makeup brushes, lipsticks, and hair tools organized. Clear cube organizers are one of the perfect ways for keeping your beauty products in place. You can also easily find any items easily (no labels needed) since they are clear.
If you prefer minimal makeup room design ideas, you can look for designs that benefit from drawer organizations. For makeup room ideas on a budget, you can purchase plastic organizers. They offer the function as expensive ones and help you organize your beauty items by type, brand, color, etc.
Shelves are also practical for storing your items. Put one or two in your room and enjoy storing anything on them; from lipsticks and perfume to purses and picture frames. Jewelry stands, perfume trays, different jars, and unique containers are other storage types that you can use in your DIY makeup room décor.
Makeup Room Furniture
A cute and comfortable chair completes your makeup room décor. If you choose a woven, wooden, leather, metallic, or plastic chair, don't forget to add a throw blanket and one or two throw pillows. This way, you can keep the chair warm and add to the look at the same time.
You can learn more about pillows by reading diy pillow.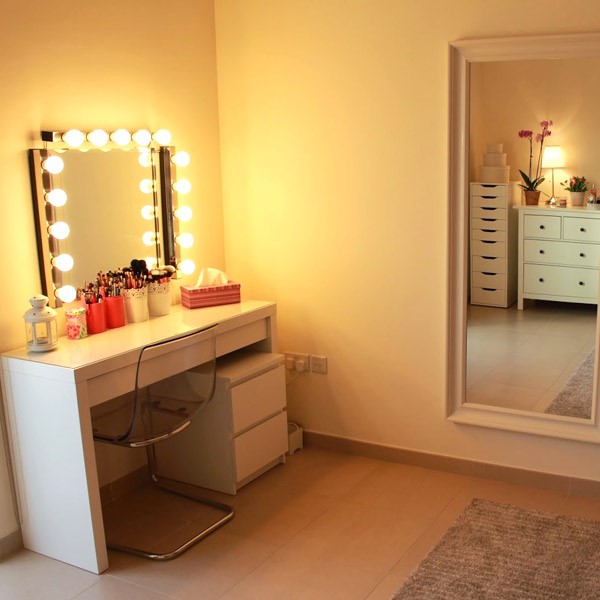 DIY Makeup Room Design Ideas
Now, let's review some of the makeup room ideas for extra inspiration:
Colorful Makeup Room Décor
The most eye-catching factor in your makeup room design can be its color. It doesn't have to be fancy or complicated. Simple designs with good use of even one color offer an amazing space. Right now, black and white or completely white designs are very popular. However, there are many beautiful colors that you can choose for your idea like calming colors of pink or grey. However, some avoid the color pink, as it provides a brighter effect to the entire room.
Makeup Room Ideas for Small Rooms
Makeup room designs can be as large as your living space, providing that you have the necessary space and budget. However, if you don't have large space and an unlimited budget, your DIY makeup room décor can still be glamorous.
You can create a small and adorable makeup room with some changes. For example, you can use compact dressing tables, hang your mirror, use wall shelves, etc. You can even forget about the table completely and leave everything to a large mirror and handy shelves on its sides. Small makeup room ideas don't take up a lot of space, as well as make your room look bigger.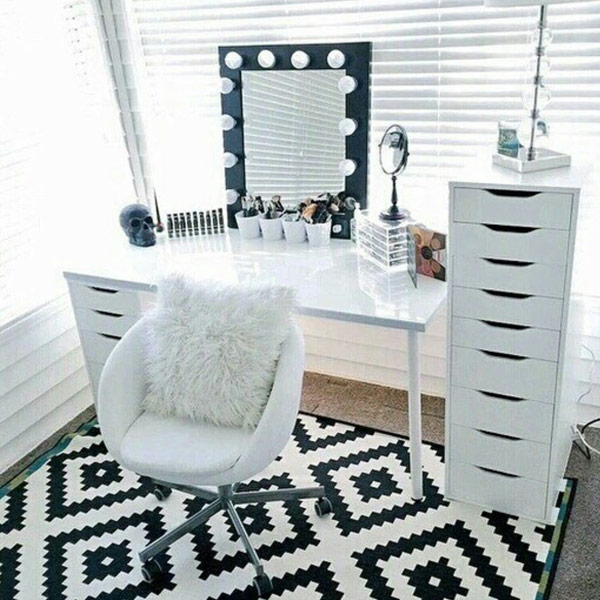 Makeup Room Ideas on a Budget
Looking for makeup room décor ideas? Why not repurpose antique furniture? Antique makeup room furniture brings a special and intrinsic value to your décor. If you haven't inherited such pieces, don't worry. You can always hunt them in different stores for a good deal. Sand the furniture down, repaint them with a lovely color, screw on some stylish knobs, and your unique makeup room is ready for your beauty sessions.
If you have two small dressers or nightstands, we have another makeup room idea on a budget for you. Find some planks of wood, and you'll have a pretty beauty station in no time. Using the planks, bridge the dressers or end tables and you're done! Just don't forget to leave some room for your makeup room furniture like a chair.
Closet Makeup Room Ideas
If you have a closet that you can free up, and you're also a fan of simplicity, make sure to create a closet makeup room. Without any fancy or glamour elements, you can have an elegant and practical closet make-up room.
DIY Makeup Room with Lamps
Makeup room ideas without challenging lighting are also a possibility. One or two simple lamps can give your space a charming look while offering the light you need to apply makeup. For a more unique style, you can try mismatching the lamps or thrift them.
To make things more exciting, add a couple of square frames (available at local craft stores) and frame small motivating quotes or fashion logos to feel like a true fashion icon.
As you can see, designing your makeup room can be easy, super fun, and sometimes challenging. Hopefully, you've found the inspiration that you were looking for here. Buy a few new items, repurpose old pieces, use your imagination, and design the décor that you have in mind!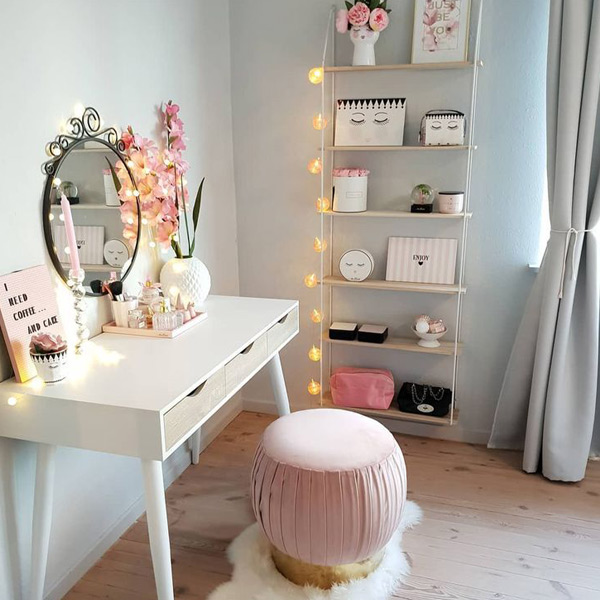 Makeup Room Ideas with IKEA Furniture
Are you hoping to design your makeup room in the most convenient way without sacrificing its main features? Then it's time to visit the closest IKEA. There, you can find all the furniture and storage you need for several makeup room ideas.
Remember that you don't go for conventional furniture. For example, instead of a table, you can purchase a dresser or use small bookshelves as storage. Look around some more and you may even find some options for your makeup room wall decor.
Simple & Modern Makeup Room Decor
Minimalism and modernism are not going anywhere any time soon. And why would they do that? They offer both a seamless look and functionality, even when it comes to DIY makeup room ideas. By choosing the right items, you can feature clean lines and sleek design to denote this style as well.
A vanity mirror featuring framed LED or a circular/hexagonal mirror with a wooden accent, storing the makeup tools neatly in clear glasses or simple boxes, incorporating the classic black and white or going monochrome (pink is the first option that comes to mind), using a wall-mounted table are only e few ways to create a modern and simple makeup room.
Going for gold or rose gold furniture and items made from iron or stainless steel is another way to approach simple makeup room ideas. In addition to their modern vibe, they make the space look more spacious. If you found the furniture that you're looking for but the color isn't just right, simply paint it with a gold or silver color for a touch of elegance.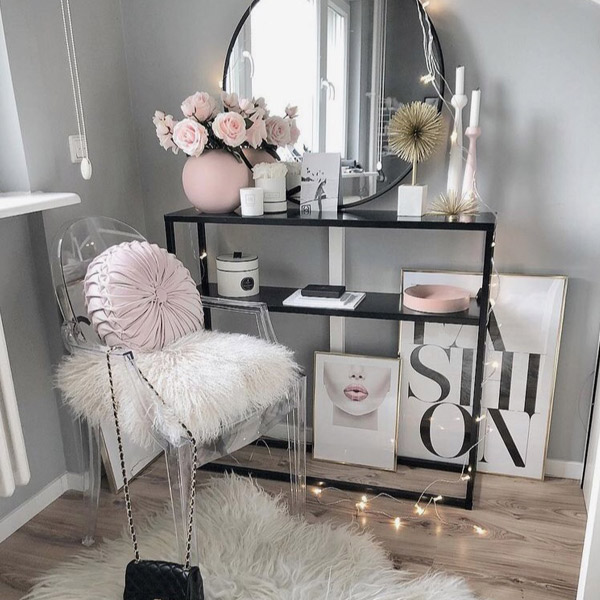 Professional Makeup Room Ideas
As a pro, you probably have a lot of cosmetics. And a key to having a glamorous yet tidy and comfy makeup room is zero clutter. All of those lipsticks, eyeliners, foundations, brushes, etc. scattered on your tabletop deprive you of having the ideal spot for that "me time" portion of your day.
Finding the right storage helps you prevent such mess. A makeup glass storage for example with drawers and a few open shelves helps your store your cosmetics. This way not only you showcase them in a nice way that elevates the overall decor (thanks to its glass look), but all the items are also visible too, so you don't have to look for them or forget about some of your beauty products.
Glam Makeup Room Ideas
A glam room is more than just a makeup room. So, in addition to essential makeup room decor items including storage space, vanity table, a mirror, and lights, consider a place to socialize too. Creating a mini sitting area allows your friends can wait while you're doing your makeup or trying new makeup and talk about things.
A small coffee table, carpet, and magazines will complete any glam makeup room ideas. But that doesn't mean that you should forget about your favorite things. Candles, flowers, a curtain, paintings, throw pillows, decorative books, and small figurines all are potential additions to your space.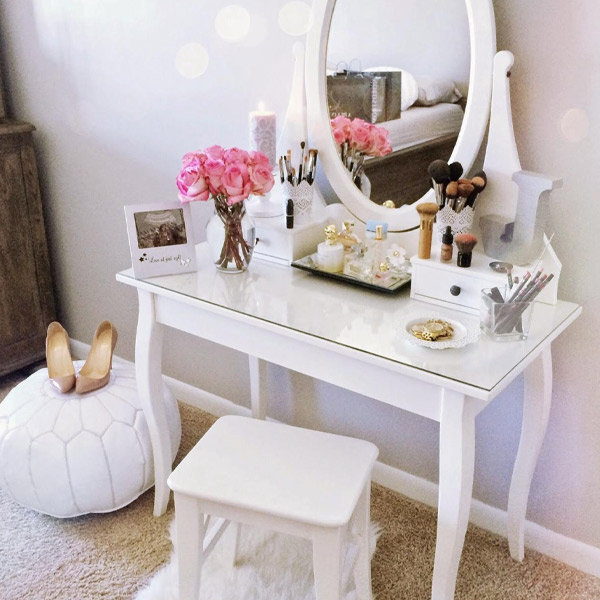 Makeup Room Wall Decor
As the finishing touches, it's a good idea to add some makeup room wall decor to your space too. Bold wallpapers, canvas paintings, frames art or pictures, quotes, brand logos, decals, etc., all can make a great wall decor. You can also go with plain colors or discard this step completely if you prefer minimalist designs.