A DIY makeup vanity organizer is the ultimate solution to keep all those accessories that you like; perfumes, lipsticks, eye crayons, powders, eye shadows, brushes, and other cosmetics. They also make you feel much better, considering that you will not have to do your makeup in the bathroom every morning. Also, a DIY makeup vanity adds a nice and classy touch to your bedroom.
Today we have prepared a list of DIY makeup vanity ideas to create the makeup vanity of your dreams. Whether you are looking for DIY makeup vanity for small spaces or one with lights and a mirror, you will find some exciting plans here.
DIY Makeup Vanity for Small Spaces
Like DIY projects that are suitable for small places, small DIY vanities have many fans.
DIY Apartment-Sized Vanity
Our first suggestion is DIY apartment-sized vanity on a budget from MAJOR shenANNIEgans. She has made it with reclaimed stuff, costing under 50 dollars. Some of the things you need for this DIY vanity under $50 include a large mirror, a small vanity tower, a chair or a stool, a cushion, a jewelry tree, and a spice rack. What makes this DIY makeup vanity charming is its eye-catching colors, thanks to simple spray paint.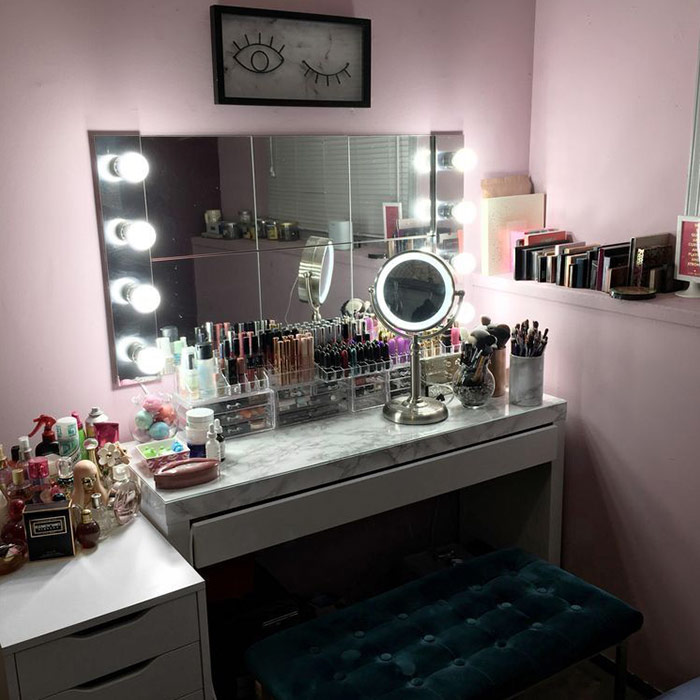 DIY Small Space Beauty
Our second suggestion is a DIY small space beauty station from Rock My Style. This small DIY vanity may not be an actual DIY, but it provides an excellent and minimal house for your day-to-day cosmetics, perfume, and trinkets. As Charlotte O'Shea says herself, this DIY vanity table is simply a small shelf with storage solutions, a chair, and a mirror. If you are a fan of minimalism and don't have much time for a DIY vanity, this one can work for you perfectly.
DIY Wall Vanity
Our last suggestion for DIY makeup vanity for small spaces is a DIY wall vanity by Denise Designed. If you don't have enough room for a DIY vanity tabletop or don't have enough space for it, take a look at this tutorial. You will need a shelf, corbels, stain, polyurethane, a rag, some sponges, and a mirror. Of course, you need to know that it will take a couple of days to finish this small DIY vanity since you will be using both stain and polyurethane.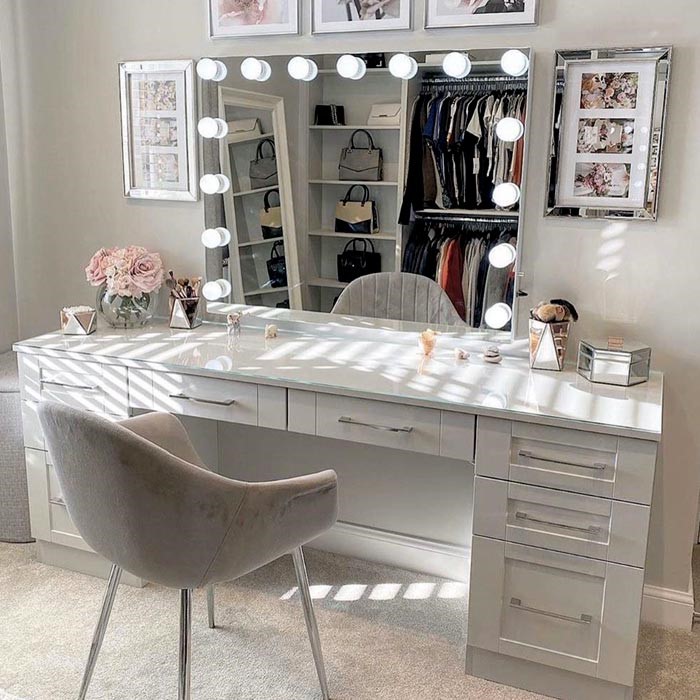 DIY Makeup Vanity with Lights
Nothing beats a DIY makeup vanity mirror with lights, whether it is a DIY vanity under $50 or over that price! These Hollywood-style vanity tables look amazing especially when their lights are on. Here are some DIY makeup vanity ideas that include lights in their plans as well:
DIY Vanity Mirror with Lights
If you are looking for a glamorous option in makeup vanity woodworking plans, check out the step-by-step tutorial at Décor Snob. They believe that you deserve this luxurious piece of furniture to make your makeup routine a wonderful experience. We couldn't agree more too. With a complete list of materials and instructions, this DIY makeup vanity organizer is going to be your favorite spot in your bedroom. In case you are not sure about the mirror type, they have some offers for it too.
DIY Makeup Vanity IKEA
IKEA is a popular destination when you want to make a customized furniture piece. If you don't have enough time for a DIY makeup vanity organizer with light from scratch, and rather have an almost cheap DIY makeup vanity, a trip to IKEA can fix that.
With IKEA Alex drawer units and a tabletop, you can DIY your vanity in no time. This particular DIY consists of two drawer chests, a tabletop, and a lighted mirror as the final touch. This makeup vanity gives you several drawers, so you will have many compartments to store all of your cosmetics items. To create this affordable DIY vanity, you need to buy the necessary pieces from a nearby hardware store.
Another DIY makeup vanity IKEA would be turning its bookshelves into a personal glam station. They offer great storage and as chic pieces of decor, are excellent additions to your space.
DIY Corner Vanity Table
This corner vanity table is luxurious and minor, offering all the space you need. For this DIY makeup vanity organizer, you need to put a drawer and a cabinet along two walls, leaving the corner. It would then be best if you linked these storage pieces with your DIY vanity tabletop, a corner plywood tabletop.
The following steps include attaching a basket for storing the hair styling tools at the drawer side and installing the mirror on the corner with a bracket. The important thing is to include a lighting fixture above your vanity table. You can also DIY your project in a corner with a window so that the daylight can always keep it bright. See the full instructions on this DIY makeup vanity at Home with Lo.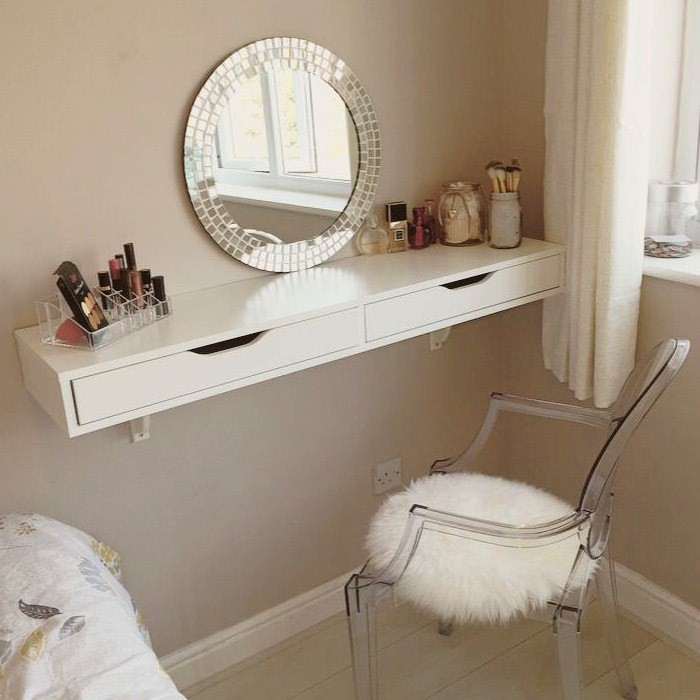 Other DIY Makeup Vanity Ideas
Looking for more ideas? Here is some other cheap DIY makeup vanity for extra inspiration!
DIY Vanity for Makeup Artists
Makeup artists need a vanity with a lot of storage compartments to organize their cosmetics. In this case, the best idea is a DIY makeup vanity organizer that has drawer units, a table, and a mirror. If you are a makeup artist too, make sure to spend a little more time organizing your cosmetics.
This way, you will be able to sort all of your cosmetics according to their categories. You can also label each drawer to find any item easily. Do not forget to check the drawers from time to time and throw away those near expiry products and replace them with new products.
DIY Vanity with Vintage Sewing Table
We are almost sure that there is an old sewing machine at your home. If it is old and considered useless, the great idea is to repurpose and turn it into a practical makeup vanity. Prepare the paint of your favorite color, visit the full tutorial at Lovely Indeed, and give your vintage sewing table a new life.
Small DIY Vanity for Kids
This mini DIY makeup vanity gives your little one a place to prepare herself for different occasions. This vanity is light and straightforward. So you can create it with the help of children too, giving your family fun times while building it. With this small vanity in her room, your little princess will love to keep her stuff organized.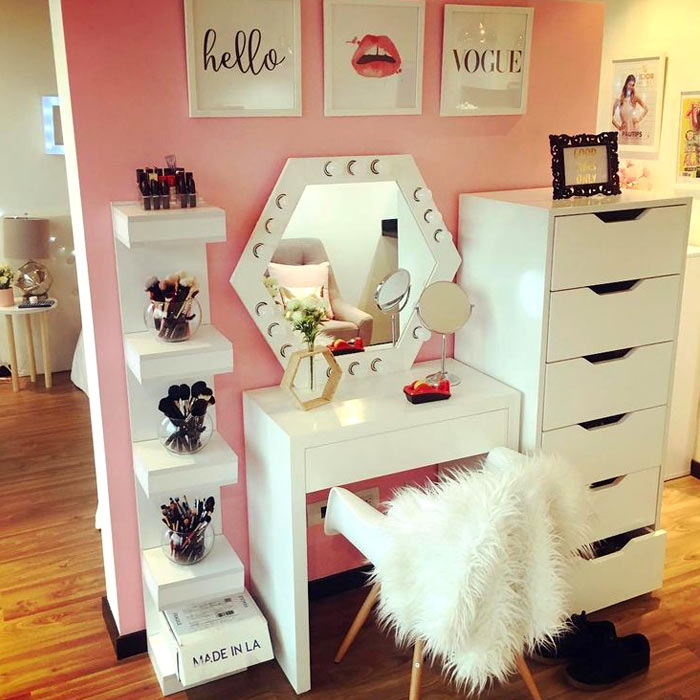 Floating DIY Vanity under $50
Looking for a cheap DIY makeup vanity that is also suitable for small places? Why not go for an adorable floating vanity?
Mounting your shelf or shelves on the wall is super beneficial as well as being a gorgeous addition to your room. Depending on your needs and how many cosmetics you have, you can use simply one shelf or combine two or three shelves, and mount them on the wall with enough space in between for storage.
The final touches on such DIY makeup vanity would include adding a mirror, some hooks on the sides for other accessories, and maybe a glam rug underneath!
Dresser for DIY Vanity Table
Don't be surprised, but there are even more budget-friendly ideas that a DIY vanity under $50. We are talking about turning the dresser that you already have and use to a vanity table. Simply add a small mirror on top, some shelves on the side, and you're done.
The traditional table and chair are certainly nice, but this idea is far more easy, quick, and functional (yet beautiful) to miss. This DIY makeup vanity offers enough storage to carry all your cosmetics in its top drawers, as well as any daily-use items in the bottom.
DIY Makeup Vanity with Kitchen Barstools
This is another clever DIY vanity under $50 that is made as conveniently as placing a piece of reclaimed wood on top of two kitchen barstools. This rustic beauty station will be complete by placing a mirror on top of the wood as well as your other beauty products.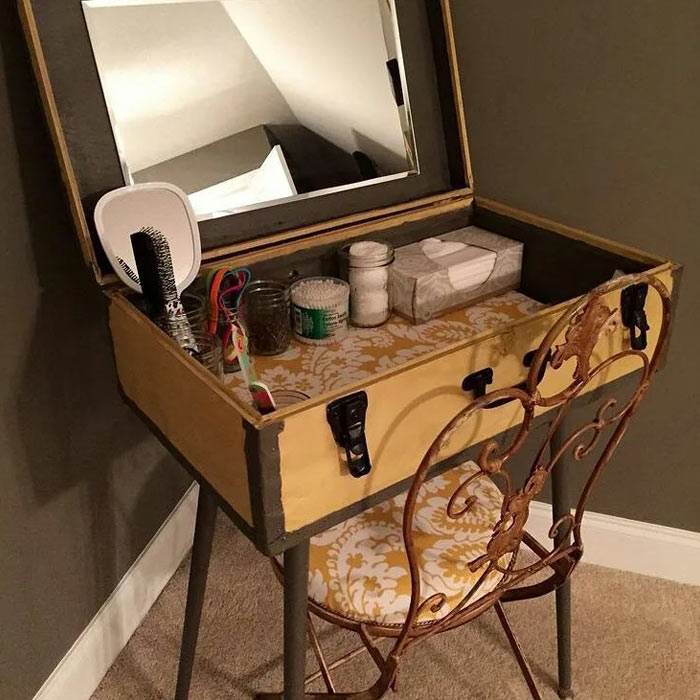 Vintage Suitcase DIY Vanity
Not all of us can afford the time, money, and skill to turn makeup vanity woodworking plans into reality. However, many of us can turn a vintage suitcase into a compact beauty station with the most charming vibes! All we need to do is place it on top of a table, prop it open, and secure a mirror to the suitcase's top.
Makeup Vanity Table Makeover
Do you think all luxurious beauty stations have to cost you an arm and a leg? Well, that's not true. If you already have old makeup vanity that is just too dull for you now, a quick makeover can turn it into your dream vanity tabletop. Using silver spray paint, silver leaves, and plexiglass, you can have a stunning, shiny, and glamorous DIY vanity table. Gold is another color option too!
Tip: such exciting makeovers also can be done with bold or subtle shades and colors. Your favorite color of paint easily changes the look of any dull and boring table, guaranteed!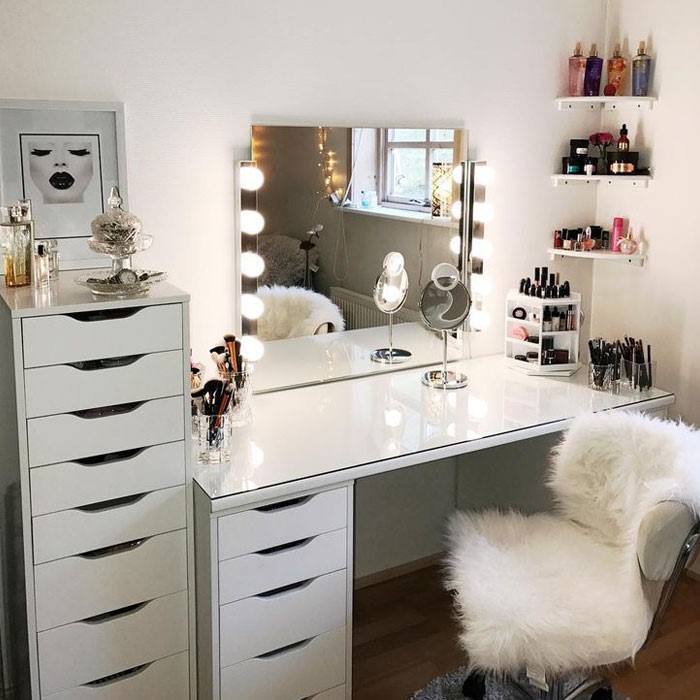 Cheap DIY Makeup Vanity with Wooden Pallets
Making every piece of furniture from pallets is a trend nowadays, so why not make a beauty station using reclaimed wooden pallets? Such rustic vanities are functional, cost-friendly, and potentially with extra storage drawers.
This inexpensive DIY vanity table will look stunning in your bedroom and will add a cool and beautiful atmosphere when decorated. Just make sure to think through the building process, or use the plans provided by other creative people like yourself.
Decorative Makeup Space
The basic formula of DIY makeup vanity ideas includes a chair, a table, and a large mirror. If you want to turn your beauty station into a truly eye-catching spot in your bedroom, we recommend using a small to medium table mirror and hanging a large and attractive artwork on the wall.
Easy DIY Makeup Vanity with Wire Baskets
One of the quick and easy DIY makeup vanity ideas is by using wire basket drawer units. Similar to the kitchen barstool idea, simply place two wire basket drawer units (with tabletops) and fit them on a floating shelf to connect them. Then place a mirror on the shelf and organize your beauty products inside the drawers.
Wire baskets allow you to easily see what's inside which reminds you of all the products as well as keeping clutter in check, and having a clean-up routine.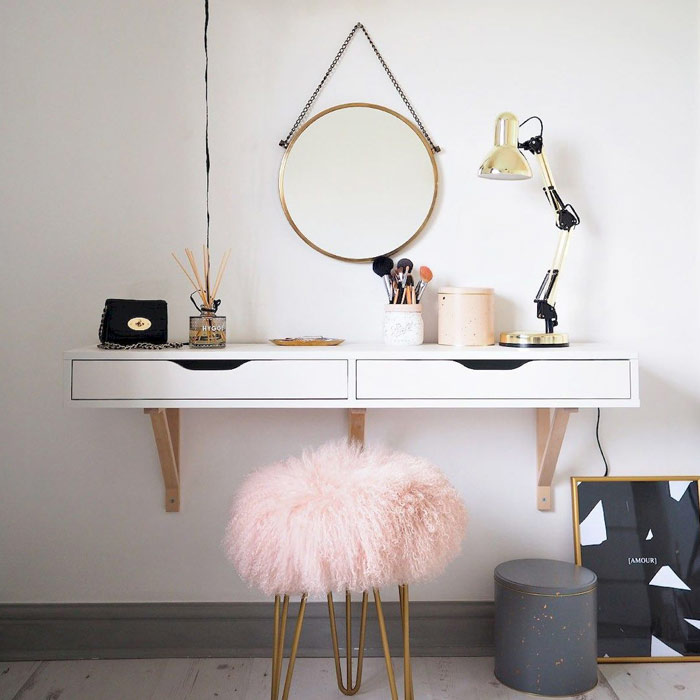 What Are Your Favorite DIY Makeup Vanity Ideas?
Before utilizing any of these ideas, don't forget to decide on where you want to place your vanity. The bedroom is probably the most traditional location, but you can also place it inside their walk-in closets, or in the bathroom for more convenience.
In addition to the location, your vanity will affect your mood and the tone of the room, so make sure you find the best idea for your space that is both beautiful and functional. You should also consider the mirror position and size, the right lighting to see well without shadows, and enough storage for all of your beauty and hygiene products.
With that in mind, you are ready to start your DIY vanity table project! Let us know what ideas you liked best, and share your experiences with us and other readers.