Not only growing plants can provide you a window to escape the busy world, making DIY plant stands can do the same thing. The only difference is that your plants can also enjoy having a homemade plant stand. With the DIY plant stand ideas here you can offer your lovely plants a stylish place to sit.
There are a lot of options when it comes to indoor and outdoor DIY plant stands; from minimal to wooden, from metal to concrete, etc. Below, we have provided some DIY plant stand ideas so you can choose the one that fits your interest and décor better.
Wooden DIY Plant Stand
Wood is a perfect material for making your own plant stand. It's chic, offers a sense of nature, goes perfectly with the plants, and complements any décor. Wooden designs are also suitable for the ones looking for cheap plant stands.
You may think that it's difficult to actually make a DIY plant stand ideas that have wood as the main material, but they aren't as far-fetched as you think that they may be. All you need for a wooden homemade plant stand are a few materials and tools.
If you're looking for wooden DIY plant stand plans, we recommend checking out these DIY plant stand instructions from wood:
Lily Ardor DIY wood plant stand for the total cost of 7 to 15 dollars
A Beautiful Mess's modern wood plant stands for the total cost of 45 dollars (for two stands)
Charleston Crafted's DIY tiered corner plant stand for the total cost of 10 to 50 dollars
There are so many DIY plant stand ideas with wood. No matter if you are looking for a classic, modern, indoor, or outdoor plant stand. You can always find a lot of designs and plans.
DIY Plant Stand Ideas with Repurposing Old Items
Looking for even cheaper DIY plant stand plans? How about repurposing some of the items that you already have and don't want to use any more?
There are a lot of DIY plant stand instructions that use step ladders, floor lamps, washtubs, trash cans, etc. If you're looking for more ideas and plans using repurposing items, here are some website that you can check for more details on the particular project:
Home Guides' DIY plant stand ideas with recycling other materials
Songbird blog's ladder plant stand
Harlow & Thistle's DIY plant stand with lampshades
Among these stands, ladder-style planters are a favorite. With a tiered design, they let you display multiple planters on them and the proportions can greatly vary. If you think making an indoor or outdoor plant stand is difficult and simply doesn't worth it, a project with old items can change your mind.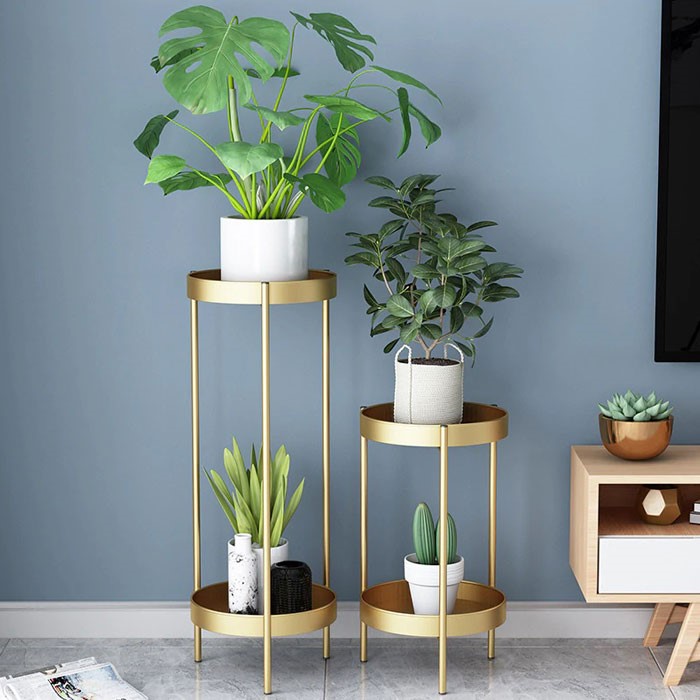 Floating DIY Plant Stand Indoor
A floating DIY plant shelf is perfect if you have a small space or no space on the floor. Or, you want to hang your beautiful plants in front of a window. Floating DIY plant shelves have a truly stylish design, as well as easy plans and instructions.
Most of the time, all that you need for these DIY plant stand ideas are a wooden plate, some yarn, and scissors. You can make your floating stand bigger to have a DIY plant stand for multiple plants and several pots. For more details on DIY plant shelf, check out the links below:
Place of my taste's DIY plant shelf
Homemade Modern's hanging garden
Metal DIY Plant Stands
Wood and old items aren't the only cool materials for building plant stands. Using copper pipes and fittings, you can make many chic and beautiful plant stands (and a lot of other things). You might be surprised how nice and simple these materials fit around the pots of your houseplants.
With copper pipes and fittings, you can decide exactly how tall you want your homemade plant stand. In addition, you'll have one of the cheap plant stands that have an expensive look and everyone will admire. The wire is another material to make plant stands. Here are some suggestions for similar DIY plant stand ideas:
Darling Darleen's DIY copper plant stand
Sarah Sherman Samuel copper stands
The Merrythought's DIY wire plant stand
Foxtail and Moss's Marble & Copper plant stand
Modern DIY Plant Stand Plans
One of the cool DIY plant stand ideas, which saves you time and money, is using leftover tiles as tops for handmade plant stands; or even custom side tables. If you're interested in achieving such designs, you can find detailed DIY plant stand instructions here:
Homeyohmy's DIY modern plant stand
Lily Ardor's Faux Marble DIY plant stand
When making this design, remember that everything is measured according to the tile which is going to be the top.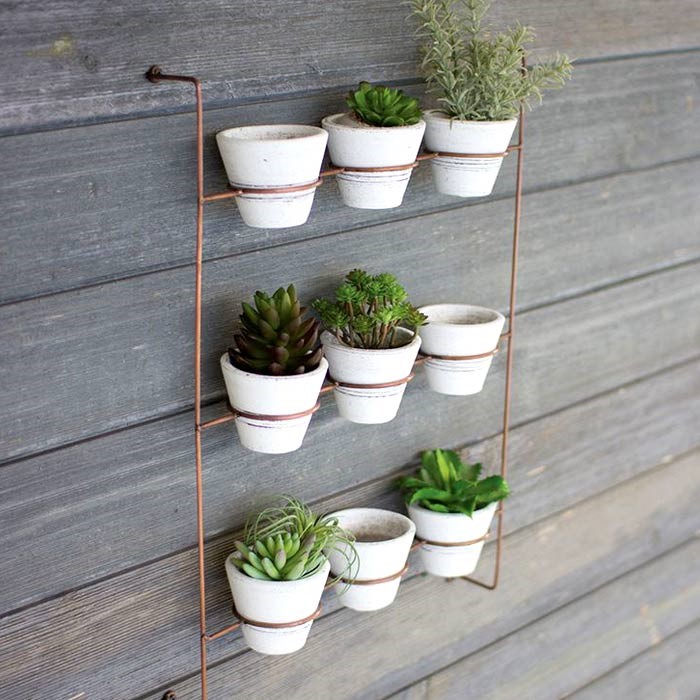 DIY Plant Stand Outdoor
Outdoor plant stands usually are designed to display more than one flower. This is why such stands can help you organize all of your favorite plants that can make a mess outdoor. In this case, you can go for DIY plant stand ideas that use ladders (even large ones), old shelves, and other objects that you can repurpose.
Using a suitable paint, you can turn these vertical stands into a cute and stylish solution for your problem with different pots.
DIY Plant Stand with Wheels
A lot of DIY plant stand ideas offer you a decorative piece. But there are other ones that can offer more. For example, a DIY plant stand with wheels is convenient and functional, as well as decorative. An innovative and creative option is using a rolling cart (not to mention how easy it is). If you need more information about makeovers like this, check the links below:
If you prefer other DIY plant stand plans that have wheels but don't use a cart, this rolling stand may be what you're looking for:
DIY rolling plant stand from Bigger than the Three of Us
The cool thing about a DIY plant stands with wheels is that you can make them with just a wood slice and four caster wheels. Plywood is another good choice if you prefer smooth and circular edges. With the help of these stands, you'll solve the problem of moving large and heavy plants too.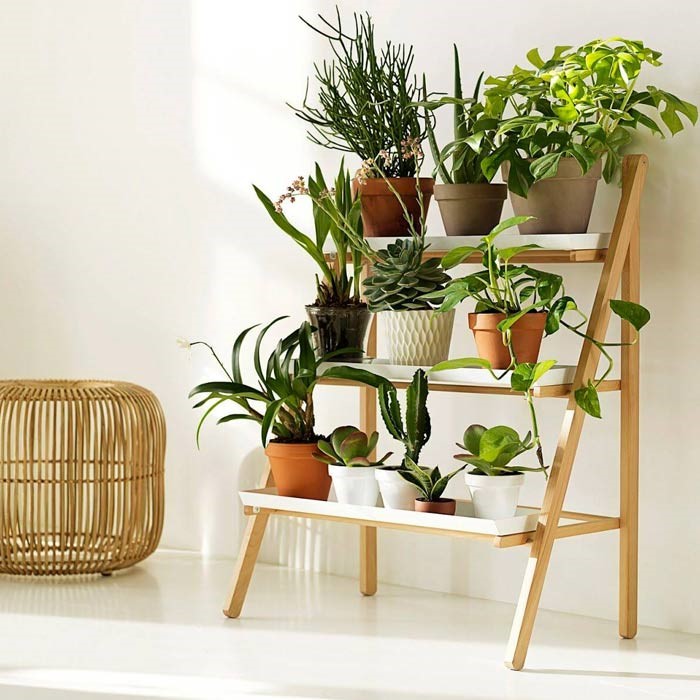 DIY Plant Stand Instructions with Concrete
You can use concrete alone, or combine it with other materials (wood, copper, etc.) for your homemade plant stand. You can polish the concrete, leave it raw, paint it, pour it in mold, and many other things when making a stand.
Here are some ideas with concrete to make your plant stand at home with complete instructions:
Camille Styles' concrete copper plant stand
Marbled concrete stand from Fall for DIY
Whether you have small or large plants, a few or many, we hope that the ideas in this article can help you find the stand you want. Or simply inspire you to make the stand that you have in mind. Plants can make your space beautiful on their own. But with the right plant stand, you can elevate your space even more.
These are a few ideas. If you search more on the web, you'll find hundreds of DIY plant stand ideas; which can make choosing just one really difficult!