No matter the space, DIY shelves always add a little something to them. Whether it is for extra storage or purely decorative purposes, making these shelves is going to be a blast. And since most of them have such simple structures, you can find a plethora of DIY shelves made from different materials, shapes, and sizes to choose from.
In this post, we will review some of the best DIY shelves ideas for closets, pantries, bathrooms, bedrooms, and more!
DIY Closet Shelves
The great news about DIY shelves in closets is that they do not have to be anything fancy. Of course, if you are handy with tools, you can always design a whole new custom closet organization system with racks, shelves, pull-out trays, cubbies, or dressers; or simply go for smaller makeovers by adding DIY shelves with cubbies and bins inside of them (with or without labels on them) as closet organizers.
However, you can have DIY closet shelves with minimum effort as well. This shortcut can include:
Installing pull-out drawers for quick and easy DIY shelves in closet as well as super convenient access to items in your closet. You can even go with basket drawers to see the contents of each drawer, making things even easier!
Hanging organizers are not necessarily for shoes. If there is the chance, add a vertical organizer for some extra storage for clothes and accessories.
Looking for DIY closet shelves to organize your purses? If the answer is yes, all you need to do is get some acrylic file dividers and place them at the top of your closet. Yep, that is it!
Another effortless way to make your own shelves in the closet is painting some apple crates, stacking them, and fastening them to the back wall. You can benefit from the same shelving style using peach crates or other wooden produce containers.
After adding the ideal DIY shelves in closet, you can keep other clutches neat and tidy by installing a DIY scarf organizer with a towel bar and wall anchors, a hat and glove closet organizer with some dowels, curtain rings, wire hooks, DIY sunglasses organizer with acrylic nail polish racks, or DIY jewelry organizer to the back of the closet door.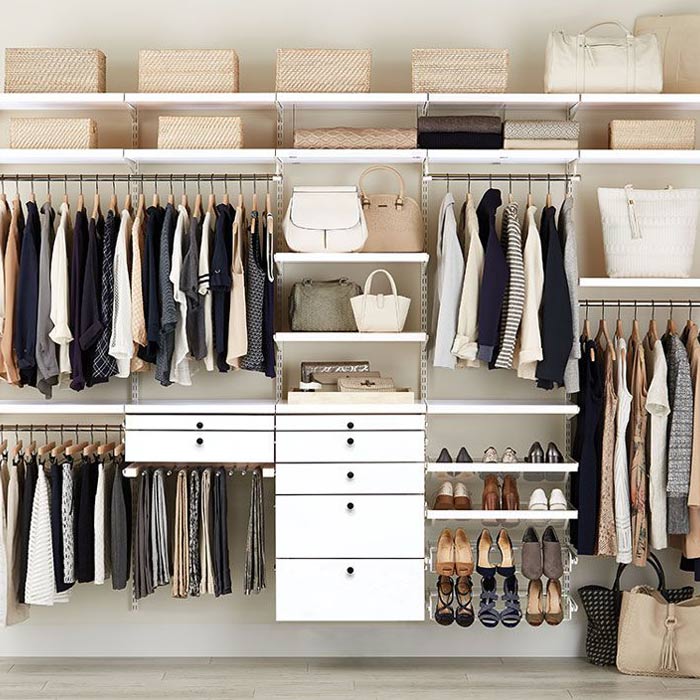 DIY Wall Shelves for Bedroom
Now that your closet is nicely organized, let us move to the bedroom itself. Since this is a place for relaxation and recharging, we think simple or personal DIY wall shelves work best in bedrooms.
Turn Trays to Selves
You can turn a wood tray into a minimal yet charming shelf. Find a suitable tray, saw it in half lengthwise using and cut off the short ends from each half. Glue the cut ends together and you will have a nice narrow shelf. Attach your shelf to the wall with fasteners driven through the back edge and into studs. This long DIY shelf is great for small planters and picture frames.
Belt Shelf
Do you happen to have a wood board and two identical or wide old suede or leather belt around? Then you are in luck. Because these simple items offer a cheap and easy shelf that can store heavier items like books too. Cut small holes into the ends of the belt, attach them directly to the wall with screws, and hang the wood board in the straps.
Drawers as DIY Shelves
Looking for sturdier options? A dresser that you no longer need (or you can find in a resale shop) will do the trick. After painting them (which is optional), attach them to the wall studs by driving fasteners through their bottoms and into the studs.
Tip: Since these DIY storage shelves take more space than some of the other ideas, we recommend installing them near corners and not in the middle of the walls.
Paper Mache Boxes
Using some paper mache, spray paint, and screws you can create an adorable display for small decorative pieces. You can make boxes in different shapes. But what can take this idea to the next level, is how you design the placement. So, make sure to spend some time playing with the placement.
Repurposed Suitcases
Your DIY shelves for bedroom can also be made from vintage suitcases. If a suitcase cannot serve you when traveling anymore, saw it in half and mount them to the wall. This way you will have more shelving depth. Also, face the handle side out to display attractive vintage hardware.
Rope DIY shelves
If the belt shelves are not exactly your cup of tea, you can create something similar with a more modern look using a length of wood (with natural tone or painted), four rope pieces, and two large hook screws and wall plugs.
Drill four holes in the wood that are larger than the width of the rope and two holes in the wall for screw hooks and wall plugs. Tie a knot underneath the ropes and then tie the other ends into knots to hang them over the screws.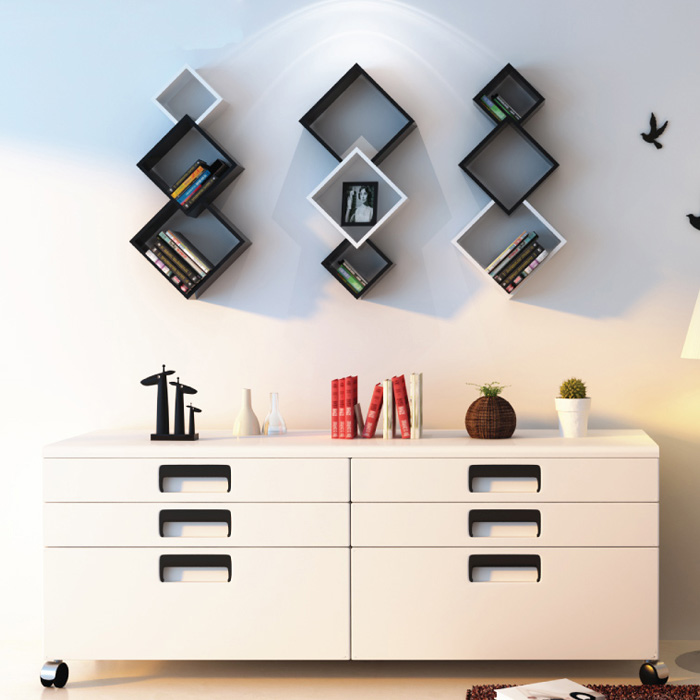 DIY Storage Shelves for Living Room
Moving on to the living room, this is a space to truly impress people with your DIY wall shelves and the display that you create. If any of the ideas so far have captured your eyes, feel free to bring them to your living room. However, we would suggest looking at these DIY storage shelves ideas first:
Pipe Shelves
For an affordable project with an outstanding result, consider pipe shelves. With two cuts of pipes, a wooden shelf (or other surfaces of your choice), wall anchors, screws, and some other stuff, you can create nice shelving.
Depending on the pipe type that you choose, you can change the overall feeling of your DIY shelves entirely. You can go for normal pipes to create an industrial look or choose something metallic like copper for a sleeker appearance.
Corner DIY Wall Shelves
Corner shelving is an excellent way to turn a dead space into practical storage or a lovely display for different objects. No matter the style and materials you are going to use, floating corner shelves will shine bright!
Pegboard Shelves
DIY pegboards require a little more time. But if you cannot stop thinking about shelving with changeable looks, making these DIY storage shelves for living room is going to be your dream project!
Such shelves give you huge storage space for pretty much everything, as well as serving as decor for the whole wall and the room. And as soon as you get bored of one look, you can simply rearrange them.
DIY Built-In Bookshelves
Few ideas offer a true transformation as DIY built-in bookshelves do. They elevate your space gracefully and provide more than enough storage for books, and other items like decorative accessories, picture frames, etc.
DIY built-in bookshelves may sound challenging. But in most cases, you need a few components, and there is no need to build the whole thing in one piece. There are many DIY built-in bookshelves in which base cabinets are the anchor and then the shelves are built and put at the top of them to make a "built-in" look. So, if you find this idea intriguing, go for it!
Creative Shapes
Your DIY wall shelves can play an important part in your living room as a decorative piece as well as storage too. You just need to give them a twist. One of these creative twists is making shelves in different shapes. Tetris blocks, hexagons, circles, etc. are all among your options.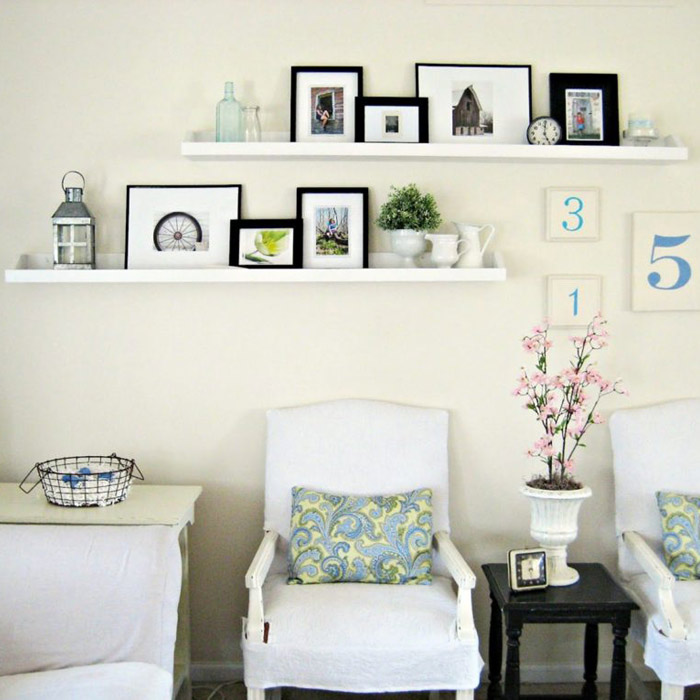 DIY Pantry Shelves
The basic DIY closet shelving is classic and practical storage for pantry. However, you can always make things more interesting. To make things simple, you can think of DIY pantry shelves like DIY closet shelves.
Floating corner shelves or customized cubby-style closets are all great choices. For DIY pantry shelves with more character, check out these ideas:
Retractable pantry shelves or a slide-out pantry in gaps like between the fringe and the wall for small spaces. Understairs pantry with shelves is another idea to consider for such spaces.
Freestanding pantry shelves with reclaimed wood boards and organized bins and baskets.
Open DIY pantry shelves (with or without drawers) inside the kitchen.
DIY built-in pantry shelves.
Pull out pantry shelves.
Walk-in pantry.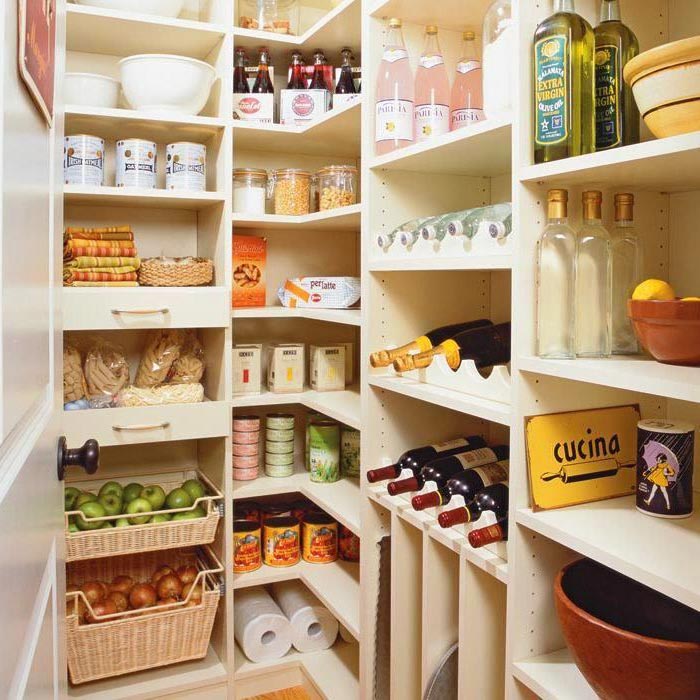 DIY Bathroom Shelves
Many of the shelves that we covered so far, would serve perfectly as DIY bathroom shelves (like pipe, rope, or crate shelves). But since you can never be too creative, here are a few more:
DIY bathroom shelves with old simple ladders or even painter's ladders also make an easy and useful storage. Railway-style leaning units offer the same look and functionality.
To keep up with the overall tone of the space, you may want to try a repurposed washtub with wooden shelves inside for your DIY bathroom shelves.
Driftwood or even wood slices as DIY shelves with a natural look (although you can use sandpaper to reduce the roughness).
Wood shutters for those who look for more vintage options with repurposed material.
Upside down basket shelves to store different items that help you keep things tidy.
Victorian gingerbread or Georgian style shelves for a more classic decor.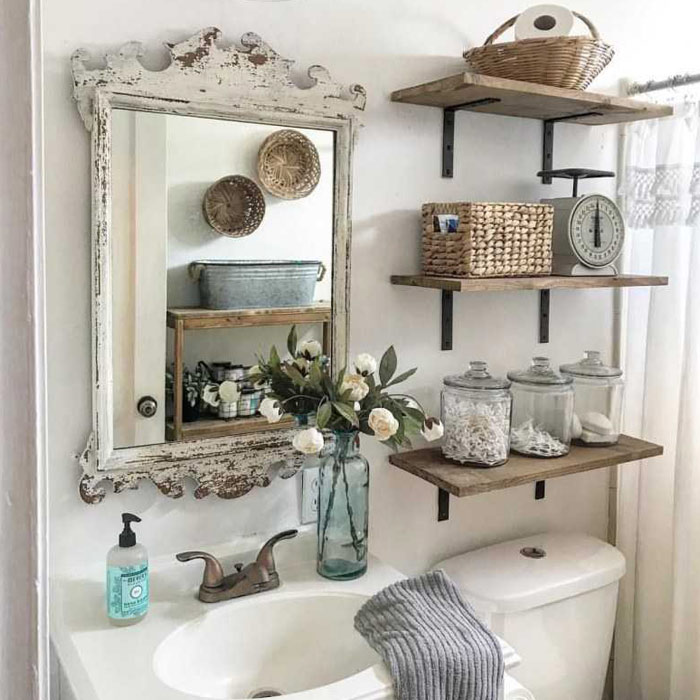 Other Easy DIY Shelves Ideas
There is even more object that can serve you as DIY storage shelves with some changes. For example:
Pop sickle sticks or pencils glued together that you can use as panels.
Old tables (that need just a little bit of reshaping).
Pallet wood wine racks.
Halved end tables.
Old skateboards.
Old guitars.
Etc.