Bring the warmth of the summer to your home with DIY summer room decorations. The thing that hot summer can do to boring days, summer room décor ideas can do to boring spaces. The wonderful thing about a DIY summer room décor is that it's not an expensive make over (although it can be). Going through the ideas below, you'll love how easily you can bring the summer to your room with minimum cost. Here are some DIY summer room decorations to make it as bright and vibrant as the summer itself.
Summer Room Décor Ideas with Tissue Paper
That's right, tissue paper. A great material for affordable and small DIY projects. There are different options with this material. One is making paper flowers and installing them on the wall. The items you need for these DIY summer room décor items are summery colorful tissue paper, stapler, and scissors. These lovely flowers also look great for centerpieces, flower vases, doorway swags, and as special party decorations.
Another easy-to-make idea is making tissue paper lanterns. Get a white paper lantern, choose a warm color palette that instantly brings summer to your mind, and design your lantern. This is a fun DIY summer room décor for all family members. You can install these Japanese style lanterns indoors or outdoors.
DIY Summer Room Decorations with Flowers
It's hard to imagine a list of DIY summer room decorations without flowers. Fresh, dried or artificial, flowers and different arrangements with them are one the ideas that always turn out great. In addition to summer room décor ideas, flowers are wonderful for the spring too. Both summer and spring are all about lush greens and colorful flowers. So why not trying and bring the same vibe in our home using floral DIY summer room decorations?
On idea is creating an arrangement with bright shades of flowers. You can later place it on the entryway console table, near a wall niche, or on a side table. For a complete DIY summer room décor, make sure to apply the summer theme to other parts of the house too. This includes using floral runners, floral themed crockery, and flower centerpiece. Such settings will look even more eye-catching with breezy drapes or neutral colored curtains.
Flowers can even turn wreaths to a summer decorative item. So don't wait until fall or Christmas to use a wreath. Let's say you have a twig wreath. Hot glue some artificial flowers of different colors and sizes to it (you can use similar flowers too). Continue to adorn it with matching ribbons and adornments. Like many other DIY summer room decorations, it will be a good idea to choose flowers with bold colors. And for the ribbons and other decorations on the wreath, make sure to include the yellow color. These options are a perfect transition from spring to summer in summer decorating ideas, looking nice on a dark colored door.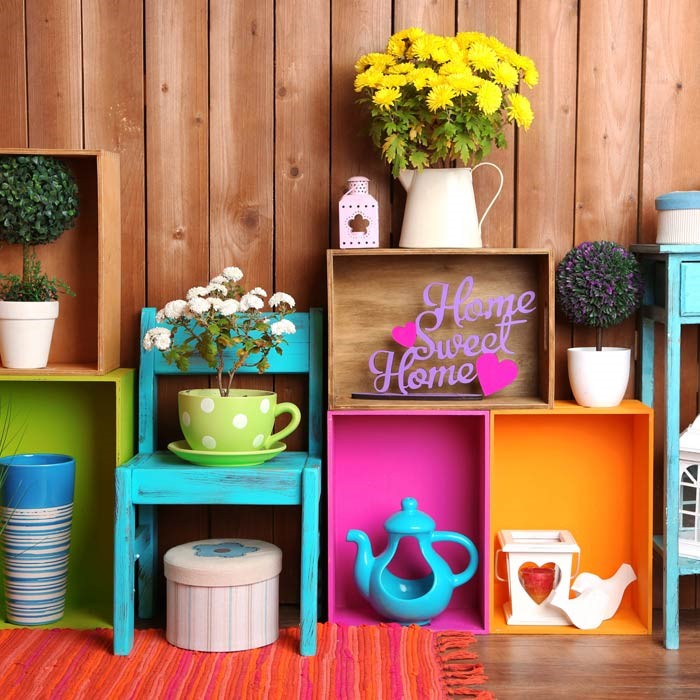 Summer Decorating Ideas with Seashells
Beach Time is the second official name for the summer. So seashells are an important part of DIY summer room decorations.
One of the easiest and most beautiful designs is a seashell wall décor. This idea will look great on your bedroom wall or at a corner niche, adding a cool vibe to interior spaces. A variety of seashell wall decors that you can find at local stores or the beach are suitable for summer room décor ideas. After hanging star shaped seashells and other seashells of your choice, add some lights and you'll be done. This design instantly make any room bright.
Boho wall decor, basket wall decor, and other ideas for dining room wall decor are also good.
Another DIY summer room decoration idea is arranging some fresh yellow, pink, or orange flowers in a clear vase. This summery look for your mantel can be more charming by adding more flower vases. You can also place glass jars with seashells or glass showpieces between the jars to complete the look. This DIY summer room décor works great on fireplace mantle or any mantle around your home. If you prefer fresh flowers, make this floral arrangements in the last minute before gatherings.
There is another idea worth mentioning in summer decorating ideas with the beach theme: an appealing sea-inspired wind chimes. You can make a wind chime using colorful shells, faux glass beads, and decorative gem stones. Hang your stunning chime in the patio and welcome the summer.
DIY Summer Room Decorations with Pillows
Throw pillow are among the quickest ways to give a space another look. DIY summer room decorations using pillows can be even quicker if you go for store-bought instead of making them yourself. You can make different accent diy pillow (using the colors that we mentioned) that add a pop of color in your neutral-themed living room. You can also use colors that match with your rug or curtains.
Another lovely option in DIY summer room decorations with accent pillows is choosing coastal themes for your living room, and adding throw pillows with coral prints. These pillows will beautifully highlight your space. You can stop here if you're a fan of minimalism. However, you can continue by adding coastal shadow boxes or beach-themed candle holders for tables and mantle decoration. This setting will look absolutely stunning with neutral colored curtains or breezy drapery.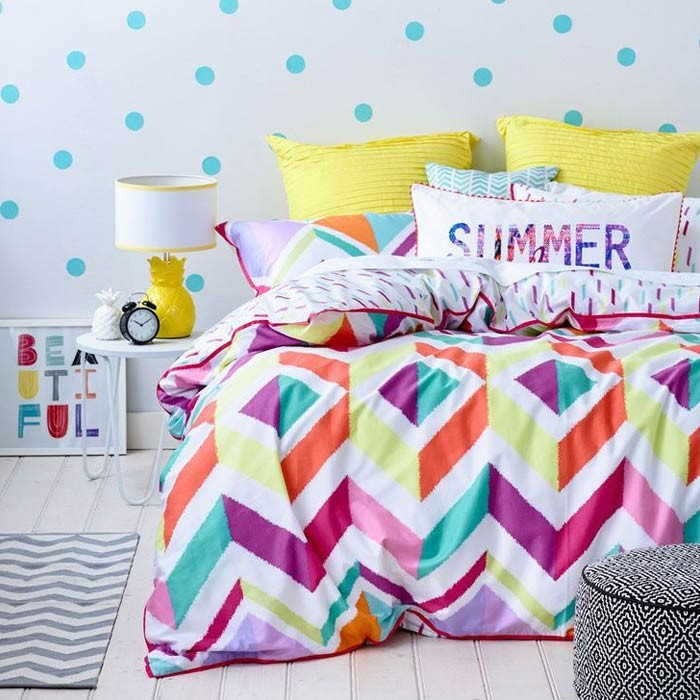 DIY Summer Room Décor for Outdoor
The accent pillows in the last part can help to give a summer theme to outdoors. But you're probably looking for more sophisticated ideas. How about choosing different outdoor lighting for your patio for the next summer?
We recommend solar powered votive or strings for this DIY summer room décor to decorate your outdoor space. After the sunset, these lights will turn the votive holders into shining lanterns. While providing enough light (both solar powered votive and strings) to brighten your outdoor space, they create a relaxing patio setting for your friends and family.
From the abundance of DIY summer room decorations from creative people, we've selected some of them. Feel free to get inspired and elevate your setting. Choose your DIY summer room décor, customize them a little bit, make the design yours, and start one the most fun projects of your life. Happy decorating.