A DIY window seat can take the coziness of your home to a whole new level. With storage or without storage, homemade window seats are an amazing addition. They can turn a wasted space to a charming place for relaxing, reading books, or having a coffee while looking out of window. A DIY window seat also eliminates the hefty prices that professional require.
All you need is some basic DIY skills, a free weekend, and a good idea. When the first two are ready, check this list of DIY window seat ideas and choose the plan you liked the most and fits the best in your home. You'll find a link to the tutorial of each homemade window seat. You'll see, they are really easy to make. But before that, let's know these seats better.
Homemade Window Seat Types
You can categorize DIY window seat ideas into three main groups, including:
Shelf-Style: Shelf-style window seat plans with cushions offer open storage under the seat. This style is wonderful for using spaces like mudrooms, entryways, or even laundries. To add strength to your shelf-style project, install vertical supports (they can act as cubby dividers too).
Enclosed: To make an enclosed DIY window seat, simply add wood paneling to the exposed sides of a shelf-style seat. You can also clad it with drywall for a seamless surface with the walls. Or, build a six-sided box set on 24 framings screwed to the floor. Hinge the top and the seat doubles as storage.
Modular: These units let you maximize every inch of storage. You'll need more skills to make this type. However, there is always the option of thrifty stock cabinets sold at The Home Depot or IKEA. You can also get them from local mill shops or custom-cabinet companies.
Where to Put a DIY Window Seat
There are a lot of spaces to put your homemade window seat, such as:
Bedroom
Entryway
Living Room (of course)
Den/Home Office
Kitchen
Bathrooms (yes!)
Stair Landing
Now, let's see some wonderful window seat plans and ideas from creative people all around the web:
DIY Window Seat Ideas with Storage
You have accepted the lovely challenge to make a window seat. So why not make a DIY window seat with storage for both beautiful and practical results?
If you prefer a classic window seat, you might find inspiration at Shanty 2 Chic. This plan needs some skills, but with the right tools, you can make it. It is a Pottery Barn vintage-style bench with two drawers, and it won't cost you 600 dollars like the real deal (less than 130 dollars!). This cute little bench is also a great project for DIY window seat enthusiasts why are new to making drawers and attaching their slides. This DIY window seat bench looks just perfect in any room.
If you prefer a boho seat, head over to The Jungalow to be mesmerized by how much a chest of drawers next to a taller side table in an alcove can look great. The pieces don't match in height, but those charming cushions with solid colored fabric won't let you notice it. This DIY window seat with storage has multiple drawers below the seat that can fit a lot of stuff. Add a seat, place your laptop on the side table, and voilà! You'll have a small work desk.
Plus, you'll gain more space thanks to the diy end table!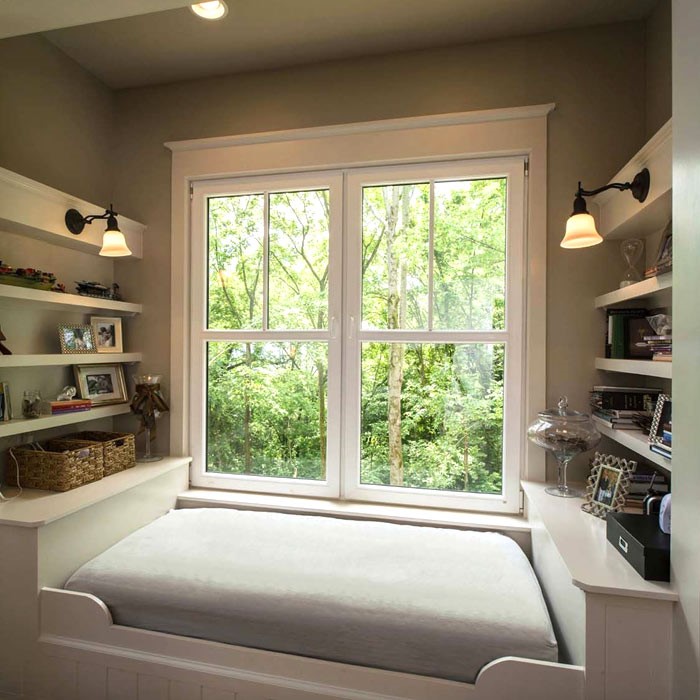 DIY Window Seat with Bookshelf
Now that you know how to build a window seat with drawers, you might also want to know how to build a DIY window seat with a bookshelf. Think about it, if there's one thing that makes sitting comfortably on your window seat, is reading books. You can find more details about this special reading zone at Nesting with Grace.
This amazing homemade window seat also provides you spacious storage through a lid on top of the seat. You can hide it nicely with cushions. You may also be interested to know that this project will cost you less than 150 dollars.
DIY Homemade Floating Window Seat
Not all lovely DIY window seat ideas have to have traditional plans and hidden storage. If you prefer more modern and open designs, or you don't have a large space, this wall-mounted bench is the one for you.
In addition to not taking any floor space and being visually light on the eyes, this homemade window seat is also insanely easy. Place brackets into the wall, lay the wood on the brackets, paint with your favorite color, add some cushions, and you're done! Visit Instructables to see all the details on this elegant idea.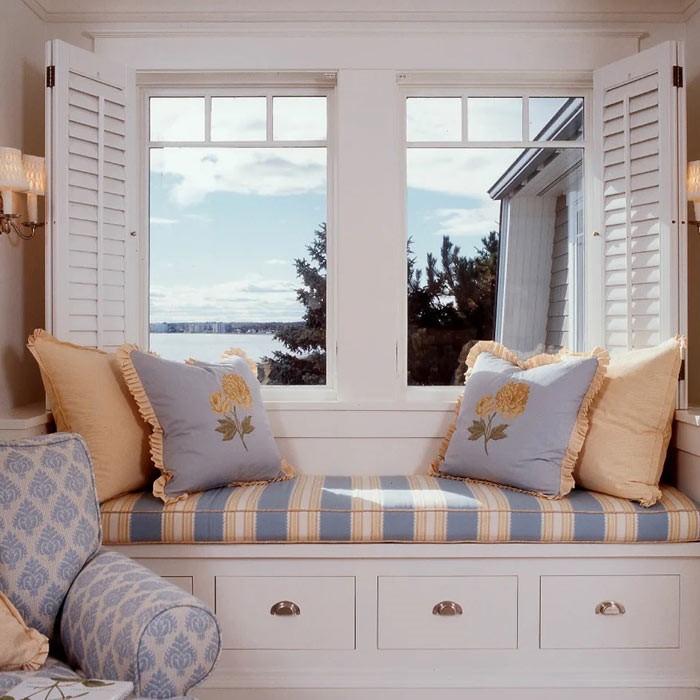 Easy DIY Window Seat Plans
Among various window seat plans, you'll come across some ideas that show you a project doesn't have to be expensive or complicated to be perfect. Basically, you need some scrap wood for this homemade window seat. This simple DIY is affordable too (under 100 dollars).
The trick is making our own wooden cleats instead of buying hinges and hardware. Now they may not be the prettiest option, but no one will see them from the outside and you can save a lot of money. Check this DIY window seat out over at Four Generations One Roof.
DIY Bay Window Seat
Building a window seat is the best thing that you can do with your bay window. There are many window seat plans that helps you make the most of the space with storage to store things out of sight. However, they are rather larger projects that need a few specialist tools. But if you have rudimentary DIY skills (you know how to use nails and hammer, power tools, and to secure a 2×4 inch to a wall), you're going to have a nice time finishing this challenge.
The good thing about the tutorial at Pretty Handy Girl is that it is long and includes all the details that you might need. It has loads of storage inside, and you can personalize it by adding some cushions.