Farmhouse bathroom decor is taking bathrooms all over the country, even the ones in the city, by the storm. There are various ways to embrace this flexible theme, and that is what we are going to cover in this post.
From adding metal pieces for a modern farmhouse bathroom wall decor to wooden vintage farmhouse bathroom accessories for extra charm, we are here to share some unique ideas so you can find the inspiration that you are looking for.
---
Vintage Farmhouse Bathroom Accessories
A touch of vintage elevates every decoration style and farmhouse in no exception either. To bring the vintage version of this trend to your space, you can simply use vintage farmhouse bathroom accessories like:
Posters & Maps
This is one of our favorite vintage accessories for bathroom decorations. A framed poster or map with vintage vibes is big enough to capture all the attention and create the space that you are looking for without taking any space.
Antiques
Antiques are a well-known piece for vintage themes. But you do not have to limit yourself with vintage farmhouse bathroom accessories that offer no practicality. Instead, you can go for a repurposed vintage storage piece, like a trunk or a vintage table with open shelving.
Other Accessories
If you prefer low-maintenance options, consider vintage vases, a vintage window panel that also serves as a towel holder, vintage farmhouse bathroom decor signs or galvanized letters, vintage hand mirrors, etc.
Installing vintage tub, sink, and faucets is a great way to have such decorations. But as mentioned, vintage farmhouse bathroom accessories are more affordable, faster, and more convenient.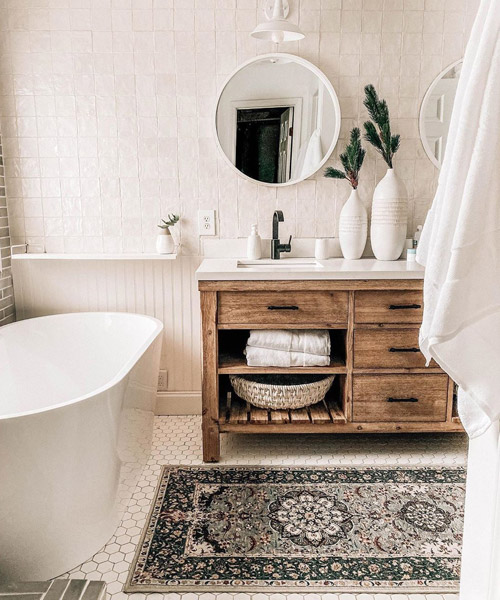 Rustic Farmhouse Bathroom Decor Ideas
Almost everyone loves adding natural elements to their space to have a nice and rustic atmosphere. To have a rustic farmhouse bathroom, here are some of the things that you can try:
Rustic Vanity
A rustic vanity not only adds the farmhouse charm you want to your bathroom and transoms it completely, but also acts as a practical piece. You can also pair it with modern pieces like floating shelves to create an attractive contrast.
Rustic Artworks
Sometimes a simple and dainty print with neutral tones and rustic motifs on the wall is all you need to change your decor into something stylish. Such options are especially perfect if you have a small space, and you want to make it look too busy.
DIY Elements
Looking forward to having a more attractive toilet in your rustic farmhouse bathroom? How do you feel about a rustic wooden crate filled with Mason jars as vases for seasonal flowers?
Simply place this heaven in the crate on the toilet tank for an eye-catching appeal.
Wooden Ladders & Stands
A simple wooden ladder can do the trick in your farmhouse bathroom decor and hold the towels as well. However, you can take this to the next level by using a wooden vertical stand. It offers different levels for open storage and solves the organization issues in small spaces in a stylish way.
Wall Shelves
Rustic DIY bathroom wall shelves can also bring a rustic texture to your bathroom. For example, a small shelf made of a wooden stained board with the distressing technique creates a beautiful rustic farmhouse bathroom decoration, while serving as storage for cleaning and washing essentials.
Another affordable idea is repurposing the front piece of a drawer into a shelf.
Other Ideas
Other ideas for designing a rustic farmhouse bathroom decor include:
Worn tub or sink;
Antique details like layers of hanging mirrors;
Exposed stone flooring or exposed wooden ceiling;
Using sisal or jute rugs that remind the cottage atmosphere perfectly;
Turning a small wall to a rustic wood bathroom accent wall by plank it with wooden panels in your preferred color;
Etc.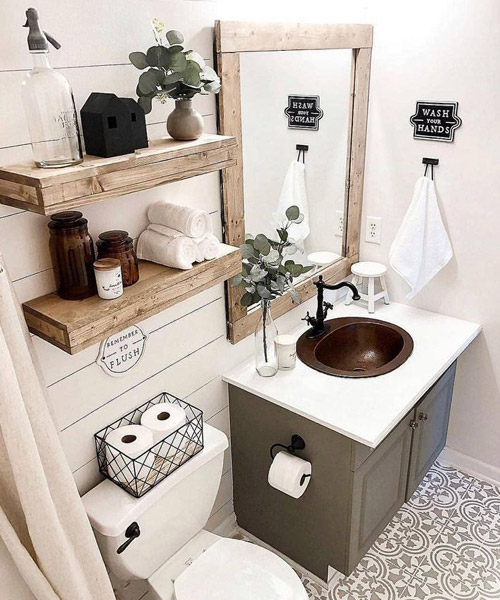 Modern Farmhouse Bathroom Wall Decor
Are you a city dweller and prefer this decoration style with a modern twist? In the following, there are some ideas for a modern farmhouse bathroom decor.
You can pair these modern farmhouse bathroom wall decor ideas with black hardware, wooden bath trays, candles, etc.
Modern Wallpapers
There are tons of modern wallpapers with gorgeous patterns out there that create a lovely space while pairing amazingly with other modern pieces and accessories (such as lantern sconces and pendant lights).
Floating Shelves
Floating shelves are a modern accent, as well as a practical accessory for modern farmhouse bathroom wall decor in small places. Simple white shelves are probably the best choice for a minimal and modern setting.
Shiplap Walls
Shiplap walls are a familiar element for a farmhouse bathroom decor. Paint it white and you will have a modern wall decor; ready to be paired with patterned floor tiles for a fun twist in your space.
Mirrors
It is difficult to remember a modern design for any part of the house without the benefit of having unique mirrors.
A large mirror will make your bathroom look larger than it actually is, as well as work as a perfect modern decorative piece. You can also go for multiple or layered mirrors.
Wall Arts
Modern farmhouse bathroom decor signs are another option (a rather obvious one). We recommend choosing wall arts with simple designs that allow the images and inscriptions to pop out while offering a welcoming vibe.
You can also hang those signs that remind the kids what to do in the room. You can be sure that adults enjoy the fun aspect of it too.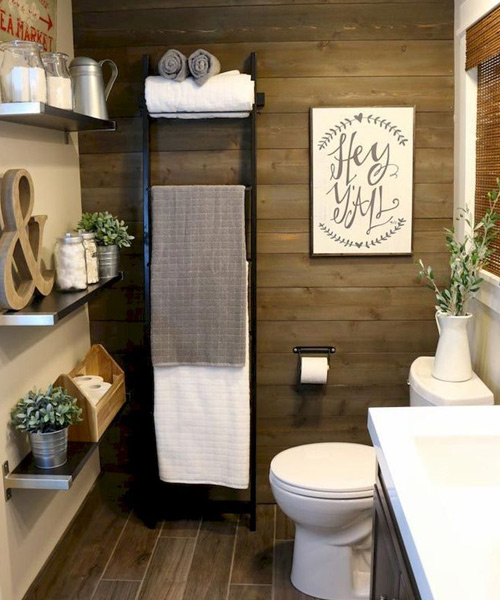 Avoid These Mistakes in Your Farmhouse Bathroom Decor
As you know, in general, farmhouse style is a type of interior design with natural materials and comfortable elements that values functionality and simplicity.
While farmhouse style and its charm are influenced by rural buildings, modern interpretations of it are also common, resulting in a warm yet beautiful appearance.
As evident by the farmhouse bathroom decor ideas that we covered, elements like natural wood, sconce lighting and wrought iron lighting fixtures, metal basins, shiplap, as well as burlap curtains, subway tiled, and other accessories are essential for this style.
However, the "comfortable" character of farmhouse bathrooms can lead to some common mistakes including:
Replacing pieces as they begin to show signs of wear, which overlooks the style's actual essence completely. We recommend mixing and combining vintage pieces instead.
Adding a lot of styles is another mistake. It is true that farmhouse is neutral and excellent to incorporate your personal touch. However, you should avoid combining too many distinct styles.
If you are actually living in a real farmhouse, this style may be both practical and fashionable for you. But if you are living in a modern home, design with caution. This is because excessive commitment can create a farmhouse-themed party setup than a well-styled environment.
Making the farmhouse bathroom decor too formal is another mistake to avoid. Being low maintenance and uncomplicated is the essence of this style; so if you want your home to be more formal, maybe this style is not the best choice for you.
---
Ready to make your ideal decor into a reality? Let us know which of these vintage, rustic, or modern farmhouse bathroom decor ideas you are going to incorporate into your space.