What makes the farmhouse Christmas decor so charming, is the laid-back rustic style that everyone can appreciate; whether they live in the city or the countryside. This style of decoration gives your space a warm and welcoming feeling, which makes it even more suitable for Christmastimes.
Below, you will find some of our favorite farmhouse Christmas decor ideas in 2021 for both indoors and outside spaces. Are you ready for some inspiration?
Farmhouse Christmas Tree Decor Ideas
There are a lot of ideas for decorating your Christmas tree in a farmhouse style. For example:
One is using distinctive natural elements instead of traditional ornaments. We are talking about pomegranates, lamb's ear sprigs, and eucalyptus garlands. Pair this tree with some linens stockings and wooden candlesticks for a completely rustic farmhouse Christmas decor.
You can also have a festive farmhouse Christmas tree filled with layers of adornments like lights, burlap ribbon garland, cotton boll stems, and floral picks throughout. Also, insert filler items like pinecones throughout, and monochrome ornament balls in different shapes and textures for a consistent yet eye-catching look. Add greenery-filled cones and twine-covered ornaments as finishing touches.
For minimalism enthusiasts, we recommend simply using knit garland and vintage balls in gold and the color of your choice. For a warm glow and an old-fashioned look, add battery-operated candles clips at the end of branches, and skirt the tree with a large knit throw.
Feeling old fashion? Go for farmhouse Christmas decor DIY ornamentssuch as felt-ball garland, salt-dough ornaments, and dried orange rounds to adorn your tree. Add some clip-on lights here and there for an old fashion candlestick look. Finish by placing the tree in a large wood crate.
If you are still leaning towards rustic vibes in your farmhouse Christmas decor, another budget-friendly idea is decorating your tree with felt barnyard animals, whirly rounds made of paper, corrugated barns, and dishtowel stars. To complete the look, add some beaded garland and red and gold ornaments.
If you are set in having a vintage farmhouse Christmas decor, decorate the tree using black-and-white banner-style garland, vintage bingo cards, glittery silhouettes, and place a reclaimed wooden snowflake at the top. Place the final product in a galvanized tub and cover its base with a burlap.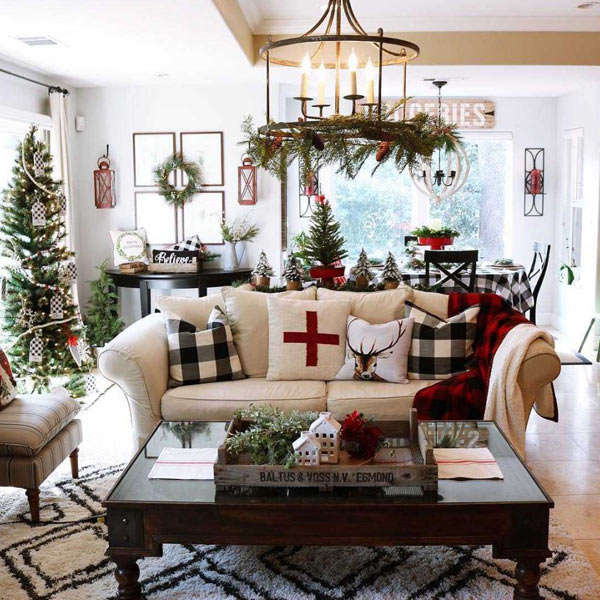 Farmhouse Christmas Decor for Dining Table
To bring the farmhouse charm to your dining room and dining table, consider a tiered galvanized cake stand with small bottle brush trees in it. And when the holiday mealtime arrives, add seasonal cookies and cupcakes to the stand.
Another lovely farmhouse Christmas decor DIY is using greenery and cotton branches for a fresh table's cape. What complements this idea is usingvintage-inspired linens (as you can guess) and cream cloth napkins.
And what takes this setting to the next level, is placing small animal figurines and using antique silverware. If you are a fan of vintage farmhouse Christmas decor ideas, this may be the inspiration that you are looking for.
Old mercury glass vases and candle holders are also excellent for your dining table during the holiday. If you cannot find antiques that suit your style, gold trim glasses and plates are the perfect alternatives for complementing the mercury glass pieces. Remember to balance the shiny pieces with wooden pieces like bowls and candle pillars.
If you prefer farmhouse Christmas decor ideas for the whole dining room:
Try frosted Christmas trees for a wintry feel. It is a great idea to pair tall trees with small trees, using vintage linen runners and topping the table with greenery and white ceramic houses. Dressing the mantle up with red stockings will bring coziness to such a lovely space.
Create a farmhouse display with a dining room buffet. Give it a wintry look by painting it white and using items like a vintage window frame, a chalkboard, white shutters, an etched mirror, a small tabletop tree, a wreath, and other wood accessories.
Farmhouse Christmas Decor DIY for Bedroom
There are a plethora of ideas in a farmhouse Christmas decor 2021 list, and the good news is that most of them are on a budget. For example, you can simply place snowflakes cut from red vinyl or red ribbons on different items in the room for a seasonal look.
You can even place one of the Christmas trees that we talked about in your bedroom. But if you are looking for smaller changes, you have various options such as:
Vintage frames
Hanging a wreath
Seasonal throw pillows
Bottlebrush trees on shelves
Laying a garland laid across the headboard
Placing silvery tabletop trees or vintage finds on the nightstands
Etc.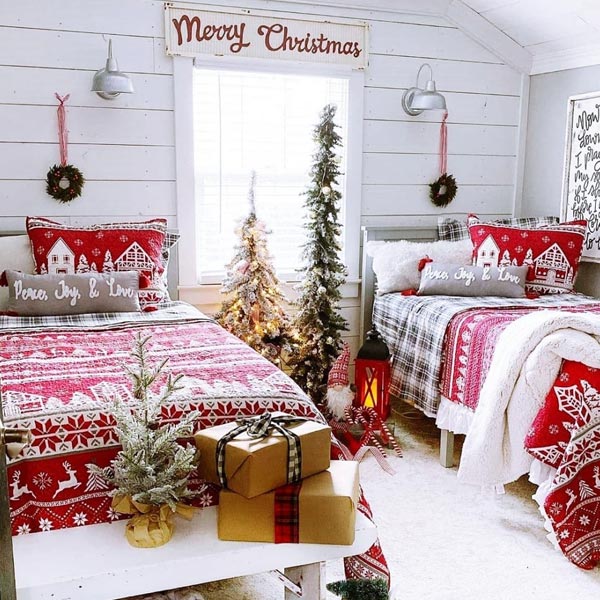 Farmhouse Christmas Decor for Outside
Outdoor ideas should not have to be time-consuming, challenging, and expensive. So for this part, we are going to review some on-budget ideas for outside that are just as lovely as complete make-overs, or even more!
Apart from hanging one or two wreaths (a simple yet chic idea), here are several options to give your outdoor space a farmhouse Christmassy look:
Swap your welcome mat to something more seasonal.
Hang a garland around the front door and use string lights to make it glow.
Is there a fireplace on your patio? If so, be sure to decorate it with a garland.
If you have a large plant on your front porch, decorate it with metallic ornaments.
Decorate the windows with seasonal print-outs or fill the flower beds with colorful ornaments.
To give your front porch a wintery look, you can also use pine cones, logs, and a pair of faux skis.
If you have columns on the front of your house, do not miss the opportunity to wrap a garland around them.
Remember that placing a full-sized Christmas tree on your porch is another farmhouse Christmas decor idea for outside.
If you are thinking about a more creative option than hanging a wreath, you can gift wrap your door with extra ribbon at your home or hang lanterns.
---
Other Ideas
There are also other last-minute ideas to bring the farmhouse to your indoor or outside spaces; such as gallery walls with festive prints or holiday rustic and wooden signs, decorative wooden ladder with the garland of your choice, or dressing up the front entry with seasonal throw pillows.
Did you find the inspiration you were looking for? Which of these farmhouse Christmas decor ideas was your favorite? Let us know in the comments.