Walls are a great part of your house to try out the popular farmhouse trend. The farmhouse wall décor combines elegant and rustic designs, offering a charming view no matter the idea.
Looking for farmhouse wall decor ideas? Here are a wide array of suggestions for different tastes, interiors, themes, and holidays.
---
Farmhouse Wall Decor Living Room
There are a lot of ideas to give your living room a rustic look, including:
Aged Shutters
When it comes to farmhouse décor, everything goes back to old wooden things, in this case: aged shutters. This item has farmhouse vibes written all over it.
Add some old shutters to an open wall, sit back and enjoy the farmhouse feel without unnecessary work. If such shutters are not available in the antique stores around you, check out barn wood shutters in online stores.
Photo Gallery Wall
Gallery walls are not just a brilliant option in farmhouse wall decor ideas, they look great in any decoration style.
You can tailor them to any design you like and fill up any open walls (like the one by your dining room table). Basically, you can give any photo gallery a farmhouse vibe, by adding old frames. Another way is to print photos in sepia color instead of black and white.
Large Black Clocks
Hang a large black (and preferably old-looking) clock on the wall for a country-chic vibe. Such clocks are not only beautiful but also act as functionality while being super affordable.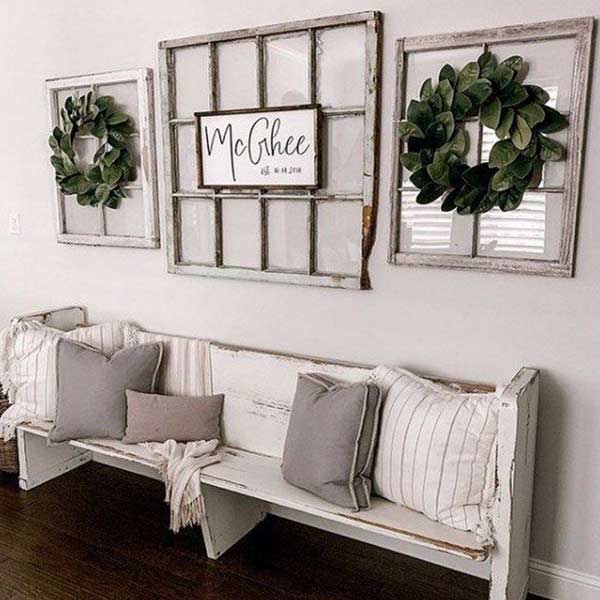 Farmhouse Wall Decor Bedroom
To decorate your bedroom in the farmhouse style, we recommend:
Antique Mirrors
Amazing antique mirrors are not just perfect for your bedroom; they look excellent on any open wall. Hanging a mirror will also make your space look large than it actually is. For the bedroom, one large mirror would be all that you need, but for other rooms, you can mix things up by adding more than one mirror.
However, there may be a challenge: hanging the antique mirror, if the backing has been damaged in the past. If you have the same problem, add a rustic shelf and have the mirror lean against the wall on it.
Cozy Yarn Blanket Ladder
Is there an empty corner in your room? Then try a blanket ladder for your farmhouse wall decor bedroom to add some more warmth.
There are a lot of options to go with these blankets, including using different ones, wrapping greenery around them, or even using them on shelves.
Canvas Signs
If you want your farmhouse wall décor to make you smile every day after waking up or motivates you, a wood or canvas sign with your favorite saying is what you are looking for.
Such catchy signs are always a great way to add some farmhouse to your bedroom walls.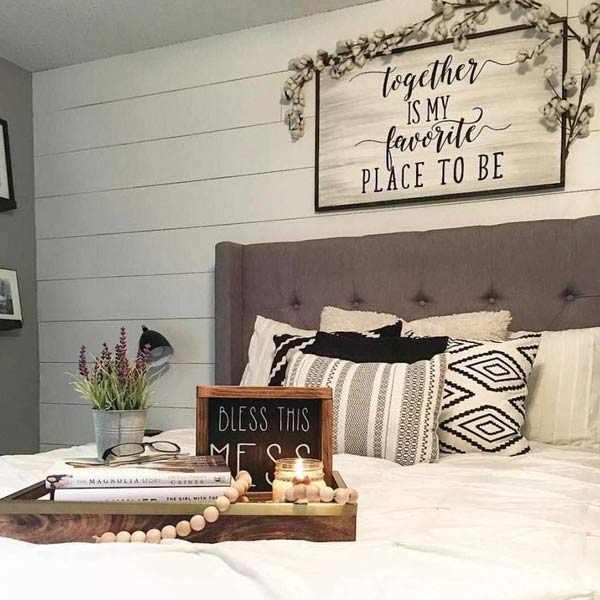 Farmhouse Wall Decor Kitchen
You spend a lot of time in the kitchen, and this is how you can give it a more farmhouse and rustic look:
Hanging Copper Pots
Hanging collections of copper pots creates an interesting wall to look at while giving it a unique texture. Instead of copper pots, you can also use ceramic pottery, plates, or baskets for your farmhouse wall décor.
If you have beautiful cookware, it is a good idea to add a brass rod near the range and a hood to hang them for easy use. You can also decorate the cabinets with gathered fabrics, which give a charming softness and create a rustic style.
Tip: For a modern look, go for cookware and containers with bright colors. For a more classic rustic look then, choose neutrals and natural materials.
Open Wooden Shelves
Open kitchen shelving is a staple in farmhouse wall decor ideas for the kitchen. These shelves offer your space a more expansive look while giving you the opportunity to display various kitchen ornaments and interesting pieces.
To have a curated look, rather than an irrelevant mix of jars and canisters, choose matching vessels of dry goods and ingredients. Look for vintage vessels, find them at farm sales and thrift stores, or buy new pieces that have rustic designs.
There are other farmhouse wall decor ideas using shelves as well. For example, you can add flowers and vintage ornaments to shelving units to bring natural color and character to your space. This is a stylish and elegant way to show your personality and zest.
Rustic Hanging Rails
This is a signature farmhouse wall decor for the kitchen. All you need to do is suspend a branch across the wall, add some S hooks, and finally hang oven mitts, cloths, and other utensils.
Hanging cookware over tiled backsplashes that go up to the ceiling is another option. Screw a rack to the wall or suspend it from the ceiling as the basis of the display.
Exposed Brick or Stone Walls
Exposed brickwork is the ultimate way to add texture to your farmhouse kitchen. Brick or stone walls create an eye-catching contrast between the brick and softer materials like hangings plates, plant pots, rugs, and curtains.
These exposed walls offer authenticity to rustic kitchens. They look beautiful on their own, but you can always add other layers of wall decor to elevate your space.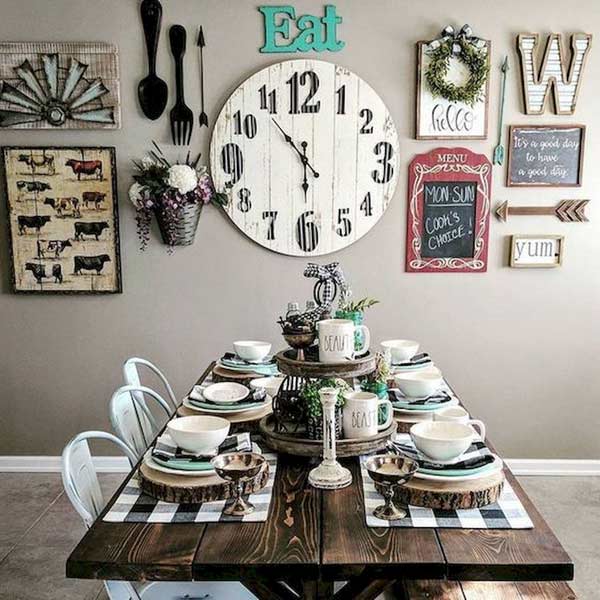 Farmhouse Wall Decor Dining Room
To decorate your living room with a touch of the farmhouse, try:
Galvanized Steel Planters
The dining room is where families and friends gather and spend time, a well-established fact that automatically makes these planters a great idea for decorating this room; especially when you have a wooden table and chairs.
It is up to you to how to position these planters. We would recommend two of them, with a heart-warming sign between them to create a warmer and homier look.
Dimensional Wood Décors and Accents
Is there anything better than wooden elements for the farmhouse wall decor dining room?
If you like having plaques in your home, there are tons and tons of plaques made of barn wood which are perfect is for your farmhouse. These plaques could also feature other materials, like metal letters that capture attention at first sight.
If you do not want to necessarily spend money to buy a plaque, you can make an accent using scrap wood for your farmhouse wall décor. Simply grab a scrap wood laying around and create your ideal sign with some paint. Just make sure to use paint that creates a nice contrast with the color of the wood.
Tip: Sometimes a simple aged window frame will do the trick too.
Antique Billboards
If you are lucky enough to find an authentic antique outdoor advertising billboard, do not hesitate to use it for your décor.
Among farmhouse wall decor ideas, nothing can make your dining area more rustic than an outdoor advertising billboard. You can pair this sign with old table sets, or with the ones that have a design with paint chips. A suitable chandelier would be the finishing type for this décor.
---
Farmhouse Wall Decor Bathroom
You can incorporate different farmhouse wall decor ideas in your bathroom as well, for example:
Placing succulent pots in the corner or using a wall planter and hanging them.
If there is a window in your space, we recommend painting it black.
Hang mason jars with wildflowers in them.
Floating wooden shelves is another farmhouse wall decor bathroom that allows you to store amenities.
Etc.
---
What Is Your Favorite Farmhouse Wall Décor?
Which one is your favorite in these farmhouse wall decor ideas? Which ones do you already use or plan to have? Let us know in the comments!