Classic, elegant, rustic, and comfortable; a French country bedroom décor has it all. It provides a calming space for relaxation while being sophisticated and antique. Although a French country bedroom can be dreamy and super elegant, it can also be simple and casual. That is why a French style bedroom is not only for people who find classic motifs of French décor fascinating.
Here, we are going to cover all the necessary elements of a French country bedroom décor and its accessories. If you're not sure about your future French country bedroom paint colors, wall décor, curtains, etc. you can decide after reading this article.
French Country Bedroom Furniture, the Vintage Touch
Vintage or antique pieces of furniture are a signature in all French style bedroom ideas. There are different options to incorporate in your French country bedroom design. One of the pieces that can instantly give your room a French vibe, is a chandelier.
Now we aren't talking about huge pieces in formal ballrooms; even the smallest dainty or rustic chandeliers will do. We recommend getting a clear (crystal) or white one in white with thin arms, or an antique iron chandelier for a simple yet refined look in your French farmhouse bedroom.
If chandeliers aren't your favorite, the antique piece in your bedroom can be an antique vanity or even a bedside table. Other refined rustic pieces are excellent choices too.
French Style Bedroom Paint Colors, Traditional & Light
Picking the appropriate paint color is essential for any French style bedroom décor. This color can be warm or cool, as long as it is neutral. Warm neutral paints like cream or beige, or cool neutral tones like gray, all will look just lovely for French bedrooms.
In modern French style bedroom ideas, you can find other recommended paint such as ecru or ivory too. They also provide instant warmth and comfort without being too white. If you hope to have a truly French country bedroom design, muted blues, a soft sage green, and peony pinks are other colors to consider.
And if you're looking for more texture, consider floral wallpapers behind the bed for a French cottage vibe.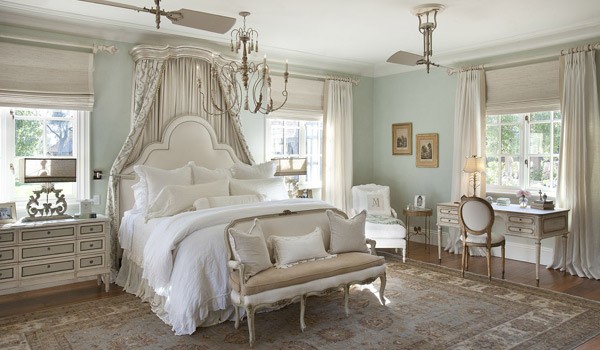 French Country Bedroom Set, Bedroom's Heart
The bed is going to be the most vital piece in your design, with the headboard being the star of the French country bedroom décor. The bed, similar to other furniture, is about tradition and endurance in French style bedroom. It is about handmade pieces that were passed from one generation to another.
So painted pieces (which is better if they look slightly weathered) from wrought-iron, burnished bronze, and antiqued brass are some of the French style bedroom ideas that can't go wrong (unlike polished gold or silver).
Along with upholstered linen or cotton beds in antique whites, you'll have the perfect setفهدل in your French farmhouse bedroom. Remember that the fabrics on the bed play a really important part in defining your space. These two fabrics, with a light color, will turn your rooms into an inviting and elegant space.
For the headboard, you're sure to find a style that meets your decorative taste. You may also like to know that tufted headboards (preferably with a hand-crafted trim) and vintage headboards are extremely popular in French style bedroom ideas. And that's how to make a French country bed.
French Farmhouse Bedroom Curtains, the Charming Must
It's hard to imagine traditional and modern French style bedroom ideas without gorgeous curtains, especially pinch-pleated ones. They can elevate the décor greatly, no matter the fabric. Linen is the staple fabric in these types of bedrooms, but cotton is also widely popular.
As French country bedroom curtains, both linen and cotton curtains give the texture that you want to your space. In case that you're looking for more affordable options, you can find a lot of DIYs that fake the look of linen; for example, by using bleached drop cloths and curtain ring clips.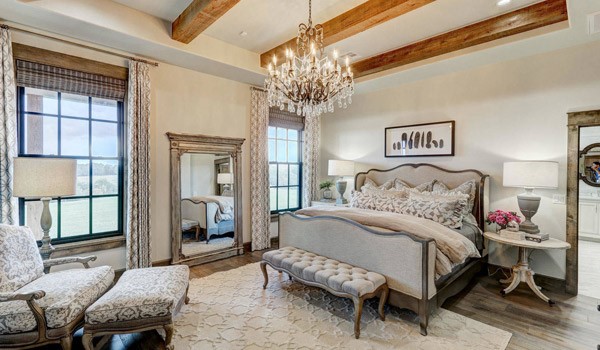 French Bedroom Wall Décor, a World of Options
After picking a soothing hue of French country bedroom paint colors, it's time to decorate them. Here are some ideas to decorate French bedrooms' walls:
Mirrors: There is not a single decorating approach that mirrors can't make them more complete and better. Creating a gallery wall of small to medium mirrors with gold frames is one of the methods to add mirrors to your décor. Don't forget that they shouldn't look all shiny and polished.
Frames: A gallery wall of frames is another focal point that you can create easily. Choose classic frames with ornamental detail. You can also paint them with calming colors that have enough contrast with the walls. The best place for hanging them in French country décor is over the bed or other large pieces of furniture. While grouping the frames as a cluster, leave equal spaces between them. If you like, fill some of them with flowers or signs. But be sure to leave some empty for an informal vibe in your French country bedroom décor.
Wooden Elements: Adding any wooden element to the wall (and the ceiling!) is another way to have that charm of a French farmhouse bedroom, to complement the walls.
Other French Style Bedroom Ideas & Accessories
Don't forget to add flowers to your room as the finishing touch. Roses, lavender, peonies, or your favorite flower, they're all perfect choices. Switch your floral as the season change, and enjoy the magic that they give to your room. If you consider real flowers not economical and time-consuming, go for fake ones. Fake or real, they are gorgeous.
If your room has enough space, consider creating a seating area in one of its corners. Such an intimate place is perfect to enjoy a cup of coffee or read a book. Add a lamp or vase, and you'll have a relaxing spot in your French bedroom.
Hopefully, you're now all set to start decorating your own French country bedroom décor. Modern or traditional, this style offers both comfort and elegance at the same time. That's what makes French style an excellent idea for decorating bedrooms.