Children do not develop their personalities so early as to decide how to decorate their rooms. So, the idea of looking up girls room ideas and decorating their room is not that bad.
That does not mean that we should push them towards certain trends but go for the standard yet cool room ideas for girls (and by standard, we do not mean choosing pink for the girls and leaving other colors such as blue for the boys). Over time they can add details or make small modifications to their liking.
Best Colors for Girls' Bedroom Ideas
The most classic and perfect options are:
Pink: There are many shades of pink you can use, but we recommend pastel pinks as they can be easily adapted to changes in the decoration as the girls grow.
Beige: This is another classic color that can be perfect for both little girls and teens. It is very easy to decorate a girls room in this shade since beige practically pairs with all the colors that you can think of.
Grey: Grey can be a bit of a somber color for cool room ideas for girls, but if you complement it with colorful accessories, it can look very elegant.
White: White can be a bit off-putting for girls' bedroom ideas, but add pops of color through accessories and complementing pieces and you will have a bright, cheerful space.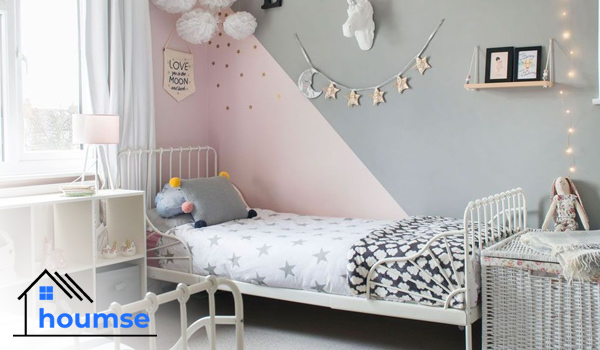 Girls Room Ideas
Looking for inspiration for your daughter's room? Here you will find the best ideas for your princess, little or already a teenager.
Stuck to the Wall
Is your daughter's room small? Making the most of space is the solution. Sometimes floating shelves will do the trick. Other times, custom-made furniture is best for the girls' room: a loft bed with drawers for storage, a bridge structure with shelves, an integrated nightstand, and a desk on the other side.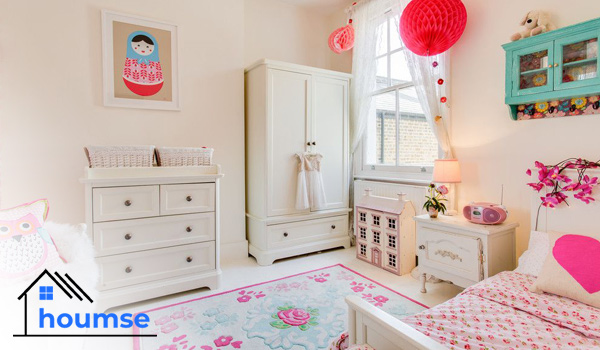 Black and White
Girls' bedroom ideas accept serious colors including this classic duo as well. So, you can paint your daughter's room black, which is a successful option as long as the furniture is white. It is a good idea to stick to white when creating galleries on the wall as well. The game of contrasts always works, even in room design for girls.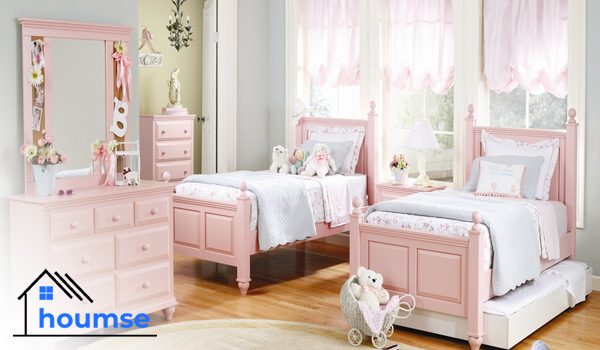 A Room for Three
Under the attic, a girls' room shared by three sisters can have a large desk, in front of the beds arranged in an inverted U, where they do their homework. The girls can also use the attic to play, hide, or have privacy. That is the good thing about attic bedrooms!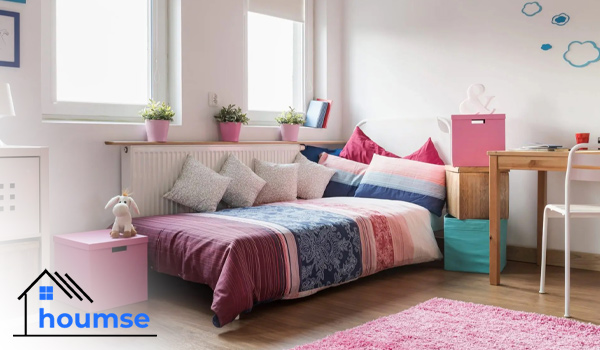 Ready to Grow
If you thought that upholstered headboards are only for adult bedrooms, you are far from being right. Among other girls' room ideas, you can place a tall tufted bed in your child's room and, the truth is, it will look phenomenal together with a trundle bed and the bedside table. Add decorative garlands and a two-tone carpet and the apparent seriousness will disappear.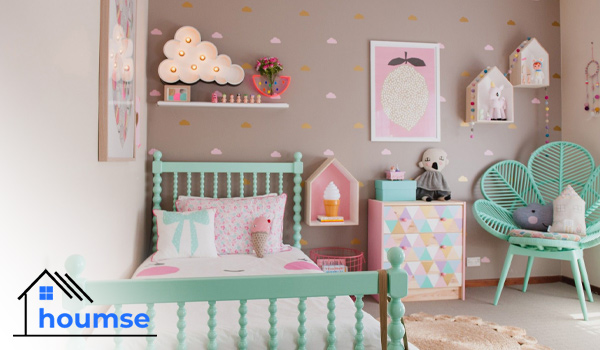 A Stylish Girls' Room
Tastes change over time. Your princess may like pink or lilac now, but this could later turn into more personalized colors and designs. So, in case you are thinking about room design for girls featuring busy patterns and bold colors, make sure that the bedding and accessories are simple with plain colors.
Using vegetable fiber accessories for the lamp and the bedside table are other ways to make the environment more subtle.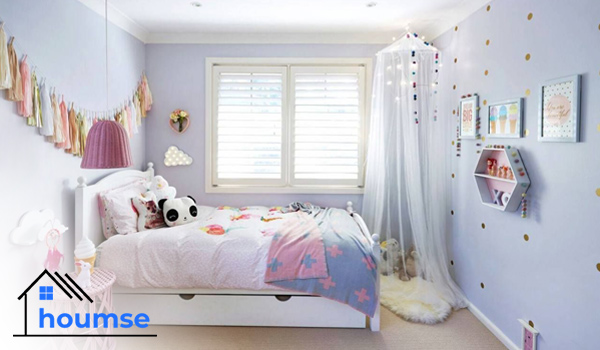 Playing with Light
If there is a window in the space, you can place the desk as close to it as possible so that it has enough natural light. This looks great in room design for girls with a headboard integrated into the room to provide a bedside table.
Finally, a fun composition of photos resembling a garland above it will add the cheerful vibe that all girls' room ideas need.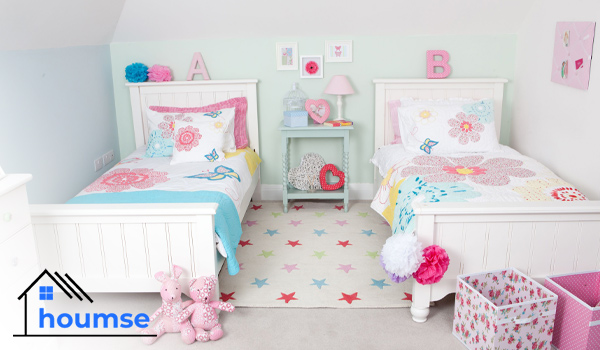 A Private House
Children's rooms should be fun. So, another idea for designing your girl's room is choosing a bed frame and a shelf in the shape of a house that will make her think of a thousand and one adventure. Add a nice rug for sitting and playing on the floor and you will be pretty much done.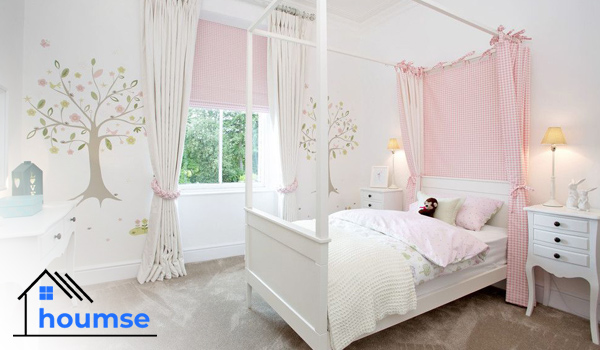 Wooden & White
Wood is a warm and welcoming material perfect for decorating all spaces including girls' bedrooms. You can use it both in the bed frame and in the coverings, as many professional decorators do.
For a shared bedroom, it is a good idea to place bunk beds perpendicularly (and only one on the floor), so they do not take up the space or reduce light for the bed on the floor. In addition, the lower part can be used to place drawers or an extra bed, or it can be used for other girls' room ideas.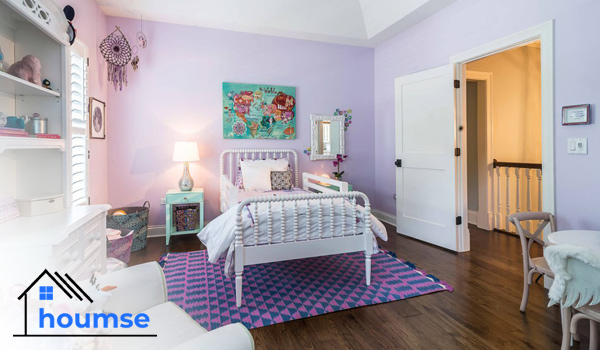 Divided Areas
Some girls' room ideas separate the rest area from the study area, and that may be what your daughter wants. You can simply achieve it by placing a half partition with a glass enclosure that does not block the space.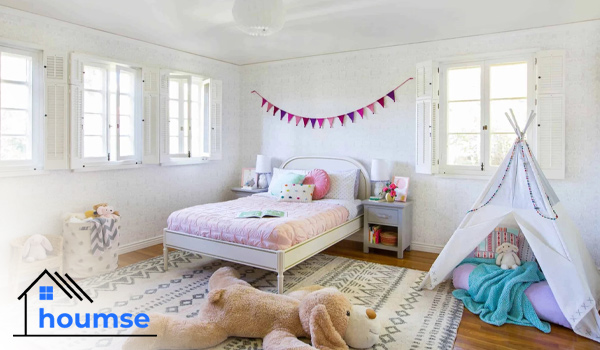 Girls Room Ideas with Hobbies
Before reviewing cool room ideas for girls, pay attention to her hobbies. Does she like robots, animals, airplanes, or something else? Decorate her room with accessories that refer to them and see how happy she gets. Decorative objects, printed cushions… anything!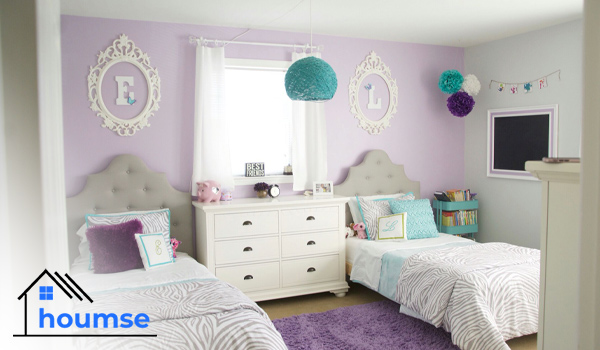 Beauty & the Micro Cement
Micro cement is a material that is in full trend, and there is no reason not to implement it in 12-year-old girl bedroom ideas (or older!). You can use it on the walls with delicate crochet garland running along it for a charming contrast.

Above or Below?
If you want to save space in your daughters' room, girls' room ideas with bunk beds are the ultimate solution. Let them be the ones who choose which bed they sleep in, although they must consider the age if they get up at night and which of the two gets up earlier. Go with white and keep it in a storage area next to both beds.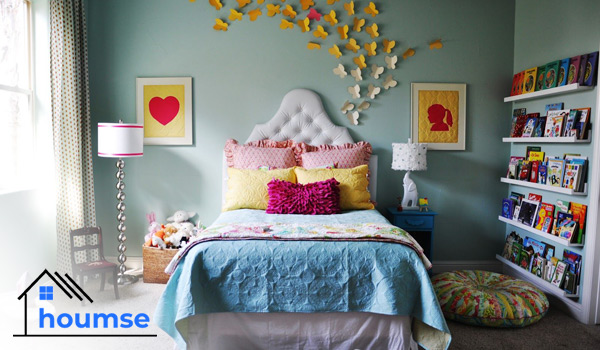 To Play, Read, or Rest
One of the cool room ideas for girls is designing a built-in bunk bed in a perpendicular fashion that makes it possible to have a play area at the top. It can also be used as an extra bed if a friend comes to stay. For the top part, a niche can serve as a bedside table.
Also, it would be smart to install a net to protect from possible falls. The free space below can be used as a reading corner as well.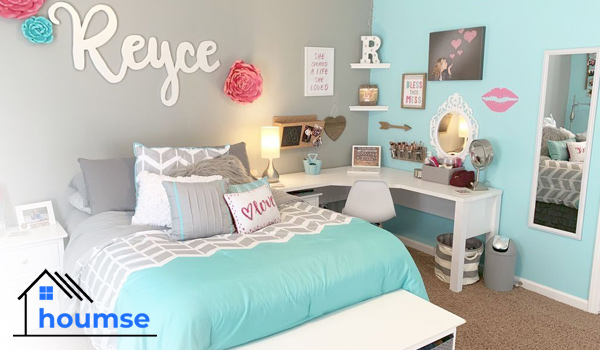 A Room for Four
If you are a large family and you have four girls with little age difference, they will have a great time sleeping all together in the same room. In this case, prioritizing space will be the main objective in girls' room ideas that one may consider.
Custom-designed white bunk beds for four illuminate the bedroom and leave the center free. A chest of drawers and a large walk-in closet provide an answer to storage problems in the girls' room.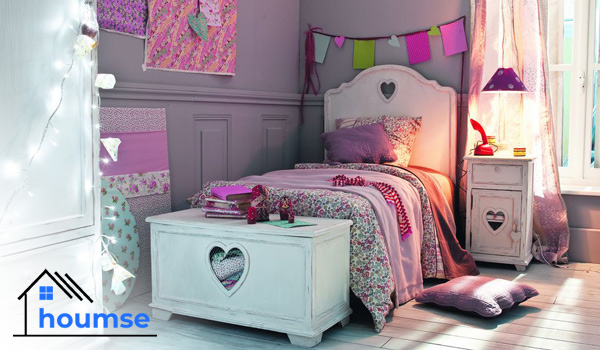 Girls' Bedroom in Pastel Tones
A simple white bunk bed with railing and pink bedding matching the curtains is one of the simplest yet most charming girls' bedroom ideas out there. And for the ladder, make sure that one of its steps is wider so that it can be used as a bedside table.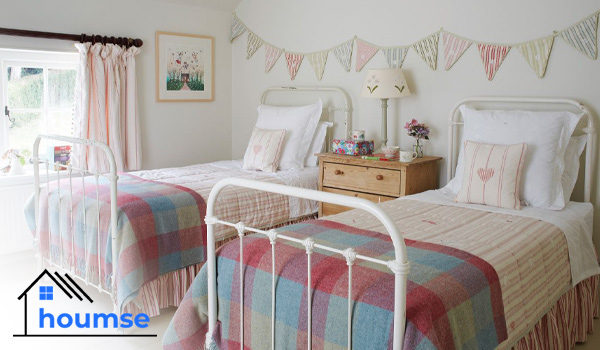 Dressed In Pink
Girls' bedroom ideas with everything in pink are classic as well as calming thanks to the calming color and beautiful harmony. If that sounds good for your child, keep the furniture in timeless white and choose pink accessories that are easier to replace over time.
Tip: Wooden linings on the wall as a wainscot, floral bedding, and fiber accessories can give a warm feeling to such girls' room ideas.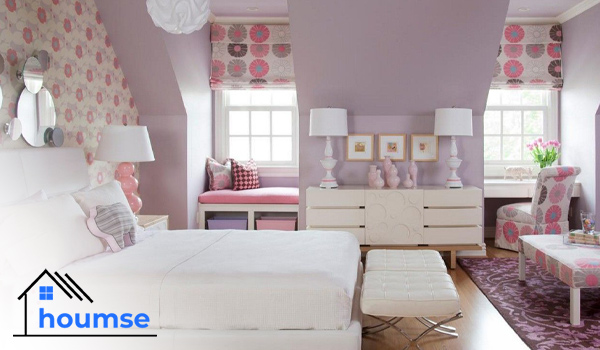 Presided by Wood
There are bedrooms whose dimensions prevent placing a bedside table, which makes finding cool room ideas for girls a bit tricky. However, you can solve it by taking the wood from the floor to the window frame, making a handy shelf, and adding to the room's warmth.
You can also use this elegant material in the beamed ceiling, furniture, and certain decorative objects.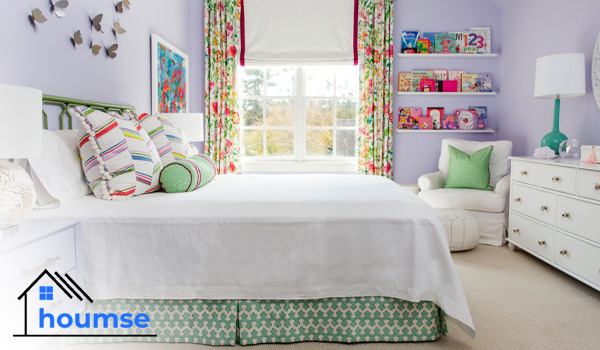 L-Shaped Beds
Have you recently moved to a single-family home? Do not be surprised that your daughters want to sleep on the top floor, especially if it is the attic.
To take the most out of the room design for girls, divide the space into several areas for resting, playing, and studying. Arrange the beds into an L shape, and place a desk under the window so the center is free for a large, comfy rug and other activities.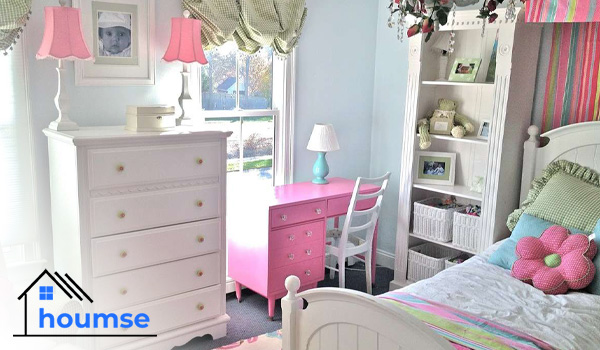 White and Lilac
If after going through the pink fever, you are now in the full lilac phase, leave your furniture white and paint the wall of the headboard in lilac color. There is also the option of combining this paint with white wooden paneling that acts as a headboard as well as support for a continuous bench that can reach a desk and lead into a wardrobe.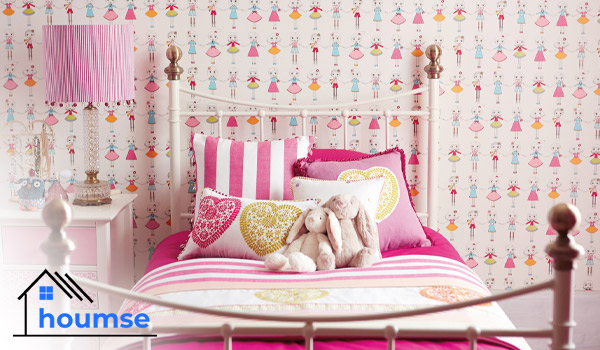 Girls' Bedroom with Extra Storage Areas
Every 12-year-old girl bedroom ideas should offer enough storage. So, if you are worried about where to store books, toys, etc. in the room your daughters share, consider rooms with floating shelves, traditional shelves, drawers, and baskets to bring order. You can even go for a bench with drawers to sit on or lie down to rest when homework is done!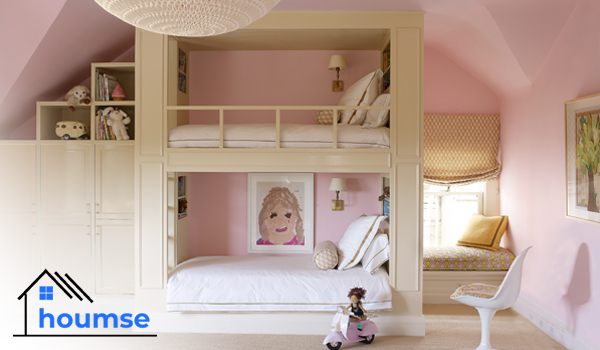 Subtle Transition
If you want the transition from crib to bed to be pleasant, place them both in the bedroom. This way, your daughter will get used to seeing it and it will not be strange for her to wake up in it one day. She may even ask to sleep in her grown-up bed! Choose an extendable model that will last for many years.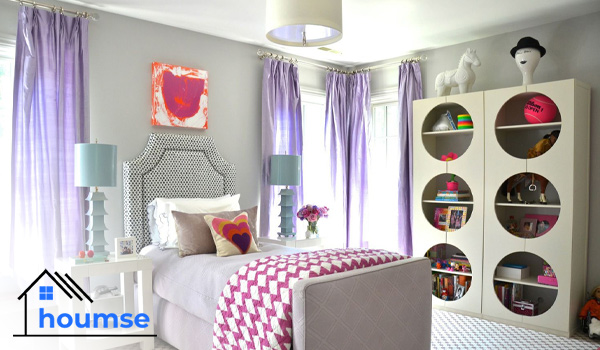 Personal Decoration
From the age of 12, your daughter will ask you to make changes in her room, and not only in color! She will also want to eliminate some details suitable for younger ones.
If you do not want a complete makeover with 12-year-old girl bedroom ideas on Pinterest, you can customize the headboard, paint the chairs, or replace decorative objects with more stylish ones, such as wooden letters or lamps. She may even ask you to keep some item from yesteryear, like that blackboard where she learned to add and subtract.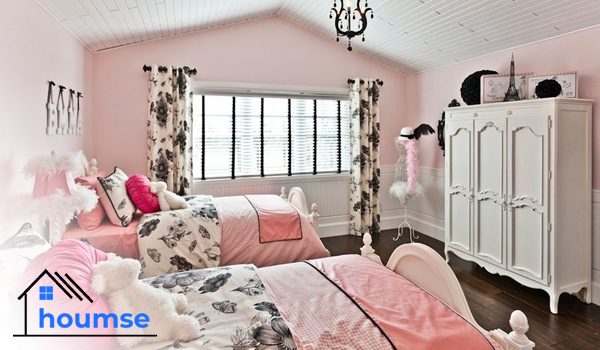 Young and Fresh
A color that is widely accepted among preteen girls is mint green, perfect for accompanying cool room ideas for girls.
If your daughter is passionate about it, choose a bedding with this shade. Combine it with wood and fiber to give a super fresh look to the room. Another trick? Integrate a designer piece of furniture especially if your girl is starting to be more selective.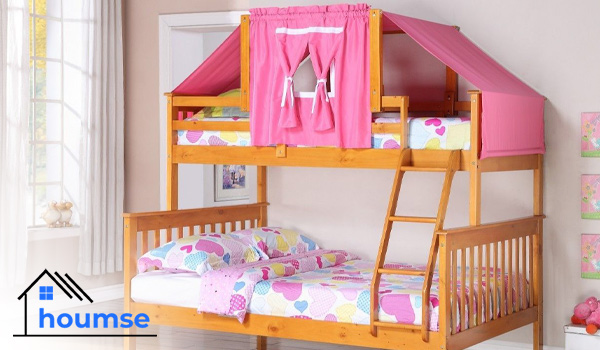 A Growing Room
If your daughter is practical and likes simple things, white furniture is perfect and versatile so that she can grow with her, as mentioned earlier. She will be able to add details that speak of her personality and inspire her.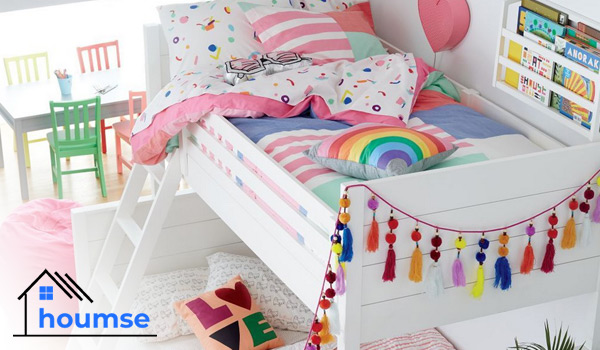 Two Beds in One
A rustic decoration among girls' room ideas is not incompatible with the tastes of your daughters. Natural fiber and wood stools pair nicely with the bedding and decoration. If your daughters are best friends, put the beds next to each other and let them enjoy an XXL space!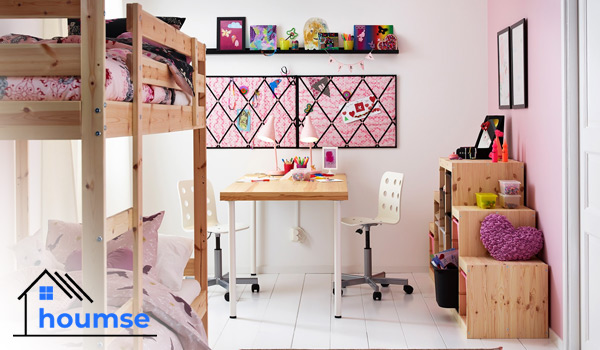 Welcome to the Jungle
If your little one loves animals, make her space very, very personal. Although grey is a serious color in girls' bedroom ideas alone, combined with the natural wood and the touches of red, it will result in a super cool space.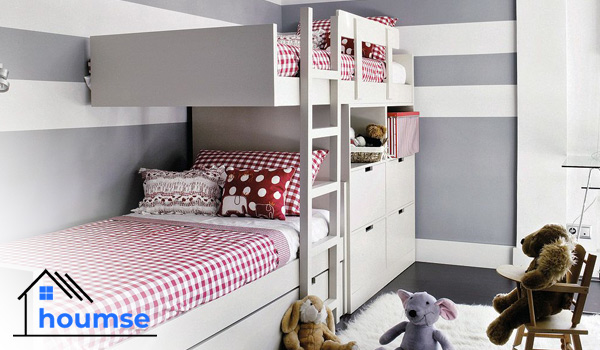 Every Inch Counts!
When there is not much space and the girls have to share a room, it is best to let your imagination run wild: cupboards under the bunk beds, drawers everywhere, and a bookcase for stories in the back.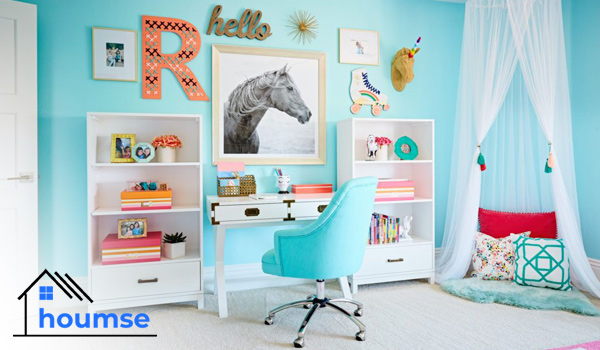 A Refuge Full of Magic
An attic is a perfect place for the little ones in the house to feel like a refuge. If such space is available, you may want to try versatile room designs for girls like the ones that feature beds used as sofas during the day and many colorful cushions.
What Room Design for Girls Would You Choose?
Have you found the right idea yet? Let us know in the comment what ideas you found interesting and what idea you went with finally. Happy decorating!