Granny flats are becoming more and more popular these days. As a practical living area, an investment opportunity, and with the increasing acceptance of multigenerational housing, granny flats are becoming an excellent selling point. Now you may be looking for granny flats for sale, or looking for inspiration to add your own granny flat to your property.
Whatever the case, we have decided to take a closer look at granny flats, their meaning, ideas, and designs. If you find it difficult to visualize the granny flat you want, hopefully, you'll find the granny flat ideas that you're looking for here.
Granny Flat Meaning
Let's start with granny flats meanings. What is a granny flat? Granny flats are designed for one or two inhabitants. They are self-contained buildings, which are usually located on the grounds of another single-family home. Granny flats can be detached or attached to the other dwelling. There are granny flats that are like miniature versions of full-sized houses with complete kitchens. There are also others with limited kitchen facilities.
And why is it called a granny flat? Because it's a popular way for families to accommodate grandparents. It is also called a granny pod, mother-in-law unit, bonus unit, casita, carriage unit, or an in-law apartment. However, this term isn't the common name for this type of living area in the building industry. Instead, it's often known as an accessory dwelling unit (ADU) or an accessory apartment.
In addition to grandparents, granny flats are also suitable for young adult members of the family or nannies. Some people also use them as rental units. Granny flats for rent is a hot topic on the internet, but deed restrictions and zoning laws sometimes ban it.
The Granny Pod
When searching for granny flats plans and prices, the granny pod has one of the most demands. A granny pod provides you with modern monitoring devices so that you can check on the inhabitants through remote access, and a timed medication dispenser. In addition to the facilities mentioned above, a toilet that checks the temperature and does simple urinalysis can be installed as well.
Granny Flats Plans and Prices
A granny flat is usually categorized as a tiny house category, which is favored by aging parents. The average size of these tiny houses is 100 to 400 square feet. However, different granny flats plans and prices can be as small as 80 square feet, or as big as 700 square feet. Among granny flats plans you can find 1 to 4 bedrooms with various custom upgrades.
As we mentioned in the beginning, you might be looking to create a bigger living space for family ones or set an investment in your backyard up. In both cases, it is a good idea to have some information about granny flats prices before diving in.
From fixed price options to custom upgrades, granny flats plans and prices vary greatly depending on the builder, granny flat type, and the features that you choose. On average, granny flats prices are between 20,000 to 250,000 dollars. In reality, there are no short answers for costs. Because there are too many factors that can influence the final price.
For worthy and wallet-friendly granny flats prices, choose a builder that has an appropriate building licenses, an informative website with their previous projects, and good references and Google reviews. Also, get a clear answer about electrical and plumbing essentials, service connection, council development approval, other inclusions, and site costs. These factors are sometimes overlooked in kit home company quotes.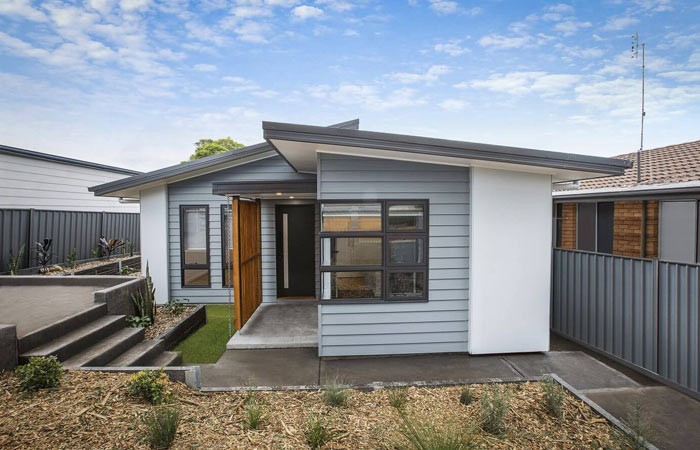 Adding a Granny Flat
The benefits of these tiny hoses and offers on granny flats plans and prices makes it difficult not to add one in your backyard. Different granny flats designs offer several advantage and of course some challenges and difficulties.
Difficulties
When planning to implement your preferred granny flat ideas, you may face some barriers like building restrictions, municipal statutes, zoning laws, neighborhood covenants, and other regulations. Most of the times, people just ignore circumvent these regulations. This is an easy option for converting your garage or another existing structure to a granny flat. But it becomes more difficult when building a new structure.
The financing can be another problem. Building a new structure is expensive as well as connecting utilities. Other added expenses can also show themselves on the way; for example, driveways or off-street parking that sometimes are unfeasible for certain properties.
To avoid such challenges, prefabricated granny flats or modular granny flats are a great help. They help some homeowners to add a granny flat more easily. However, prefabricated granny flats are prohibited in some localities.
Benefits
Providing living space is not the only benefit of adding a granny flat. This tiny house offers better security, thanks to others tenants on the property. This advantage becomes more important if your apartment is oriented toward the side or back of the lot. Granny flat tenants and the occupants can also share transportation, amenities, childcare, lawn care, etc. with each other.
These advantages and the option of prefabricated or modular granny flats make it more convincing to add a tiny house to the main one.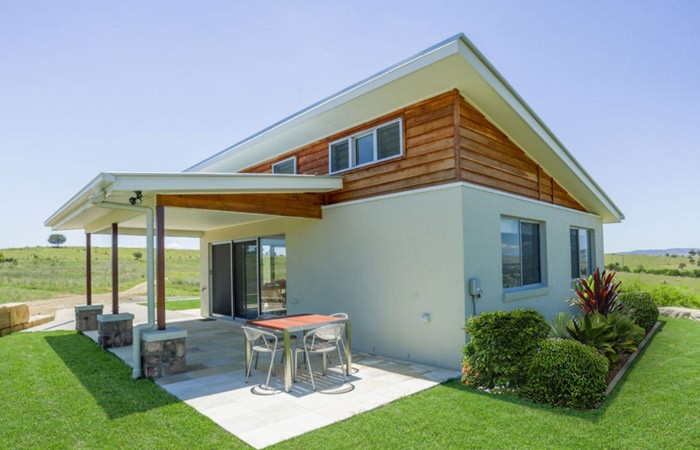 Granny Flat Ideas
Now that we are clear about granny flat meaning, plans, prices, etc. let's review some granny flats designs for your future tiny house.
Coastal and Colorful
A granny flat on the coast is absolutely eye-catching, and also perfect for a relaxing holiday. You can also use bright colors to make your building show itself more, as well as making the afternoons more enjoyable.
Cottage Style
A cottage-style granny flat makes excellent use of space and environment. You can find many builders who offer similar granny flats designs. Some even offer plans with an outdoor deck as standard. Country cottage style is another idea that looks especially charming in a bush setting.
Color Palette
Choosing a unique color palette is a simple and yet striking idea. A modern cold or warm color palette, and many more are among the options that you have to make your granny flat gorgeous with minimum effort.
Pool Included
A pool instantly upgrades your tiny house to a part of Orange County, California. Combining other granny flat ideas with a pool offers an ultimate setting.
Modern and Minimalist
Minimalist granny flats designs make perfect sense for these types of living areas. A smooth timber cladding is an option that makes your flat modern and inviting. Clean interiors, stone bench tops in the kitchen, high-quality appliances are some of the things that help you implementing modern granny flat ideas.