Flooring decor is a little bit different than decorating the walls in the house. You may not look at the floors as much as (say,) walls. However, you walk on it and interact with it more than you realize.
In addition to its notable impact on the overall appearance of the house, every time you step on your home flooring decor, it can make you feel relaxed and comfortable, happy and motivated, or serious and determined.
In this post, after reviewing the most popular floor materials (for those of you that are thinking about a complete makeover), we'll cover some of the trendiest home flooring decor ideas right now.
---
Flooring Decor: Your Main Options
Picking a type of flooring is simply the beginning of the floor decorating road, as sometimes you'll need to make additional design choices.
We're talking about choosing a specific material in the case of stone or solid wood flooring, as well as picking colors, patterns, stains, and finishes. Let's review some of the most popular choices and their pros and cons:
Wood-Like and Wood Floorings
Let's start with one of the most gorgeous options that give an undeniable warm feeling to any space: wood.  These are the wood floorings that you can go for:
Hardwood Flooring
Cut from a tree of your choice, hardwood flooring is made from one single piece of hardwood. They are often made from oak wood, cherry, or walnut with some other additional options.
There are pre-finished wood (that are already finished before installing the planks) and unfinished hardwood flooring (that will be sanded down and finished to be shiny and moisture resistant after you install them).
Available in light, medium, and dark tones, this home flooring decor is the ultimate material for elegance and luxury. Topped with an artisan carpet, wood flooring pairs nicely with various settings and decors, from traditional to modern.
In addition to availability in a vast array of styles, they're easy to maintain and increase the value of your home as well. However, they are expensive to buy/install and require periodic refinishing.
Engineered Wood
If you're looking for a more affordable version of solid wood flooring, consider engineered wood. This material is made by combining a layer of genuine hardwood as the top layer (again, from the tree of your choosing), and multiple layers of ply plank underneath it.
It has a very similar appearance to look like hardwood floors while offering better resistance to moisture. The main drawback of engineered wood is that you can't sand it down or refinish it as frequently as the hardwood floors since the top layer is actually not thick at all.
To minimize this challenge, you can apply traditional hardwood's high-quality coatings to engineered wood floors to make them more resistant to wear and tear.
Bamboo Flooring Decor
Bamboo is a sustainable, affordable, and eco-friendly home flooring decor option (since it doesn't need water, pesticides, or herbicides to grow), with a comparable hardness to oak.
Natural bamboo has a light wood color, but you can give it a darker finish using processing treatments if desired.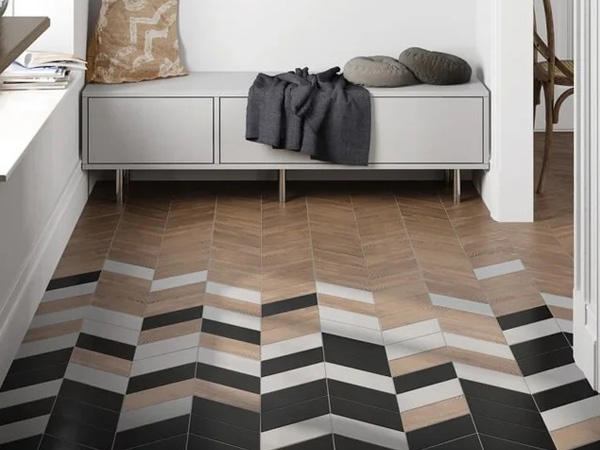 Laminate Flooring
Laminate flooring is another affordable yet attractive alternative for natural wood floors. With a similar design to engineered wood floors, it has a finished top layer seal mounted over layers of plywood or compressed fiber.
Compared to solid wood flooring, these stable and durable slats don't have a real wood top layer. What they have is an image with photo-realism technology with beautiful finishes such as wood, and also stone or ceramic tiles.
This technology makes the laminate flooring look almost identical to real materials for a fraction of the home flooring decor ideas' cost.
---
Flooring Decor Tiles
Floor tiles are extremely versatile thanks to their many colors, textures, shapes, and sizes. Made by combining clay, shale, and color pigments, they're later fired to harden.
When it comes to flooring decor tiles, there are multiple types to choose from. What you need to keep in mind when comparing them, is to make sure that the floor tiles will stand up to foot traffic as well as have anti-slip finishes.
That being said, these are the most popular tiles for home flooring design and decor:
Glazed Ceramic Tiles
These tiles have a glass-like coating that is applied before firing. This finish makes it an easy flooring type to maintain.
Porcelain Tiles
Porcelain tiles are one of the most durable floor tiles since they're fired at very high temperatures. They are available in both glazed and unglazed varieties, which helps you to make a decision easier.
Quarry Floor Tiles
If a glossy look isn't your priority, consider the unglazed quarry tiles, which get their color from pigments. They usually have a slightly rough texture; therefore, these floor tiles offer more resistance against slips when wet compared to other glazed tiles.
Terracotta Tiles
This unglazed variety is actually very common for outdoor spaces or home flooring designs with earthy or rustic styles. If you choose to install terracotta tiles, keep in mind that they are the least durable type, and you'll need to seal them periodically against staining over time.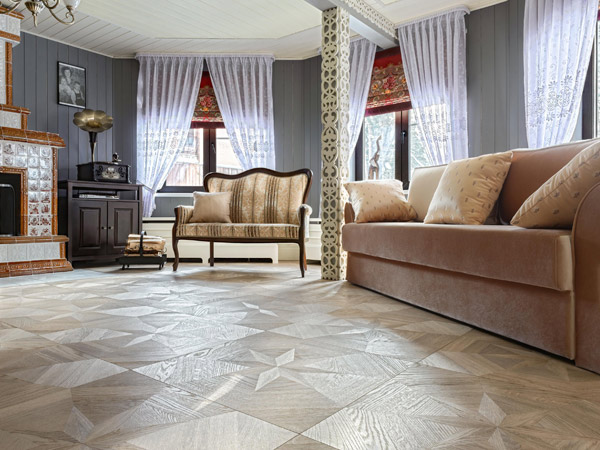 Vinyl Planks
When it comes to home flooring decor ideas, vinyl is an excellent choice regarding its popularity and ubiquity of use. It is easy to care and for clean, water-resistant, scratch-resistant, kid-friendly, easy on the feet, and durable enough to hold up to busy foot traffic.
Thanks to modern advances, vinyl flooring can simulate luxurious finishes (like wood or ceramic floor tiles) at affordable prices and can transform the overall look and feel of a specific space.
However, they have some drawbacks as flooring decor. For example, they aren't eco-friendly nor fireproof, the surface can tear and yellows over time, and are difficult to repair.
---
Stone Flooring
If you're hoping to have a luxurious and one-of-a-kind home flooring design, different types of stone may be a good choice for you. Natural ones are of course more expensive, but as you saw, there are more economic options.
Most well-known options that offer timeless visual appeal include:
Marble
Marble instantly brings unparalleled natural beauty and similar to solid wood flooring, it boosts the resale value of your home.
Although it requires regular sealing and cleanings, it's prone to stains and cracks, it isn't kid-friendly, and it's hard to match tile to tile when installing.
Travertine
Looking for a unique flooring decor? Try travertine. This limestone with its earthy colors like shades of gold, cream, brown, beige, and rust offers a warm and natural presence.
While being water-resistant and easy to repair, it needs sealants and polishes regularly, and professional installation is recommended instead of self-install.
Slate
Slate may be a costly option to buy/install that complements different home flooring decor ideas, but it has considerable functionality. Apart from adding significant resale value, it is naturally slip-resistant and stain-resistant with a charming earthy aesthetic.
There are other options out there too (including concrete, brick, cork, linoleum, tatami, etc.) but these were the best options, especially for living rooms. Now, it's time for some styling inspiration, so let's review some trendy home flooring design ideas.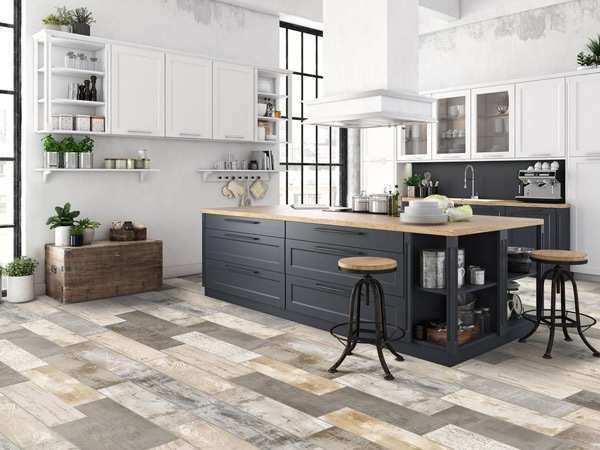 Home Flooring Decor Ideas
Here we have some amazing ideas for flooring decor in each part of your house, starting with the heart of the house: the kitchen; and the bathroom.
Use Stickers
When decorating a high-traffic space like the kitchen and bathroom, you need to consider both aesthetics and functionality thoroughly.
Kitchen/ bathroom floors are often made of non-slip tiles (due to their durability and resistance to water); so you're about to read a couple of decoration ideas that embellish them.
To turn the one-colored dull tiles into something more exciting, stickers can do the trick. When it comes to stickers, the sky is the limit. You can go for abstract ones or pick yummy stickers of your favorite foods for the kitchen.
Colored (depending on the interior color scheme), black and white, with or without silhouettes, all of them will look great on alternating tiles. Fortunately, this flooring decor idea also works with hardwood floors as well.
Be careful not to overuse stickers (regardless of the flooring material); however, there is also the option of completely covering a part of the floor tiles with stickers like a carpet. Although such designs won't last like patterned tiles, they are way cheaper and easier to apply.
Tip: Get creative with stickers by decorating your entryway floor and adding a positive quote.
Embrace the Nature
Real, dried, or faux are another lovely, easy, and quick flooring decor idea. Depending on your space's overall theme, you can use large vases, tall glass flower pots, or woven baskets.
You can fill them with anything from real or artificial flowers, plants to wheat spikes and pampas grass. In the kitchen, you can also use this idea to store fruits, vegetables, and other grocery goods. It not only will decorate your space but it will also help you in keeping things organized.
Tip: If you have a living room with wooden floors, don't hesitate natural elements. Plants with wood, stone, or clay pots are great for home flooring decor.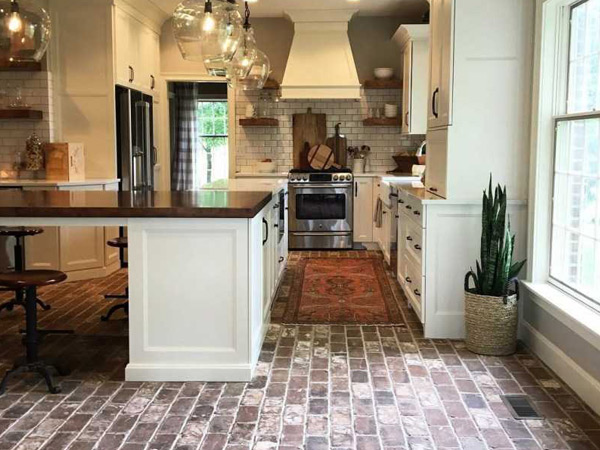 Add Carpets to Home Flooring Decor
Area carpets and rugs are among all-time favorites or even essentials in home flooring decor ideas. They're not the cheapest floor accessories you can find, but they're definitely well worth a try. Various carpets and rugs expand or contrast your space visually while creating a cozy corner in large rooms.
Here are two basic yet professional tips for floor decorating with rugs:
If you have a dark hardwood floor, choose a light-colored rug to add contrast
If you're going to decorate a living room with tile floors, pick a faux fur rug for warmer vibes to cold floor tiles.
Leverage Creative Installation
Sometimes you don't need to look for super trendy home flooring design ideas or decorative items to buy; sometimes the floor can do everything you want from a floor and its decor.
For example, you can go for patterned wood to add a unique texture to your (living) room. Such patterns add contrast to clean and simple furniture. We know it may not be a great project for a DIY, but it is excellent for minimalist and modern-style homes.
Another option is mixing hardwood to add depth to your space. Such a unique combination of different woods, colors, and textures also adds a rustic elegance that complements any decor.
You can do the same with reclaimed hardwood as well. Due to the character of reclaimed wood and its original state, you're guaranteed to have a warm, casual, and cozy room with a vintage ambiance.
Get Creative with Sheet Vinyl
While stickers are fun ideas to elevate the flooring decor, living areas call for something with more elegance like a sheet vinyl floor.
With a lot of eye-catching patterns to choose from, you can have an instant and economical makeover without the installation and sealing headaches.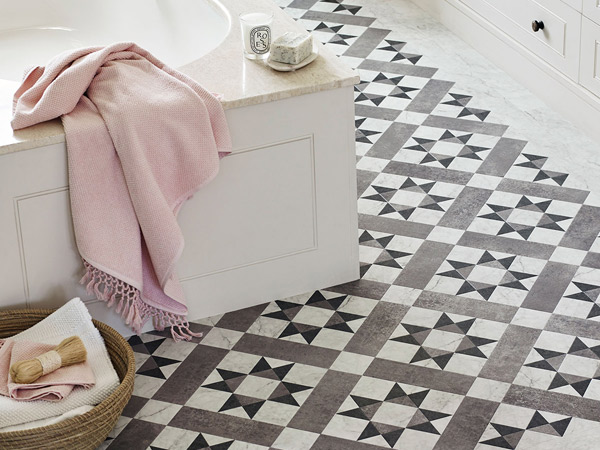 Elevate Flooring Decor Tiles with Epoxy
One of the amazing home flooring decor ideas for the bathroom is epoxy flooring. You don't even have to remove the old tiles. Epoxy will cover them up beautifully and brings them back to life.
This may sound like a fun DIY project. However, we recommend professional help or at least watching a couple of video tutorials. When you are confident enough, try your first simple epoxy floor. If you feel super crafty, you can choose more challenging patterns like a beach-themed epoxy floor design.
Decorate the Baseboards
It's easy to forget about baseboards when decorating the floor. Regardless of the flooring type, there are actually endless possibilities to decorate dull baseboards.
Using thematic stickers or the ones with elegant patterns, you can turn this unnoticed part pleasant for the eye that matches the overall style of the room as well.
---
Office Flooring Design Ideas
Feel free to incorporate any of the ideas so far to decorate your office floor. But there is one option that can be super versatile in such locations: stickers and decals. Let's see how.
Important Messages: In such locations, stickers can make rooms brighter. But they can also convey important messages like showing fire and emergency exits, marking social distancing, warning about hazards, etc.
Brand Identity: Attaching a decal of your logo, slogan, or even your main product to the floor where everyone can see it is a good flooring decor idea. Basically, you can turn an empty floor space into an advertising platform in no time.
Extra Motivation: A motivating quote or two about your shared vision or reminders inspiring goals not only will help to reduce stress but will also make the space more appealing for customers as well as strengthen the company's image.