Japanese decor is another concept from the long list of "everything Japanese" that simply fascinates us. In this post, we are going to take look at Japanese home decor essentials and ideas for different rooms in your house, and realize that this amazing land has a lot more to offer than popular anime and manga, mouth-watering food, and cutting-edge technology.
---
Japanese Home Decor Essentials
Before talking about traditional as well as outdoor Japanese decor options, let's see what makes a space Japanese. This design (also known as Japandi) is actually a beautiful fusion of traditional Japanese aesthetics and Scandinavian decor. Functionality and simplicity while appreciating nature, are at the heart of such designs.
When you enter a space with Japanese decor, you will be mesmerized by clean lines and neutral colors that calms and refreshes you instantly. Before rewiring some of the best Japanese decor ideas for living room, bedroom, etc. that we found from around the web, keep these tips in mind to make sure that your future design hits all the right places:
Embrace Minimalism
As you can tell by looking at pictures of Japanese decor for living rooms (or any other space), this style does not invite you to add a lot of items to a space.
In fact, this style celebrates 'dansari', a Japanese concept that means taking the elements that create a negative aura and degrade you away, and simply keeping only what you really value. So if you are a minimalist, you are definitely going to love Japanese home decor.
Choose the Essentials
Following the concept of 'dansari', it is better to avoid cluttering your home with non-essential objects. Imagine Japanese decor for the living room. While selecting the essential furniture and furnishings such as sofa, coffee table, and side tables; remember to go for the ones that benefit from clean lines and simple designs.
Then, you can elevate the space using subtle colors or textures using an area rug, throw pillows, or your preferred items. After adding all the essentials, if you do not need more storage, you may consider sprucing up the space with a couple of Japanese decor accessories.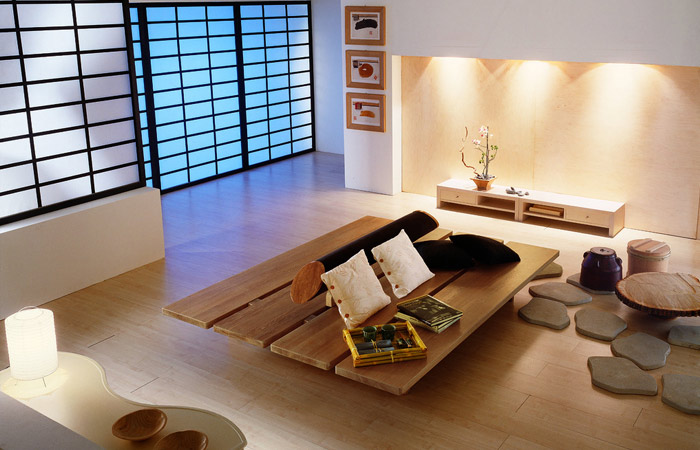 Act Natural
White and neutral tones are signatures in the Japandi style. While designing Japanese home decor, it is important to let maximum natural light brighten up the space. For extra zest in such dazzling space, you can paint the accent wall in colors like pistachio, mocha, or tan brown; leaving the rest of the walls pristine white.
You can even take a further step and create a modern Japanese decor by completely immersing the room in white and hints of neutral tones on the ceiling range. As final touches, replacing old tiles with wood flooring, adding brown furniture, or pairing the setup with white furnishing or the ones with subtle abstract prints are among the options for elevating your Japanese decor living room.
Find the Right Japanese Decor Accessories
Due to the importance of nature in Japandi, complement your space with stone, wooden, or wicker decorative pieces.
You can also combine decorative and functional by installing wood or cane light fixtures for some sparkle or curating a green oasis indoors using a variety of plants and climbers for a pop of color and extra rawness in your Japanese home decor.
---
Japanese Decor Ideas
Now that you know the basics, it is time to get inspired by reviewing some of the most delightful Japanese decoration ideas:
The Iconic Shoji
Shoji or screen sliding doors are arguably the most iconic feature of Japanese homes that we all are familiar with. Originally, Shoji is made with wooden frames and paper; but now you can also go for modern ones that have glass designs.
These sliding doors create a unique atmosphere (making you feel both comfortable and sophisticated at the same time) while occupying the least space. Consider using Shoji in places where it complements the overall design the most.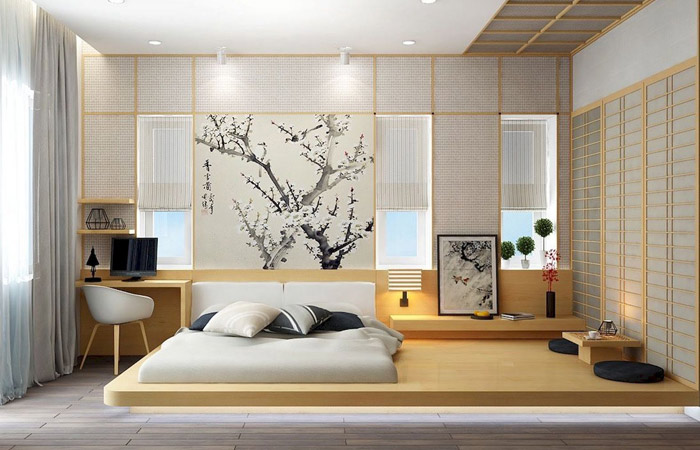 Lanterns with a Twist
Generally, lanterns play an important part in many Asian cultures. They were traditionally lit with candles, but today you can purchase beautiful and safe Japanese lanterns from different stores. They are made with electric bulbs and are perfect for traditional or outdoor Japanese decor.
Ofuro for Hot Tub
Although Japanese decor for the living room or bedroom is most popular, you can always incorporate its elements in other parts of your home too. In this instance, you can feature an Ofuro in your bathroom. Ofuro is like a one-person hot tub that was used for ritual purification in the past.
You can purchase different models that are made of steel, plastic, or wood. But to have the most authentic Japanese home decor, we recommend a square one with wood finishes.
Bonsais & Bamboos
Do have a green thumb as well as affection for Japanese decoration ideas? Then you may want to consider cultivating a Japanese bonsai tree or bamboos in your home. Nothing like greenery complements the natural tones, and nothing like these two plants brings the Japanese soul to your space.
Ikebana Flower Arrangement
In addition to greenery, there is also the option of adorning your Japanese decor in the living room with this strict Japanese art to bring natural beauty into your home.
Ikebana arrangements with orchids and palms are normally placed in a small area with accessories or artworks to be appreciated next to each other. Note that you do not always need to create your Ikebana with these common blooms. Feel free to use whatever best compliments your style.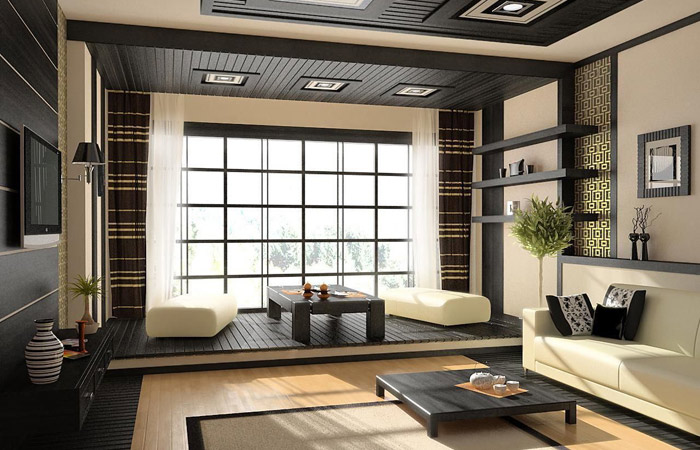 Tatami Mats
Instead of elevated chairs and beds, the Japanese are more used to sitting and sleeping on tatami mats on the ground. Incorporating the same idea in your space brings an authentic feeling to your Japanese home decor.
Next to your tatami mats, you can create an inviting tea space, perfect for (green) tea ceremonies to re-charge. For more inspiration, google 'chashitsu', which refers to the traditional tea rooms in Japan.
Zen & Meditation Spot
Daily meditation has proven benefits. And what is charming, is that a special meditation space pairs perfectly in Japanese decor. And if seated meditation does not suit you much, a sand Zen garden in your home design may be what you are looking for.
Remember that this sand garden does not have to be very large or elegant to have the intended soothing effect. Even miniature Zen sand gardens available in online stores will do just fine.
Traditional Japanese Decor Pieces
One of these pieces is definitely a meaningful and gorgeous calligraphy. A poem in calligraphy with special alcove and flower arrangements would be incredible. But you can also take a calligraphy course and hang your own masterpiece.
Looking for a more fun addition to your Japanese home decor? Try placing origami on your shelves and tables. Adding a few Buddhist statues in your home (or better, your meditation space) adds a tasteful touch of serenity as well. Screens with dragons, traditional paintings, Kanji, etc. are other popular pieces that you can go for.
Kakebuton
One of the best items in Japanese decorations for the bedroom is Kakebuton, a traditional Japanese quilt or bedspreads that you can use for bedding.
They are similar to the ones used in western countries with two differences: they are made from hand-pulled silk, and most of them have a minimalist design, elevating the beautiful theme of Japanese bedrooms.