Although the kitchen counter has a transparent function in our home, that does not mean that we have not put everything on it. You may even have tried kitchen counter decor by adding some accessories, but at the end of the day, it had become a spot for various kitchen appliances, dirty dishes, things that you bought that day, etc.
Well, both you and your counter deserve much more than everyday clutter. That is why today we are going to look at some kitchen counter decor ideas that will not sacrifice too much space as well as functionality.
---
Kitchen Counter Decor Ideas
The main purpose of countertops is to help you with food prep and carry out kitchen tasks. Instead, most of the time, they end up collecting appliances, jars, mugs and plates that need washing, salt and pepper shaker, even phones, keys, and more!
To end this chaos once and for all, a smart and simple kitchen counter decor is all you need. And by that, we do not mean a dull and empty countertop. Let us explain more:
Intentionally Minimal (and Practical)
If you prefer your countertop to simply do its main job, you may not even need to look for a specific kitchen counter decor inspiration and accessories.
Start with cleaning the counter off. Take everything unless they are necessary. By necessary we mean something that you use more than once every day.
Put away all small kitchen appliances, keep one or two like the coffee maker, and keep the rest somewhere else (like the top of your dryer, in a pantry, etc.).
An if one day you realized that you need a more exciting counter, you are simply one step away from having a contemporary kitchen counter decor. All you will need would be a statement object. We will talk about it more in the kitchen counter decor ideas below.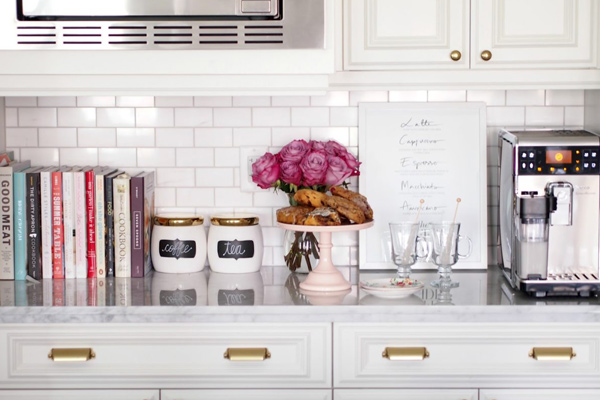 Pops of Color
These color pops can help us style everything and everywhere, including the kitchen counter. Both the idea and execution are convenient here. All you need to do is use bright objects to draw the eyes around the room.
A red fruit bowl, colored knobs on the cabinets, a bright mixer, a cheerful vase with flowers, a painted pantry door, and other colorful items can help you create a charming kitchen.
If you find this modern kitchen counter decor intriguing, do not forget about white space. White elements (like walls, flooring, or cabinets) are needed so the eyes have a place to rest.
Natural Kitchen Counter Decor Ideas
The life and charm of natural textures and elements are like no other in any given setting. Whether you have a modern, vintage, or farmhouse kitchen counter decor in mind, one of these options will meet your expectations:
Plants: Flowering or evergreen, potted plants are lovely additions to your countertop. Some say the kitchen must not look like a jungle. But as long as you keep things simple, there is no need to be shy! From succulents in small pots to droopy vines, go for whatever feels the most right.
Herbs: To make things relevant, you can use potted herbs instead of houseplants. This way, you will a green space as well as fresh herbs for cooking your recipes.
Flowers: There is not much to say here; a bouquet of blooms (even if they are dried or faux) complements any kitchen counter decor.
Fruits: As you can tell from the images of kitchen counter decor 2021, 2020, and the years before that, a bowl of fruit just cannot do wrong in the kitchen setting. They are a pretty and healthy decoration well worth a space on your countertop.
Sophisticated Counter
A sleek and simple black or white counter is what many of us aspire to have. If you already have this dreamy counter, all you need to make it more interesting is accessorizing one statement-making object. A bold sculpture, a bronze abstract piece, something similar. That is it!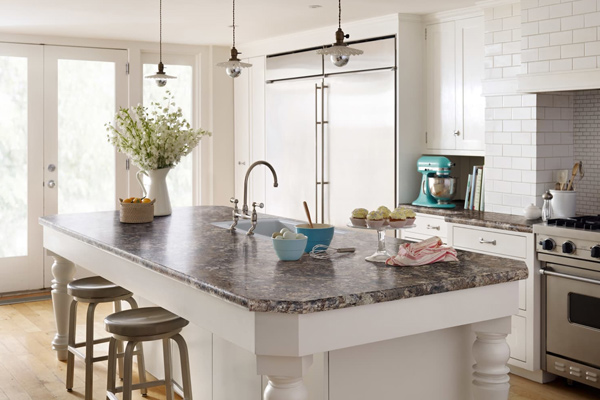 Jars, Pots, Canisters, and Baskets
One of the budget-friendly small kitchen counter decor ideas would be displaying coffee beans, legumes, sugar, flour, etc. in glass jars. And if you prefer concealing the ingredients, you can go for closed canisters to keep them out of view while creating a nice setting.
Baskets are also a great way to organize and display pretty much everything in your kitchen. Cookbooks, fruits, veggies, everything! All these containers will help you save space, keep things at hand, and have a cohesive kitchen.
Kitchen Counter Decor Ideas with Stations
Creating a station of your choosing is one of the excellent kitchen counter decor ideas that offers both beauty and extra function. Using different stations, essential items are right in plain sight while creating a pretty view as well!
If you are one of the many coffee enthusiasts out there, you are going to love having a coffee station. An ideal coffee station for the counter should be contained, simple, and of course, attractive.
There are many simple and tidy coffee stations that are functional at the same time, making them even a good choice in small kitchen counter decor ideas. So, avoid overly decorated or complicated stations. Your countertop space is too precious, even a practical station should not take all of it!
Not a big fan of coffee? How about a cooking station for your kitchen counter decor? It is quite easy for that area next to the stove to become a total mess. A large tray with different spoons, spatulas, oils, spice mills, etc. is not what you want on your counter.
Instead of keeping everything at your fingertips, keep it simple and go for basic things you used every day. Place the essentials in a tray with edges and keep other items in a drawer below your cooking station.
Tip: When it comes to kitchen counter decor ideas with stations, coffee and cooking stations are not your only options. You can always tailor simple stations to utilize your countertops easier and keep them tidy. A snack or dessert station, or even a bar small bar is among the options that come to mind.
The Food Itself!
Just baked a gorgeous cake? Display it on a pedestal cake plate under a cloche. Tall glass jars of cookies or biscotti or a tiered dessert tray with cupcakes on the counter have the same delicious and beautiful effect.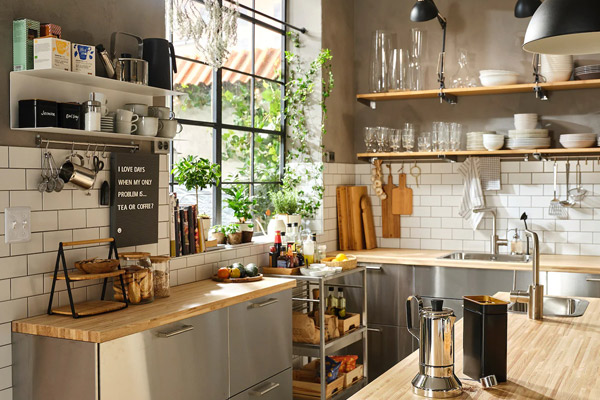 Other Kitchen Counter Decor Items & Accessories
If you have modern countertop appliances like coffee maker, baking mixer, toaster oven, etc., use them in your setting, if you have the habit of using them every day of course. Otherwise, we do not recommend buying such appliances simply because they look good.
Display your cutting boards of different sizes and shapes by leaning them against the wall. You can do the same with other small pieces of art as well.
If you often bake, a retro kitchen scale will look adorable next to your baking station or the bright mixer that you have.
For those of you with a busy lifestyle, consider adding a mail or junk sorter among your kitchen counter decor items.
A knife block is another kitchen counter decor accessory to elevate the space.
Display your favorite cookbooks and utensils using the right holders.
Use a spice rack near the stove or next to your cooking station.
Place a coffee mug tree on the center of the counter.