One day you wake up and decide to spice up your kitchen's space. However, there is way more traffic in the heart of the house to try and decorate the floor, where each square centimeter matters. But how about those large, dull, blank walls? If there's not the cabinet on the wall, you're probably not using it, right?
So while wondering "what to do with empty wall space in kitchen" in your mind, you search for the best kitchen wall decor ideas in 2021 in Google, and now here you are.
So without further ado, let's get inspired by some of the most simple yet elegant kitchen wall decor ideas for small and large spaces.
Inexpensive Kitchen Wall Decorating Ideas
Your ideal wall decor for kitchen doesn't have to burn a hole in your pocket. Right now, you may have all you need to decorate this part of your house using what you already have (including some greenery, old posters, and picture frames).
Feel free to go through the list of ideas and DIYs so you can style your kitchen the way you always wanted:
Bring on the Green
Placing plants on the table, shelves, or on the ground are all popular options to bring a natural touch to your kitchen. But if you're up for a do-it-yourself project, you can have a real kitchen wall decor with greenery.
With a few towel racks, hooks, and matching pots, you can make your hanging garden. You can even take a step further and grow fresh herbs instead of other plants.
Make the Accent Wall Pop
There are a lot of kitchen wall decor ideas for accent walls (and we're going to cover a few). But nothing can capture the attention like a bold wallpaper for them. We're thinking about a bright one with graphic floral patterns, what do you think?
Add Some Texture
If you'd like to bring some texture to your space with almost zero effort, one of the most simple and inexpensive kitchen wall decorating ideas would be using woven baskets in varying sizes and shapes. This idea works perfectly for both large walls as well as narrow spaces.
If you're a collector, you can do the same with plates of different shapes and patterns to create a whimsical view.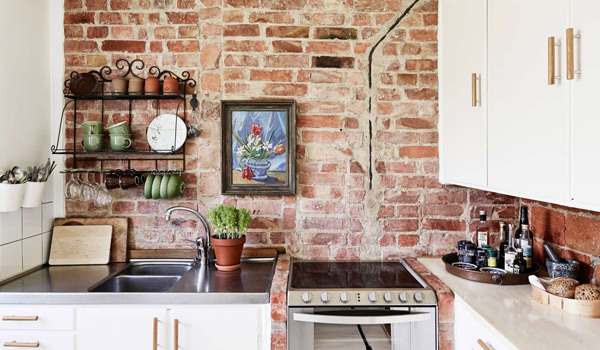 Kitchen Artwork Decor
Kitchen wall decor ideas with artworks have no limits. Here are some of the trendiest kitchen artwork decors in recent years:
Wood arts with food-related quotes to add warmth to the space.
Oversized signs of classic words like "Eat", "Bakery", "Super Market", "Farmer's Market", etc.
Framed kitchen artwork decors which can be taken to the next level by adding a small shelf and hooks for oven mitts or decorations.
Positive statement cut-outs with charming fonts and finishes.
DIY rustic artworks that you can make using some boards, paint, and a pinch of creativity.
Funny prints with cooking and culinary themes that make you smile.
A DIY menu board with metal clips and cards to avoid frustrations to make the next meal for the family.
Fresh and appetizing restaurant-style canvas arts in large dimensions that cover a wall easily.
Vinyl wall decals and stickers with your favorite styles, designs, themes, and colors (which are super easy to find and purchase) to create a beautiful focal point.
The long list of kitchen artwork decors goes on!
Make It Practical
As you'd know, shelves are a must in wall decor for kitchens that are small and low on storage. And shelves aren't just for decorative pieces, they can offer you much more. For example:
You can display different ingredients (spices, pasta, legumes, etc.) in matching containers. Although, you don't always have to use matching jars. This idea is about creating a clean and functional wall on the wall rather and not having everything match perfectly.
If you have a wide enough shelf, you can showcase your favorite ceramic dinnerware like plates and mugs on it too. If they can create a contrast with the wall behind them, don't miss this kitchen wall decor idea.
In a kitchen with all the storage you need, you can use the shelves for a more decorative means as well. They can hold small plant pots, decorative pieces, cookbooks, etc.
Get Inspired by Italian Kitchen Decor
Italian kitchen decor is a classic space with an overall rustic and earthy theme. Natural outdoor like wood and stone are essential for this setting.
Wood is a signature in Italian kitchen decor. So one thing you can do is bring wood tones as your wall decor for kitchen. You can go for wall packs to design, divide the space, and for an extra punch of course. You can also pick a completely different lane and install elegant wall scones for instance.
Make a Unique Gallery Wall
Gallery walls are a classic when it comes to styling the walls. But in addition to the living rooms or the dining rooms, kitchens can benefit from them too.
Framed old restaurant ads, postcards, abstract art, or fun cooking phrases pair nicely with the kitchen. However, if you look around with more precision, you'll find more unique items to create your gallery wall.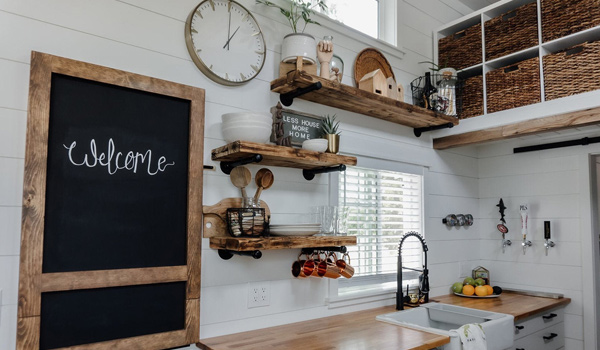 Mix the Backsplash Up
Are you thinking about installing white subway tiles after reading the heading? Why not try something new like heavy-duty wallpaper or contact paper?
In addition to offering infinite patterns and colors, these materials replace tile for a fraction of the price. We know that subway tiles are a truly timeless option, but it's a charming and modern kitchen wall decor idea to consider.
If you're set on having new tiles and don't want to retile at the same time, peel-and-stick tile can transform your space like traditional ones.
Another way to spice up the backsplash is mapping a shape out on a stone and installing it. This may not be one of the inexpensive kitchen wall decorating ideas, but it's certainly an elegant one. The option of painting this shape is also available.
Go Monochrome
Kitchen artwork decor is not everything you can do to bring your space to life. Something a complete makeover and a new design is as simple as painting the room with a bright color (especially if you have white cabinets).
You can elevate this wall decor by adding dishes, planters, and towels with the same shade and give a modern look to the space.
Install a Utensil Bar
If you're planning on using such vertical wall space to actually store things, go for shelves. This is because hard to fill and reach for the utensil that you need. But as a decorating option with unique dishware, they'll work beautifully with your space.
Make the Outlets Shine
Last but not least, outlets can also play a role in your kitchen wall decor. What you can do is replace the dingy white outlet covers with something with more pop, or something more luxurious like silver or gold for an instant change.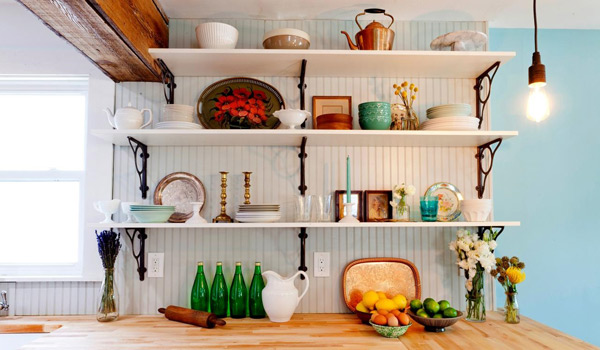 Other Kitchen Wall Decorating Ideas
As you can tell, the sky is the limit when decorating a blank wall in your kitchen. Here are a few more (last-minute) ideas:
kitchen artwork decor made from metal in the shape of spoons, forks, and other utensils.
Installing a chalkboard on the accent walls to draw, to write quotes and notes, kitchen rules, menu, etc.
A window shutter wall hanging made from reclaimed wooden window shutters with writings on it for extra charm.
Wooden wall plaques or signs with food-related information such as different kinds of wine, wine glasses, meat cut names, etc.
A small coffee station featuring a small shelf, hooks, hanging jars, mugs, and other items that a coffee lover would want.
Farmhouse displays on open shelves with framed art, vintage books, elegant garlands, and more.
What is Your Wall Decor for Kitchen?
Ready to style your kitchen walls? Let us know which of these vintage, rustic, or modern kitchen wall decor ideas you like the best and you're going to use. Happy decorating!