After decorating your bedroom, bathroom, dining room, living room, work station, etc., one may not have the energy for laundry room décor.
But the fact that you are here, ready to read about some of the most charming, simple, and budget-friendly laundry décor ideas that there is, shows that you know how important it is to make this part of your house beautiful and functional.
A nice laundry room décor not only helps you to do the laundry and folding faster but also calms your mind (cleans, you might even say) and make the process a joy.
Here are some large and small laundry room decorating ideas to brighten up your space and make it more efficient. These ideas cover all parts and components of this room, from counters and shelves to sinks and laundry room wall decor.
Laundry Décor Essentials
No matter the design, and washing machine aside, there are some important items that you need to include while decorating, to have a fully-functional laundry room. These items are:
Shelves and Cabinets: You need some sort of storage solution in your space (small or not small) to store laundry supplies. It does not matter what you choose, shelves or cabinets. As long as you make sure an innovative organizational idea that align the necessary supplies as per their functionality.
Drying Rack: This item comes in handy after you wash the clothes and need a place to dry them. If you have a small space, hanging your clothes in the backyard would be a smarter idea.
Counter Space: A laundry room décor without countertops is as weird as having a kitchen or a small bathroom without them. Countertops allow you to organize essentials like laundry detergent, fabric softeners, etc., especially if you do not small closets or cabinets.
Clothes Hamper: This important laundry décor part traditionally is found in each bedroom or the bathroom. But for those who do not prefer doing their laundry every day, placing a large clothes hamper in the laundry room is the ultimate solution.
Laundry Baskets: You need these baskets to carry clean clothes after washing and drying them. Whether you hang the clothes on a drying rack indoors or on a clothing line outdoor, laundry baskets are a must to carry them from the washing machine.
Ironing Board: When your clothes are dry, you need to iron them. Like us, you know that ironing your clothes anywhere rather than the laundry room itself is a hassle. A standalone ironing board will do the trick. If you do not have much room, use a foldable ironing board and attach it to the wall.
Know that you know the essentials for this area, let us look at some laundry room decor pictures and ideas.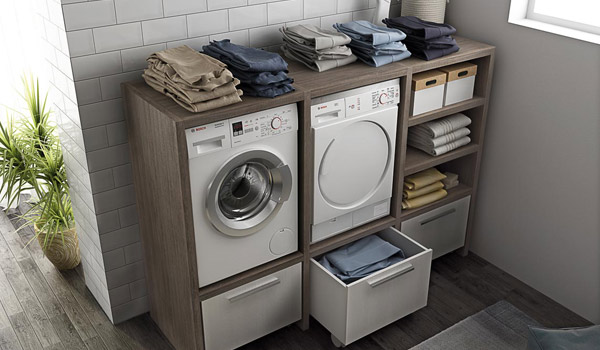 Modern Laundry Room Décor
There is a good chance that you are looking to give a modern look to this room. You already have a modern washing machine and dryer, so why not a modern laundry room décor?
Aim for Minimal
Nothing screams modern laundry décor more than minimal approaches. Sometimes the washing and drying equipment, cabinets that are painted with one color, a minimal sink, a simple flooring, and modern lighting are all you need for a tidy and sleek laundry room.
Minimal approaches are also great for color-themed decors, such as pink laundry room décor.
Whimsical Wallpapers
A unique wallpaper can give every room a whole new look. You can also use this option as an enhancement for a minimal laundry room décor. The options are limitless here, floral, abstract, patterned, etc.
If you choose a colorful and patterned wallpaper, make sure the flooring and ceiling are simple and easy on the eyes.
Stylish Tiles and Flooring
If you are a fan of monochromatic laundry décor, the right flooring can be the pop that your space needs. There are tons of eye-catching here as well, but black and white checkered floor tiles are probably the most popular.
Although traditional, it takes nothing away from your modern laundry room décor and even adds to it! Depending on your personal taste and the size of the laundry room, you can install small patterned tiles or bigger ones.
Multipurpose Laundry Décor
In many times, making the most out of one space translates into modernity. Your laundry room décor can also serve for other purposes, for example:
You can let your laundry room double as a potting room for planting and arranging your favorite flowers.
A hidden closet for home cooks or caffeine enthusiasts is another way to add more utility to your modern laundry room décor. A fully stocked pantry and bar would be another great option.
Install a customize dog washing station with a mini shower and a utility sink.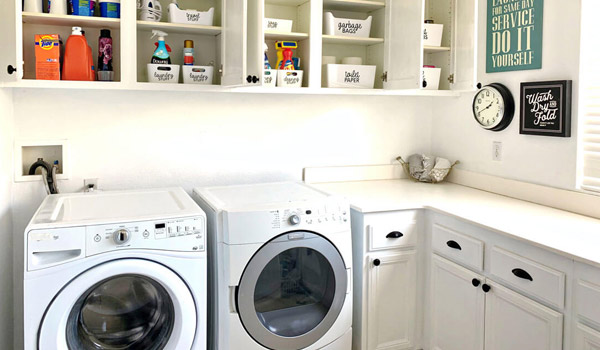 Small Laundry Room Decorating Ideas
A small space does not mean that you have to give up on your dream laundry décor. Here are some ideas to decorate a compact laundry room.
One option is having a secret laundry room using pocket doors that hide the space nicely when not in use. The washer and dryer, utility sink, folding drying rack, and rolling laundry are all you need to have a complete and organized 'secret' laundry room décor.
Another option, especially if you have a narrow space, make the most out of every 'top' that you see and of course, walls. This scenario calls for custom base cabinets to place the machines on top of each other or to create an extra counter. Such counter obscures the machines while providing a surface for you to work on.
In addition to stacking the machines or adding a shelf on top of them, different types of shelves are also an essential part of small laundry room decorating ideas. You can go for:
Built-in shelves
Folding shelves
Open crate shelving
A washtub shelving unit
Open shelf laundry storage with baskets
Etc.
Depending on the overall laundry décor, you will know what the best material is and the color for them.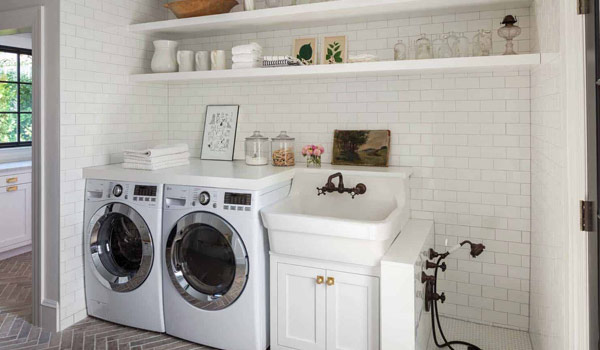 Laundry Room Wall Decor
An exciting project like installing a DIY faux brick wall can make the wall the star of the room. You can buy brick panels from an online store. Then, secure them into a stud, cut the extra parts using a jigsaw, and apply the spackling as the final step.
If you decide not to install wallpaper or go for penny tiles or vintage shiplap walls, another popular and eye-catching way for laundry room wall decor is using different signs. Funky vintage signs, signs with family member names, and other wall arts are all great options.
If you have open shelves, you can also place small plants or other decorative pieces to elevate your laundry room wall decor.
---
What Does Your Dream laundry room décor Look Like?
Which one is your favorite in these laundry room decorating ideas? Which ones do you already use or plan to have in your space? Let us know in the comment section below.