Since you are here, we are guessing that either you are a modern farmhouse interior fan, or you are trying to understand this popular style as well as its elements better. A farmhouse chic decor combines coziness, character, modernism, and minimalism in the most charming way. A task that not many decoration styles successfully fulfill.
In the article below, you will find the essential information about farmhouse interior design to bring its charm to your own space, from what it actually means, the elements that create it, and what ideas to avoid in your modern farmhouse interior design.
Farmhouse Interior Design: What It Actually Is
As you can tell by its name, farmhouse interior decor is inspired by farmhouse buildings' interior and exterior decor in rural or agricultural areas. This style emphasizes practicality, simplicity, and rustic charm.
The Modern Twist of Farmhouse Chic Decor
Farmhouse style reflects the aesthetics of rural architecture and with modern farmhouse interior, it also embraces modern comforts, to create stylish yet cozy spaces.
It may not be filled with vintage furnishings and fabrics, but it is still very classic. Modern farmhouse interior design does that beautifully by using more contemporary touches such as a neutral color palette and smooth lines instead of rustic elements.
The modern version of the farmhouse decor mixes comfortable furniture with natural materials, antiques that are not too delicate to touch. Whatever you find in an interior modern farmhouse is tactile, tangible, comfortable, without making the space look cluttered.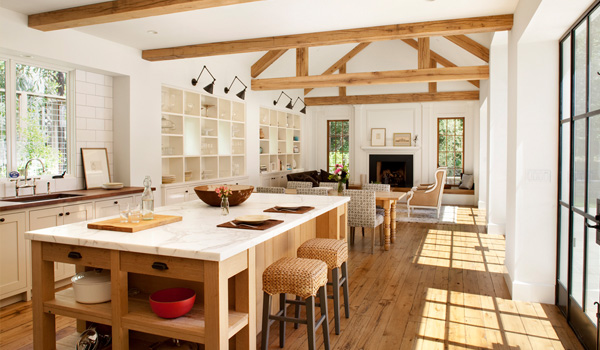 Interior Modern Farmhouse: What Its Elements Are
Modern takes on farmhouse interior design include mixing minimalism and country chic elements to create comfortable and soothing vibes. And these are the elements that are going to help you achieve that:
Materials
Farmhouse chic decor owes most of its charm to natural materials like reclaimed wood, wide planks for flooring, and other matte finishes and low-shine options, which make it feel connected to the outside.
Although these materials are the foundation for this style, you may want to incorporate other organic materials wherever they make sense as well, materials like linen, hemp, stone, wicker, rattan, and metal (for light fixtures, hardware, and architectural details).
Tip: While introducing a mix of industrial metals to your interior modern farmhouse, use no more than three metals per room.
Color Palette
Warm or cool neutrals colors like optic white, cream, beige, silver, sage, and gray work perfectly in farmhouse interior design accompanied with some natural wood tones. We recommend salvaged woods that have some wear and tear like scratches, knots, and nicks for more authenticity in the final look.
In the modern farmhouse design, these soothing colors are meant to contrast with bolder decorative pieces. These colors also do a great job highlighting decorative pieces while tying everything together. By using this color palette, heavily furnished modern farmhouse interior designs will not look small and cramped either.
Tip: If your favorite colors are not in this palette, you can use them as accent pieces. However, do not forget to stay true to the look by keeping the overall color scheme neutral with light colors.
Furniture
As mentioned several times, comfort is everything in a farmhouse interior (modern or traditional). So you need to make sure that the furniture is inviting, comfortable. They should be preferably big and not too fragile to touch. Pine furniture with these characteristics is ideal for such designs.
Accents and Accessories
A farmhouse chic decor reaches its full potential with the right accessories. Well-placed vintage accessories with zero overdoing are what your space needs. This way, they can complete the look while letting the room breathe at the same time.
Textures
Using a variety of textures gives seamless depth to your modern farmhouse interior. To bring such depth to your living room, kitchen, or any other space, mix woods and metals as well as different fabrics like cotton, canvas, wool, and chenille.
As you saw, the farmhouse decor color scheme is neutral, so be sure to use a mix of textures to keep the space from looking flat.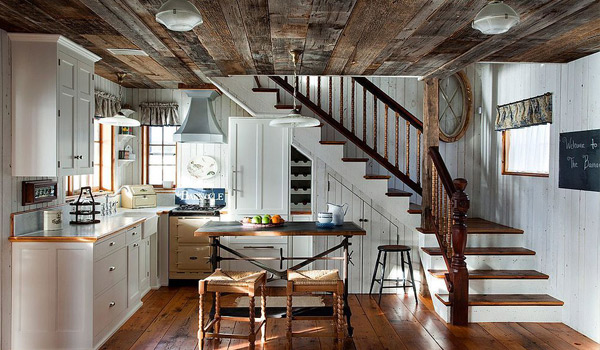 Modern Farmhouse Interior Ideas: What to Avoid
While planning for your farmhouse chic decor, survey your space carefully. In such decors, everything from the flow through the room and the lighting to furniture size and placement should be practical and functional while making ease the major priority.
Furnishings and storage solutions are the primary elements for every room, before adding decorative accents. In the process, you can also think about possible alternatives. But never go for these ideas while decorating your interior modern farmhouse:
While adding country chic elements, make sure to avoid props like tricycles, saxophones, and the ilk. The items in a modern farmhouse interior should make it purposeful, sophisticated, and of course modern.
Do not install a barn door on your contemporary home. Outside of repurposed barns, it may look a little childish. Not to mention its not so economical price.
Vintage signs are another idea that is best not to include in your modern farmhouse interior design. Unless there is something personal or sentimental about them, consider more creative alternatives.
A lot of decoration ideas for many styles include repurposed mason jars, but they seem too literal and common for a farmhouse chic decor. For the kitchen, for example, use more traditional elements such as iron kettles, copper pots, and classic enameled metal plates.
Since modern farmhouse style is all about bringing the outdoors in, it is better not to use materials like lucite, plastic, etc. They are not in sync with this style and will just confuse the eye.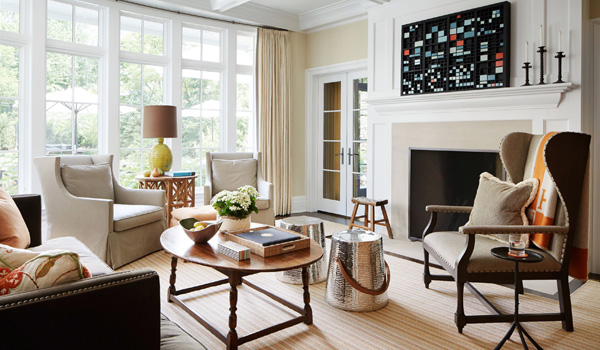 Ready to Design Your Modern Farmhouse Interior?
A modern farmhouse chic decor is somewhat similar to country style. However, farmhouse decor is always a little more sophisticated and less showy than country. It is also more minimalistic and does not rely on accessories as much as the country does.
In conclusion, if you are fascinated by incorporating organic materials in your decor to create a natural spot for some quality alone time, prefer traditional interior design styles or decors without any pretension, farmhouse chic decor will provide that.
This movement brings a warm and inviting feeling while being easy to replicate on your own. Have fun decorating!