Walls play an extraordinary part in office decor. Most of us do not have the luxury of huge open offices that allow us to add every decoration piece we want. This is where office wall decor comes in handy.
The pleasant thing about different office wall decor ideas is that they work perfectly in large as well as small places. Additionally, although they can beautify the work environment, they can also give it depth and offer extra space and practicality.
Looking for inspiration to style the walls where you work? Here are some modern office wall decor ideas to warm up your creativity!
---
Office Wall Decor Ideas
The sky is the limit when it comes to office wall decor. Here are some office decor inspiration for taking your workspace walls to the next level:
Display Your Collections
If you have a home office or have a private room, Way put away your hard-won collections in storage when you can show them off? To create a chic display, avoid dispersing the collection around a whole room, and concentrate it in one area of the room instead.
Create a Gallery Wall
If you are feeling so humble that refuse to display your hard-won collections, why not stick with the good old gallery wall for your office wall decor? Inspiring prints, different artworks, and mismatched frames are among the things that you can use to create a charming gallery.
Show the Company's Mission
Another office wall decor with more business vibes would be creating a large picture of the company's mission statement, and showcasing it in a common area. It would be a great reminder for both customers and employees.
Hang Oversized Wall Arts
No matter if you are looking for professional office decor ideas or office wall decoration items for small spaces, hanging large works of art such as canvas prints is always a good choice. They make the room look more interesting and sophisticated.
For this office wall decor, you can keep it simple with black and white art pieces or go for bold and eye-catching works that brighten everyone's day.
Add Wallpaper
Sometimes you can save yourself a lot of time, money, and energy by simply adding wallpaper, and having a vibrant and eye-catching accent wall. You can even paint one wall with a bright color, then leave the other walls light and neutral.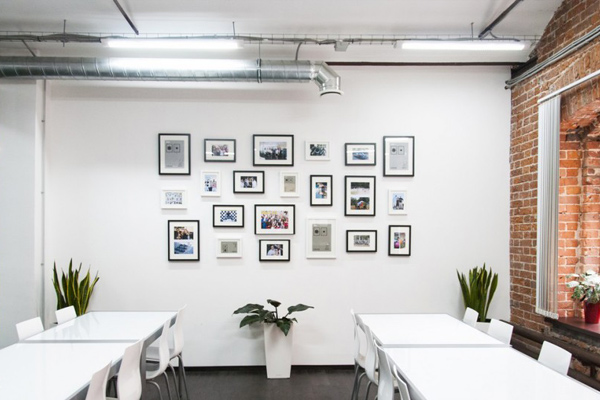 Hang Unique Calendars
Calendars are a must in office wall decor ideas and designing a work environment in general. Interesting hanging calendars serve both practical and eye-pleasing purposes beautifully.
Style your calendar front and center; and the, not only you will not miss important meetings and calls but also you will be able to keep track of ongoing tasks, project deadlines, and even upcoming vacations and holidays!
Tip: choose oversized versions, which you can add color-coded sticky notes to remember important things.
Use Oversized Clocks
Just like calendars, clocks are also essential items in office decor walls. Hanging a large clock in the center of the workspace (whereas many people as possible can see it) is an excellent way of keeping track of time.
Use Multiple Clocks
If you are looking for a more creative way to incorporate clocks in your modern office wall decor, try putting multiple clocks in different time zones. This idea is especially great if you work with companies or clients in different time zones.
Similar to other small office wall decor ideas, this one is both attractive and useful, helping you for a better organization at your office.
Motivational Messages
This is a timeless option in office wall decor ideas. When you feel uninspired, tired, and cannot even appreciate your achievements thus far, the right motivational message can save the day. Find your favorite massage, print it with a lovely typography style, frame it, hang it, and your gloomy days in the office will be over.
Try DIY Office Wall Decor Ideas (like 3D Origami)
There are many options to decorate walls in your workspace that can turn into a fun and easy DIY project. You do not have to always buy something from stores. With some paper and skills (or simply YouTube tutorials), you can have one of the coolest décors in the history of modern office wall decor.
Even the simplest 3D origami installation can change the space completely. One example would be making paper pyramids of different sizes and colors and assembling them in a geometric motif on the wall.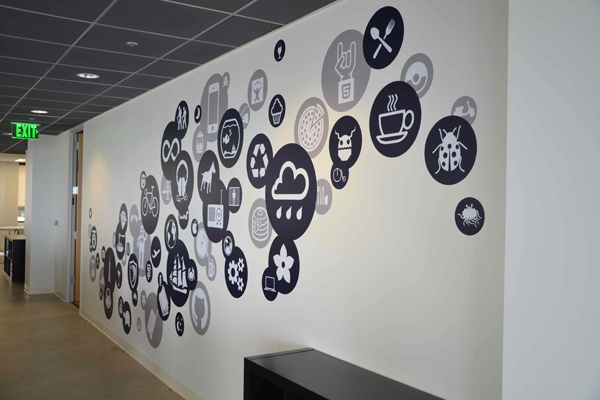 Put Mirrors Up
Mirrors are an amazing addition to any room, and they can also serve perfectly as office wall decor. By installing a large mirror, the office is going to look more refined and professional, as well as feel more open and inviting. Plus, people will not have to go to the bathroom to check their appearance anymore.
Use Floating Shelves
Most people go for artworks and motivational quotes to style the walls in the work environment. However, these options should not make you forget about shelves.
Shelves come in a variety of shapes and sizes, but in the case of small office wall decor ideas, floating shelves are the best. They require the minimum space and create a modern and professional space. Depending on the overall style of your office, there are many DIY office wall decor ideas or ready-made options that you can choose from.
Add a Bookshelf
Having a bookshelf with related books (and magazines) is one of the most elegant ideas to make the most out of your office. Placing it near the coffee station or snack bar lets the team members can look through them and read one or two chapters every day.
In order to really boost the office wall decor with a bookshelf, try creative ways to arrange and stack the books (based on topic, color, size, etc.). Just remember not to place the heavy books too far up on the wall.
Apply Stickers
Stickers are a quick and easy way to give your office walls a makeover. Wall decals are available in a variety of models: funny or motivational quotes, images, everything you can imagine. However, there are more elegant options as well, such as a brick wall sticker for a sophisticated and industrial look.
---
Other Office Wall Decor Ideas
Try shadowbox shelving.
Hang pictures of the team members.
Hang a whiteboard (you can decorate the whiteboard too!)
If it fits, you may want to consider Macrame wall art in DIY office wall decor ideas as well.
Use an eye chart to create an intriguing visual and maybe check your eyesight from time to time.