Not having enough time is a popular go-to for postponing home organization. Well, we have a solution. We propose a great challenge: you have 30 days to achieve perfect organization in your house using these organizing ideas for every day.
Day 1: Realize What Organization (Really) Means
Before getting down to work, rummaging through drawers, and tidying up the house, it is essential that you know what you are really going to organize, store, throw away, etc. in the house organization process and why.
For example, you can follow the rules of the Japanese order guru Marie Kondo. Her secret? Get rid of everything that does not make you happy and fold your clothes to store them vertically. It actually works for any room organization.
Day 2: Your Wardrobe, Finally in Order
A lot of organizing ideas revolve around wardrobes, which is no surprise. We often store our clothes and even other items in it chaotically, especially when we want to achieve house organization in two minutes.
Instead, on a holiday, seasonal changes, or simply a day off, group the clothes based on their types. Organize your drawers and shelves well. If you hang the clothes, that will occupy much less compared to folding them in a drawer. Take advantage of every corner of the closet to store everything!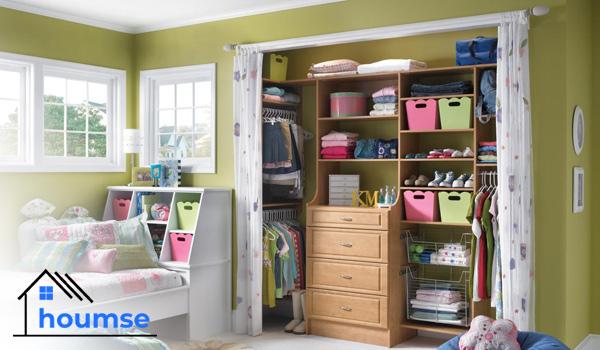 Day 3: Everything in Its Drawer, with Dividers
Once the closet is nice and tidy, you need to take care of the drawers with belts, underwear, bags, etc. inside them.
When it comes to organizing tips, there are objects that must be stored inside a drawer. So, help yourself with some dividers so that things do not get messy easily. For house organization that actually lasts, make sure to use these little allies to keep chaos at bay.
Day 4: Set Up an Inexpensive Dressing Room
Most of us buy apparel more than we need. We realize it too late and then look for room organization ideas. To control the situation, we suggest setting up a low-cost dressing room so that you have everything at hand, without needing to have a spare room to install one.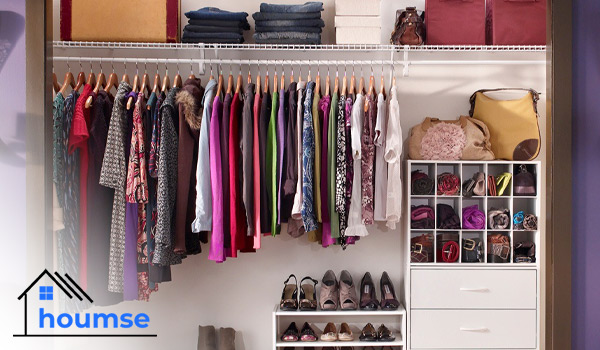 Day 5: Order in The Drawers: Kitchen, Closet, and Vanity
Once the closet is organized, it is time to put the organizing ideas into practice in other rooms. In the kitchen, place cutlery on dividers; in the wardrobe, it is essential to compartmentalize the drawers to separate the accessories, and in the bathroom, choose sorting trays or stackable drawers.
Day 6: Organize the Chaos Center: The Living Room
Room organization is the heart of every list of organizing tips. The coffee table, the bookcase, the sofa area, etc. The living room is a nucleus of disorder and here you have several tidying tricks so that you can take matters into your own hands:
In warm seasons, use your non-working fireplace to store random stuff.
Dedicate a whole wall for shelving. Not only does this help keep the space tidy, but it also serves as a perfect focal point.
Go beyond using walls and floors for storage and room organization ideas. For example, suspend a multi-level shelf from the ceiling.
Be careful with the plaids, find a place to store or simply fold them when not used, they will take up less space and help with house organization.
Etc.
And more importantly, if you want to add any piece of item to your living room, get rid of another thing.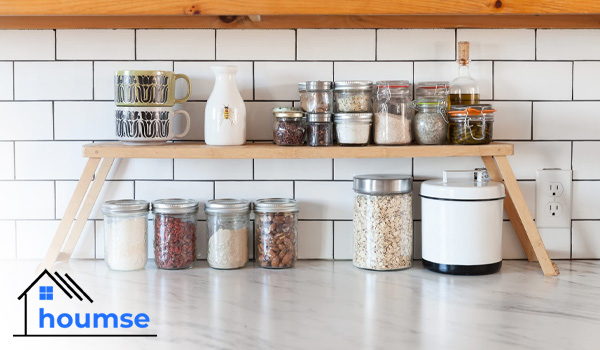 Day 7: Quick and Easy Bedroom Organization
Start by making the bed and decorating it with the necessary cushions. On the bedside table, you should only have the essentials: a book, a lamp, and an alarm clock. Do not put the items that you do not use on the bedside table. Other bedroom organization ideas include:
Using a rolling storage container to take advantage of the under-bed space
Using racks and baskets to store blankets and baskets
Dedicating storage (and not a spot or a corner) for dirty laundry.
Follow these tidying tips and tricks and you'll have a tidy, magazine-ready bedroom. Also, use the earlier organizing tips for the closet and drawers.
Day 8: Keep the Bathroom in Order
The bathroom cabinet is the best spot for storage. And baskets and compartments are its perfect complements. Store hygiene products, makeup, and accessories. For getting the most out of organizing ideas for the bathroom, try to include floating shelves here as well. They help greatly while taking up very little space.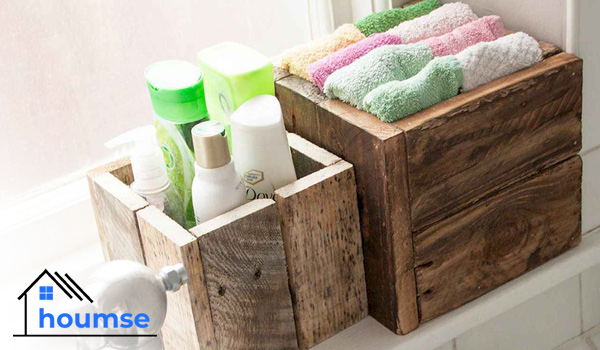 Day 9: The Recipe for Kitchen Organization
Maintaining order in the kitchen is easier than you think. In fact, we can compress all the organizing ideas for the kitchen into two parts: having a clear countertop to be able to work and having a space to store.
So, store the items you do not use daily in the cabinets, but do not forget to compartmentalize everything: the cutlery drawer, the spice cabinet, etc.
Day 10: A Kitchen Where Everything Fits
One of the organizing ideas to maintain order in the kitchen using the drawers in a smart way: place some thin wooden columns to separate the lids, pots, etc.
Other organizing tips include identifying each drawer with a sticker or using a countertop hanging bar, which will help you keep the surfaces clear and utensils close at hand.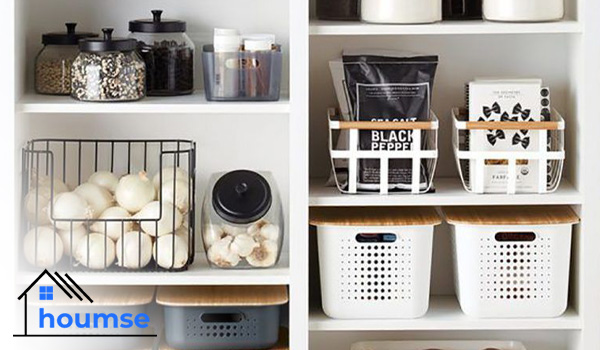 Day 11: The Pantry Corner
Once you have the kitchen and its cabinets and drawers organized, it is time to store everything that you are not going to use daily in the pantry in your 30-day home organization challenge.
Group the foods by categories, put down what weighs the most, use labels, and organize the products in a way that you can consume the products that are about to expire sooner.
Day 12: Laundry Room Organization Ideas
Among all the organizing tips for this area, make sure to use this one: to have all the appliances together, one next to the other or in a column. You can hang the ironing board on a door or store it in the closet. The same with the clothesline. This way, you can do the laundry, hang the clothes, and iron in the same space.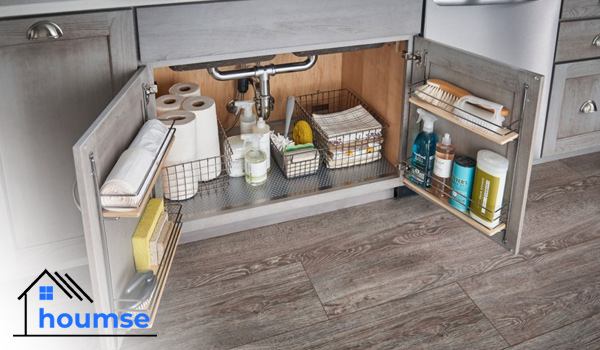 Day 13: An Orderly Corner for Cleaning Products
The broom, the dustpan, the mop, etc. They coexist together with a lot of cleaning products ready to ruin our house organization. Here is a solution: a wardrobe in which everything fits.
Add hooks and shelves to hang larger items and select the cleaning products you use the most. You can also take advantage of earlier ideas to have a tidy cleaning space.
Day 14: Organizing Tips for Books
You do not want your bookstore to look like the national library. Take inventory of your book collection and keep the ones you really want to keep. Once the classification is done, pick one of the many options you have: shelves, made-to-measure bookcases, wall gaps, etc. Books can be very decorative too if you realize how to order them.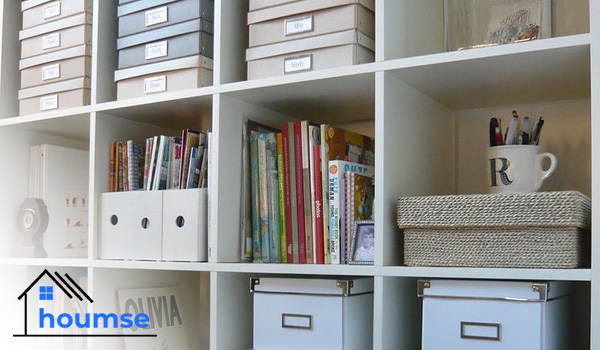 Day 15: Tidying Up the Household Clothes
Before organizing household linen, classify it by type and function. Keep them close to the room where you are going to use them. Keep in mind that two sets of sheets and towels are enough for one person.
As with organizing tips for clothes, there are also tricks to folding and storing: tuck the sheets inside the pillowcase to have the whole set together.
Day 16: Organize Your Drawers Better
You only need three simple organizing ideas to calm the chaos that may be your drawer: empty the drawer and keep only what you need. Then, clean it thoroughly and divide everything according to its category using file folders, baskets, etc. to keep things from getting messy again.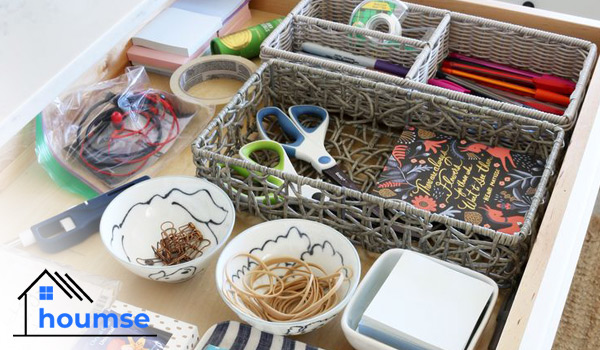 Day 17: Use Walls for House Organization
Walls are not just good for hanging art pieces or storing books. Bookcases, shelves, floating shelves, etc. all are great options to store different items and free up some space. You can do the same in the kitchen to store crockery or spices.
Day 18: Use Customized Furniture
There are many home organization ideas to order all the objects out there, but one of the infallible solutions is undoubtedly custom furniture. Take advantage of any corner you have at home to install a shelf: in passageways, under staircases, or even on a column. You just need a little ingenuity and a suitable place.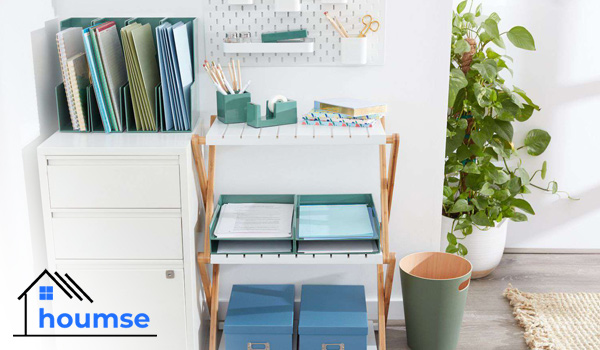 Day 19. Wardrobe Makeover Like a Pro
Every season, warm or cold, there are lots of clothes to store and little space. Here too, throw away old clothes, and donate the new ones that you do not use for whatever reason.
Once you have everything that you really want to store, organize them inside the closet like this: use one garment per hanger and leave a space between garments. For the drawers, use vertical folding.
DAY 20: Arrange the Dishes
Christmas dishes, colored dishes, everyday dishes, fancy guest dishes. Is it a kitchen or a restaurant? The first thing you should do in kitchen organization is to have your daily crockery at hand and in the dining room the one you use for special occasions along with table linen, glassware, and party cutlery.
Organizing crockery is much easier than you think in house organization. For example, you may simply declutter, create space, and stack them up.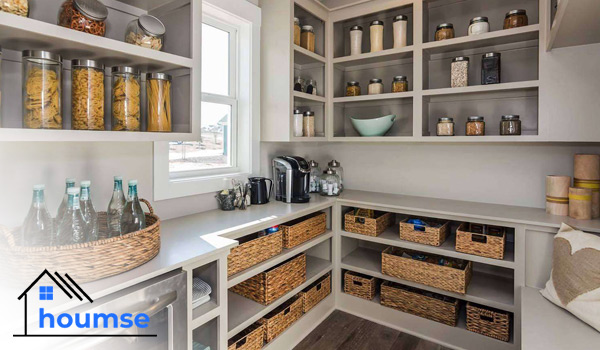 Day 21: Organize the Fridge
The refrigerator and the pantry are two clutter centers with numerous organizing ideas. An easy way to declutter the fridge is to classify it by food groups using Tupperware and transparent boxes, so you can see the food. Bottles and cans will be better organized in dispensers.
The basic house organization rule applies here as well: get rid of the things you are not going to use (as well as expired products).
Day 22: Kids Bedroom Organization, Nice and Tidy
Children are the best experts at creating a mess. But there is nothing to worry about. Use boxes to store toys, shelves for books and stuffed animals, and other organizing ideas for closets. Here is another idea: organize the room with the help of your little one, so they will acquire the habit.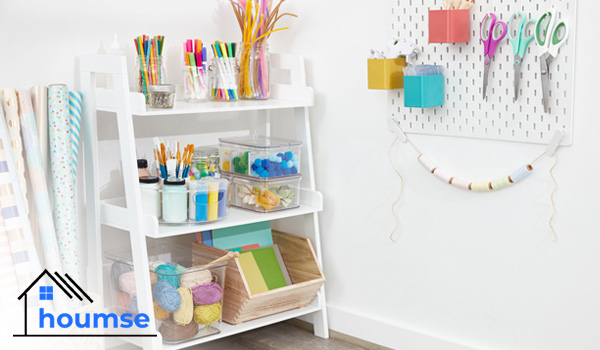 Day 23: Organize Children's Toys (for Them)
Boxes, baskets, and trunks are excellent options to organize children's toys. Use labels that indicate its content to make it easier for everything to be classified as well as for the little ones to find what they want.
Day 24: Organizing Children's Wardrobe
The first thing you should do to organize your child's first wardrobe is to place the shelves and the wardrobe rail at their height. In addition, sort her/his clothes by color or season and apply the same organizing tips for the closet: fold vertically.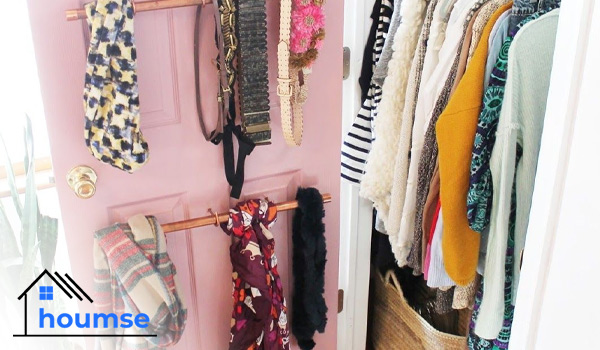 Day 25: Organizing Ideas for Shoes
The first thing you need to do to tidy up the shoe rack is to count all the pairs you have to know how much space you need for organization. The shelves are ideal for storing them if you do not have a classic shoe rack.
Keep in mind that each pair occupies about 10 inches in width. The best location for your shoe rack is the entrance or a passageway. When you must change the wardrobe, store them in transparent plastic bags.
Day 26: Organize Your Workstation
If your workspace is disorganized, you cannot be as efficient. Therefore, help yourself with some organizers and label them with the name of the files they contain. Bins and shelves are perfect for organizing small items too.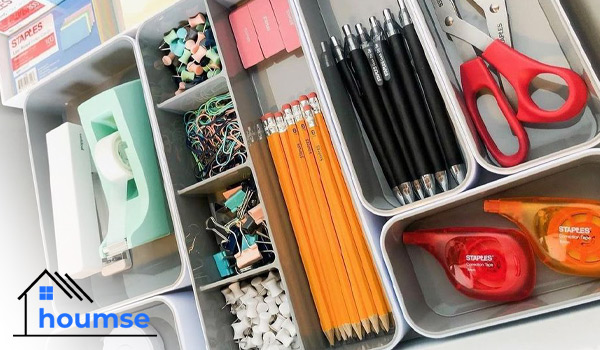 Day 27: House Organization and Garbage!
While doing home organization, you may want to do something about garbage containers too. It is always a good idea to separate them to help with recycling. Remember, the yellow container is for plastics, the blue for paper and cardboard, the green for glass, and the brown for organic. Use bins with these colors or label them with the name of the content.
Day 28: Organize Your Accessories
Accessories like jewels, bags, ties, etc. need to be organized as well, either on a specific hanger or in a file cabinet (in which you can store small handbags vertically in them). You can also benefit from classifiers for drawers and cabinets or classic hangers to hold necklaces. Other DIY storage can help you as well.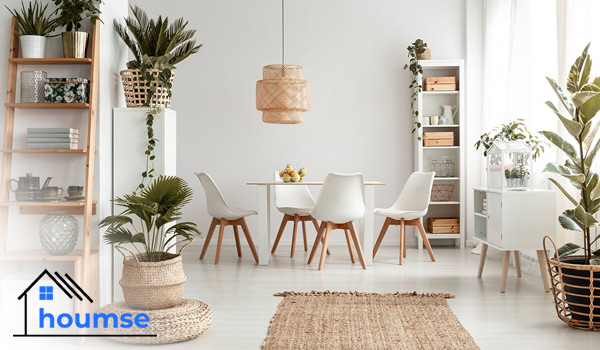 Day 29: A Well-Organized Vanity Room
Combs, cosmetics, creams, hair bands, etc. all are ready to make your vanity table busy and cluttered. It is also a potential surface to hold random objects (similar to a kitchen countertop).
There is a simple formula for home organization here: drawers, boxes, hangers, trays, bags, and especially dedicated cosmetic organizers. One tidying trick is to store small items inside other items of the slightly same size. Place them on shelves or drawers and you will have everything at hand.
Day 30: Organize Your Magazines
Do you pile magazine issues at home on the coffee table? This is how to organize them in a few simple steps: recycle the ones that you do not need and store the favorites in file cabinets.
If you have complete archives, go with magazine racks, baskets, boxes, or even shelves. File them by numbers or themes, so you will have them at hand.
Mark a start date on the calendar and follow these organizing ideas step by step to ensure that each and every one of your rooms are tidy for good. One piece of advice: spend at least 15 minutes a day for room organization so the chaos never takes over your home again.