Outdoors and outdoor wall decor, like any other space in your home, gives you an opportunity to showcase your style and passion.  Some people believe that when decorating patios and porches, it is to overlook or completely forget about exterior walls.
On the other hand, we think that patio wall decor is actually an essential part of decorating outdoor spaces, and you need to take full advantage!
So without further ado, let us look at some outdoors wall décor ideas that you can use with spending minimum time and money. Hopefully, you'll find your perfect patio wall decor.
---
Outdoor Wall Decor Ideas
Your patio probably already has some key components: a place to sit and chat, plants, a small fire pit for warmer gatherings, and perhaps a sunshade.
But to make your space truly special, so much that everyone prefers to spend time there rather than in the living room, you need to take your outdoor wall decor to the next level. Let us see what your options are:
A New Look For the Walls
You do not necessarily need to look for the perfect outdoor wall art. Sometimes, with a few enhancements, the wall itself can give your space a new look.
If you are looking for depth as well as aesthetics, a jet black wall with a pair of scones can do the trick. Using textured surfaces adds even more appeal to your oasis. You can also bring the ambiance of a garden with a planter box along your dark wall, which will make the flowers and foliage pop loudly.
For those who crave minimalism in their patio wall decor, choose a color palette of white, black, and wood. Your patio furniture can be wood and black, and the wall could be white (but we recommend giving it a texture).
In order to really brighten your patio, you can create a feature wall brimming with plants native to your region. Keep the summer heat and humidity in mind as well, and look for greeneries that can handle the outdoor situation without any inconvenience.
In addition to decorating a wall with gorgeous greenery, exposed stone or brick walls are another way to design your outdoors wall décor like a professional. You can also paint an element on the walls, using the interior's color scheme to connect the areas.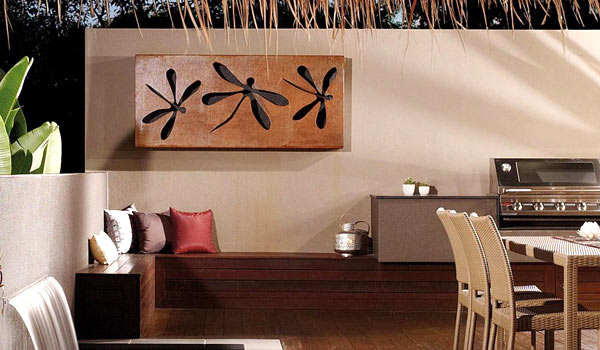 Choosing the Right Outdoor Wall Art
When it comes to outdoor wall decorations, the right wall art can go a long way. Wall planters with your favorite seasonal flowers are a charming choice, but why stop there when you can go beyond?
The most important thing about the outdoor wall art that you choose is that it is better if it is weather-resistant. Metal art hangings and ironwork are excellent touches for your stone patio and wood deck.
For the ultimate metal hanging for your outdoor wall decor, you can have a custom-made aluminum sign. Unlike other types of metal art, this one will not rust. It will oxidize over time, but this corrosion simply gives it an extra hard surface with a rustic appearance.
Now metal is not the only material when picking the perfect outdoor wall art. You can also go for ceramic a wall art or all-weather wooden art. If you are feeling more creative, your wall art could also be:
Vintage surfboards
A vertical garden
Artistic outdoor tiles
A vintage brass mailbox
A gallery wall of woven baskets (if you are a fan of bohemian vibes)
Etc.
Plaques, Panels, and Clocks
Wall arts are not the only option to make subtle statements or bold declarations depending on your patio wall decor and overall design. There are tons of outdoor art with unique shapes and styles that fit any wall and set the look apart.
Metal wall arts are good for modern and fresh designs, but if you are traditional, a set of topiary decor panels is what you are looking for. You can also go for textured wood panels for a cottage-inspired charm.
For an additional classic touch, nothing like a stylish outdoor all-weather timepiece can combine the beauty of art and functionality.
Bright Outdoor Wall Decor with Mirrors
By reflecting the patio, porch, and garden views, an outdoor mirror offers a bright and open feel to your space.
When choosing an outdoor mirror for your patio wall decor, think about natural light sources. In porches and other covered spaces, a mirror will make the area seem larger than it actually is by reflecting light around the space.
If you have a garden with colorful blooms, place the mirror on an opposing wall for an eye-catching decor accent. Mirrors are simple but powerful objects that transform your outdoors wall décor and patio set into a space that is made just for you.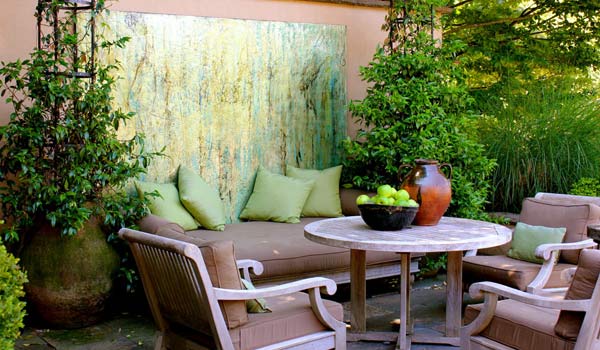 Other Ideas for Patio Wall Decor
Outdoor wall arts, different accent walls, and mixing materials and textures aside, there are other ways (that some may be expensive) to elevate your outdoor walls.
If you are an antique enthusiast and not sure exactly what to do with all the walls, all you need to do is mix in some vintage pieces in the outdoor design. A rustic buffet table could be a nice addition and a great way to store your outdoor dinnerware or hold plants, candles, and other decorative elements.
You can also install a fireplace on the wall. There is no need to mention that such a fireplace in the wall is not your ordinary outdoors wall décor. This is something that makes the whole space breathtaking.
Did you find the inspiration you were looking for? Which outdoor wall decor was your favorite? Let us know in the comments.