"Paint and Primer in One" is the familiar phrase that different paint brands use to describe their high-quality paints. If you have done exterior or interior paint before, you know how time-consuming they can be. Well, you can save yourself some time by using paint and primer in one paint.
To skip the long process of painting (especially exterior painting), you need to apply a type of paint called paint and primer in one or self-priming paint. However, a paint and primer in one product can help you in certain situations, but not all paint jobs are the same. In this article, you can find all the necessary information about paint and primer in one for wood and other surfaces.
What's Paint and Primer in One?
Painting a house is a two-step process: applying the thin white or tinted primer and then the thick paint. Paint with primer products allows you to eliminate the priming step in a painting process completely.
As its name suggests, a self-priming paint is a type of paint with primer mixed into it. It's a thicker paint that builds higher and gives you a sturdier coat of paint, while hiding the underlying color. Also, because it's tinted similar to conventional paint, you don't need to cover the initial layer of white primer up. Paint with primer products is sold under various names including paint-primer.
Despite its heavier consistency, most of the time you can run the exterior paint and primer in one through a paint sprayer without thinning it. Regarding the consistency, remember that the primer itself (not self-priming paint) is a relatively thin material. It is thin so that it can soak into porous surfaces easily.
What Does the Best Paint and Primer in One Do?
Paint and primer in one does two different things for you. While paint adds color, shine, and resistance to the external surface, primer serves other functions such as sealing the surface and making it surface, blocking the stains, and providing adhesion between the substrate and the paint.
In other words, paint and primer in one for wood and other surfaces gives you the ideal surface on the wall so that your paint looks perfect.
When Do I Need a Self-Priming Paint?
Like many homeowners, priming a surface in advance may be difficult for you, as its benefits are not immediately evident. It's not color and not even a protective coat. The result of painting the color coat is instant and pleasant, but priming seems like unnecessary work that gets covered up by the end of the process.
However, if you're going to paint a surface that is previously prepared (painted) with a similar color, we recommend that you use quality paint and primer in one product. This way, you don't have to worry about color bleed-through.
Apart from this scenario, the main use of self-priming paint is when the surface has a problem and won't take the paint well. Uncoated metal, raw and unfinished wood, drywall, masonry, plus bare and porous surfaces are among these problematic surfaces. Interior surfaces also work best with paint and primer in one. Because interiors don't experience the exteriors stresses including UV rays and rain.
To avoid wood-bleeding, gloss, grease, or other areas that resist paint-adhesion, you need to use paint and primer in one. You probably clean the surface before panting it and roughen glossy areas up, but it doesn't mean that your surface is ready. Self-priming paint can bring your surface closer to perfection.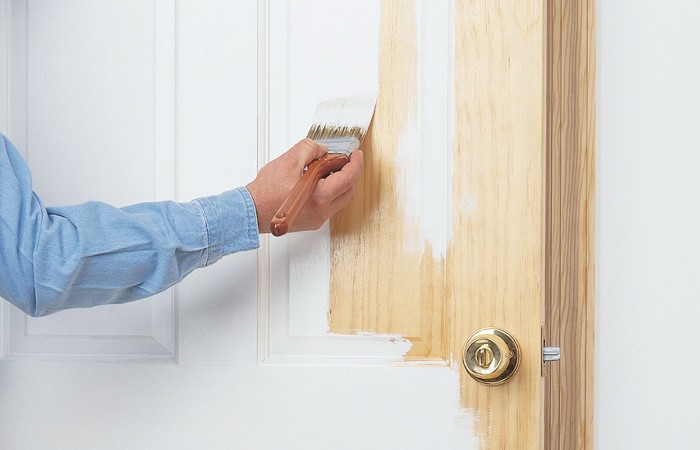 How to Prepare Your Surface for Self-Priming Paint
You might have heard this general advice as well: "prime before painting". We mentioned the reason for this. These two aren't the same. The fun paint instantly brings your space to life, but the primer simply gets your surface ready to paint in the first place.
Most of the time, you can't skip it. Because the surface isn't prepped right, it's possible that the paint doesn't stick to it. Or it can stick, but it will take many layers for a nice result. It makes skipping paint and primer in one a risky decision. The meaning of preparing the surface have different meaning depending on the surface:
Tile, Glass, Cabinets or Furniture
These surfaces are hard and smooth, requiring a bonding primer. A suitable paint and primer in one for cabinets is specially formulated to stick to such surfaces. In case you don't use self-priming paint, you can scrape off the paint with your fingernail later.
Drywall, Raw Sheetrock or Joint Compound
Typically we use these materials for adding new walls, applying fresh texture, or patching holes in the wall. Since they are very chalky and porous, you need to seal them with a paint and primer in one spray paint that matches their pH level before painting. Otherwise, you'll find yourself applying multiple layers of paint.
Wood
For raw wood, you need an oil-based paint and primer in one for wood. A special latex-based paint with primer for wood works well too. Make sure to use a paint and primer in one for wood so it doesn't swell from the wet paint you'll apply on it.
Stained Walls
If you're going to paint a wall that's stained with water, smoke, crayon marks, and such, use a stain-blocking primer to seal them out. And if you're also dealing with unpleasant odors, it is better to use a shellac-based primer.
Regular self-priming paint doesn't have these stain blockers and may let the stains show through the surface of your freshly painted wall. Sometimes a spray paint and primer in one can cover the stains, but the stain could react with the paint and reappear later.
Metal Surfaces, Patio Furniture or Guard Rails
Paint and primer in one vs. separate becomes more important here too. Professionals recommend direct-to-metal primer, which sticks nicely and prevents rust. But a high-quality exterior paint and primer in one can work too.
Oil-Painted Surfaces
Old woodwork such as baseboards, doors, and windowsills in homes are among these surfaces. For painting them, we suggest using water-based latex or acrylic paint. This way, you don't have to deal with smelly oil paints and paint thinners. However, water-based paints don't stick to oil-based surfaces, so apply paint and primer in one for wood first.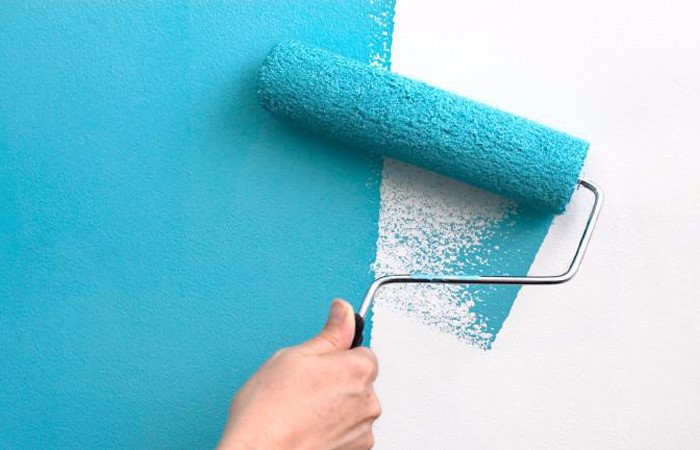 Paint and Primer in One vs. Separate
If you are reading this, you're probably one of the people who ask where I should use self-priming paint, and does it mean I don't have to prime. The best paint and primer in one promises fewer labor costs. But does it really work? A real professional would probably say no.
When talking about paint and primer in one vs. separate, they note that you can't replace priming for surfaces like drywall, metal, cement, tiles, cabinets, raw wood, or woodwork. They state that primers are products that are made to seal these surfaces. Compared to self-priming paint, separate primers have more adhesive qualities.
They say that you can use exterior paint and primer in one when you're changing colors over previously primed or painted latex-based surfaces, as their main advantage is coverage. They're high solid content (thicker) paint that can self-prime.