After all the trends with modern and traditional decorative elements, it is now time for a natural touch with the pampas grass decor. These lovely grasses have always made landscapes more charming, so why not use some of the pampas decor charms in our homes?
In the following article, we will tell you all about pampas grass decor in different parts of your home or even at weddings!
Here are our most favorite decor ideas with these graceful stalks and feather-soft tops:
What Is Pampas Grass?
Pampas grass, scientifically known as Cortaderia selloana, is a tall grass that can grow up to 3 meters in height. In many parts of the world, this grass is cultivated only for ornamental purposes, as it is actually considered an invasive species outside is its natural habitat (southern South America).
They are super easy to grow and are often in full bloom from September to February. When dried, its feathery flower head plumes are perfect for a pampas grass decor, as well as flower arrangements and or decorative pieces.
These white feathery flowers are the most important characteristic of this plant (tall stalks aside). This part makes it even perfect for pampas grass decor at a wedding.
The majority of pampas grass (selloana species) have plumes in silvery-white, light yellow, or taupe. There is also a variety called Cortaderia selloana Rendatleri or Pink Feather that has pink plumes.
There is also another variety called Cortaderia jubata (or Andean pampas grass), which has plumes with a distinctive light purple hue. No matter the color, this fluffy beauty gives a true elegance and grace to your space, beautifully swaying with the slightest breeze.
It is interesting to know that the female ones have soft plumes that are perfect for pampas decor. While male plants are more rugged and have gray-pink flowers.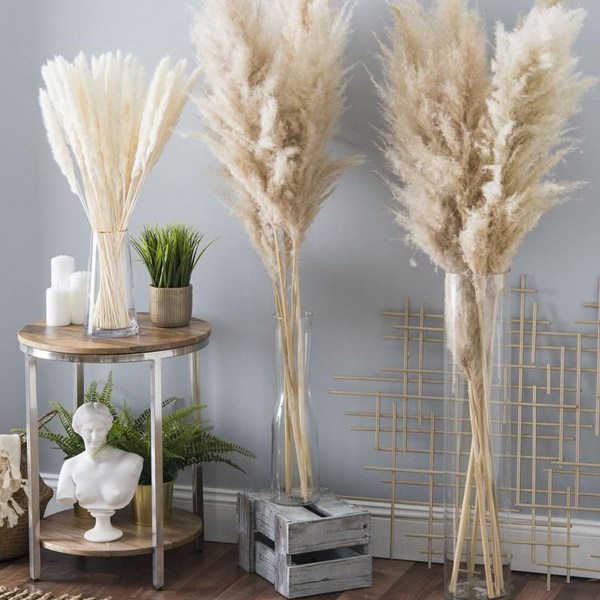 Why Should You Go For a Pampas Decor?
If you are going to decorate with plants, why should you choose these dried grasses over standard green houseplants?
While houseplants will always remain in our hearts, pampas grass decor ideas seem to be more and more popular by the day. Maybe it is because:
They require minimum maintenance, even less than cacti and succulents. Since they are already dried, they practically need nothing. All they need is an occasional hairspray so they do not shed too much, and you can enjoy the fluffy plumes for a longer time.
They offer textural quality to your space. While creating a sculptural look, pampas grass decor also gives a nice touch of relaxed drama. They bring your living space come alive, providing a unique tactile experience.
They give you endless decorating possibilities due to their natural hue. Pampas grass creates an eye-catching neutral palette, which makes it work perfectly with any decor and home style.
Now that you know all about this attractive ornament for indoors, let us see some amazing pampas grass decor ideas.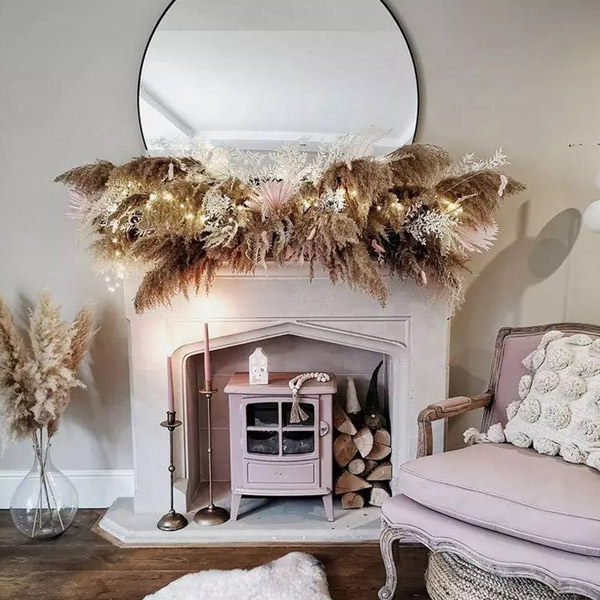 Pampas Grass Decor Ideas for Your Home
In addition to bringing a natural touch to your space, pampas grass adds height to rooms and makes them look bigger than they actually are.
Are you going to have boho, rustic, or contemporary decor? As we mentioned, this heavenly grass works perfectly with any decor style. Here are some tips on how to have your own pampas decor.
Leverage the Contrast
Pampas grass decor in weddings aside, we normally see these plants in settings with neutral rooms with white walls. However, a great way to add this plant to your home is by creating some contrast.
Pairing a pampas grass vase with dark walls or drapes adds an eye-catching contrast to your space. Fortunately, dark walls are now on-trend. And if you have one in your home, give this idea a try.
Pampas Grass Decor Vase
The easiest and yet one of the most glamorous ways for using this grass is arranging a few stalks in vases of different forms and shapes. Your pampas grass decor vase could be large, small, tall, transparent, traditional, etc.
Depending on where you decide to put your pampas grass decor vase, you can cut the stalks and make them shorter, or just leave them be. For example, if you are getting tired of constantly changing natural flowers that wither in no time, we recommend using pampas grass on your dining room table instead.
Not only do they enhance the overall look of your room but also offer warmth and texture. There are other spots that you can place these vases:
In the corner of a bathroom vanity or on the bathroom vanity, or near the bathtub
On a rustic side cabinet, a sideboard, or an armoire
Near a mirror (especially sleek full-length ones)
On an entryway console table
On the kitchen island
Near an accent chair
On the coffee table
On a nightstand
On the stairs
Etc.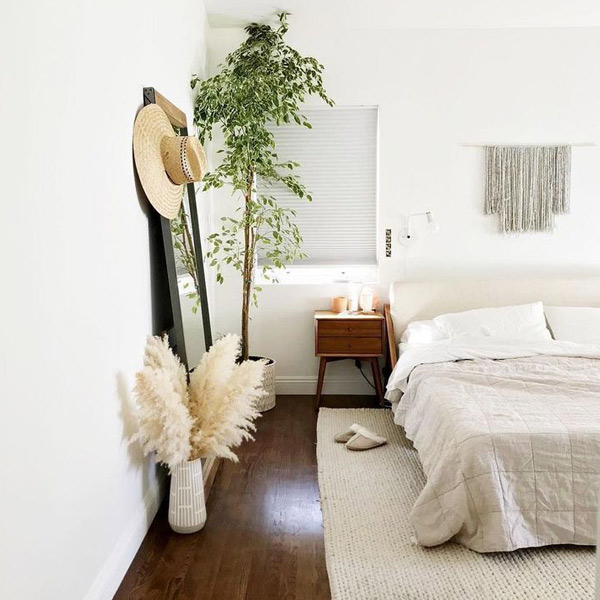 Combine with Other Dried Foliage
As you saw, a pampas grass decor vase is perfect for elevating various spots and bringing interest to corners and other dead spaces on its own.
However, you can pair it with other dried foliage for more beautiful views. Combine it with others depending on your home style to make them stand out even more.
DIY Pampas Grass Wreath
Another small pampas grass decor idea is to create your own pampas grass wreath. You can place it on your door or use it as a wall hanging inside. And no, you do not need to wait until Christmastime.
This idea is a lovely way for welcoming fall and celebrating the end of summer, as well as a personalized gift for a loved one or simply showing off your creativity! Whatever you choose, this DIY wreath adds a touch of elegance to entryways and interiors.
Hanging Pampas Cloud
Do you prefer something more creative than pampas grass decor vases? What do you think about a hanging pampas cloud?
As the cloud float above the ground, not only does it "wow" your guests but it is also safe from pets and children. Just do not forget to apply high-quality hairspray.
DIY Pampas Grass Christmas Tree
pampas grass decor ideas are not limited to wreaths and clouds; you can also make a Christmas tree with them if you are up for a rewarding challenge.
Whether you go for a tabletop-sized one or a full-sized one, and wherever you place them, you will have a decorative piece that catches everyone's eye.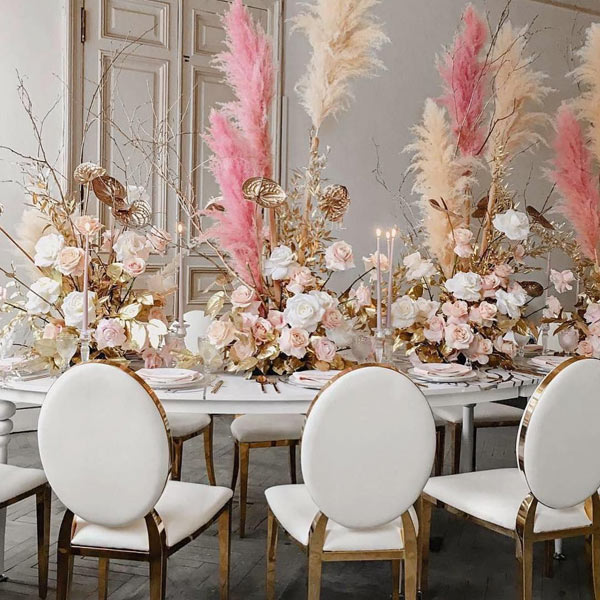 Pampas Grass Decor for Weddings
This grass is so gorgeous, that you can even enhance your wedding decoration with it. Let us take a quick look at some amazing ways that you can use pampas grass in your wedding décor:
Enhance the Environment
If you are having your ceremony in a desert or a mountain environment, this grass can enhance the setting without taking away the natural charm of the environment.
Statement Structures
A wooden frame adorned with pampas grass arrangements is a great way to welcome guests into your reception space. The combination of wood tones with the neutral color of the grass is what makes this pampas decor piece perfect.
Urns and Pampas
Elevated gold urns, pampas grass plumes, and fresh flowers at the altar add even more of a wow factor to your ceremony space. Remember that the tall stalks fill the space as well as frame the couple.
Stand-Alone Altars
You can also create a stand-alone altar without urns and natural flowers entirely from pampas grass. If you are having the ceremony outdoors, this is a lovely idea with ethereal vibes. Just imagine the grasses moving gracefully in the wind.
Hanging Arrangements
You can use the clouds that we mentioned above in arrangements with mismatched rattan lanterns outdoors. For complementing these hanging clusters, Tall centerpieces with pampas grass and wooden sits are nice choices.
Boho Designs
Pampas grass decor ideas match seamlessly with boho designs. If you enjoy such designs, we recommend mixing this grass with eucalyptus and king protease in flower arrangements. Adding Persian rugs at the end to take everything to the next level.
Pampas Grass in Bouquet (& Cake)
Even a spring of pampas grass creates a beautiful neutral palette with lots of texture in your bouquet. You can mix and match the feathery part with roses and other flowers for the loveliest bouquet ever!
There is also the charming idea of dressing up your wedding cake with this fluffy grass for some texture.
Aisle Markers
Pink pampas grass is also perfect as aisle markers. Ask your florist to create arrangements that sit directly on the ground (instead of using vessels), so it seems that they are sprouting right out of the ground. If you would like some refinement and polish to this pampas grass decor, a few white roses will do the trick.
How Long Does My Pampas Grass Decor Last?
If you are using these ornamental plants in your wedding, that is not a concern. But if you want to incorporate any of these ideas in your home, you may want to know that.
An actual pampas grass plant lives for 10 to 15 years. As a decorative element for closed spaces, if you are careful with the feathery plumes, they last for several years. Just be sure to use hairspray from time to time (once a year) to prevent shedding.
---
Whether it is for a wedding or as a unique home feature, pampas grass is generally available all year round. Did you find the inspiration you were looking for? Which large or small-scale pampas grass decor was your favorite? Let us know in the comments below.