Let us be honest, if there is a nice outdoor space in your home, nothing can compete with it in relaxing factor. But even if you are not keen on having a place with a solid roof like a gazebo in your backyard, a pergola offers a more open and airy space.
As architectural elements, a gazebo is octagonal and freestanding with a pitched roof, while a pergola is rectangular with an open ceiling to filter light while providing a pleasant shade. It offers an area for lounging, dining, and grilling while blurring the line between the house and the landscape.
With the growing popularity of outdoor spaces and living, and the fact that you can build a backyard or garden pergola using different materials, in various sizes, and styles on the deck, patio, or lawn, we have made a list of patio pergola ideas to help you find that dreamy outdoor space that your house is missing.
Patio Pergola Ideas: Choosing the Material
By choosing the right material, you can make a true statement on your patio with minimum effort. While going through outdoor pergola ideas, you will find structures with all types of materials. Here are some of the best options:
Wooden Pergolas
When it comes to backyard structures, wood is an obvious yet elegant choice. But what kind of tree wood works best with various backyard pergola ideas?
We recommend cedar more than anything else. Cedar is durable, decay-resistant, and economical. For traditional homes, a cedar pergola with decorative arches and scroll cuts is not just suitable, it elevates everything around it. The best alternative for the cedar is redwood, which is even more durable and more expensive of course.
Using pine in patio pergola ideas is also possible. Although it is relatively inexpensive, it has an important disadvantage compared to the last two: it is susceptible to weather and could warp. pressure-treated pine on the other hand is more rugged and reliable.
Apart from these well-known possibilities, you can incorporate teak, fir, acacia, reclaimed barn wood, salvaged beams, etc. in outdoor pergola ideas too. You even integrate a backyard tree into your garden pergola design.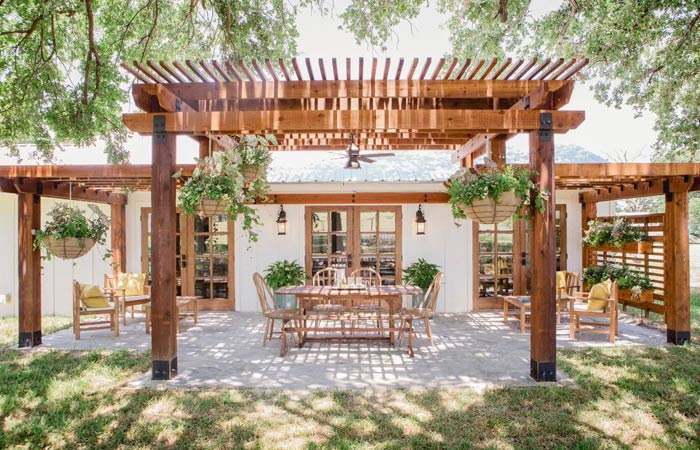 Metal Pergolas
For those who are fonder of modern pergola ideas, metal is the right material. For a beautiful yet hardy structure, we suggest steel. To upgrade its sleek look, you could pair it with concrete hardscaping and minimalist furniture.
If modern is not enough, you can create a futuristic space by installing automated pivoting louvers or a sliding sunroof mechanism to offer full sun, full shade, etc. If you are no stranger to welding, you are going to have fun playing with modern pergola ideas. For example, you can DIY a pergola using steel pipes.
Other Options
Vinyl: Vinyl is not just good for indoor design and decoration; it is a reliable material for outbuilding too. It is sturdy, requires almost zero maintenance, does not warp, and protects you from UV and weather damage. If you have a traditional home or cottage, you cannot go wrong with picket fence pergola ideas that use classic vinyl.
Fiberglass: It may be the most expensive option, but it offers notable advantages. It is incredibly light, undeniably strong, does not require deep footers like other materials used in open or covered pergola ideas, and can help you cover more areas without extra posts. All result in a garden pergola with a clean, contemporary look that does not rust, rot, warp, and holds paint brilliantly.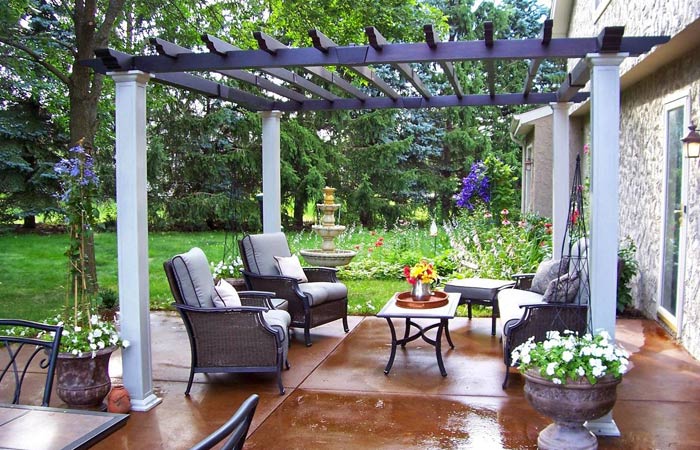 Covered Pergola Ideas: Different Shades
Make sure that your structure provides enough shade to cool the interior. Purlins help the pergola do that. You can place smaller pieces on top of and perpendicular to the rafters.
If you believe crossbeams are worn out by too many covered pergola ideas, other options are certainly available. For example, an ample canopy or a thatched roof for tropical vibes (do not forget rattan furniture and potted palms). If the indoors has a Mediterranean or Asian style, a patterned screen that reflects that specific part of the world can make a great covered pergola as well.
While building any of the covered pergola ideas, choose UV-resistant and retractable or sliding styles that allow you to control the sunlight completely. Also, preferably, you should be able to clean it with the garden hose.
If you do not want to compromise the pergola's openness and the beautiful view of the blue sky, but you are worried about tree debris or weather damage at the same time, a glass ceiling is another option.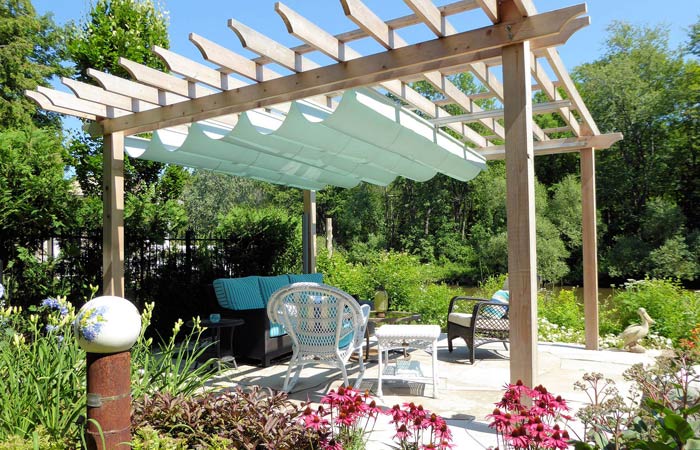 Outdoor Pergola Ideas: Freestanding or Attached?
There are many freestanding or attached options in patio pergola ideas, but which one is more practical for your space?
If you have a small space, wall-mounted ones, such as a side yard or deck are smarter. Their upper frame is attached to the wall, with two posts on the ground on the opposite side. Keep in mind that attached styles need to be installed on a structure with a concrete foundation. Because if the mounting wall cannot provide adequate support, the garden pergola could collapse.
And if you have a larger space, the sky is the limit!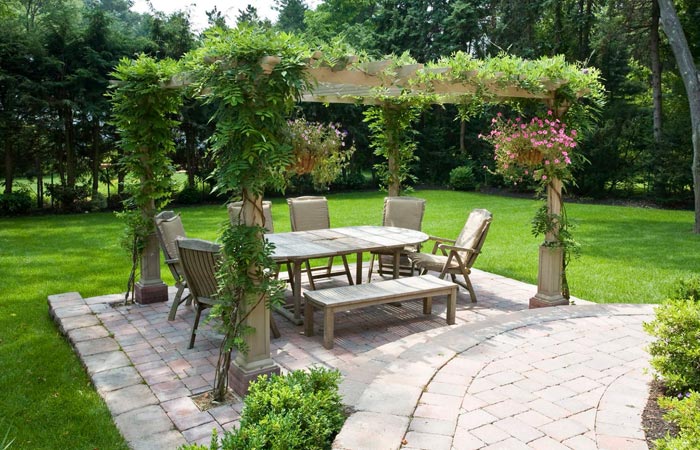 Pergola Ideas: Inviting the Green
To give your structure a more natural vibe, you can take advantage of the pergola's arbor-like shape and let climbing vines or ivy grow on it. You can also use hanging baskets or potted shrubs to fashion a natural wall.
Using plants in patio pergola ideas not only makes the environment around you vibrant and alive but also further unifies the house with the yard.
Backyard Pergola Ideas: Updating the Posts
While steel or wooden look good enough and create modern or rustic space, you can always enhance your classic posts. Letting vines grow on it is one option, but you can also use different covers including rugged, realistic faux stone to add a nice texture to the decor.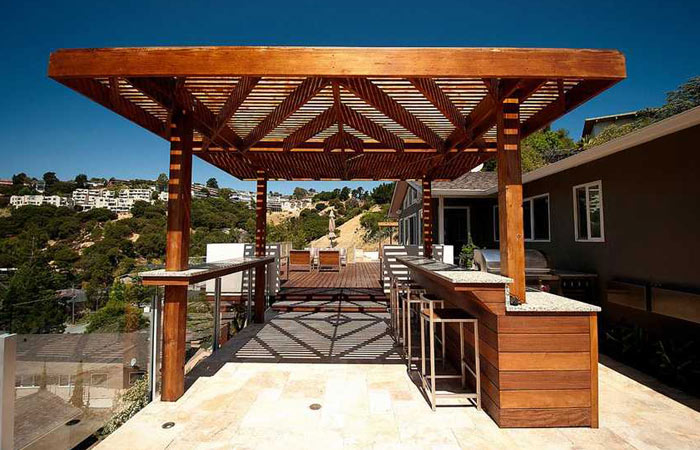 Backyard Pergola Ideas: Exciting Additions
A nice garden pergola always can benefit from practical or beautiful additions such as:
Place an intimate nook (perfect for corner patio pergola ideas)
Add a set of curtains (that can be pulled closed)
Use string lights, paper lanterns, and candles
Add an inviting firepit
Include a grill
Pergola Ideas: Alternative Uses and Designs
Perch outdoor pergola ideas over a bar. You can include room for stools on one side of the bar and shelving on the other for supplies to minimize the needed effort.
Go for a pergola with adjustable drapes or partial walls (with slats, screens, etc.) that filters the sun above the hot tub for a spa experience.
Play with pergola ideas not to create an outdoor living space, but to create a stunning entrance for your home or for your garden.
Make it a freestanding structure simply for a designated space for people to gather like outdoor dining.
Create a poolside pergola using some lounge chairs or a table and chairs.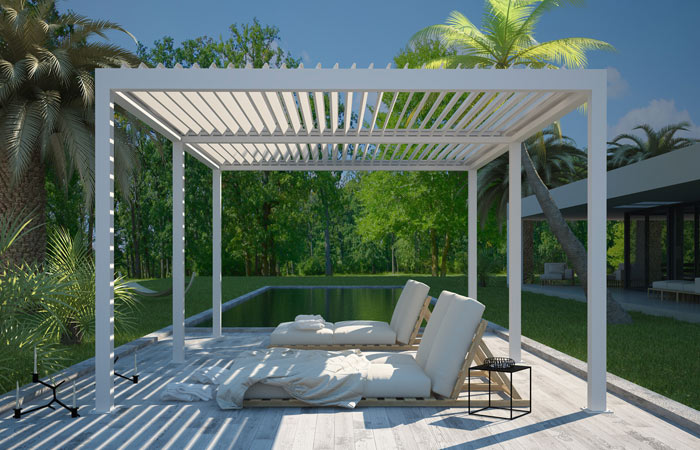 Found Your Ideal Garden Pergola?
Hopefully, you could find your future pergola among these ideas. Now you need to choose an orientation (north, south, east, or west-facing), the material based on the climate, your personal taste, and budget, and decide whether you want to do it yourself or do you want to hire a contractor. Also, for any patio pergola ideas, do not forget about the building codes and zoning laws.
With some serious planning, next time that you are reading another article here, you will be chilling in your garden pergola while enjoying a refreshing drink!