Not everyone who wants a pool can afford one, and some who can afford one don't have enough space on their property. If you can relate, that does not mean giving up on having a swimming pool. A plunge pool may be the ideal solution for your modest budget or limited space.
Scroll down to find out all about these small pools, their specific properties, and more than a dozen small pool designs and ideas for your house.
What Is a Plunge Pool?
It is a small pool, usually deep, designed for wading or relaxing. These small swimming pools are ideal for people who like to sit on the pool steps and have a refreshing drink in the summer. Or for those who live in hot climates and use their tiny pool mainly to cool off. Due to its size, you cannot swim in a plunge pool, but you can do other exercises, such as aqua aerobics.
The term "plunge pool" generally refers to a pool designed for recreational use. Similar pools are those equipped with jets that allow swimming against the current in a confined space and are sometimes called infinity pools. The lines between these types of pools can be challenging to find, as some infinity pools have certain types of jets.
These small pools are very common in Europe and Australia. Recently, they are becoming popular in the United States as small backyard pools. They especially appeal to people who are interested in its aesthetic value and the low cost of building most small pool designs and their maintenance.
Unlike a normal, large pool, you can have a plunge pool in a small yard and maintain it on a smaller budget. Additionally, almost any small pool ideas blend seamlessly into a beautifully landscaped environment.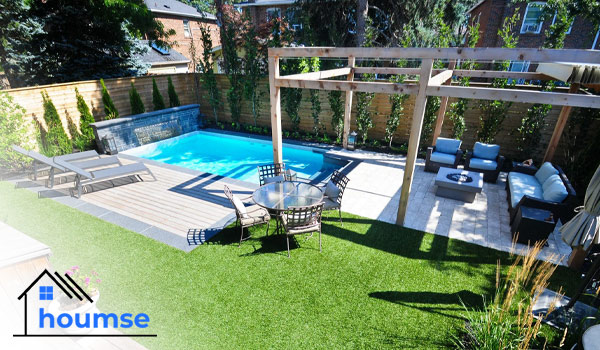 What Are Plunge Pool's Dimensions and Shapes?
Such pools for small yards can vary greatly in size. However, the typical size is about 8×8 feet to 8×16 feet. Since there are all kinds of shapes, the plunge pool volume also varies considerably, from round pools with a diameter of 3 meters to semicircular pools with a radius of 2 meters or square pools with a side of 2 meters.
Being small, most of these tiny pools are rectangular to maximize usable space. But, just like a normal size pool, you can have chosen among small pool ideas with any shape. Semi-circular, round, and L-shaped ones are also popular.
How Deep These Small Pools Are?
There is no rule about how deep a small swimming pool must be to be worthy of the name: plunge pool. However, most of these small pools are between 1.5 and 2.5 meters deep.
Those who want to exercise in the pool may want a slightly deeper one. And people who like to chill on the edge may prefer a slightly shallower pool.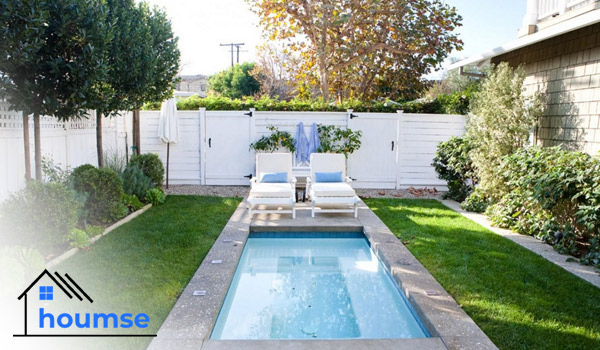 What Is Their Temperature?
Generally, plunge pools are cold water areas. However, some are designed to be used as hot tubs at times and cold pools at others. Cold does not mean ice-cold, as there is a range of heating devices for these small backyard pools. A heater can ensure a comfortable temperature all year round, so people who use the pool or just want a quick dip do not have to freeze in winter.
Some athletes choose to keep their tiny pool at very low temperatures (50 to 60 degrees Fahrenheit), while most people choose to keep it at normal temperatures (75 to 85 degrees). There is no "correct" temperature for a plunge pool, it is your opinion that counts. In warmer climates, a heater may not be necessary. But in colder climates, it may be essential.
What Are the Advantages of a Small Swimming Pool?
Small pools offer different advantages, some are more practical and others more aesthetic. Aspects like consuming chemical products and the cost of the installation are more practical:
You can fit a plunge pool in any garden or backyard; they can even be installed in interior spaces
Plunge pools are much cheaper to install than standard pools
Offer therapeutic relaxation and sensory stimulation such as boosting muscle recovery and relieving joint pain
A tiny pool is a perfect complement to a sauna
Easy maintenance
Electric energy consumption for the filter and heating is more economical
People with smaller yards can choose among small pool designs and build one, unlike a standard pool
Regarding aesthetics, these pools for small yards can serve as an attractive design element. They can fit into the modern decor as a bright blue water feature, or as a rock pool in ornate gardens. Do you want to add a fountain to your garden? Small pool designs with a fountain inside offer double charm.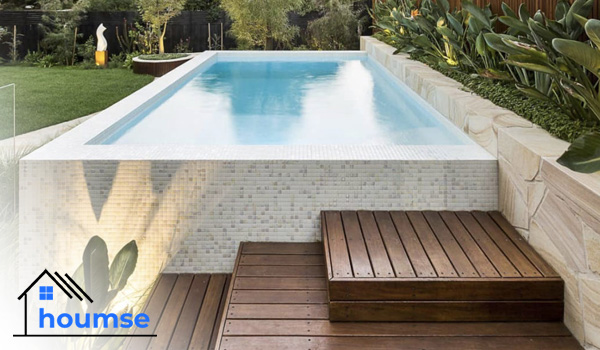 Small Pool Ideas & Designs
Let us see what styles and options are out there to use as an inspiration source for building your own plunge pool:
Mykonos Style
In the Greek islands, they are experts in creating very small pools. An art that has made them a great source of inspiration for designing pools in compact spaces. The key to their success: they are always higher than the ground and are covered in a perfect white.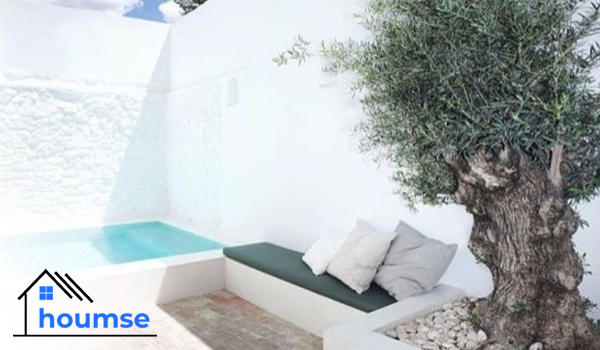 Modern Plunge Pool
These small backyard pool designs have a minimalist style and above all are practical: they adapt to the shapes of the available space, offer new features, and are easy to maintain.
But (there is always a but), we kind of miss the charm that other small pool ideas bring. Keep reading and you will see what we mean.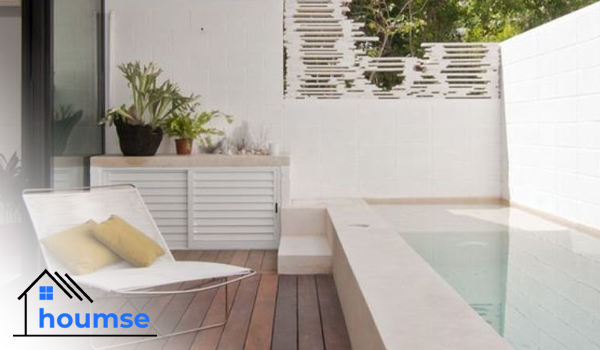 The Perfect Riyadh
Indeed, perfect. As they are classics that exude both exoticism and charm. To introduce this style to a small swimming pool, go for mosaics or highly polished natural stone. And even more importantly, pay attention to the details: elegant candle holders, large vases, rustic ceramic deep plates, etc.
An Oasis in The Desert
It is curious how in houses in desert areas we can find precious examples of small pools. In such areas, water is scarce, and the space is enormous. Therefore, the volume of water used must be optimized.
Rustic finishes and wooden floors are common for these small backyard pool designs. Cactus and succulent vegetation are perfect to highlight the landscape too.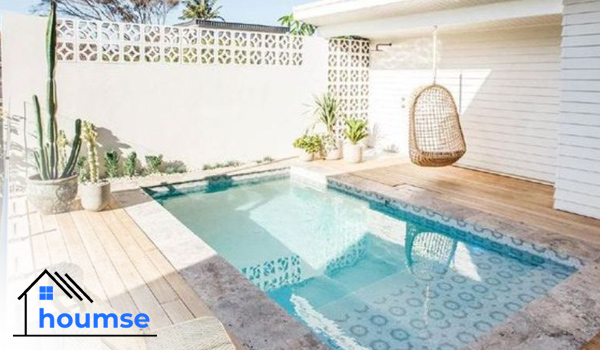 Old Architectural Elements
Sometimes it is an old pond, other times it was a drinking trough for animals and other times you can simply take advantage of some element, such as a partition wall or some columns to integrate your pools for small yards there and enjoy their true glamour with a pinch of history.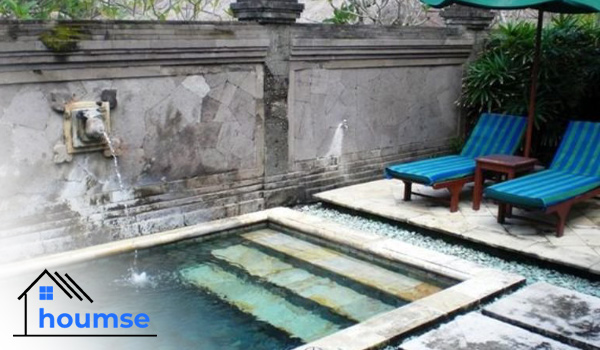 Rustic But with Style
This is how most of the new pools in city or country houses are; surrounded by natural stone on the walls and floors, while the interior holds water of the most refreshing blue color.
These pools or ponds are perfect for finding small pool designs. Then, decorate with vegetation and elements that evoke rustic vibes, such as large rocks, old jugs, or wicker seats.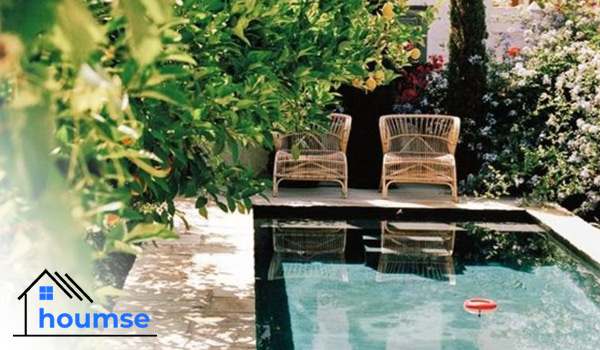 Terrace Into Tiny Pool
Yes, it is possible to implement small pool ideas in terraces or balconies, no matter how small the space may be. If it is really what you want, you can simply sacrifice the space and enjoy the water.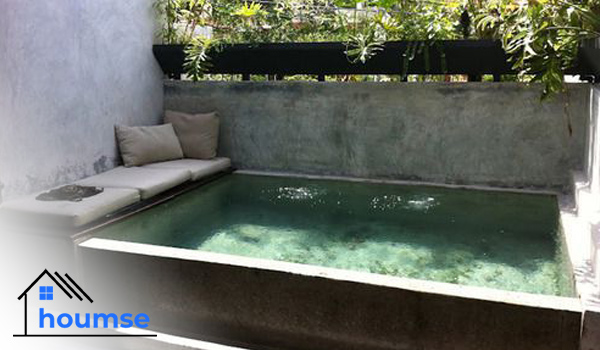 Tropical To Dream
Who doesn't dream of a permanent vacation? If you dream that dream too, you will love getting inspired by a tropical-style tiny pool.
To get such pools for small yards right, you cannot miss lush vegetation, wood, stone, and the perfect turquoise blue in the water. So, make sure that the pool is covered with a material that provides you with the most desired color tone.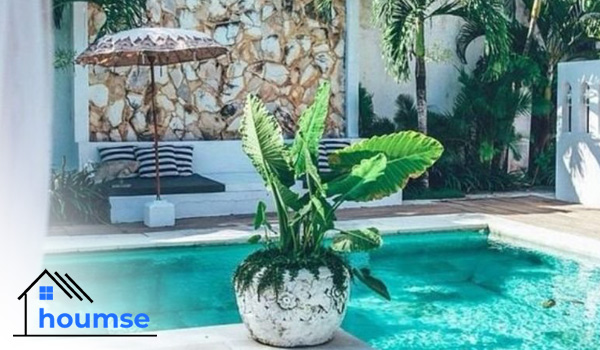 Classics Renewed
This group of small yard pool ideas draws on all the above, drawing inspiration from more classic styles, such as antique, rustic, and Greek elements, as well as the trendiest riads. And modernizes them to achieve a unique look. A plunge pool like this would be very recent looking but with the charm of the past.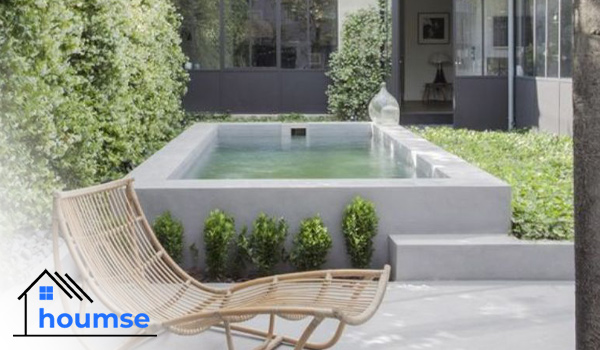 "Highly" Transparent
This idea is totally cool. You will have a pool on the terrace, but its refreshing turquoise will also be present on the ground floor. Also, it will be a lot of fun to share the view through the glass.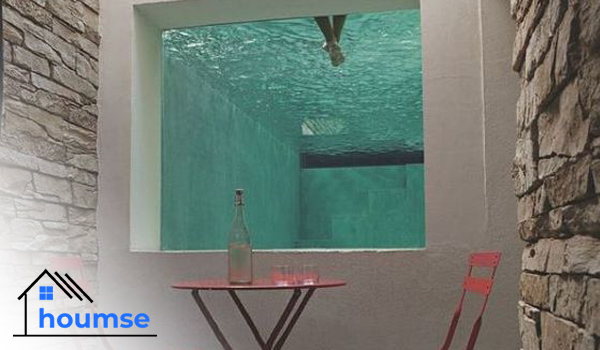 Corner Small Pool Designs
Square and small patios are usually difficult to work with. Especially when you want to leave some space for other activities. The solution? Small pool ideas in the corner.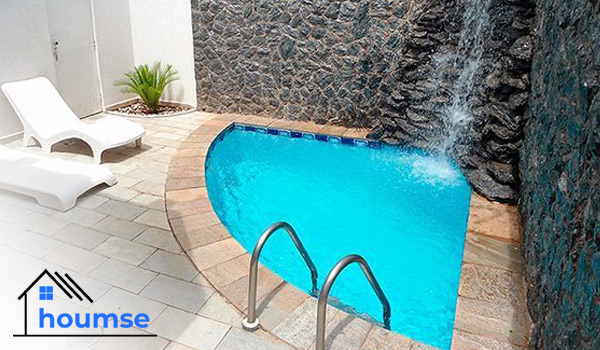 A Refreshing Waterfall
The relaxing sound of energetically falling water will already be therapeutic. Not to mention when you can get under this great wall of water. Adios exhausting heat!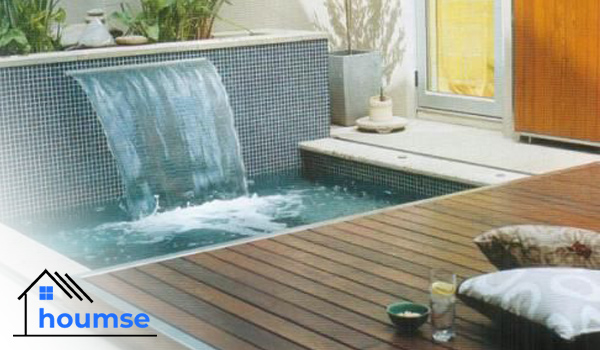 Nice and Narrow
Long patios also have their limitations, because we have the idea that a plunge pool must be square or round. Well, no. You can also have a narrow pool in which you can swim, taking advantage of the entire length of your patio.
Or maybe your space is not enough for a pool that can fit many, but even a minimal edge of turquoise water provides that refreshing body of water you need. The least pools for small yards can do is let you cool your feet while reading a good book and sunbathing.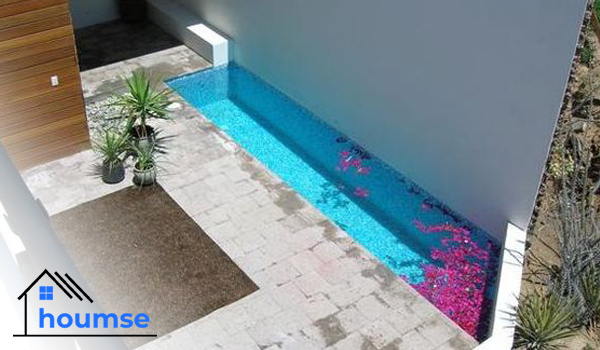 No Garden Sacrificing Needed
If you are a plant person, you will surely have a conflict with those who want a small pool in the garden. But you do not have to sacrifice one thing for the other. Your beautiful garden will be the ideal setting for the refreshing pool. You just need to find the right designs for small backyard pools.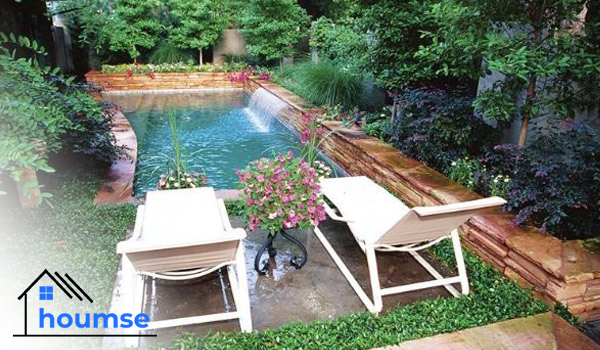 Small Swimming Pool with Sliding Floor
If the space and your budget allow it, these sliding floors are an excellent idea, especially for those places with marked seasons, where the pool is not always usable.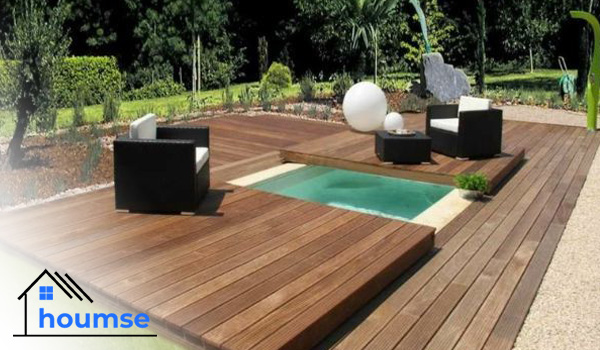 Divided
Instead of having one pool that complicates your space, why not have two and leave the path clear to walk? Another excellent plunge pool idea to consider.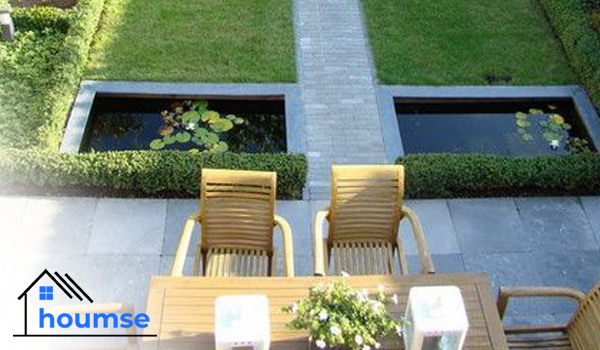 Mediterranean style
Nothing is more reminiscent of summer than the Mediterranean. You can have a bit of that style in your home with the help of tiles and accessories that bring a very warm touch to the decoration.
We can even find adhesive stickers, which will allow you to decorate the terrace or the pool edges with an attractive summer style.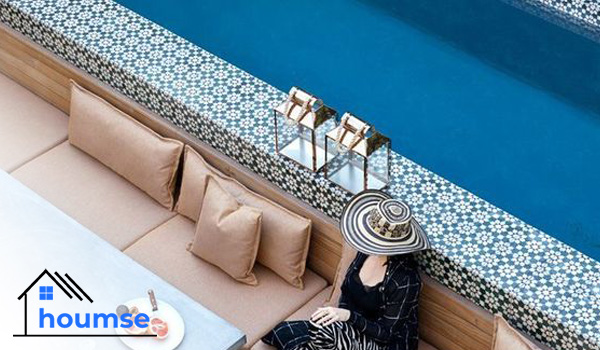 Indoor Small Pool Ideas
Yes, that is correct. It is not possible to build a pool in any space. If your terrace is too small, it may not fit. But who said that this is an impediment to having a tiny pool to play or cool off? If it does not fit outside, build it inside!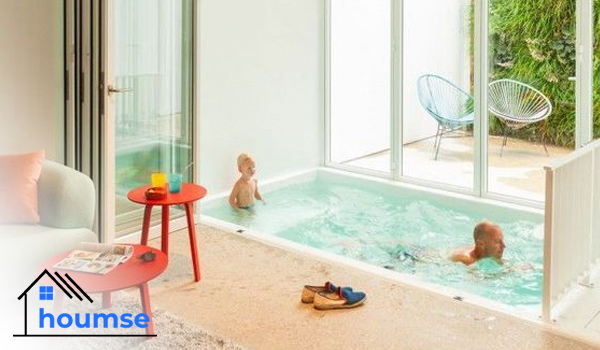 How Much Do Small Pool Ideas Cost?
The cost varies considerably depending on the size and style, where you live, and what your expectations are. On average, small pool ideas cost about half the price of a standard-size pool. Of course, the extravagant features and architectural design can add considerably to the base price.
Like larger pools, small swimming pools are typically built in one of three ways:
Vinyl liner
Fiberglass liner
Or concrete
Vinyl pools are usually the least expensive option, while concrete is usually the most expensive, but also provide the highest quality.
Each type of material has its own pros and cons when it comes to such small backyard pools. Concrete is the most adaptable option, but fiberglass and plunge pools are also available in a wide range of designs.
Can I Build My Own Tiny Pool?
Depending on where you live and the size of the pool, certain building regulations will apply, and a planning permit may be required. You may also need the help of a professional designer if you want to customize the shape, size, or features of your pool.
Even if you choose a standard size among small backyard pool designs and do not have to follow building codes, proper pool installation requires a certain level of skill and experience.
Starting a project and then having to hire someone to finish it, or worse, starting from scratch, can cost you tens of thousands of dollars more than hiring a professional from the beginning. For this and other reasons, it is best to find and work with a good builder to bring your vision and favorite small yard pool ideas to life.
What ideas did you find most interesting? Which one(s) are you going to use? Let us know in the comment section below.