Compared to silver or gold, rose gold is far more warm and friendly as well as attractive; making the rose gold decor a chic alternative to traditional options. This metallic finish offers a high-shine pop to your space, making it look complete and personalized.
Rose gold home decor trend became popular after its accessories took over the fashion world. And in the following article, we are going to review or rose gold decor ideas and items for different rooms and spaces in your house. These blushing metallic rose gold room decor ideas have an aesthetic allure that is simply unmistakable.
Rose Gold Decor for Wedding
The rose gold decor for weddings is nothing new. This pretty, pinkish metallic hue has always been a chic addition to the details of weddings. Rose gold wedding décor brings an instant romance to the ceremony, making it an all-time favorite theme.
Fortunately, you will see that it is very convenient to use any of these ideas, as rose gold wedding accessories are available everywhere and are affordable.  Here are some of the rose gold decor ideas and items that you can use in weddings:
Wedding Invitation and Sitting Plan
Start your rose gold wedding decor with a wedding invitation with blush pink colors. This way you can also introduce the theme to your guests. A rose gold seating plan can also play a part in your blush pink and rose gold wedding theme.
You can choose an amazing metallic one for a contemporary look, or go with acrylic options for a modern vibe and less hassle. Lucite or wood seating plans are your other options for vintage and rustic rose gold decorations. Whatever the material may be, be sure to adorn them with beautiful calligraphy, and border them with flowers or drape them in fabrics.
Bride and Groom
Rose gold ring, hair vine, shoes, and bouquet ribbon, and a gorgeous wedding rose gold dress are some of the ideas for blush pink bridal style. The rose gold bridesmaids' dresses can also complete the rose gold wedding decor.
The groom can also play a part in this theme, with a blush pink tie and buttonhole which works well with a navy, black or grey suit.
Wedding Setting
The setting of rose gold wedding decor can be completed with rose gold backdrops, balloons, tabletop, place setting, lantern or mason jars, etc.
Candle Arrangements
For weddings, another charming addition to the rose gold decoration is a candle decoration. To have the most elegant candle arrangement you can line the pathway with pillar candles. If you are going to have the ceremony outdoors, place the candles in mason jars and hang them on trees with ribbons (imagine that in the evening).
Prefer vintage looks? Then place tea or tapered candles in lanterns and hag them along walls, on tables, or down the aisle.
Chair Decoration
Rose gold chairs may be too overwhelming for a blush pink and rose gold-themed wedding. A better and more subtle way would be adorning the chairs with pastel drapes. You can also use greenery for a more nature-inspired as well as a casual ceremony.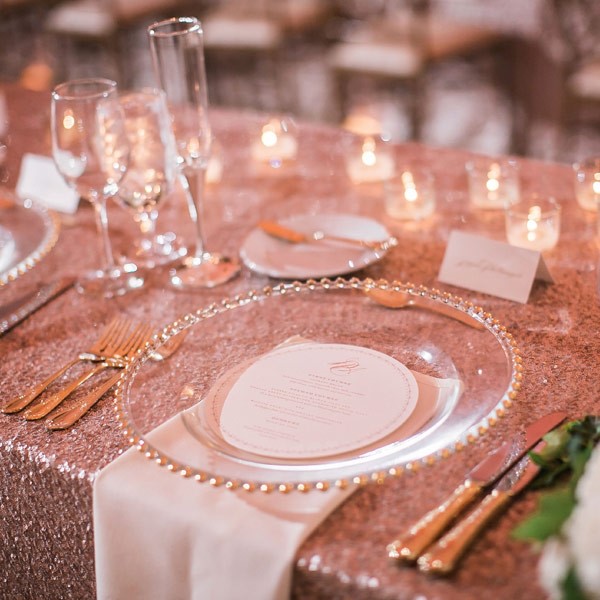 Rose Gold Decor Ideas for a Party
Rose gold decor ideas for a party are really similar to a wedding. Dresses, table settings, and of course balloons are signature rose gold decor items for a party. You can also use:
LED Lights
If your party is outdoors in the evening, use battery-powered geometric blush pink LED lights. In addition to illuminating the space and providing a charming setting for taking photos, it adds a modern edge to your place.
Inflatables
If you are going to have a pool party, find an inflatable rose gold pool float (we recommend the flamingo). The more people can use it at once, the better.
Hanging Decorations
Next to balloons, pastel or shiny garlands create the perfect backdrop for the party, while offering a nice spot to take selfies and group photos.
Plates and Cups
Rose gold party table decorations sound amazing. But, for a more detailed themed party, you can also use rose gold foil party plates, rose gold paper cups, and rose gold paper straws.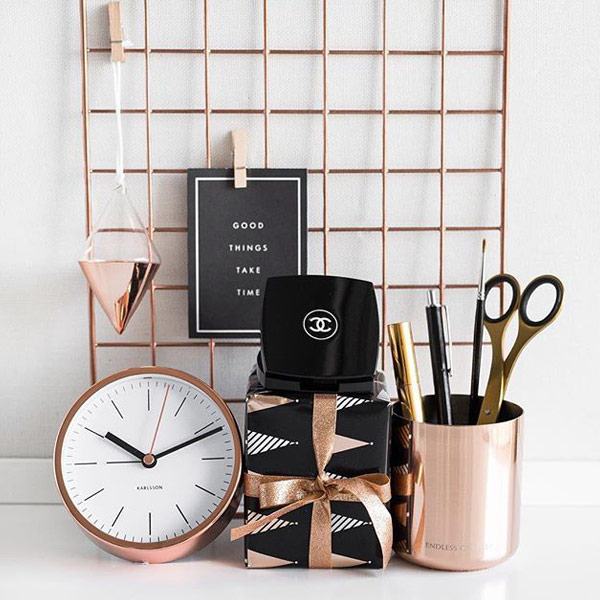 Rose Gold Bedroom Decor Ideas
Some people believe that it's a good idea to limit the rose gold decor to just one room in the house: the bedroom. If you can relate, here are some blush pink room décor ideas for your bedroom:
Area Rug
That long-lost elegant touch of blush pink to your bedroom can be an area rug. Available rose gold rugs may be a little limited in size and pattern. However, you will definitely find what you want on the market. Even the rugs with only a splash of rose gold accents can be more than enough to elevate your rose gold decoration.
Storage
For storage, blush pink vintage storage trunk sets can blend form and function beautifully. Whether you want your storage to be under wraps or out in the open, this set is a nice addition to your rose gold room décor. You can also stack them on top of each other as a chic nightstand.
Headboard
Blush pink bedding may be too mainstream and it is not the only way to make the bed the focal point. A rose gold headboard does that beautifully while showing your decorating style's character and personality. If you are thinking about a DIY headboard, then we highly recommend making one using rose gold accents.
Nightstand Decor
You can also place a lot of cute rose gold decor items on your nightstand. Items like picture frames, small flower pots, decorative boxes, etc. For a more luxurious look, you can choose a rose gold nightstand as the main element here.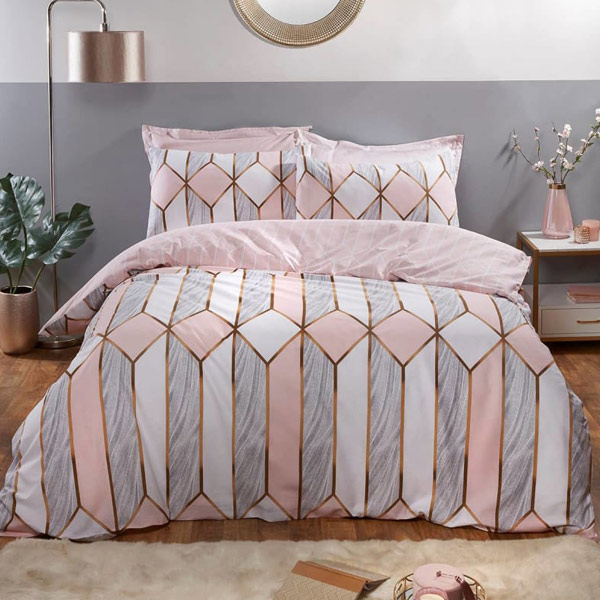 Makeup Vanity
Your bedroom is where your beauty station is. So you can benefit from having a blush pink vanity mirror. You can purchase a mirror with embedded lights for a more professional beauty station.
A rose gold acrylic cosmetic makeup and jewelry storage case is another must-have rose gold decor item. Such beautiful storage cases not only allows you to find your beauty items easily, but it has a subtle pink hue, adding a nice pop of color to your rose gold decor.
If you're a true rose gold decor aficionado, you may also like having a blush pink makeup sponge holder. It'll take you décor to the pinnacle of posh while keeping your sponge from getting dirty.
Wall Mirrors
Wall mirrors are extremely beneficial for any space, including the bedroom, especially if they are small. While taking zero space, a rose gold framed mirror (or multiple mirrors) makes your bedroom brighter and larger by reflecting the light.
Tip: If you had a small-sized bedroom, add one or two medium-large size wall mirrors.
String and Pendant Lights
Another idea that can take a basic rose gold decoration to the next level is string or pendant light. String lights are excellent for casual and chic designs. They create a cozy decor and bring romantic ambient at night.
However, if your intentions are not purely decorative and you need additional extra light, use a pair of rose gold pendant lights. There are a lot of different designs and styles of pendant lights out there, take your time and purchase the one that matches your space and taste.
Rose Gold Wall Decor
Mirrors and picture frames are among the classic blush pink wall decor. If you're are interested in other stylish options, we recommend the following rose gold decor items:
Wire wall decors, art prints, decals, maps, or oil paintings on canvas with a blush pink theme
Rose gold framed wall art or even empty frames in your preferred style
Rose gold wall shelves for a both practical and beautiful décor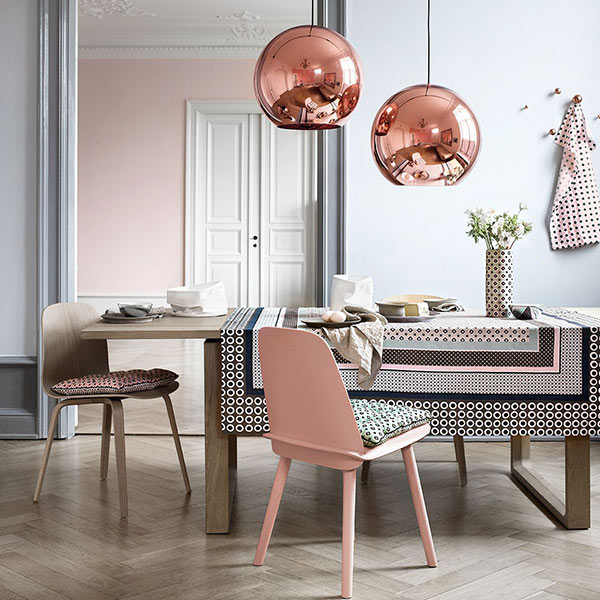 Rose Gold Decor for Bathroom
The bathroom is another space that can find a new personality through rose gold decor. Here are some ideas:
Tiles
If you are in the middle of a bathroom renovation or have it in mind, using rose gold tiles (for walls as well as the surface) is an obvious choice. It is hard to count all the beautiful options in the market.
For your rose gold decoration, you can opt for pink printed tiles, rose gold ones, or choose more subtle tones so the other rose gold accessories in your bathroom can have a more eye-catching pop.
Installing attractive wallpapers or pink-themed plywood walls are among your other options.
Shower Curtain and Cady
The combination of rose-gold shower curtain hooks and a shower curtain with a rose gold pattern instantly turns your bathroom into a magnificent space. We have a guide to DIY shower curtains at Houmse!
Rose gold shower caddy is another option. It might be a humble item, but a blush pink version is bold and eye-catching. Some designs are in a way that you can situate over your showerhead, taking the minimum space.
Vanity and Its Fixtures
A light pink vanity with rose gold fixtures and knobs may be the only thing that you need to create an ideal blush pink decor. IF you can already do that by repainting your current vanity and changing its fixture, you may as well stop reading the article and go for it!
Accessories Set
Rose gold bath accessories sets are perfect for both final touches and instant elevations in your decor.  Towel holders and mats with the same shade are other go-to choices for your bathroom.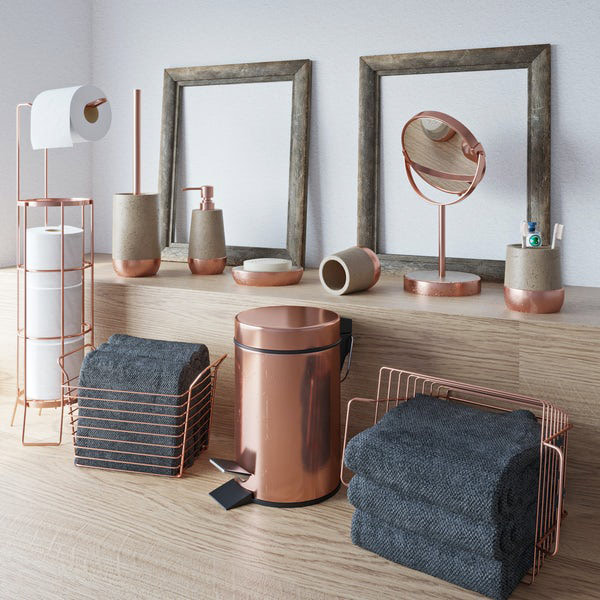 Rose Gold Decor Accessories for Kitchen
Your kitchen can be the perfect spot for rose gold room decor ideas. There are many accessories that you can use in this space that both add to the style, and are practical. For example:
Backsplash
A rose gold backsplash is able to offer eye-popping results, as tiles do in any other interior design. So if you have the time and the budget for more fundamental changes, keep this idea in mind.
Trash Can
Consider buying a blush pink trash can. A rose gold stainless steel step trash can is the testament that shows how the warm luster of this incredible color adds style to any object.
Napkin Rings
Not only blush pink napkin rings and place card holders are excellent choices as rose gold décor accessories for your tabletop display, but they're also great as a charming gift.
Other Ideas
Other rose gold décor items that we would recommend include a bar cart for the dining room, dining room chairs, serve ware, paper towel holder, diffuser, wire storage basket, cabinet handles, etc. The dining room wall decor article provides more information on dining room wall decor.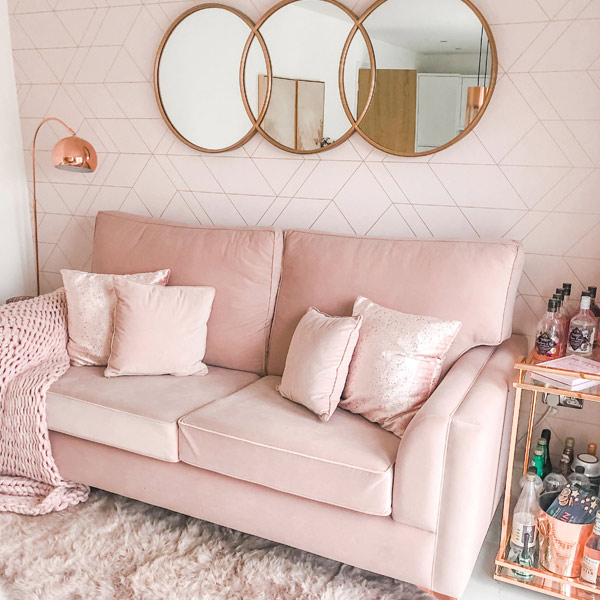 Rose Gold Room Decor Ideas for Living Room
For the bedroom, it's good to remember that blush pink doesn't have to be in metal texture to have a rose gold room décor. These are some items to create a warm atmosphere in your bedroom:
Throw Pillows
Create a warm, inviting environment with some rose gold throw pillows, and you can make them yourself! Find out more at DIY pillow.
Rugs
Baroque rugs with floral and geometric patterns offer a relaxing sense.
Clocks
Oversized wall clocks (or any other blush pink clock) are a must for your rose gold living room décor. You can use this idea to decorate your bedroom as well.
Other Items
Other suggested items for a charming rose gold decoration include a floor lamp, magazine rack or newspaper stand, modern coffee tables, stools, chandeliers, etc.
What Are Your Favorite Rose Gold Decoration Ideas?
Which one of these rose gold decor ideas was your favorite for different rooms? What perfect idea did we miss? Let us know in the comments.