When it comes to teen girl room decor, you can sense a challenge approaching. Among all the teen girl room ideas out there, you may want to find a decor that is wild, cute, practical, cozy, and relaxing at the same time.
After all, this is the place where a girl with a free spirit will dream, plan her future, spend time with friends, or have her quality alone time. However, with a bit of collaboration, this challenge and adventure through room decor ideas for teenage girl can actually result in the ideal room for your teen.
With all the long lists on the internet and so many styles, themes, and items, it may be confusing as well as overwhelming finding a starting place to decorate your teen's room. So, here we have a guide on the most thoughtful teen girl room ideas that you need to know about, covering a wide range of best designs.
Textured Ceilings
Both cool or cute teenage girl bedroom ideas do not necessarily start from the walls, furniture, or the floor. You can benefit from the ceilings too.
If you already have textured ceilings, make sure to incorporate them in the design effectively and opt for a stencil and paint. If not, find glamorous ceiling decals and elevate the room with this inexpensive method.
For example, creating a pattern using silver or gold circles or cubes (or other shapes) offers chic teen girl room decor. You can also add some drama to the room using patterned or floral wallpapers for the ceiling. In case you went with floral choices, think about adding potted plants too.
Boho Teen Girl Room Ideas
If your teenager favors the bohemian style, you are going to love styling the space and fashion absolute perfection. Since the texture is the key in such designs, consider adding a woven wall hanging above the bed, a chunky knit blanket, macramé plant holders, etc. in a neutral setting.
Opting for a bohemian headboard, pillows, and bedding mix offers a seamless setting as well. Natural wood and brass accents are among other sophisticated alternatives for teen girl room ideas for decoration.
Memory Wall
In case gallery walls seem boring to you in the year 2022, you can make a memory wall with the same effect but more charming. All you need is to attach a net of interlocking ribbons to display your photos, postcards, or other paper memorabilia.
As a great addition to cute teenage girl bedroom ideas, you can also update this piece to suit changing moods, styles, or tastes at any time.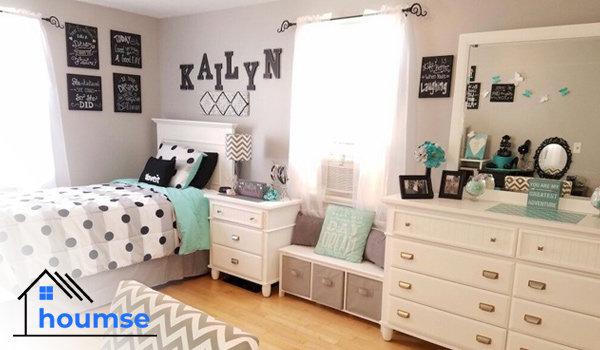 "Cool" Designs
Cool designs have always been an intriguing part of bedroom decor ideas for teenage girl. While there are individual items or accents that add an instant "cool factor", there are more sophisticated ways to fashion such styles.
A great way is mixing and matching different styles to create an eclectically elegant space. For example, you can pair a rustic wood canopy bed and shiplap walls with modern patterns and glamorous gold accents.
Colorful Room Decor Ideas for Teenage Girl
Sometimes, choosing the color that speaks to the teenager is all you need to find the right decoration. Apart from the classic white, blue, or pink, here are some exciting colors to use as the base in teen girl room ideas:
Teal: Combining teal walls with white furniture, bedding, and accessories is simply astonishing. After adding other elements and accents, you will have a chic room that makes everything in it shine.
Bold Purple: Bold colors are made for bold teenagers and their bedrooms. Paired with a patterned ceiling wallpaper from the same color palette, you can have a wise investment emphasizing color and pattern instead of themes with your teen girl room decor
Black: Jet-black walls with a white rug, door, and window(s) is another option, which you can take to the next level using pink blush accents. This way, you can keep the environment elegant and soft, so it does not feel too dark.
Yellow: Teen girl room ideas can never be too cheerful and what better color to create a cheery bedroom the yellow? To keep the eyes from tiring, pick a light hue or paint only the lower third portion of the walls and pull in accent colors with bedding, curtains, and wall decor later.
Neutral Palettes: What makes introducing neutral hues to a teen's bedroom is the ability to shift style preferences through the years.
Lavender: Lavender shades pair nicely with accents and furniture with other relaxing hues such as white or cream and offer a lovely calm effect.
Grey: For a teen girl room decor that is not going to stay the same color, grey walls are an excellent choice, which can be saturated with bold, bedding, headboard, rugs, etc.
Emerald Green: This is a very special color for any room and not just teen girl room ideas. However, paired with floral accents you will have a magical environment.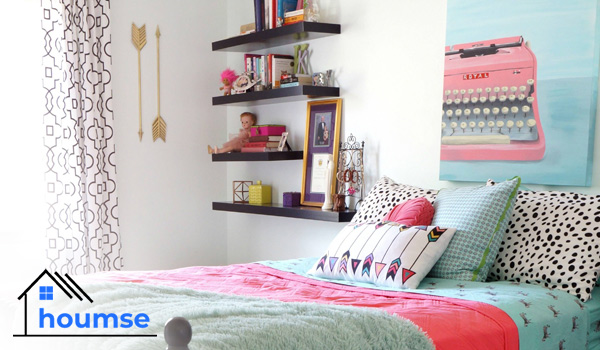 Practical Corners
No matter what your room decor ideas for teenage girl are, with some extra inspiration, you can turn their awkward corners into functional spaces. For example, you can turn it into a homework zone. With a built-in desk and shelving. If it sounds interesting, remember that you can achieve a similar look with freestanding furniture.
If reading is one of your teen's favorite hobbies, you can also place a custom tree trunk bookshelf to hold books and other decorative pieces. Looking for a more economical option? Turn an old ladder into a bookseller, which is a space-efficient alternative too.
You can also try a hanging chair for a laid-back mood.
Closet Makeover
While redoing the closet with new compartments is a practical upgrade in all cute teenage girl bedroom ideas, if there is not enough space for a desk/vanity makeup, you can always transform an extra closet into a functional study space or a compact beauty station.
Upgraded Wall Galleries
While classic wall galleries are still popular and charming, you can make them more interesting in the new teen girl room decor. For example, you can cover a painted wall with oversized arts that match-complement other furniture or blend a wall-mounted flat-screen TV into the gallery.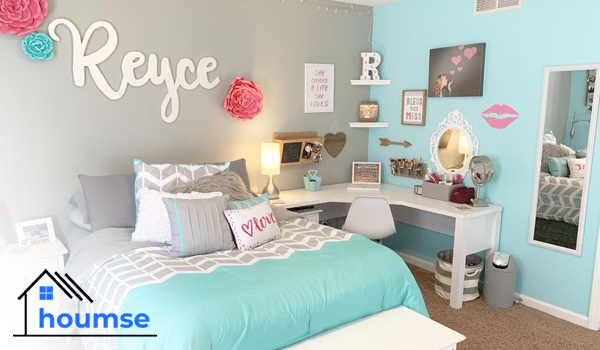 Defined Zones
A professional approach to cute room ideas for a teenage girl is designing with activity in mind. So, while decorating, make sure to define different zones for studying, sleeping, and lounging.
Statement Pieces for Teen Girl Room Decor
As mentioned earlier, sometimes one choice makes the statement that you have in mind. We are talking about painting an old bed frame a bright, bold hue and placing it in a neutral space, a romantic gauzy bed canopy, and a chandelier light fixture.
Above and Over-The-Bed Panels
Something monogram above the bed is common in different lists of bedroom decor ideas for teenage girl. However, it does not make a dramatic focal point.
Instead, you may want to install a patterned panel soaring over the bed. You can also implement the same pattern in different parts or pierces such as closet or shelves sides. You can also install cheery, colorful artwork panels (trio panels are the sweet spot).
Tip: If styling the wall behind the bed sounds interesting, contrasting a bold wallpaper with white bed sheets is another inspiration.
Wall-Length Desk and Storage
Storage is vital in teen girl room ideas. So, if the room has enough space, a wall-length desk and extensive storage space promise ultimate style and function. White would be a safe color for this piece, which can be enhanced using colorful fixtures and handles, accent pieces, etc. next to other necessary items.
Classic Room Decor Ideas for Teenage Girl
For teenagers with a lux taste, traditional furniture in matching colors, stenciled walls, a mirrored French Victorian armoire, wire dress form, dramatic upholstered bed, gold chaise lounge, and bedside pendant lights may be the inspiration that you are looking in bedroom decor ideas for teenage girl.
Cottage Fun
Cottage style is a hidden gem in teen girl room ideas that is rarely found, despite its cheerful potential. A bedroom designed with this theme in mind may feature soft pastel walls, floral fabrics, wooden furniture, etc.