Although old, vintage decor never goes out of style! When talking about this style of decoration, one may think about antique collecting. Well, vintage decor style is much more than that, helping you create a space with a unique atmosphere where every piece plays its own part.
In the following, we are going to review some of the best vintage decor ideas and trends right now. But before that, let us know the origin of this style and its essentials better.
Vintage Decor Style, What Is It Exactly?
There are different interpretations of vintage decor and all of them are correct to some extent. You may think that having a lot of antiques is enough to create such decoration. Or that you need to incorporate old and worn-out furniture. You are not entirely wrong, but the vintage decor is a little bit more complicated.
The word "vintage" itself, refers to a group of items that have been made and used in the past in a certain era. By this definition, we can say that vintage home decor uses furniture and accessories that belong to a certain period in the past for decorating. And in the world of interior design, this specific period is been defined between the last 30 to 60 years ago.
In fact, vintage decor for living room, bedroom, and other parts of the house display old and memorable elements alongside modern ones, offering a beautiful and nostalgic feeling, which is what makes this style so popular.
How Did Vintage Decor Come to Life?
In the 1940s, after the end of World War II, people started showing interest in vintage home decor. At this time, due to poor economic conditions, people used old and second-hand furniture and appliances to decorate their homes.
However, it was in the 1990s after a movement started in art, fashion, and jewelry design that vintage decor style became for interior design, quickly becoming popular in the United States and most European countries.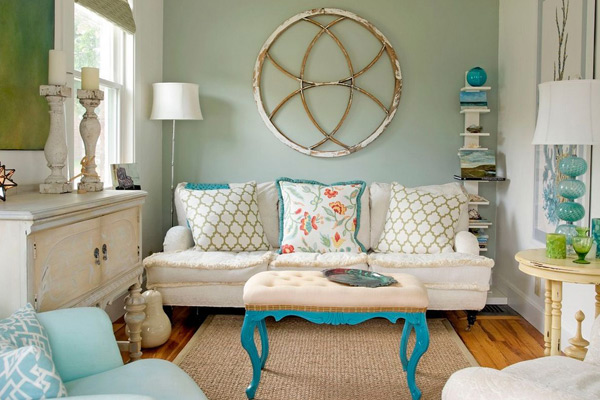 Vintage Home Decor Essentials to Remember
Do you enjoy reviewing memories from the past or crave nostalgia? Or do you love the idea of spending time in a space with a sense of history? Either way, it seems that vintage decor is exactly what you are looking for.
But before telling you about vintage decor ideas, let us see what its most important components are.
Decoration Pieces, Lots of Them
As much as minimalists may not be crazy about this, collectors would love it. However, we need to remind you that holding onto numerous staff does not equal having a vintage decoration. This style brings an overall feeling where all components from wallpaper to vases to furniture, all play an important part in it.
All of these decoration pieces should be placed with extra care. They should be out of way and access as much as possible.
Picking a Theme (and Sticking with It)
Whether you are looking forward to having vintage decor in bedroom, living room, or other parts of your house, vintage decor style does not limit your creativity, since there are different paths to bring this theme to your house.
You can have a color theme, go for a specific time period or era for your vintage decor accessories, or choose a main material; for example, all items should be made of wood or metal.
The Aged Look
As you know by now, vintage home decor items and accessories should have an aged look. Modern objects with sleek appearances do not belong in such settings. In order to have a true vintage space, all objects including furniture, pictures, and pieces should be a little worn-out to show the effect of time.
These items do not necessarily have to be actually old; they simply should look that way. So if an object seems brand new, it is better not to use it in your setting. Vintage decor ideas do not use the latest pieces from furniture stores. They are all about taking old pieces and giving them new life in a new setting.
That being said, avoid using pieces that are close to falling apart!
Color in Vintage Decor
Similar to picture facing you also have multiple options when choosing a color for your setting. In almost all vintage decor ideas, color is actually a unifying parameter. You can go with contrasting colors or have a monochromatic with the most classic colors.
You can also find inspiration in Victorian decors and go for something with more character such as deep velvet or red.
The Right Furniture
Furniture is arguably the most important part of all vintage decor ideas. When choosing a piece of furniture for your setting, have a specific time period or theme in mind.
The furniture you pick will later become the focal aspect of the room, not an accessory. For example, the table in your vintage dining room cannot be a small coffee table, as it is not a primary piece. Also, as mentioned before, the furniture needs to show the effects of time.
All Authentic
While looking for vintage decor accessories and items (from antiques to wall fixtures), always look for authenticity. Items made from real wood and metal are super eye-catching and also serve as excellent conversation pieces. We know that such items are difficult to find, but they are completely worth it.
Outdoor Options
You may not be here to find vintage decor ideas for living room or bedroom. If you want to bring the vintage spirit to your building's exterior, wrought iron fixtures are one of the best and simplest options. Decorate the walkway to your home entrance with them, or attach decorative window pieces to the outside of your home.
If you are up for a little bit of challenge, consider surface attachments to change the outside look, without changing the structure.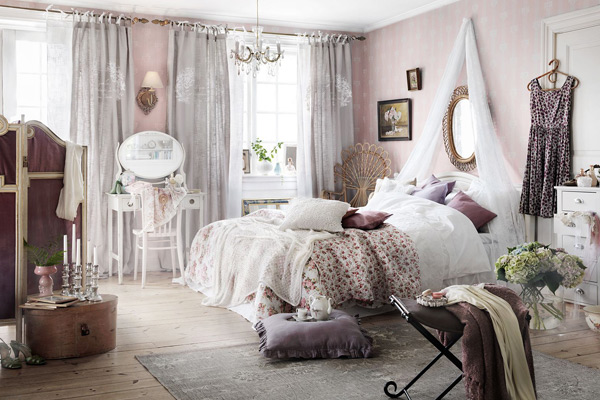 Vintage Decor Ideas & Trend
Now that you know the "How To" let us take a look at some of your options to create a cozy space full of nostalgia and historic references:
Storage Ideas
Old storage chests
Mid-level multi-unit cabinets
Wooden storage crates (perfect for kitchen vintage decor)
Vintage ladder as a towel rack or a shelf for other vintage decor accessories
Furniture Ideas
DIY side table with vinyl disk or vintage suitcases
Reclaimed furniture with new fabrics (leave the wood as distressed as it is)
Wall Decor Ideas
Vintage framed maps and posters
Wood pallet walls (or even ceiling)
Small pallet wine rack that can also work as vintage decor holder for books
Patterned wallpapers (although blank walls are also an option in the vintage decor style
Other Vintage Decor Accessories & Items
Vintage decor with stacked old books
Weigh scales, fan, typewriter, telephone, clock, etc.
Repurposed vintage candle tins or hand-poured goblet candles
Decorative antique vases or DIY hand-painted mason jars or tin containers as an alternative
Remember that these items serve as final touches and not critical pieces.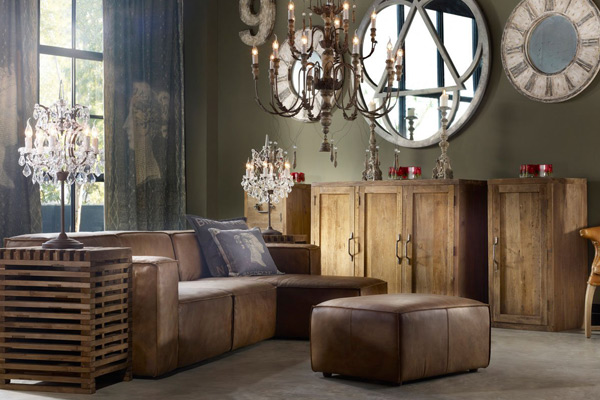 Final Thoughts on Vintage Home Decor
When styling a space while having this theme in mind, allow yourself to try different things. Like a lot of people out there, you can apply a different set of vintage decor ideas in each room, changing up your approach from room to room.
For example, your vintage decor for living room can be inspired by colonial times, while your vintage decor for bedroom looks Victorian. There are many time periods that you can choose from for each part of your home (both indoors and outdoors!).
Pick a historic era that you have always been fascinated in and start styling! However, we should remind you that while some of the vintage decor ideas require minimum effort, vintage style is not easy to put together fast.
It takes time, research, and treasure hunting to find the right accessories, especially for interior decoration. But that never can stop a vintage aficionado now, can it? So, happy vintage decorating!