A vinyl pergola provides you with the benefit of shade and a stylish look without the hassles of the real wood. As a unique and practical style of patio covering, a vinyl pergola is also durable in the face of outdoor wear and tear during different seasons. If you are looking for a vinyl pergola for your backyard, you can find everything you need to know about vinyl pergolas here.
Why Should I Get a Pergola?
Before talking about the vinyl pergola kits and their special advantages, let's see how this landscape enhancement can simply make your life better:
Extend the Living Space
If you've installed a deck or patio, you probably did it to add to your living space. Now, if you're thinking that this outdoor living area isn't as useful as you want it to be on hot summer afternoons and doesn't provide protection from in-climate weather, it's time to get a vinyl pergola.
 A vinyl pergola with canopy or a white vinyl pergola with shade can extend the living space while increasing the amount of time you can spend outdoor. A well- designed and oriented pergola provides enough shade to make a warm afternoon enjoyable. For additional protection, install a vinyl pergola with canopy or shade. Some of these models even provide protection in unpredictable summer storms and rains.
Custom & Kit Design Options
After deciding to add a pergola to your landscape, you have two options: custom vinyl pergola or vinyl pergola kits. Landscape professionals can design and custom build one for you, or you can buy a kit from a famous manufacturer.
If you select a kit, it's possible that you won't enjoy the same design flexibility. Being limited to rectangles and fixed dimensions is possible, but considering the different designs today, it's not a noticeable problem. For kits, vinyl pergola parts will be delivered to your home for assembly and installation.
Made for Entertaining
A pergola lets you enjoy both form and function of your outdoor living space. It provides support for everything from chandeliers and ceiling fans (check with a professional to see if it's sturdy enough) to small speakers, fabrics, light strings, etc.
Vinyl pergola with canopy or other models extend the outdoor space, offer various design options, and you can tailor it to fit any budget (like DIY vinyl pergola). Providing both energy and tranquility, a pergola might is a perfect enhancement to any deck or patio.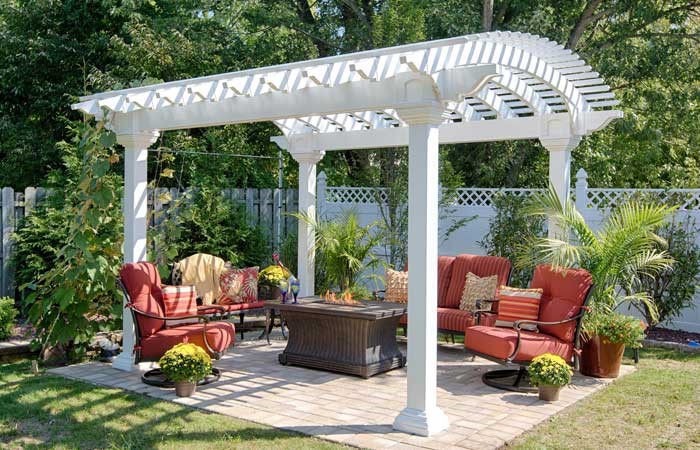 Vinyl Pergola; What Are Its Benefits?
A vinyl pergola with canopy or another model gets you ready for outdoor entertaining perfectly. But why should you choose vinyl pergola kits over traditional wooden ones?
The most important benefit is because of the vinyl pergola materials. These pergolas function way better for the outdoors and different climates compared to wooden models. If you are living in an environment with high temperatures, we strongly suggest opting from vinyl pergola kits.
Additionally, wooden pergolas can be quite quick to mold and mildew, and crack and warp in hot areas. Vinyl pergola parts are also hard-wearing when it comes to pests such as bugs and rodents. Over all, if you're looking for a pergola that needs minimum maintenance, vinyl pergolas are and excellent choice.
Vinyl Pergolas; a Matter of Size
No matter the size of your backyard, you can always find a vinyl pergola that is suitable for your space. There are many brands that offer smaller attached vinyl pergola kits that fit in smaller spaces like decks or porches.
For example, an alcove pergola can easily fit in small spaces that aren't large enough for traditional rectangular pergolas. 10×10, 12×12, and 12×16 vinyl pergola are among the favorite sizes now.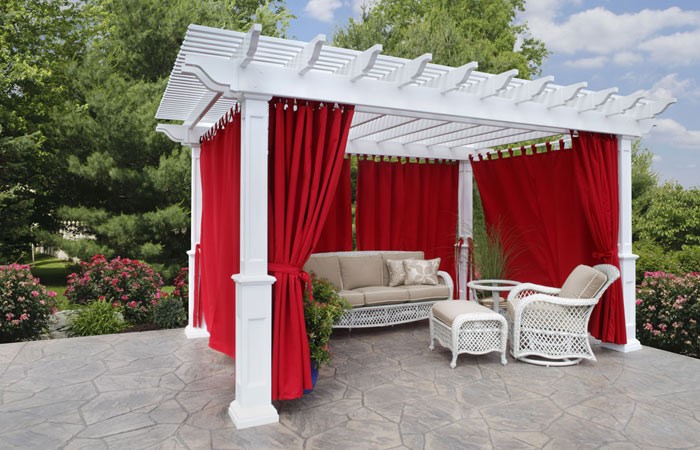 DIY Vinyl Pergola Kits
Assembling vinyl pergola parts is a perfect DIY project in a free afternoon. It also doesn't need any building permits and saves you the money that you need to pay a contractor. These kits have all the vinyl pergola parts that you need to build it, even with the minimum experience.
Considering the increasing popularity of vinyl pergolas, there are a few things that you should keep in mind to enjoy the process and the product; such as:
Vinyl Pergola Materials
Vinyl is luxurious material for a pergola, and all the great DIY kits you'll buy will be made of vinyl. As we stated before, vinyl is arguably the best material for pergolas, since it never rots or gets moldy like wooden ones.
Additionally, you won't need to paint it again or re-stain it every year (again) like wooden options. The low-maintenance for vinyl pergola materials is another selling point; you enjoy building it, but it doesn't mean that you want to keep working hard while you use it.
Everything Included
A good DIY vinyl pergola should have everything that you need to build it once it arrives. If you need to go to a hardware store before getting to work, choose another kit. So look for a kit from a brand from which all of the materials are included.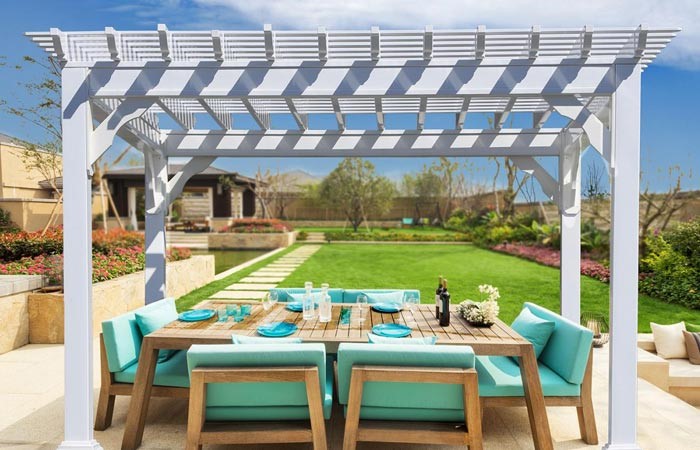 Custom Vinyl Pergola Options
One of the main reasons that a lot of people prefer DIY pergolas, is that they have their own idea for enhancing their backyard. In the market, you can find a variety of different colors and styles, and choose the one that matches best with your idea. There are even some brands that outfit their structures with extras pieces like sunshades, built-in lighting, etc. Unlike store-bought options, you can tailor custom kits to your outdoor decor.
Reliable Instructions & Support
If you are thinking about getting a kit, it means that you're up for a challenge. However, it doesn't necessarily mean that you want to be overwhelmed.
A kit including all the vinyl pergola parts and clear step-by-step instructions are a must for the best building process from the scratch. Detailed instructions can do the trick for you. But in case you have a question, a support team can help you with the installation greatly.
A Fair Vinyl Pergola Cost
The cost plays an important role in buying almost anything. Lowering the cost is another reason that homeowners decide to attach the vinyl pergola parts themselves, and save the installation fee. Now that you can enjoy building the structure yourself and saving some money, make sure to get a fair price on the pergola kit itself too.