A warm color palette promises a comfortable and inviting area. Whether you want to decorate your bedroom, living room, or any other space with warm colors, there are a lot of hues that can make your place magical.
Shades of red, yellow, and orange make us farm, reminding us of the sun or fire. Pick a design with a warm color palette from the ideas below, do some painting, and enjoy the coziness all day long.
Warm Color Palette for Bedroom
A warm color palette for the bedroom helps you to wake up with full energy. You can always make some pop with beddings, pillows, and rugs with a warm color, but a room with colorful walls is something else. Here are some of the best hues out there that you can use from a warm color palette for the bedroom:
Blush Pink
This graceful color, which isn't only for girly rooms, turns the walls into an important part of the room, offering a luxurious and yet warm space. You can pick strong vibrant shades or more subtle and pale tones of blush pink.
This hue also works perfectly with metallic accent shades of copper, silver, or gold. So if you're planning to decorate the room with metallic elements, blush pink from the warm color palette would be an excellent choice.
Caramel
A warm color palette for the bedroom doesn't have to be bold and eye-catching. A warm tone of caramel can give your room a sophisticated, modern, and comfy look without being withering. If there are other wooden elements in the space, your bedroom is going to be super classy and warm.
This light shade also contrasts beautifully with other bright interiors while injecting warmth into your bedroom. The easiest thing that you can do, is adding pops of vibrant colors (also from the warm color palette) with throw pillows, beddings, etc.
Subtle Red
Since the red wall in bedroom raises your energy and evokes excitement, we recommend subtle red shades from the warm color palette. Because too many of these emotions may activate your mind before bedtime, and make it hard to fall asleep.
Rust red, red-orange, or clay reds are smart choices when checking a warm color palette for the bedroom. Such hues make your space bright, cozy, and not too energetic at the same time.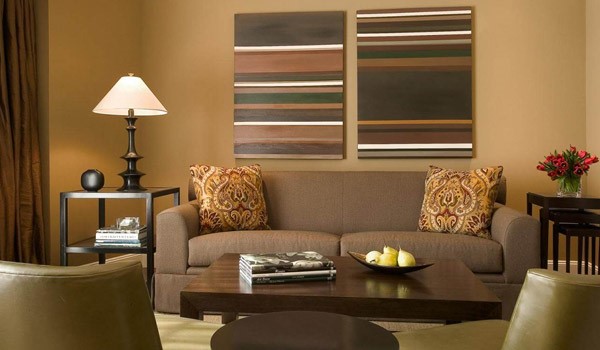 Warm Color Palette for Living Room
Since you don't sleep in the area, a warm color palette for the living room offers more exciting hues. Here are some of them:
Marigold and Mustard Yellow
As a more unique hue of bright yellow, the warm mustard yellow gives a peaceful glow to your space. If you want to paint the walls using this color, remember that paint pigments can appear a little bit differently in your space than in the store. So it's a good idea to buy a paint sample first, and make sure it works just the way you want in your home.
Another lovely hue from yellow/orange and warm color palette for the living room is marigold. This charming yellow-orange color is named after a flower of the same name. Marigold especially works beautifully with navy blue and olive green furniture, accent pieces with rose gold decor or other metallic finishes, accentuating the shining personality of yellow.
Peach
Imagine a gallery wall art with black frames on peachy blush walls, is there anything more charming and at the same time more modern than that? This shade of warm color palette creates a nice contrast with all sorts of black and white wall art.
This soothing color pairs well with steel blue and bright red for a more popping contrast too. In general, peach color is the perfect backdrop for any bold furniture that you may have.
Orange
Instead of painting the walls completely, you can also paint patterns with your favorite hue of the warm color palette. A great color for this project is warm orange. Even the simplest patterns with this dominating color on white walls can turn your living room into a contemporary space. Making the room ready to be completed by neutral furniture and bold throw pillows.
Tip: Neutral tones like white, black, and gray work well with the warm color palette for the living room. And depending on the main color's undertones, they will appear warm too.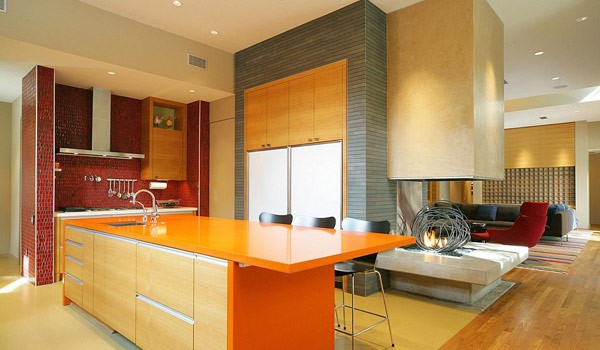 Warm Color Palette for Kitchen
A warm color palette in the kitchen works your appetite like a hard workout! Similar to the warm color palette for the living room, orange is a seamless color for this space. You don't have to have orange walls or wall tiles to make your cooking space warm. The kitchen table, refrigerator, etc. can give the same zest to your area as well. There are other options too:
Honey Gold
Honey gold paired with a more neutral warm color like greige (a mix of beige and gray) offers a unique and elegant look. You can use greige with its brown undertones for the cabinets, and the honey gold for the walls or the ceiling. Other wooden and stainless-steel elements are what turns your space into a state of an art kitchen.
Brown
Brown from the warm color palette can be used in many rooms, from the living room to the dining room wall decor to the kitchen. This earthy tone complements many colors. Brown walls serve as the perfect backdrop to showcase other colors. If you're planning to keep a lot of plants in your kitchen, you won't regret choosing this color from the warm color palette.
In such a setting, other white furnishings and finishes keep the warmer colors in check and offer a clean and crisp look. Our recommended brown shades for the design are cocoa and chocolate.
This was our warm color palette inspiration list for your house. Remember that these rules are simply popular recommendations. You can always change a few details and create your own palette. Also, if you think your chosen warm color palette leans heavily toward warm colors, simply balance them with one or two cool colors. In this scenario, your best choices are the colors that you find on opposite ends of the color wheel.