The craftsman style house was a revolution in American architectural design. Houses in this style were built across the country between 1905 and 1930. In the late 20th century, the craftsman style became popular again, with architects restoring older buildings.
Like many design elements from the Arts and Crafts period, a craftsman house is both a work of art and a functional dwelling. It has a distinctive style that is instantly recognizable to architecture students, contractors, and fans of the Arts and Crafts movement.
The craftsman style has its roots in the bungalow, a low, comfortable house that originated in India. Various designers, including Gustav Stickley, Charles Sumner Greene, and Henry Mather Greene, popularized this style.
All of them were iconic figures in the Arts and Crafts movement, and the style became a natural extension of the furniture and art they created. Having this brief piece of history in mind, let us see what is a craftsman house and what are its important elements in more detail.
What Is a Craftsman House?
A craftsman house typically is one-story with a low ceiling, though some also have attics and dormers. The house generally has wide eaves above a wide porch, which has distinctive square pillars. In a craftsman style house, the ceiling beams are traditionally exposed, while the interior has many built-in cabinets, nooks, seats, and bookshelves. The craftsman house interior beams are often exposed and are also used as decorative elements.
Craftsman style homes often have open floor plans, making it easy to display large works of art, as well as inviting people for large gatherings. Additionally, the craftsman house plays with negative space to bring out home accents, while using space efficiently.
Most also incorporate Arts and Crafts style light fixtures, which are an integral part of the home's design rather than an afterthought. Some also have stained glass windows to provide a play of light and privacy in their craftsman house.
The construction of a traditional craftsman style house is incredibly modest, as it benefits from the building's site. The house is usually located to receive the most sunlight and is surrounded by a large garden. In addition, craftsman style homes use local materials wherever possible, and sometimes even materials from the site such as wood or rock.
Natural materials play an important role in the craftsman style, with local stone cladding fireplaces or local woods being used for decorative accents.
What Is a Modern Craftsman House?
Modern craftsman houses are characterized by clean lines with design features like tapered columns, large front porches, and gabled roofs.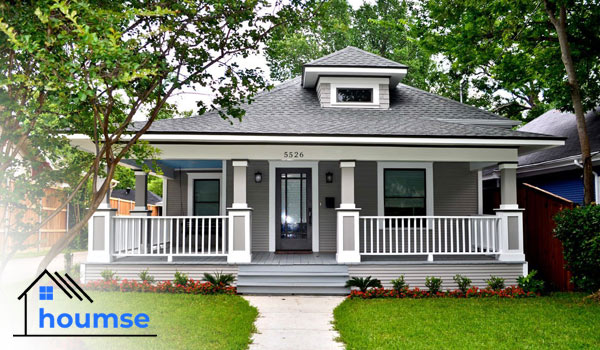 Craftsman Style House's Characteristics
The most important elements and features in more detail include:
Natural Materials
A craftsman house is typically built with natural wood, stone, brick, and other natural materials. Everything in its exterior design expresses natural beauty, which is why most craftsman style homes are eco-friendly.
With less interior space than most modern homes today, a craftsman house tends to use fewer resources to build and requires less energy to maintain too. If you want an eco-friendly way to build a house, this style is a great option.
Furniture and Storage
Built-ins have always been a signature in domestic architecture, but it was the Arts and Crafts movement that took it to the next level. This is exactly because of this element that although these bungalow-style homes are not very spacious, they appear to be that way. Since craftsman style houses have low-sloped ceilings, fitting all kinds of conveniences such as Built-ins and lamps are quite common in these small spaces.
Built-in storage is another way to maximize space in craftsman style homes, especially in corners. Such spots are great for incorporating a built-in storage unit. Homeowners can either install ready-to-use built-in storage in the corners or even cover a wall completely and create a space to store dishware, books, and other items.
Fireplace
The fireplace is often the focal point in a craftsman house interior, which is mostly flanked by built-in cabinets, bookcases, etc. Professional designers recommend that the fireplace runs the full length of the wall to make a strong statement and stand out. Today, a lot of craftsman style homes feature a large fireplace, which is the main selling point for those who live in areas with cold climates.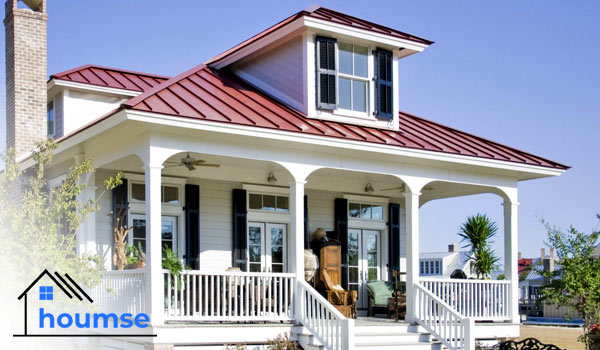 Nooks and Window Seats
Nooks and window seats are easy to find in craftsman style homes. Thanks to extra-large windows, craftsman homeowners can benefit from them by creating window seats also serving as a reading nook. Large windows also allow plenty of natural light making the space look larger as well as offering impressive views.
Pillared Porches
As mentioned earlier, porches with pillars supporting the front steps are another essential element of the craftsman house. This feature also provides support for the roof from the front porch. Covered front porches have another bonus too: they allow people to interact more easily.
These porches usually feature square columns that seem as if they are buried in the ground. But in fact, these columns are usually mid-height and rest on stucco- or stone-clad pedestal bases. Pay attention to the shape, this is what distinguishes a craftsman style house from bungalow-style houses.
Low Pitch Roofs
Another distinctive feature of the American craftsman house is the low pitch or low-sloped roofs, typically installed in a pediment style; sometimes with wide eaves overhanging the front façade and incorporating a spacious front porch. The tails of the roof rafters are left exposed (so one cannot install gutters) with ecorative braces and beams added below the gables.
Exposed Beams
Exposed joists or rafters are common in both exterior and in the craftsman house interior too. The great thing about having exposed beams is that they can help make the space look larger. They also give a vintage, cozy feeling to the space, which is what a craftsman style house offers more than anything else. Regardless of their purpose, exposed beams are the perfect choise to add a touch of rusticity.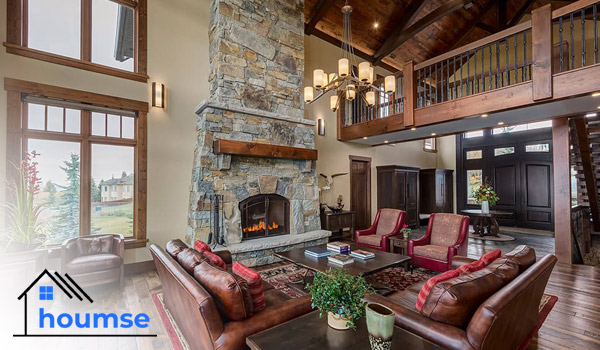 Open Floor Plan
Open floor plans originated in craftsman houses and now you can see them in many places. In addition to open rooms, these plans provide better traffic flow and make the house look more spacious than it really is.
The living room, the kitchen, and the dining room are the most important room where most of the life happens. In craftsman house plans, the master room is often placed on one and other bedrooms are at the other end of the house.
Wide and Overhanging Eaves
Overhanging eaves are another common element in craftsman style homes. They are built into houses in different ways with stone or other natural materials that pair well with the exterior. The eaves serve an important function, especially for those who live in humid areas. In such parts, they keep water off the walls and away from the foundation.
Double Hanging Windows
Double hanging windows with separate panes and made of glass are a must in craftsman style homes. Unlike other types, these windows do not open outwards, decreasing the risk of accidents effectively, especially in high-traffic areas such as patios, terraces, and corridors.
Projecting Dormers
A dormer is a window projecting vertically from a sloping roof that often has its own mini roof. Also known as shed dormers, they have horizontal sections and cover a large part of the roof while giving the attic more practical space.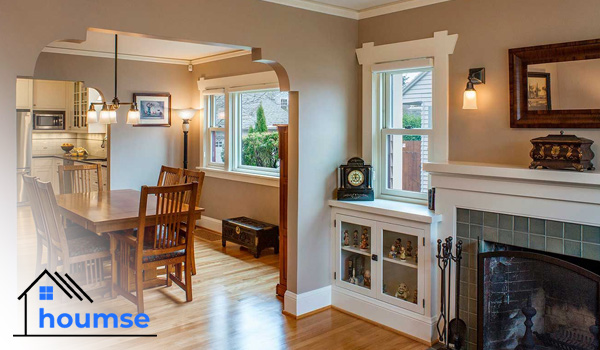 How to Make a Craftsman House Interior?
Here are some interior design ideas you can use to create the crafty atmosphere you want:
Using natural materials such as wood, stone, brick, and glass
Wooden shelves or built-in cabinets
Contrasting colors in earthy tones
Fireplace with heavy mantels
Old, handicrafts accents
Artisan Furniture
Lots of windows!
Beams
And here are a few ideas to give your house an old look, which also contributes to craftsman house interior:
Use high quality organic materials
Install crown molding/base boards
Replace modern hardware
Put up a picture railing
Paint with Limewash
Look for worn rugs
Use real paintings
Craftsman House Colors
Typical craftsman style house roof colors are naturally brown, green, and red. With a brown roof, ideas for traditional body colors include olive green, dark green, and reddish or lighter 1920s bungalow colors like yellow, orange, and sage green.
With a green roof, work with brown, yellow, and red body colors, both light and dark. In this scenario, they are the best craftsman house colors.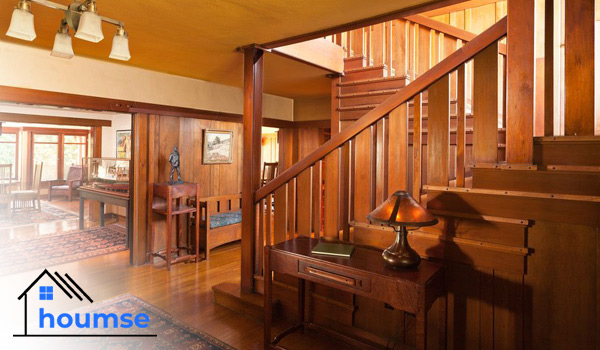 What Is the Difference Between Craftsman House and Bungalow?
As mentioned, "Craftsman" generally refers to the Arts and Crafts movement and is considered an architectural or interior style, while "bungalow" is a particular form of house or building. Thus, a bungalow can exhibit a craftsman style, and many of them did.
Interestingly, the term "Craftsman" comes from the name of a popular magazine published by furniture designer Gustav Stickley from 1901 to 1916. Bungalows, which could be built without excess materials or effort, suited the Arts and Crafts movement and were designed with the thinking of the working class. And Bungalow, from the Hindi word "Bangla," meaning "belonging to Bengal," was used to describe the freestanding huts built for early European settlers
When talking about craftsman style house, some think of Mission style as well.  The term "Arts and Crafts" is often used as a general term in the US, "Craftsman" and "Arts and Crafts" were almost synonymous and are often used interchangeably. "Mission" style, however, was a term used primarily on the East Coast. Like Craftsman, Mission was a brand name but marketed factory-made furniture.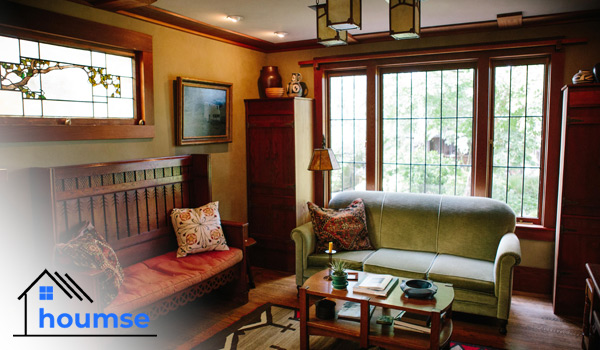 Final Thoughts
Craftsman style house have prominent exterior features including low ceilings with wide eaves, exposed beams, and decorative brackets; front porches with heavy tapered columns and stone supports; and numerous windows, some with leaded or colored stained glass. They make
Craftsman house plans are available, and many publishers reprint original designs from the early 20th century; all of which offer a lovely, solid, beautiful, and simple dwelling that will serve the owners well.