Speaking of interior design, one of the most popular styles in recent years has been the boho design, characterized by vibrant colors, and a charming fusion of cultures and styles.
Originating in the 1950s, the boho design often combines hippie, ethnic, and oriental styles to create unique environments, accentuated with various patterns, textures, rustic finishes, and vintage pieces.
Continue reading to find out what is boho and how to adapt the boho look in your home or any other space.
فهرست عناوین
What Is Boho Style?
As mentioned, the boho or bohemian style is a decorative trend with signature characteristics such as vibrant colors, implementing a combination of cultures and eras, as well as the freedom to mix different styles.
What Is Boho Design's Origin?
The term boho comes from the French word 'bohémien', which refers to the gypsies who came to France from Bohemia, a region of the Czech Republic.
This word is associated with the nomadic lifestyle, being the 1950s in which boho culture originated with the Beat Generation in the United States, giving way to the hippie culture of the 1960s and 1970s.
Today, boho often refers to an eclectic aesthetic, with an emphasis on vintage and ethnic pieces from the 1950s, 1960s, and 1970s.
What Does Boho Mean?
As a style, boho design has a clear meaning. And boho definition, as a word, is not far from it as well. For example, the Cambridge dictionary defines it as a relaxed, informal, and unusual style of dress or decoration that is typical of a boho. It is an unconventional concept, as in behavior or taste.
And boho definition, for people, is someone who is interested in artistic and unusual things and lives in an informal manner that ignores the usual ways of behaving.
How to Create the Boho Look?
Adapting the boho design to your home is simple, as long as you know the tips to prevent it from looking exaggerated or meaningless. Here are some ways to achieve it:
Colors and More Colors
One of the ways to adapt to the boho trend in your home is to incorporate different shades of intense, cheerful, vibrant colors. The purpose here is to let them coexist naturally in a single space to create a unique atmosphere.
Different Patterns and Textures
Another key step in incorporating boho design into your home is to mix and match bright colors with different patterns and textures. You can mix floral, paisley, ethnic prints, tribal prints, and geometric patterns.
To avoid chaotic results, one option is to choose a neutral base for the walls, which is also quite common in boho chic style (described in later parts). This way, the mixture of colors, patterns, and textures will bring life to the room without tiring the eyes.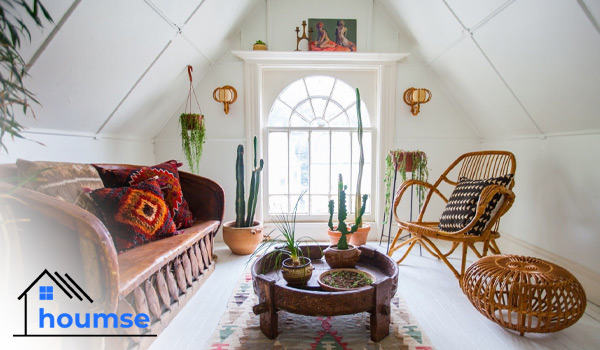 Natural and Rustic Finishes
These are among the basic steps to bring the boho look to your home, being a hippie influence from the 60s and 70s. Furniture made from natural or raw materials like hemp, sisal, wood, and rattan will help create this look authentically.
Decorating walls with fabrics, macramé, or sisal rugs is also very popular, as well as using other elements such as leather footrests, decorative ladders, or vintage lamps.
Rugs
Another step to adapting the boho design in your home is rugs since floors are usually decorated with textiles of different designs and textures. Therefore, not only will you make the environment warmer, but it will be softer for the feet.
Cushions
Like rugs, cushions are another decorative element that helps you create the boho style in your home. Whether on the sofa, in bed, or even on the floor, you can use them for lying down or sitting in an informal and relaxed way. Feel free to combine cushions with different shapes, sizes, and prints. The more the better!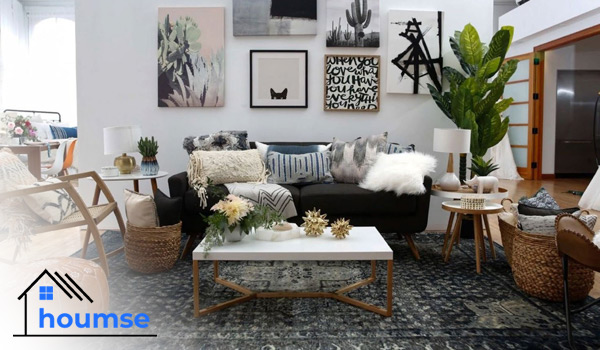 Vintage Furniture
Vintage furniture is one of the key parts of the boho look. And as you may guess, the more worn and vintage, the better. These pieces are usually the main protagonists of this decorative style, you just have to be careful that they are not too many. A small number of pieces of furniture, but of a considerable size, will look better.
Unique Items
Finally, unique objects and pieces are something that cannot be missing in boho style. Since this style celebrates different cultures and ethnicities of the world, decorative pieces and travel souvenirs are perfect to complement the bohemian style.
What is Boho Chic Style?
Unlike the original boho look that uses a combination of many shades in a single space, the boho chic style has a base of neutral colors. Additionally, the chic version generally shows the bohemian look with cushions, rugs, and decorative elements, which are more elegant.
Boho chic style stands out for representing a free, artistic, eclectic, and relaxed lifestyle. As it comes from the already classic bohemian look, but its difference is that it is a more sophisticated alternative, which mixes the nomadic with the cosmopolitan, whose aim is the search for well-being and a return to nature, without losing style and elegance.
Key details of the boho chic style include:
very personal spaces where you can mix what you have found during your travels and what you love personally
Lots of textures with cushions, blankets, and rugs combined with prints of different shapes and sizes made from natural materials
And for rugs, the boho chic style prefers the ones in natural tones or various colors, which immediately gives a very boho-chic touch to any environment
Ethnic and other cultural motifs are another easy way to create a boho chic style room
Wicker and rattan furniture
Light and weathered wood
White or beige walls
Plants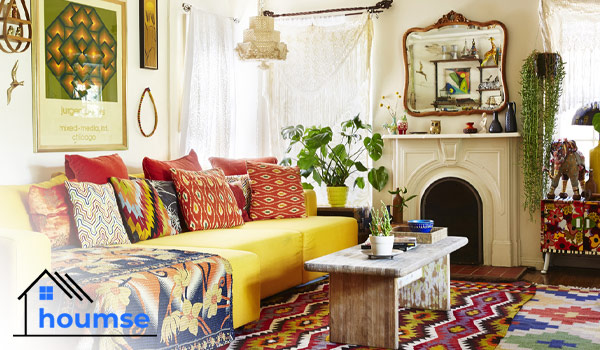 What Is Modern Boho Style?
The only rule in modern boho is that there are no rules. That is why the modern bohemian style is the freest decoration style there is, only suitable for people who see life this way. A modern-bohemian decoration is fresh, colorful, full of personality, and perfectly reflects how the person who lives in that house is.
Comfort is one of the signatures of modern boho and sometimes it can be reminiscent of the rustic style due to using untreated wood. Natural fabrics are essential, rugs are (almost) mandatory and plants always find their place.
Modern boho creates well-lit spaces that invite your imagination to run free and spend hours reading books under a blanket with many cushions. This is what you need to do if you are looking to have the modern bohemian style at home.
Modern boho often includes:
Leather sofas, wooden furniture, vegetable fibers, everything that can remind you of nature. Natural accessories, such as wooden frames for your photos or paintings, stone figures, etc. also work.
Rugs to bring warmth to your rooms. Try large, long-haired cotton ones in the bedroom or living room. All styles and colors are allowed and pair perfectly with the modern boho atmosphere.
A white base so that all colors are welcome in your modern boho decoration. However, you can also bet everything on one color and play with shades.
If you are one of those who do not want to marry 100% with a style, the bohemian style may be your thing. Let us know what you think in the comments.