Thanks to white blackout curtains, we don't have to choose from dark and gloomy blackout curtains to make a room dark. But still, finding the right white blackout curtains can be tricky sometimes. A good choice should be both functional and stylish.
Whether you want to block the sunlight out while you sleep, watch the episodes of your favorite series, or even decrease energy costs, there are many white blackout curtains that suit your needs. Here, we'll take a look at white blackout curtains and their benefits. Then, we'll introduce some of the best white blackout curtains in the market.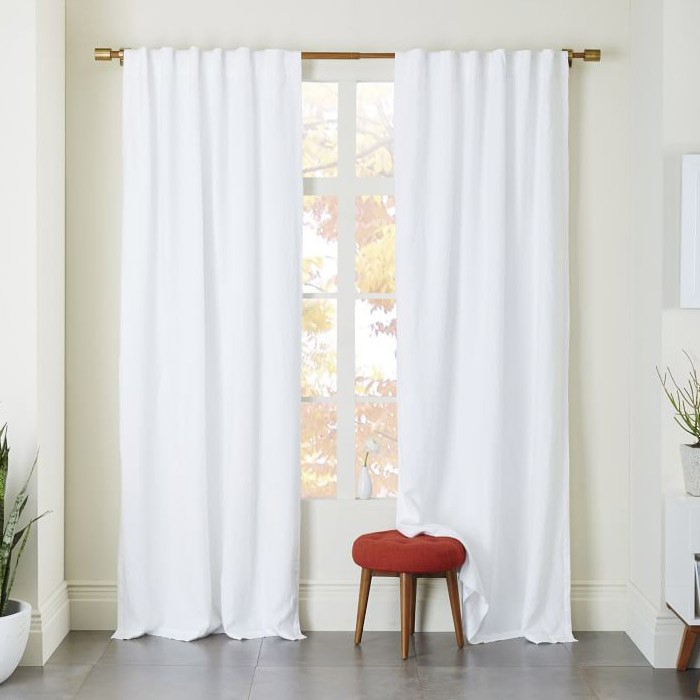 White Blackout Curtains, Why?
As their name suggests, white blackout curtains are designed to block the light that enters through the windows. These curtains are specially designed with thick fabrics, so they can absorb and reflect as much light back out of your home as possible.
If you can strategically place the white blackout curtains with rings in your home and correctly employ them, these curtains and their ability to darkening rooms provides several benefits for you and anyone in your home.
White Blackout Curtains Benefits
If you are still not sure about getting white blackout curtains for bedroom or other parts of your house, maybe their benefits can persuade you.
Remember that these benefits don't sacrifice the style at all. It is called white blackout curtains, but there are a lot of unique options on the market like white blackout curtains with sheer, textured ones, etc. You can choose from charming patterns like flowers, or select an elegant monochrome that have a nice contrast against your walls.
Entertainment at Its Best
Sometimes we underestimate light. We buy the latest home theater electronics, TVs, consoles, etc. that can easily be prone to glare and other unwanted effects caused by the light that can ruin the experience.
White blackout curtains (specifically the ones labeled as extreme theater grade blackout curtains) stop the pesky light that peaks through completely. By stopping the light from the sun or street lights, white textured blackout curtains help you enjoy your favorite movies, series, and video games with the best quality.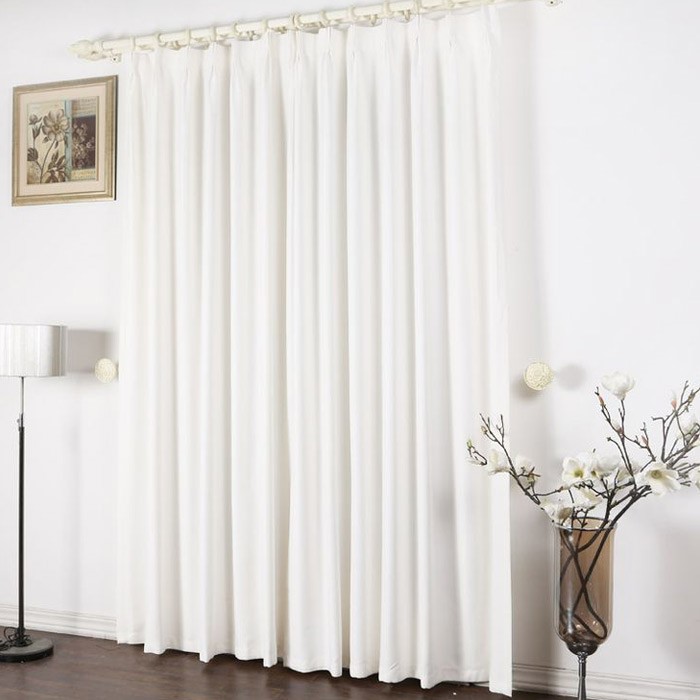 White Blackout Curtains for Bedroom
In addition to media rooms, these items are also very popular to install in bedrooms. They make excellent bedroom curtains while helping to improve the quality of your sleep. White blackout curtains with rings eliminate ambient light-related distractions and provide a deeply darkened room so that you can sleep well.
If you have atypical sleep patterns, then white blackout curtains for bedroom are a must-have for you.  For the people who work at night or have children with especially early bedtimes, these items can simulate a suitable environment for sleeping that keeps their sleep in rhythm.
Saving Energy
Many white blackout curtains with rings are energy-efficient and help you save as well. In a lot of homes (and probably yours), a noticeable amount of thermal energy escapes through windows. With white textured blackout curtains or other models, you can avoid this common issue easily.
In warm months, they keep the heat out of your home, helping you reduce your use of air-conditioners or fans. An in colder months, they keep the heat in your home. Therefore, these specially designed curtainscan cut down on energy bills all year round.
So not only a (for example) white blackout curtains with sheer overlay lets you enjoy a visually stunning movie night with family and friends, it provides a cozier room for you as well.
Installation & Maintenance
The many benefits of these items don't mean difficult installation and maintenance. White blackout curtains installation is not different from regular curtains. We suggest getting a curtain slightly bigger than the intended window.Also, make sure there is an extra 20cm hanging underneath the window. This is to ensure that the window will be properly covered.
For maintenance, just don't let dust build up in curtain creases and ruin its white appeal. Before cleaning white blackout curtains, open them so they are stretched out with few creases as possible. Clean the curtain with the vacuum's brush attachment. Clean the curtain completely so there is no dust left.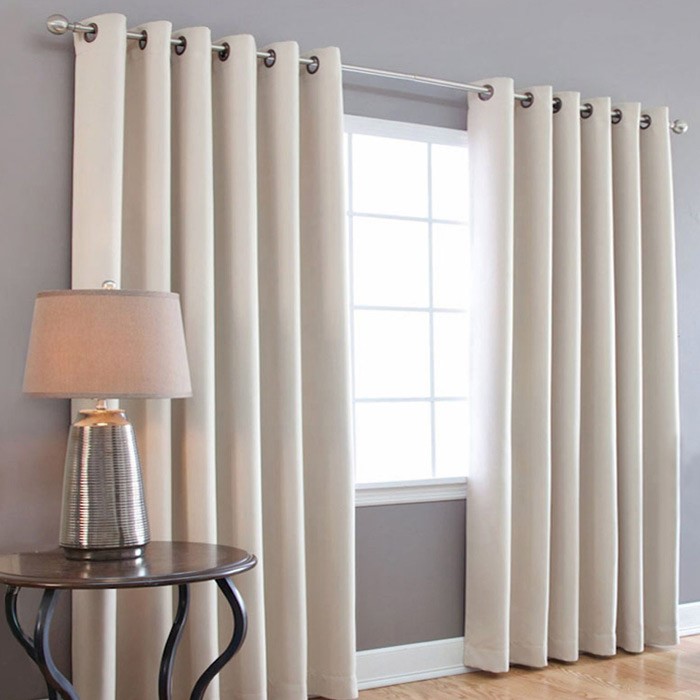 To buy white blackout curtains, we recommend one of the options below:
1. Nicetown Thermal White Blackout Curtains
Nicetown curtains are 100% polyester and come in a pair of two curtains (29" x 45", 42" x 63", 42" x 84", and 42" x 90"). Each curtain has 6 grommets on the top, making the installation super easy. Nicetown curtains remove 85% to 99% of light and UV rays, as well as reducing the sound from outside. You can machine wash these white blackout curtains if you couldn't clean them using a vacuum. They also survive the heat of an iron.
The only downside is that it darkens the room, but doesn't entirely black it out.
2. Rose Home Fashion Blackout Curtains
Linen curtains aren't cheap, but this item from Rose Home Fashion offers the same look for a better price. The curtains come in a pair of two, with eight silver grommets for easy installation. Rose Home Fashion blackout curtains are available in neutral hues, as well as different widths and lengths.
This item is made from a polyester blend but looks more like linen. It is ideal for bedrooms and nurseries since they block out 100% of sunlight and UV rays. Additionally, since each panel is backed with a white liner, it reflects light and minimizes heating and cooling costs efficiently.
3. Turquoize Window Treatment Curtains
Available in three sizes (52" x 63", 52" x 84", and 52" x 96"), this item is 100% made of microfiber polyester blackout fabric. These durable, soft, and silky white blackout curtains perform the way they should. They block UV rays and 50% of all sunlight, darken your room, and help create a darker and cooler space.
The main advantages of this item are its elegant and modern design, insulation material, machine washable and dry, and the fact that you can hang it differently. However, it doesn't completely block out the light and only dims it.